Not all covers are made equal, guaranteeing security in and around your pool. Although it could be tempting to save a little money by choosing a less expensive choice, the security of your loved ones, friends, and pets ought to always come first. Every pool express cover worth considering must be both quality and safety certified.
Key Considerations to Be Taken Care of Before Selecting Pool Cover
Source: aquadreams.eu
Since not all coverings are made equal, it is advisable to comprehend your requirements. Depending on the surroundings, pool size, and kind, different needs will arise. As was previously stated, the major objective is to maintain a clean pool because unclean water makes it challenging for swimmers to see beneath the surface and necessitates more frequent maintenance.
There is also the issue of safety! Whether you live in a densely populated neighborhood with plenty of kids or a rural location with wild animals roaming about, pool covers keep you secure. Pool covers significantly lower the possibility that someone would drown, be hurt, or worse, pass away. Any pool owner's main concern should always be safety.
The type of pool cover you may require depends on the season and other important factors. Throughout the off-season, you should winterize your pool to prevent it from freezing as the weather drops. Or perhaps you're searching for something with basic functionality for the summer. Everything from chemical requirements to reducing or eliminating potential damage from various temperatures and durability is greatly improved.
Risks Associated with Different Types of Pool Covers
Source: brilliantplastics.com
Most pool covers fall into types of two categories: floating covers or safety covers, depending on their type.
Floating Covers Pose Risks.
Floating coverings can easily float on the water's surface without being connected to the surrounding deck. They could have a look like bubble wrap or plastic blankets. These covers serve rather simple and uncomplicated purposes. They absorb the energy from the sun and transfer it to the water inside the swimming pool to keep it warm and save you money on energy.
Solar covers and thermal pool blankets are examples of floating pool covers, although they are not at all secure. Nothing can prevent someone from falling into the pool without an anchor to the side. Even worse, according to a study, once something falls through these coverings, they will return to their original position 10 to 20 seconds later, hiding a potential drowning victim from view.
Illusion of Security
While water-filled winter covers are frequently attached to the pool's sides, they are not as safe as solar covers or heat blankets when a comparison is drawn between the two. Their fastening mechanism prioritizes preventing leaves and other debris from over people and pets.
Similar deceptions apply to plain tarps. They don't offer even close to the level of security needed for the safety of people around them, even when they are supported by sandbags.
Also Read: A Minimalist Poetry Amidst Nature: The Lap Pool House by Aristides Dallas Architects
Always Choose the Safest Option
Source: sunbather.com.au
The safety cover investment not only helps lower other costs but is also essential to providing a safe option to go for. The potential for energy cost savings is another aspect you should consider. All pools are subject to evaporation, which can be expensive and time-consuming. Regularly using a pool cover will significantly lessen the amount of evaporation and help you keep your pool at the right temperature.
You can pursue the best choice for both you and your pool with the guide of these factors and conceivable outcomes. Call a trustworthy pool administration-trained professional if you're doubtful or looking for counsel, and we'll assist you with pursuing the most ideal choice conceivable!
Go no further than Pool Express solid and mesh safety covers if you need a safety cover to close your pool for a fixed period of time or assist in safeguard your pool during an extended vacation. Both offer your pool the maximum protection and are fully safety certifications approved.
While the pool is not in use, Pool Express offers certified automatic coverings that are easy to operate with only one button. It's easy to cover or uncover your pool, and automatic covers are hidden when not in use under a built-in lid. Although pool covers that are manually operated involve a little more work, they provide the same level of protection thanks to both the D-ring hook and loop system that makes installation and adjusting them simple.
Whether pool covers are automatic or manual in design, safety covers that have received certification, give you a sense of satisfaction. Such covers, which come in mesh or solid vinyl fabrics, must be able to sustain 485 lbs. of weight per 3 square feet, so if an adult or animal inadvertently goes out on them, they will be safe. Essentially eliminating the possibility of drowning in the pool if a child or pet accidentally goes out on them.
Even though it's never fun to close your pool after a fun season, make sure to do so securely with either an automatic pool cover or a winter safety cover.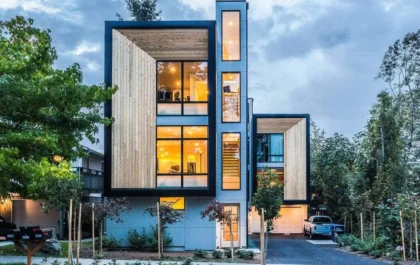 27+ Stylish & Modern Townhouse Designs for Urban Living.
The townhouse's first impression is normally too small, too compact, too narrower, and the list is endless. Well, let us…