As the summer is coming up (or already came in some certain place!), the first and the most important thing we all do is chill near the poolside. Right? It is a great feeling. we all relax while enjoying the tanning. But still, you have to go to the beach or other places to spend your summer vacation. But what if we bring the vacation to your house, how? Yes, when you have a pool in your existing home, then you can spend and enjoy the summer with your family and friends. There are a few things you should make sure in addition to keeping dirt out, you should invest in the retractable pool cover that reduces chemical needs. Because most covers prevent evaporation and reduce debris, you'll save on chlorine, shock, and other additives. Today we bring 9 insanely gorgeous pool house designs that will blow your mind.
So, if you're also looking for some inspiration, check the list below. Having a pool house in your residence is a great idea. You can invite people and throw pool parties (which we all love!).
With that, you'll also have total privacy and access to natural light. Or if you are throwing pool parties in winter then you can also buy a solar pool cover that will heat up the water in your pool without the need to spend anything on the energy. Now you don't have to pack your bags and also don't book your tickets to another destination, just step aside, and your dream destination is there in front of you!!
So, take out your summing suit and get ready for an awesome summer. Let's start the list;
1. Brick Pool House
Location:

Philadelphia

Architect:

Atelier & Co.

Year:

1937
The architect of this amazing pool house said," A pool house should complement, not compete, with the main residence." That's why he designed this brick pool house with the matching materials that beautifully complements the rest of the house. This is constructed in the M. Night Shyamalan's Georgian Revival estate, which is very near to Philadelphia.
2. Stone & Stucco Pool House
Location:

Dominican Republic

Architect:

Genevieve Faure
If you think that all pool houses consist of only one level, then you're wrong, my friend. Just look at this pool house! This was designed by Genevieve Faure. You can also create something like this in your home. This pool house was constructed with stone and stucco (A cement-like paste used to cover exteriors).
3. Contemporary Pool House
Location:

Westport, Connecticut

Architect:

SPAN
This contemporary pool house is designed by a SPAN, which is a New York City architecture firm. This is an open pool house with an extremely beautiful bluestone terrace. You will feel completely lost and get closely connected to nature. The surrounding landscapes are designed by Rutherford Assoc.
4. Villa Origami
Location:

Seminyak, Bali, Indonesia

Architect:

Nagisa Bali
This villa's name is inspired by "Origami," which is the ancient Japanese art of paper folding. The meaning of Oru is "folding," and kami means "paper." This luxurious villa features three bedrooms, a living & dining area, and an outdoor pool. This house has everything you ever imagined!
5. Beverly Hills Pool House
Location:

Beverly Hills

Architect:

Appleton & Assoc.
Look at this grand pool house plan!! It is situated in Beverly Hills, which is known for luxury and grand residences. This large pool house is constructed in the outside area of the main house. Designed by Appleton & associates, this house is perfect for parties and get-togethers. It can also be used as guest quarters.
6. A Sculptural Pool Pavillion
Location:

Wilton, Connecticut,

Architect:

Hariri & Hariri
Take a look at this luxurious modern pool house. This is designed by architects Hariri & Hariri. This ipe-paneled pool house is located in Wilton, Connecticut. This is just not a pool house, it also includes an open kitchen, living area, and outdoor dining area. If you want something like that, just take inspiration from its design.
7. Airy and Modern Pool House
Location:

Hill Country, Texas

Architect:

Lake|Flato Architects
No matter whether your pool is smaller or bigger than your home, it always adds an architectural statement to the house. Like in this house, the pool house is smaller when you compare it to the central building but because of it, the whole ambiance is lifted. This pool house design was inspired by Mies van der Rohe's Barcelona Pavilion. The chaise lounges from B&B Italia are placed at the one side of the pool.
8. Bahamas Pool House
Location:

Bahamas

Architect:

Alessandra Branca
What will your expectations for the house of an interior designer? High, right? This house explains it all. This is a house of famous interior designer Alessandra Branca. From the vast outdoor areas to the extravagant living space, this house has everything luxurious and pretty. An enormous pool house is also located outside of the main house. It also includes guest quarters, and the whole pool area is outfitted with RH outdoor furniture.
9. Classic Pool House
Location:

California

Architect:

Don Nultry
This wonderful pool house is situated in the grand residence of Rob lowe. He and his wife Sheryl asked the architect to design the whole home while including some architectural detailing. That's why you'll see various beautiful classic architectural elements in the main house as well as in the pool house.
So which pool house is your favorite? Every pool house has some unique features and style. You can select any one and build your pool house according to that or just mix various styles & elements to create something new. Always keep the size of the land and basic requirements in your mind and then layout the design. You can also take the help of designers of architects to build your dream pool house.
After reading this blog, you'll surely get plenty of pool house ideas. So, utilize your old backyard space and transform it into a refreshing and relaxing pool place. And don't forget to style it with some pool and outdoor furniture. They'll complete the whole look.
Continue Reading :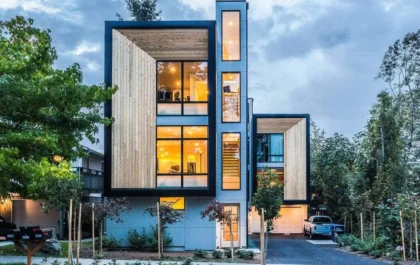 27+ Stylish & Modern Townhouse Designs for Urban Living.
The townhouse's first impression is normally too small, too compact, too narrower, and the list is endless. Well, let us…