Imagine yourself in the water, sipping your favorite cocktail at one moment, and enjoying swimming at another moment, isn't it amazing? If a swimming pool is a pleasure, then a pool house is a luxurious blessing that everyone dreams about. Many people often ignore the need for a pool house as they think it's just a waste of money and space, but WAKE UP; the reality is much more beautiful and functional. So, today we are here to help you with the pool house design ideas to create a beautiful one.
A pool house can be use as a gym, storage space, or can be turn into a guest house, moreover, ideal space to change into swimwear before enjoying the pool. A well-designed pool house boost enjoyment exponentially. After the popularity of private pools in Hollywood movies in the 1930s, it becomes an essential part of the swimming pool.
A Rustic Stone Poolhouse
Designed by architect Gil Schafer is a marvelous example made of the sophisticated barn with stone walls. It can be used as a summer house for the guests while using it as a storage place in the winter season. The house is divided into three sections, two small rooms at each side and seating space in the middle. This rustic style home is a place where your family can enjoy quality time together.
An Old Charm That Never Fails
If you love old-style construction, then a luxurious pool house with the timber style is your call. This construction looks not only good but also embraces green building practices. These timber frame house plans offer sufficient space for the entertainment section with a bathroom and a changing room.
Glass Has Its Own Charm
If you are the one who dreams about living in a beautiful palace of glass, then it's the time to fulfill your dream with the glass pool house. The two-level glasshouse offers space for unlimited entertainment, showers downstairs, bar upstairs, sauna, gym room, and sufficient seating space. The beautiful white is no less than a dream house with an elegant backdrop. What do you think about modern pool house designs?
Brick Beauty
If you want to match the architect of the pool house with the main house, then a brick pool house should be your call. This house is a complete gateway from all the worries and tensions of life as this tiny beauty consist of an outdoor shower and sauna. Constructing to give a feel of the resort, this house is a complete package to enjoy swimming lessons and quality time with the family. Here you can enjoy an outdoor fireplace, hot tub, and greenery all around.
Gabled Fantasy
This pool house is an ideal choice to accomplish your dream for a gable roof pool house. With the victorian farmhouse style, the pool house is a complete package full of lights, beautiful French doors, clerestory windows, and covered porches.
A Loop Concrete House
Enjoy the sunset through the glass pool house. This thick concrete shell with the freedom to get a glimpse of outside through its rear and front glass wall is a ravishing treat for the eyes. The curved edges and a tilt factor is a perfect blend for distinct and yet beautiful structure. It's a wooden box structure made of concrete, and timber divides the house into two sections, one meant for enjoying cinema while another one is meant for the pantry area.
Open-air Pool House
The spacious pool house is a great design that goes great with the holiday home. This pool house built by Ro Rockett Design consists of two sections. One section is made of weathered timber, and another part is a black canopy with large panes of glass. Covered with white curtains, it provides complete privacy and bearer from direct sunlight. Inside the room are a bathroom with a shower, sofa, and mini-bar to enjoy the best time. The outdoor portion is cover with a slatted canopy. The outdoor space provides space for the dining table and bar.
Conclusion
Although it is not always necessary to have a pool with the pool house if you wish to provide a place to cook, change clothes, take some rest and enjoy some "me time" then the pool house plans are a must. We hope that you like pool house design ideas.
Discover more: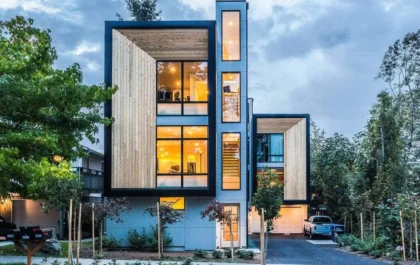 27+ Stylish & Modern Townhouse Designs for Urban Living.
The townhouse's first impression is normally too small, too compact, too narrower, and the list is endless. Well, let us…