Have you dreamt of living in homes that are innovative and also give a warm feeling? Then a modern Japanese house design is perfect for your dream home. Japan is well known for its art, culture, and technology. The other gift that this country has given to the world is its amazing architecture. Its influence is seen not only on commercial buildings but also on modern residential living. Each home is a masterpiece and a place where you can truly reflect on your life!

What sets this kind of architecture apart is the simplicity and minimalist design that is applied to these homes. Besides this, a lot of thought is given to design the modern look that ensures comfort too. The house plans are kid-friendly too! (which includes a playground and library)
You can find these houses in various shapes that are not at all ordinary. A structure that looks like any other house from outside might have totally unimaginable features within it. Some of the houses are such that you might even start questioning the laws of Physics! The state of the art Modern Japanese House Design is sure to keep you admiring its beauty for long.

If you are looking for such homes or want a little inspiration for a home makeover then you must have a look at the top 10 Japanese houses that redefine modern living.
1. Toda House in Hiroshima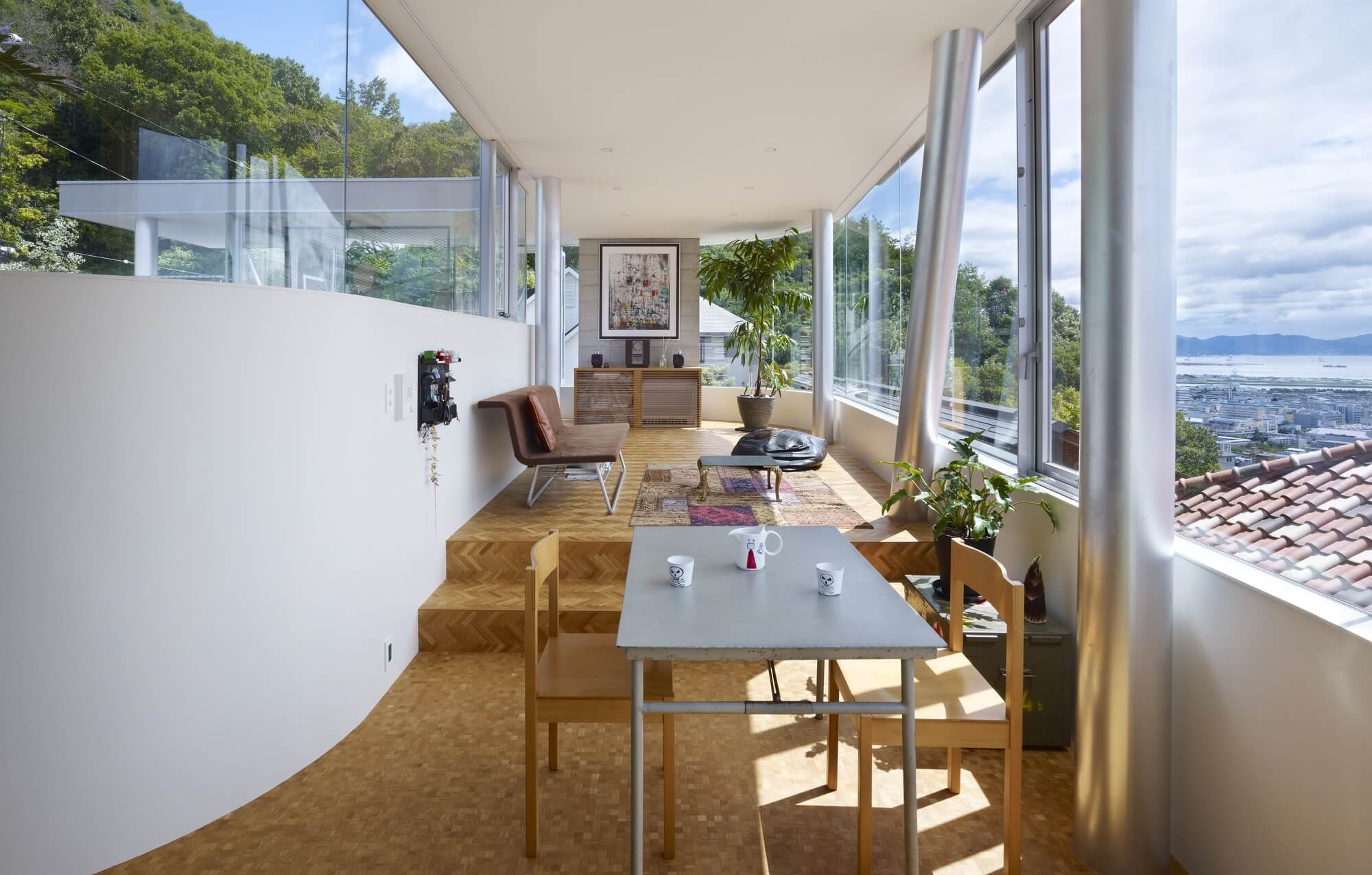 What appears to be a huge piano in a residential area of Hiroshima is a family home that is beyond ordinary in architecture. This elevated house has a small playground for the kids and has an added benefit of getting a good view of the entire street, right from the deck of the house.
2. Narrow house by Fujiwaramuro Architects
Squeezed between two homes in the busy streets of Downtown in Nada, Japan, the Narrow house is built in a space of just 36.95 sq km. This innovative three-storeyed home is an example that with innovation, a marvelous piece of architecture can be created in the smallest of spaces.
3. Go Hasegawa: House in Kyodo
This Modern Japanese house design, created by Go Hasegawa is a rectangular home with an open space on the top floor, meant for socializing and a small library on the ground floor. This house in Kyodo is perfect for both introverts and extroverts equally!
4. House in Muko by Fujiwarramuro Architects
This fan-shaped house in Muko, witnesses the entire movement of the Sun as the sunlight enters the home through the space between the walls on the exterior. The unique shape gives a different style and dimension to this house.
5. mA-style architects: Ant House
As the name itself explains, the Ant house is a maze playground within a house. From the exterior, it looks like a black box, but within it lies amazingly interconnected rooms that resemble an ant house.
6. Origami House by TSC Architects
Inspired by the Japanese craft, the Origami house has a roof that resembles a folded piece of paper. This two-storeyed house has its roof touching to the ground and the folded structure gives it an appearance of a tent.
7. All-Season Ski House With Transparent Roof
Designed by Naka Studio, this Modern Japanese House is located in the ski resort town in Japan. This house can be turned into a picnic spot during the summer because the sunlight entering the plastic roof makes the home warm. While during the winter, it turns into a skiing loft.
8. Reflection of Mineral by Atelier Tekuto
This modern home in Tokyo is a roofed garage that is trimmed from various parts that give it a unique and characteristic shape. It is a modern beauty created with utmost minimalism.
9. Residence of Daisen
Located in Yonago City in Japan, the modern marvel constructed by Keisuke Kawaguchi+K2-Design is a dream home for those who want to be one with nature. Wrapped around cherry and pine trees, this house has rich foliage in the courtyard. The glass walls give a breathtaking view of the mountains and the lush green forest.
10. Japanese Light Box House by Suppose Design Office
Imagine waking up to the first rays of sunlight falling on your bed, but wait, this light is coming not just from the windows but from every wall of your house. Yes, you read it right. The Light Box house is made up of translucent walls! Located in Hiroshima, it is a conventional box-shaped house with plastic panels that gives a cool effect to the interiors. These walls ensure complete privacy while you can watch the seasons change outside from any corner of the house.
Start Planning For Your Dream Home:-
Having an edge of its own, Japanese architecture is very unique and inspiring. Choose the Japanese way and live the modern life of luxury, comfort, and style, with these Japanese House Design ideas. Which ones did you like the most? Leave your thoughts in the comment section.
Discover more: