Residential Elevator Design is widely regarded as a luxury feature in rich homes, but they serve countless practical needs in homes.
Besides their direct benefits like accessibility and helping physically disabled people travel up and down the house floors, they have many valuable side benefits. These include enhancing your home's interior design and a massive bump to the property value!
This article will focus mainly on their aesthetic element and how you can choose the right design features to give your home a significant glow-up. Let's begin!
Why Home Lift Design Matters
A home elevator is easily the most exciting addition you can make in your house — besides maybe a swimming pool, but you get the idea.
A lift is the first thing that makes a strong impression on visitors as an interior design element. The right aesthetics on an elevator can go a long way in leaving a lasting impact on your guests. It can also complement and enhance the home decor around it.
But it's worth noting that aesthetics should only be a secondary focus for a home lift installation. Aspects like utility, convenience, practicality, safety, and security should come first. That's why in this article, I've compiled not only a list of design elements you should look for but also some key functionality features.
Different Features for Residential Elevator Design
Keep the following tips in mind to ensure your residential elevator adds the maximum amount of aesthetic value to your home decor.
Colors
Source: vacuumelevators.com
Colors play the most crucial role in determining how your lift is going to look. There's no 'right' color for everyone. Instead, it's a subjective choice that depends on various factors like the theme of your decor and your personal preferences.
Cabin
The cabin (widely referred to as 'cab') comes in many different types these days. You can choose between many material options like wood, glass, marble, or steel. Wooden choices are more traditional, while most modern home elevators come with steel cabins.
Simplistic Theme
Minimalism is spreading wide and fast, and it's also starting to reflect in peoples' elevator design choices. In modern elevators, a clean look conveys a unique sense of elegance. It allows the surrounding decor to shine instead of drawing all the attention with loud colors and complex designs.
If you've got some interesting interior design near the elevator area, or you preferer minimalistic designs in general, a simplistic theme is ideal!
Metallic Trims
If you're going with the modern steel cabins, it might be a good idea to add to their look with some metallic accents. They can harmonize with the rest of the aesthetic and bring out its classy look.
Metallic trims come in many different colors like bronze, brass, gold, silver, nickel, rose gold. You also have lots of choices for the type of finish you prefer. For example, matte, glossy, etc.
LED Light Accents
Source: platinumelevators.com
Nothing can make interior design pop as much as some LED lighting accents with the right color settings. Match them up to the color theme you've got going on — you'd be surprised by the difference it makes!
Make sure you work with an experienced installation company to get expert advice on aesthetic choices. You can contact SD Lifts to get recommendations and quotations on ideal design choices that'll suit your home décor well.
Extra Functionality Features to Look for in Modern Home Lifts
Source: roysrise.com
As mentioned above, aesthetics aren't more important than the practicality and usability of your lift. While the above design elements deserve your attention, you should also get as many modern functionality features as possible in your new residential elevator.
Smart Cleaning Tech
Advanced home lift models come with auto-cleaning features.
Fingerprint Scanners
Not everyone should be able to get in your lift and take a ride up and down the house.
Modern lifts come with touch ID systems that verify the people that get in and only work on commands from authorized individuals. This security feature is essential in case of a break-in, as the lift won't offer any vertical accessibility to burglars.
Music and Lighting
One of the newer tech features in modern lifts is programmable lighting and music. They come with motion sensors to detect when people step in and out, automatically controlling the ambient lighting and music accordingly.
You can also control the lights and music through your phone in smart home lifts.
Infotainment Screens
LED screens in elevators have been quite common in commercial models as they can be used to play ads or community messages to people continuously. However, they can be used for touch controls in residential lifts. If you prefer watching videos of the songs playing in the lift — get one with a screen!
Conclusion
If you've read this article all the way to the conclusion, you now understand the variety of options you have to customize the look of your residential elevator. All the best!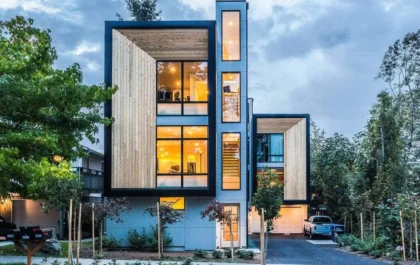 27+ Stylish & Modern Townhouse Designs for Urban Living.
The townhouse's first impression is normally too small, too compact, too narrower, and the list is endless. Well, let us…