Are you thinking to revamp your screened in porch for a fun social gathering? Do you have a boring living area that needs some extension to brighten up?
If yes, then depending on your existing layout, plan a convenient screened-in porch. Wondering how a screened-in porch idea will be suitable for your space?
A structure covered with a canopy on top and enclosed with visually screened partitions. Depending on the abutting trees or other elements, the entire space can be sheltered from rain, harsh wind, or snow.
Irrespective of the site, an addition of a screened in porch is a significant way to enlarge your space. Let's look at a step-by-step guide on screened porch installation and some ideas that can help you get started with the process.
Step-by-Step Guide for Creating a Screen Porch
Source: hzcdn.com
Material Calculation
It is simpler to add or replace screens around your porch when using porch screen kits or screen framing systems. Compared to stapling, the process produces cleaner results.
To determine how much material you will need, draw a schematic plan of the space and measure all the vertical and horizontal sections of the frame.
Choosing Screen Material
When deciding how to screen on a porch, the mesh type of the screen porch should also be taken into account.
Because it is less expensive than an aluminum screen, fiberglass screen is frequently used for porches. Since it is flexible and doesn't crumple easily as metal screen mesh does, it is simpler to install.
Aluminum screens and other metal screen mesh are more resilient than their fiberglass counterparts, which stretch and rip more readily than other kinds of screen cloth.
Starting with the Construction of a Screen Porch
After gathering the materials and measurements, it is time to assemble and start with the construction process.
Attaching the base strips on the marked location and assuring firmly fixing the joineries of the frame of the screened in porch has to be completed. Following this, the screens to the frame, screen splines are used to ease out the procedure.
The final step of constructing a screened in porch is sealing every corner of the screen with the base strips.
25 Top Ideas for your Screened in Porch:
Increasing your outdoor area in a way that allows you to enjoy it more is one way to physically live largely, and a screened-in porch can be the answer. A screened in porch as the name suggests, encloses much of the space with mesh, unlike an open-to-the-elements deck or patio a sunroom, which often has entire glass outside walls.
You've come to the correct spot for inspiration and practical guides on how to build the perfect screened in porch if you're ready to add this best-of-both-worlds feature to your house or to decorate an existing porch in a chic new way.
1. Semi-Open Dining Area
Source: squarespace-cdn.com
You may fully immerse yourself in nature on a screened-in back porch idea. Therefore, if your home has a view of the forest, decor with earth tones, natural fabrics, rustic wood, and lots of plants will distinguish between inside and out less obviously.
2. Farmhouse Style Screened in Porch
Source: hzcdn.com
This farmhouse style is one of the simple screened in porch ideas that are effortless and involves simple decor. Considering the existing weather conditions, proper ventilation can be planned.
Light fixtures and furniture can be used in a way that compliments the accent wall. Along with other features, a carpet and a bench stand will give the screened-in porch a pleasant and cozy feel.
3. Cozy Screen Porch Design
Source: squarespace-cdn.com
The gas fireplace insert's striking, raised seam copper cladding and stone veneer surround increase its aesthetic impact. While an existing entrance continues to allow entry from the house, half windows maintain privacy from the neighbors.
4. Bedroom with Scenery
Source: woodhullmaine.com
Breaking the stereotypes of screened in porch ideas, there are many ways to convert a mundane bedroom into an adventurous one. Although the space has a compact layout, the screened partitions help in making the space look spacious.
With appropriate privacy settings, this bedroom can be a gutsy place to spend your days and nights. Provided if your house is in the middle of a forest.
5. Black Accent Screened in Porch Ideas
Source: homedit.com
If you're planning to add a screened in porch to your existing space, this elegant look of pitch-black timber frames is a top-notch choice. Supported by a timber ceiling and a similar theme of furniture, the elements in black will be magnificent.
A dazzling chandelier with a matte black finish can complete the vibe of the space cohesively.
6. Rustic and Simple Screened in Porch Ideas
Source: vox-cdn.com
To withstand insect and weather-related damage, buy hardy redwood, cedar, or other treated wood if you want to build a screened in porch from scratch. Use the proper screws as well; galvanized ones for redwood or cedar and ACQ-compatible ones for treated lumber.
7. Minimalist Modern-Themed Porch Decor
Source: arcollab.net
When the weather becomes cool inside the woods, you may enjoy your screened-in porch with a fireplace that creates a dramatic center point. Inspired by the modern minimalist style, install a statement fireplace that will act as a true focal point of the space.
Planning a fireplace-centric seating arrangement, other features can follow a subtle and muted appearance.
8. Swing it Along
Source: bigfoto.name
Feeling playful but also lazy? Using a porch swing will satisfy both moods! Choose a two-seater to house a maximum number of people and pair it up with other interesting furniture. With this look, you create an ideal space for informal gatherings and a refreshing way to spend time.
Run a carpet along the length of the screened porch, bridging the individual set of furniture and the swing.
9. Country Style Screened in Porch
Source: hzcdn.com
This prototype showcases a relaxed and cozy decorative aesthetic that connects to the impression of straightforward country living. Pastel and neutral colors are used, and design elements like old furniture and used accessories are also a substantial addition.
10. Scandinavian Themed Screen Porch
Source: pinimg.com
A screened porch can tempt you to stay longer with its fashionable and comfortable pillows and cushions, but some materials and fillings will inevitably become musty. So pick outdoor-rated fabric covers and inserts that are resistant to water.
Other clever items to prevent mildew include huge Turkish towels that dry quickly in place of throws and hose-cleanable polypropylene area rugs.
11. Modern Farmhouse Style
Source: pinimg.com
Following a monochromatic color palette and a minimal design of furniture, this modern style is one of the terrific screened in porch ideas. A combination of an elegant swing, a statement coffee table, and a suitable ceiling fan can complete the entire modern farmhouse style.
12. Lowcountry Screened in Back Porch Ideas
Source: pinimg.com
This spacious screened in porch idea provides a cozy and inviting area to socialize, experience the outdoors, and utilize the adjoining fire pit.
Or a choice of installing a vented grill on the porch; pick a design with a counter on either side for prepping food. Include a hutch to store the dishes, glasses, and cutlery you'll use frequently in the area beside a table and chairs.
13. Industrial Screen Porch
Source: candharchitects.com
Maintaining the feel of raw and rough materials, this space acts as a visual retreat for all industrial enthusiasts. A straightforward way of showcasing screen members and without hefty decorations, this palette can easily satisfy the user's need.
Metal-suspended lighting fixtures and metal recycled cladding for the accent walls will elevate the entire space.
14. Reimagined Boho Aesthetic
Source: amiel.club
Wicker furniture is a good choice if you want something that is durable, affordable, easy to maintain, and has a casual charm. While wicker typically comes in pure white or tan tones, you can easily liven it up with spray paint for a distinctive style. If your wicker is synthetic, just use paint made to stick to plastic.
15. Double Elevated Screened in Porch Ideas
Source: pinimg.com
With no specific rule to define modern screened in porch ideas, double-height spaces add instant charm to the space. It also gives a majestic look with the freedom to use oversized decor or lighting fixtures.
This style is suitable for cooler sites, as it maintains a cool atmosphere inside the dwelling area.
16. Ultramodern Screened in Porch Ideas
Source: pinimg.com
Follow the sleek and uncluttered look of the screened in porch with this ultramodern theme. The material palette of this style includes clean, straight lines and minimal furniture.
Adding decors that are unique and something that tells a story is the most suitable pick for this style.
17. Captivating Skylights
Source: whyskylights.com
A vaulted or inclined ceiling will provide visual appeal if your situation permits it. Installing a skylight could provide additional lighting during the day and allow for stargazing at night if you have to walk straight. It matters how you complete the ceiling as well. Beadboard will have a classic feel, whereas shiplap has a more relaxed cabin feel.
18. Georgian Theme Porch Decor
Source: hzcdn.com
A vintage-inspired theme of The Georgian style is applied to a screened-in porch of the living space it will look magnificent. It can be an appropriate choice for an expansive space.
This theme of styling is opulent and sophisticated. If you want to include these design elements in a new construction or want to repair a historic porch, this is the best option for it.
19. All Glazed Screened in Porch Ideas
Source: bigfoto.name
If you have a gloomy porch that is dull and lifeless, give it a makeover of all glaze ceilings. This way, it can bring plenty of daylight into the space. Irrespective of the screen material, this glazing roof structure will be a befitting option for both night and day.
The best experience is when a starry night is accompanied by a light drizzle.
20. The Compact Screen Porch
Source: hzcdn.com
You can regulate airflow for your small screened in porch ideas using a ceiling fan. Choose one that is big enough, constructed of weather-resistant material, and UL-listed for humid conditions. It will work best at cooling the area directly beneath it.
For safety, make sure there are at least eight feet of space underneath. Opt for a suitable ceiling fan that goes with the overall style and feel of the screened in porch.
21. Breezy Coastal Style
Source: casabellainteriors.com
Install a space-saving bench or banquette against the house wall on a little, screened in porch. Place two chairs on one end, possibly at a round café table. A narrow area can also be perfect for a coffee or cocktail bar. Avoid accessory overkill, which will read as clutter. Pale hues will make it appear larger.
22. The Pivotal Gateway
Source: lakeflato.com
The more flexible you design your screened in porch, the more open it will feel. With a compact space, adding the feature of pivotal screens is a significant way to open up the porch.
Planning a structured furniture layout based on function, the entire space can be designed to look vast and spacious.
23. Greenhouse Style Screened in Porch Ideas
Source: pofoto.club
Are you a huge plant lover? Do you feel energized around plants? If yes, this is a perfect and simple screened in porch idea for your space. Resembling a greenhouse structure, the wildly unrestricted area can act as a vast house for all your plants.
Setting up with the coziest furniture that you prefer to spend most of your time on adorable plant varieties, this space can be a heaven on earth.
24. Gazebo Themed Porch Decor
Source: amiel.club
To avoid opening up a gazebo-themed screened in porch completely, adding see-through screens can be a great option.
Light is still let in while sheer, fluttering drapery panels add softness and elegance. For seclusion, let the curtains hang loosely, or use tie-backs for a clear view.
25. Traditional Style Screened in Porch
Source: onekindesign.com
One of the ever-classic screened in porch ideas that will be a reminisce of your childhood porch is this traditional style. Adorned with bright marigolds and other flowering plants, this screen porch can be easily styled with any antique furniture.
This can be a refreshing tea spot both early morning or evening. Maximizing the screen area with glazing, this traditional style will seamlessly connect with the scenery.
Also Read: An Overview of the Malvern Garden House by Taylor Knights
5 Things to Consider When Creating a Simple Screened Porch
Source: angieslist.com
Furniture and decor for the screened in porch can be chosen according to the theme and design. Other things to consider when thinking of simple screened in porch ideas are:
F

ront screened in porches can be more difficult to arrange visually depending on the type of your home. Back screened in porches, however, can raise the value of your house.
Consider how often you use it as well. A screened in porch can be your greatest option if you enjoy spending time there all year long while relaxing and conversing.
Not to mention, you have a selection of advanced screens. Pet-friendly screens are available that are stronger for our furry pals.
More sun-blocking screens exist. Besides protecting you from UV rays, it also keeps your screened in porch cooler.
Fiberglass, aluminum, copper, stainless steel, and bronze all have distinctive appearances.
Source: bobvila.com
Source: chrislovesjulia.com
Source: designbuildersmd.com
Source: screenporchliving.com
Source: cloudfront.net
Source: innovateatlanta.com
Source: designbuildersmd.com
Source: angieslist.com
Source: cleveland.com
Conclusion
The entire process of selecting and building a screened in porch for your home can be challenging. With this one-stop guide and screened in porch ideas, it will be a trouble-free procedure to get started with your ideas for your dream porch decor.
FAQ's: Screened-in Porch Ideas
1. Are Screened in Porches Darker Than Open Porches?
This factor depends on the material of the screen that is used to cover the porch. Usually, they are kept transparent to let in maximum natural light.
2. How Is a Sunroom Different from a Screened in Porch?
The contrast is that a screened porch will allow air to flow through the space, giving you the impression that you are outside while keeping the bugs out. A glass-enclosed, roofed structure is referred to as a sunroom.
3. What Type of Furniture Is Suitable for a Screened Porch?
Furniture that is durable and easy to maintain is the most suitable option for a screened-in porch. However, the fabric, cushion, and material can match the theme that is followed for the space.
4. How to Protect the Place from Harsh Weather?
The best way to protect the space from harsh weather is to invest in strong and durable screen material. The next step would be to check them at regular intervals and cover up if it has any leakage or breakage.
5. Can We Build a Screened in Porch on Our Own?
It is absolutely possible to design and build a screened-in porch of your own. Nowadays every necessary thing is available in the market and there are plenty of DIY videos online to guide us through the process.
More from The Architecturesstyle
For more information about the latest architectural development, keep coming to Architecturesstyle.
Also, do follow us on our Instagram page, Architecturesstyleideas, to get daily updates.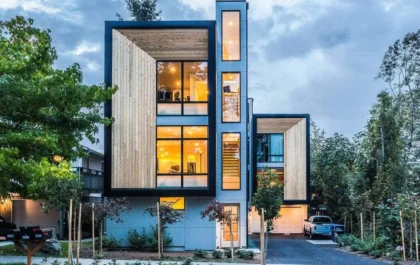 27+ Stylish & Modern Townhouse Designs for Urban Living.
The townhouse's first impression is normally too small, too compact, too narrower, and the list is endless. Well, let us…