Imagine living in a sea-facing house where you feel total tranquillity and peace. Wouldn't that be beautiful? We're talking about Seaview Escape House.
Designed by Coates Design Architects, this house is one of the most searched houses on the internet. Are you excited to know more about this remarkable structure? Keep on reading to find more interesting things about this place.
Seaview Escape House
Architects:

Coates Design: Architecture + Interiors | Seattle Architects

Location:

Bainbridge Island, United States

Area:

2800 ft²

Year:

2015
Located in Bainbridge Island, United States, Seaview Escape House is a residential building with incredible architecture. It is a 2-bedroom Pacific Northwest-style house that was constructed on a steep-sloped site.
This is actually a steep-sloped site with a total area of around 2,800 square feet on which architects wanted to build an open-concept living space. This shoreline home features an open-concept living, dining, and kitchen area on the ground level. The kitchen can be directly opened to the outdoors with a corner bi-fold door system.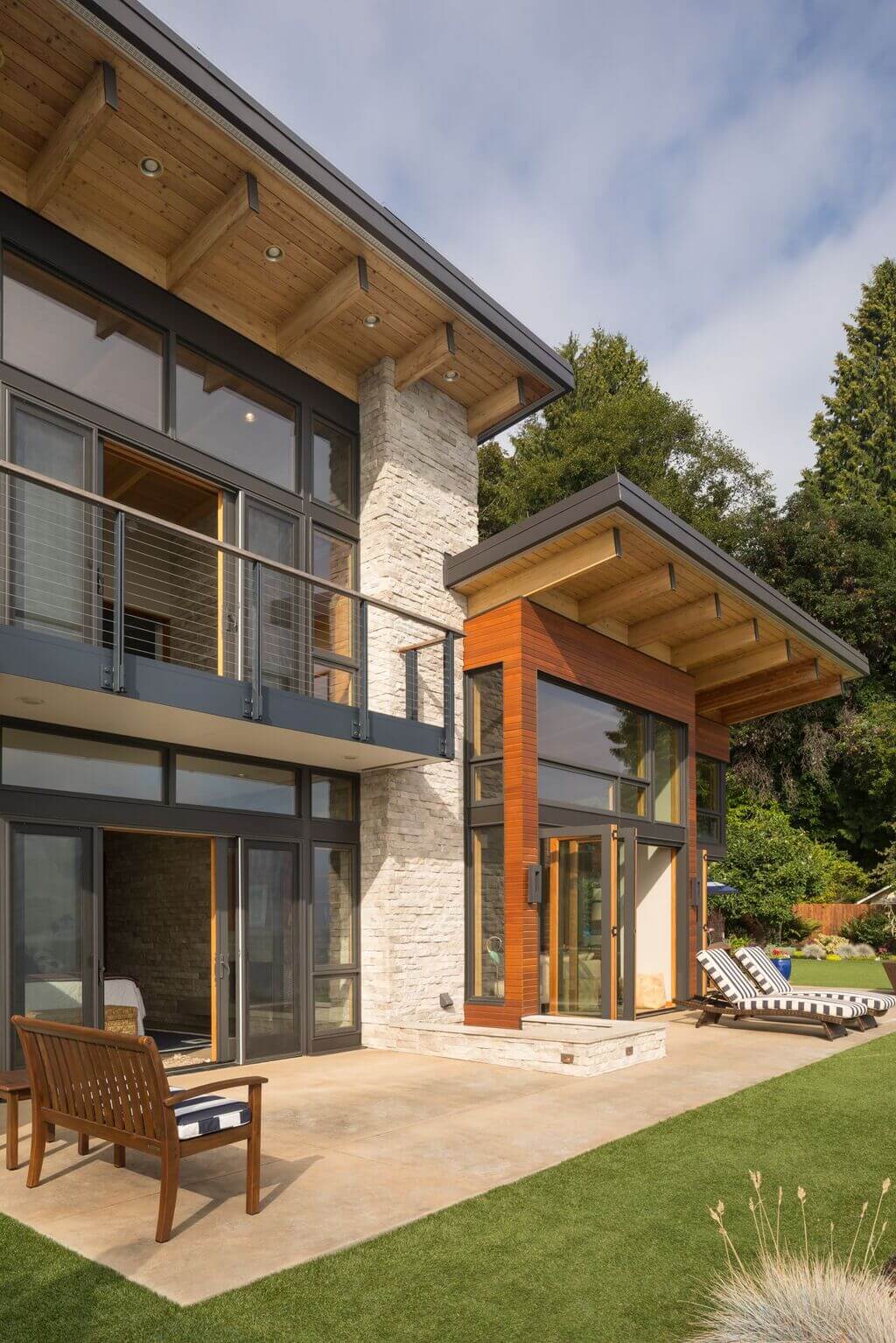 The principal architect of this project was Matthew Coates, and the project manager was Bob Miller-Rhees. On this project, several people had helped to make this dream house a reality, including Emily Banks (Project Architect) and Quantum Consulting Engineers (Structural Engineer). 
5 Key Architectural Elements
The main architectural elements of the Seaview Escape House are:
A green roof that blends into the landscape

Double-height living and dining space

Bi-fold door system opening the living area to the outside deck

Open-concept living, kitchen, and dining area

Nature-inspired interior design elements
Interiors: Open Concept Living Space
Architects have especially created a huge stone mass wall to separate the public and private spaces. This wall also encloses other parts of the house, such as stairs, support areas, and powder room.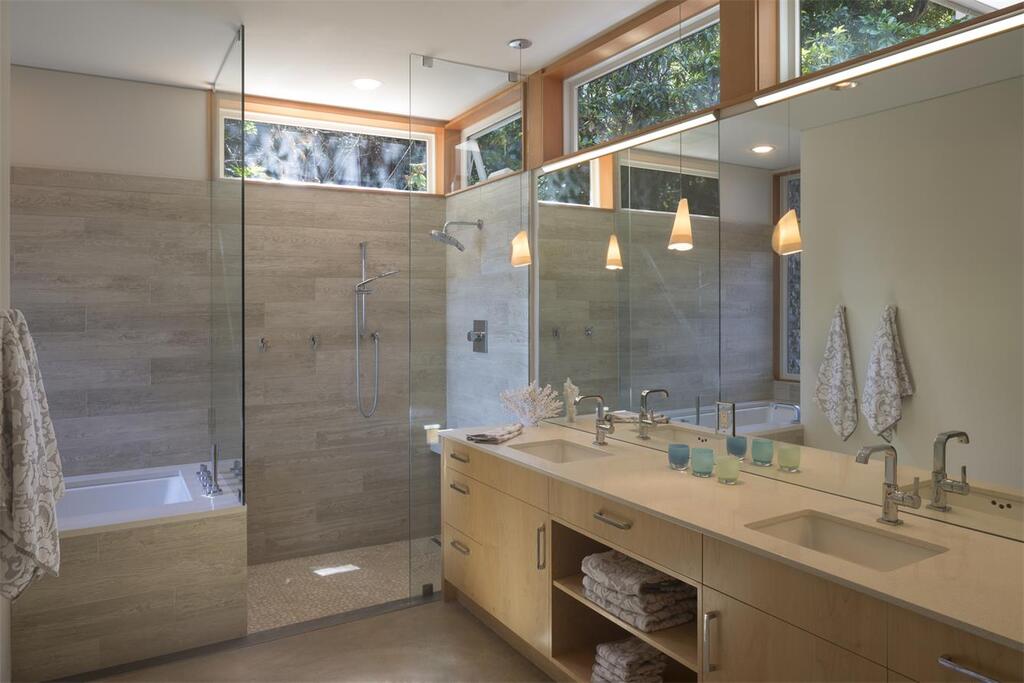 If you look closely, you'll notice that not one but there are so many nature-inspired elements present in this home. For example, pendant light fixtures in the kitchen are reminiscent of shells and, similarly, contemporary style wood-grained tile is in the master bath.
This house has been a part of the client's family since the 1950s. The hillside waterfront property also has two parcels that used to have a mid-century home and a 1920s cabin.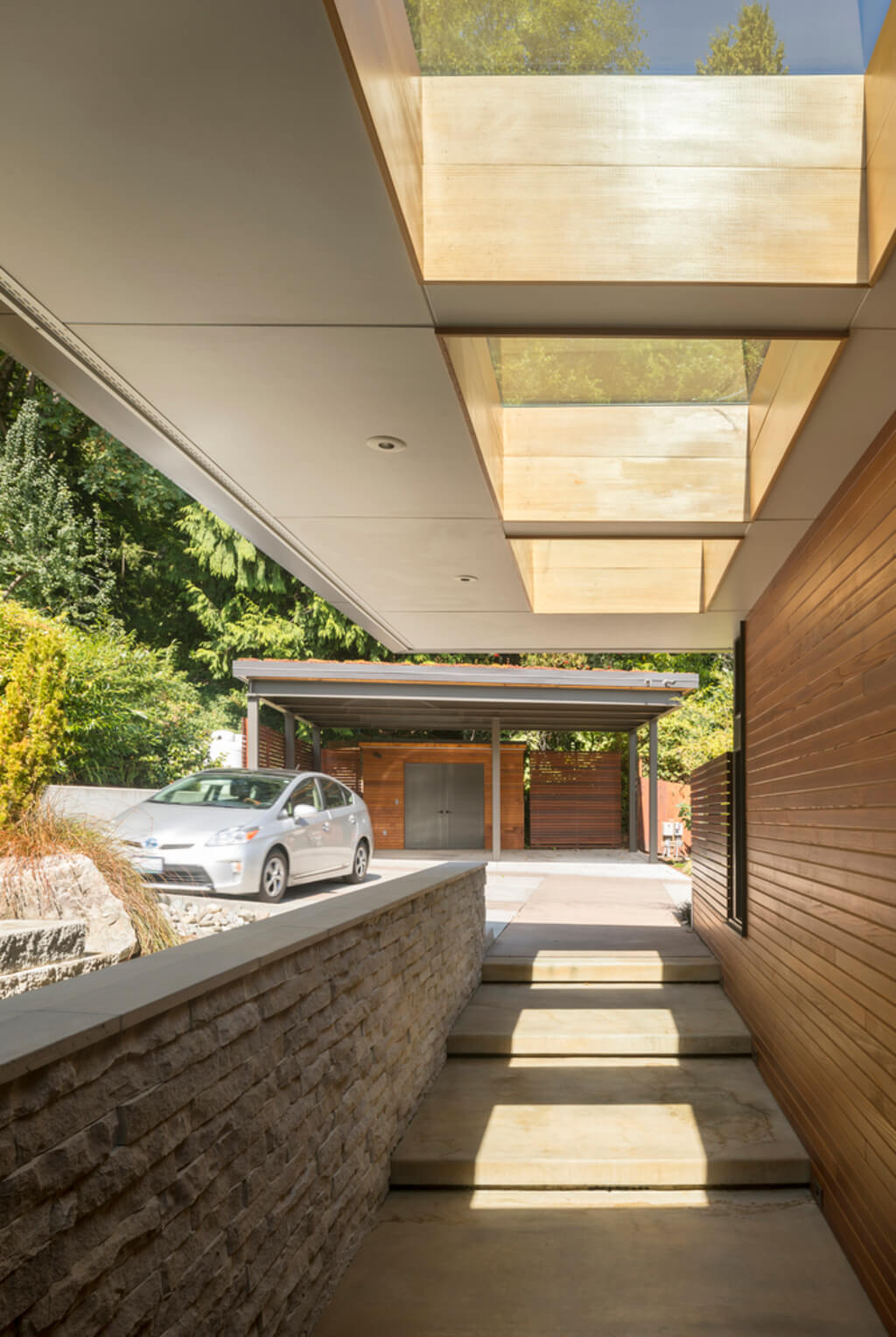 Later, these properties were acquired by the two siblings of the family, and they want the two homes re-develop in conjunction with one another. This means although these two houses are 50 feet apart from each other, they want to be able to visit each other's houses more often.
So whenever there will be a family function or gathering, both families can come together, enjoy, and stay together.
Architects have constructed the new structures while maintaining the existing site topography. They maintained it to minimize earth disturbance on the steep slope. That's why new homes are built on the existing footprint.
Modern Exteriors
When it comes to building materials, each home has a similar material palette. Both houses have materials like stone, concrete, wood, and metal in common. so So that even though they are different houses yet, they complement each other in some sort of way.
Both siblings have different tastes and styles, and you can see the subtle differences but still, both places have something in common such as a stone mass wall. It is constructed to delineate the private spaces from the shared central public areas like living rooms and kitchen.
Also, there is a communal drive that is share between the two homes. From there, you can also see a unique overlook of the cantilevered green roofs.
The Bottom Line
So, this is all about Seaview Escape House design by Coates Design Architects. If you're also wondering how two buildings can be construct in a way that they will have their own elements but still complement each other in some way, you can totally take inspiration from this house.
I hope you like this blog on the Seaview Escape House, and don't forget to share it with your family and friends.
If you want to know more about these types of unique and unusual houses or places to visit worldwide, read our previous blogs such as Crazy Futuristic Houses, 5 Smallest Houses In The World, Casona Sforza Hotel, and many more.
Find Out More: