"You can enjoy the brilliant sunlight, the clear air, the magnificent greenery, and the stars shining in the night sky. It is a facility where you can refresh your mind and body," quote by Shigeru Ban Architects.
The design principle of the Pritzker Prize-winning of Shigeru Ban Architects to create unique free and open spaces has been well expressed with their new wellness retreat in Japan. Shigeru Ban Architects designed Zenbo Seinei is set to open in April 2022. on a lush green site of Awaji Island surrounding the rich habitat of birds and other species.
With the material selection and techniques, a Japanese architectural firm, Shigeru Ban Architects, introduced a fresh approach to contemporary modern architectural design. Shigeru Ban Architects designs are known to work with locally available, sustainable, and affordable materials, and Ban is admired for his humanitarian help efforts and ideology.
The interesting location of the site Awaji Island in Hyogo Prefecture, near the Seto Inland Sea, is comparatively small, but it has enough to offer to its locals and visitors. The attractions range from a Hello Kitty resort to a Godzilla theme park. On Awaji island, there are many sights to see and places to explore as a visitor, including natural features such as parks, mountains, beaches, and spectacular straits; historic sites such as old shrines and temples, theme parks, museums; attractive villages, etc. This new institution, Zenbo Seinei will, however, have a distinct flavor and theme from its island surroundings.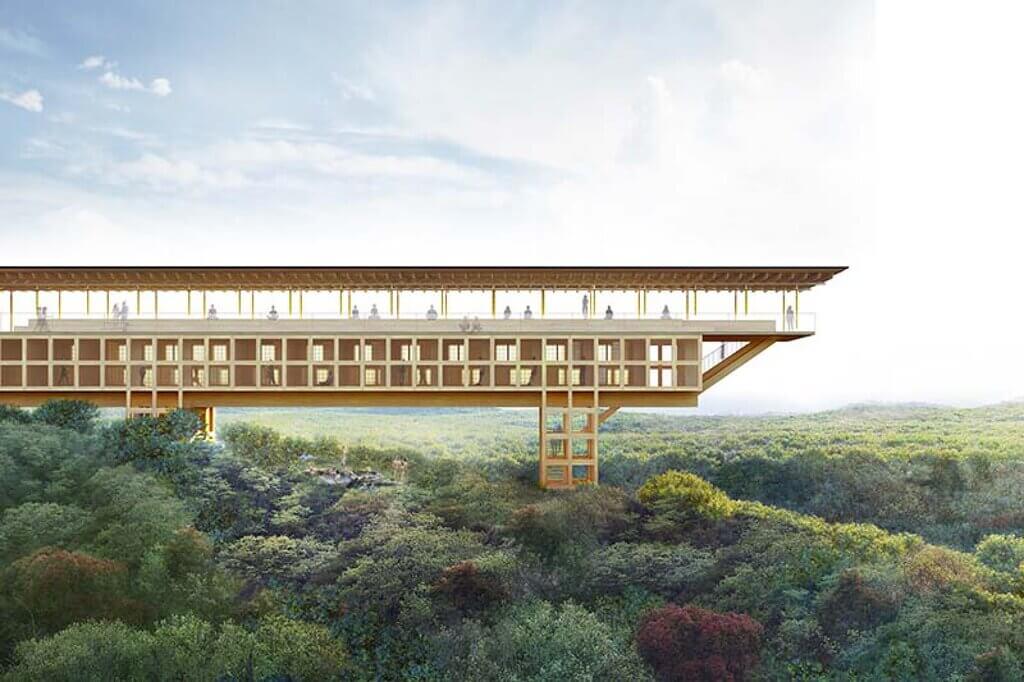 Source: aasarchitecture.com
And the placement is such that it is designed on the 135° east meridian, which is important because it became the standard meridian ( longitude) for all of Japan in 1888, allowing exact timekeeping.
Aim of the Wellness Retreat in Japan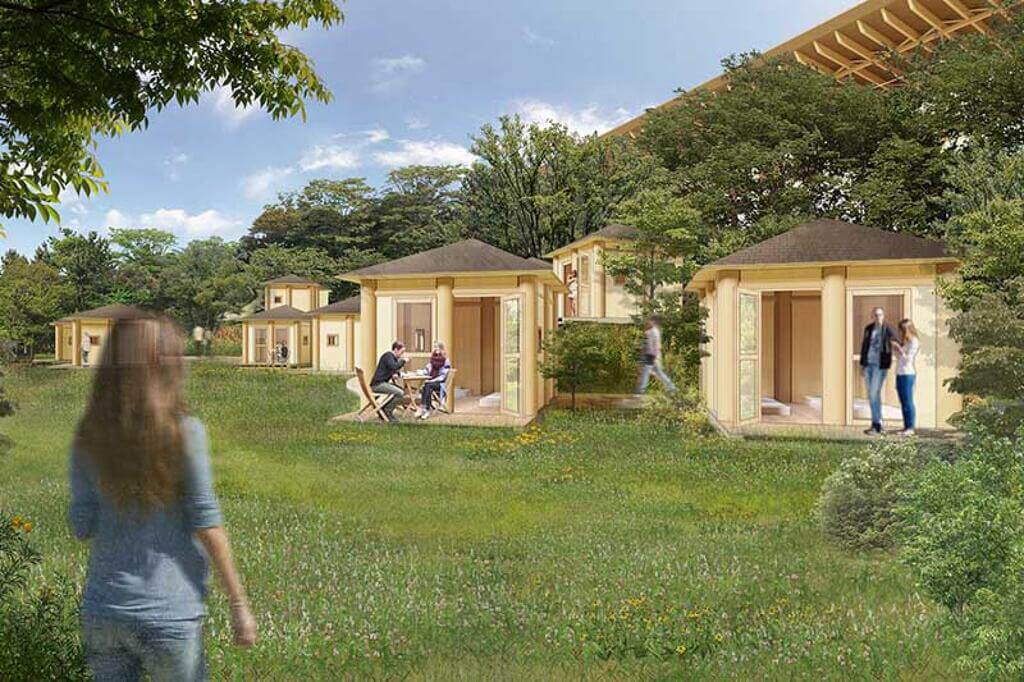 Source: aasarchitecture.com
The aim of this wellness retreat in Japan is to cater to healthy eating and mindfulness, and it is geared at tourists looking to get away from the city and into nature.
The project features natural materials above the lush nature, providing a serene experience for visitors and the locals. The timber girder allows for a good 21-meter span and a substantial light cantilever on one end. The total length of the structure is around 90-meter length, lending further into the forest. Zenbo Seinei will further include a restaurant and lodging, open-air viewing platform. This viewing deck serves as a zazen (meditation) studio. Visitors can enjoy several cabins, a café, and an open-air spa on this 3,00 square meter site.
The design blends in nature to give the user the experience of "being in nature", or "one with nature" This decreases anger, fear, and tension while increasing pleasant feelings. Nature-based design not only improves one's emotional well-being, but it also improves physical well-being by lowering blood pressure, heart rate, muscular tension, and the generation of stress chemicals serving as an antidote.
The use of material portrays Shigeru Ban Architects' notion as he describes his personal upbringing by his parents and the Japanese school system, Shigeru Ban was raised in an environment that taught him to appreciate the existing materials, to try not to waste them, and to perhaps reuse them.
Experience through the Wellness Retreat in Japan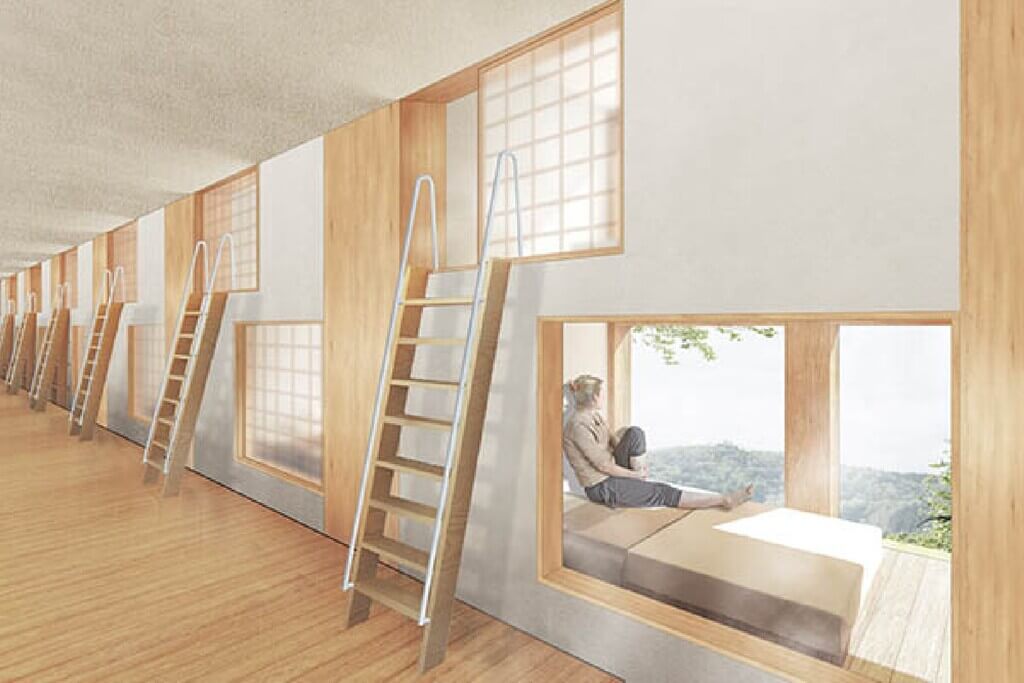 Source: aasarchitecture.com
The long and slender timber structure elevated on one side by steel columns maneuvers a person around the rich site shifting the focus towards different experiences.
The experience at this wellness retreat in Japan caters to relaxing open-air baths. With local and healthy tofu-based cuisine, and calming yoga sessions on an observation deck with panoramic views of the island. 
Shigeru Ban Architects describes this experience as "a place where you can experience zen."
Once on-site, Visitors will effortlessly "Experience Zazen" It is a meditation technique that is central to the Zen Buddhist tradition. The method of experiencing zazen varies by institutes, it can be thought of as a way of gaining insight into the essence of existence.
Restaurant as Retreat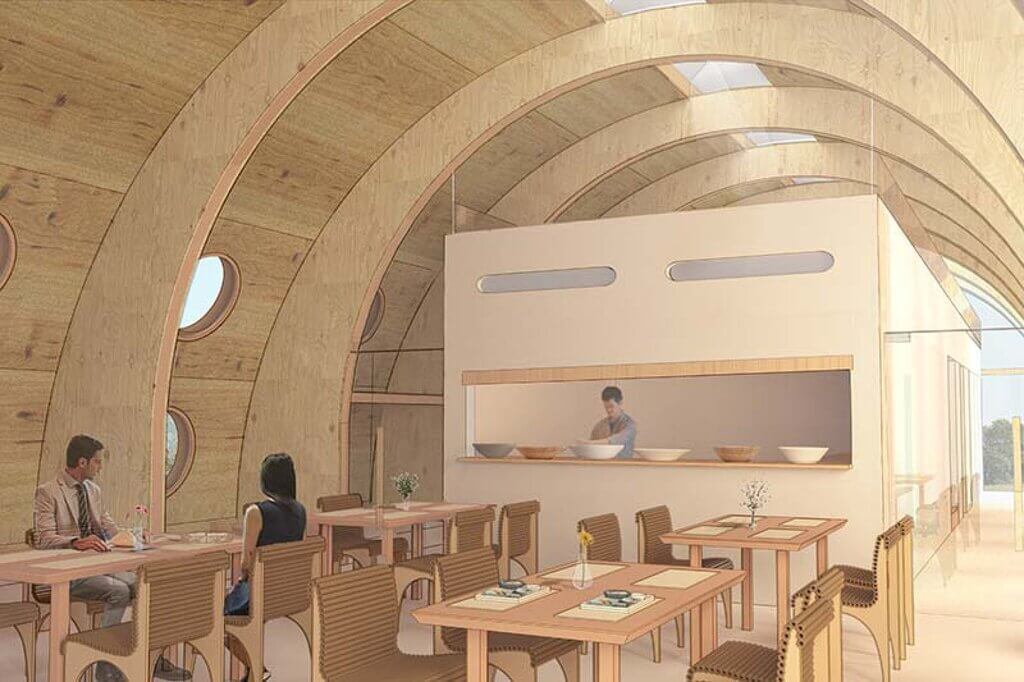 Source: aasarchitecture.com
In addition to the other retreat spaces, Zenbo Seinei will have a fresh perspective on restaurants that will serve meals created with locally available vegetables. The cuisine at this restaurant is said to be similar to the cuisine of Buddhist monks. There's also a series of wooden huts near the cafe.
The emphasis on the restaurant's design and the food served connects the design to the site's origins. Since ancient times, the Japanese Imperial Family has had several connections with Awaji Island. The island earned the moniker "food region" because it provided the Imperial Court with a variety of ingredients. Awaji Island is a wonderful mine of gourmet food, from animals to veggies and marine items.
The Main Element of the Wellness Retreat in Japan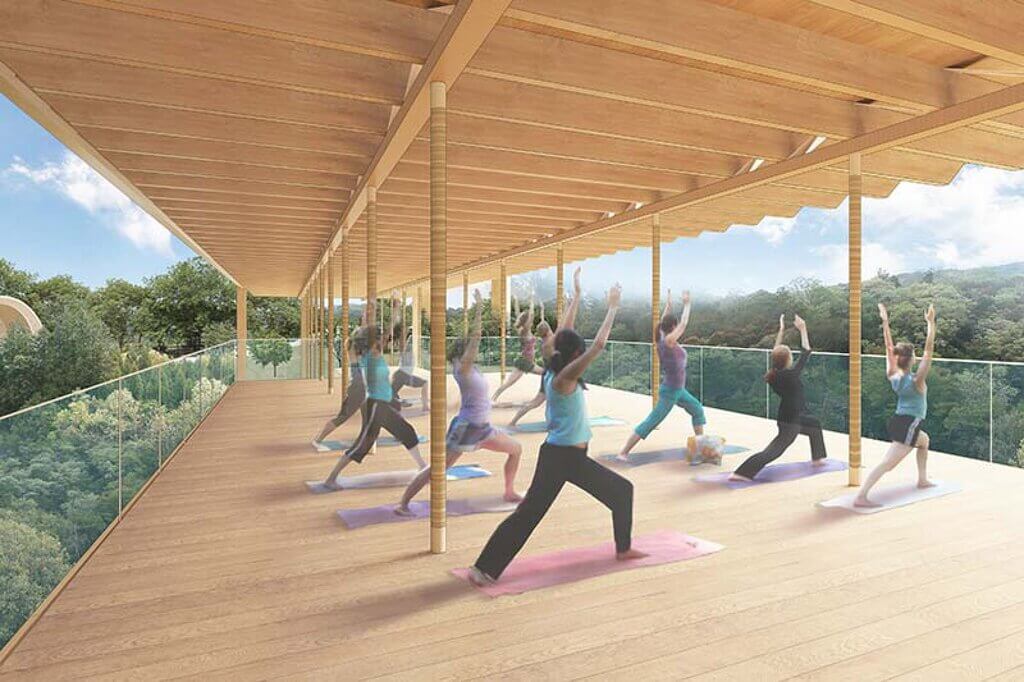 Source: aasarchitecture.com
The magnificent wellness retreat's stunning geometric design is what makes it so appealing. A 360-degree perspective of the rich surrounding mountainscape is provided through light-filled areas with latticework frames.
Zenbo Seimei's use of timber comes with a lot of advantages. Timber is easy to shape and modify which makes it easier for retreat's boardwalk construction. The remainder of the timber construction's waste can be recycled. When compared to other building materials, timber produces comparatively few pollutants.
Nails, screws, dowels, bolts, and connectors are all simple ways to join timber wood. Additionally, timber is light and easy to work with in terms of manufacturing, transportation, and construction.
Also Read: 30+ Modern House Design Single Floor Ideas of 2022
About Shigeru Ban Architects
Source: adsttc.com
Ban founded Shigeru Ban Architects in Tokyo in 1985. He won the Pritzker Architecture Prize in 2014 and was selected as an ambassador for the EU's New European Bauhaus in 2021. In Taiwan, his firm successfully completed the Tainan Art Museum.
Further on the sustainable aspects, Shigeru Ban Architects has also created a series of experimental houses based on the concept of repurposing non-architectural items, such as paper tubes. The stunning Japan Pavilion for the Hannover Expo 2000, which represents a comprehensive approach to SBA's PTS technology, is one of the most successful projects designed with paper tube architecture.
The Pasona Group along with Shigeru Ban Architects' motivation for designing wellness retreats in Japan stems from the Covid-19 pandemic, which has significantly changed people's approach towards work and life. Hence, The organization became interested in the potential to re-create happiness and fulfillment in natural settings. The aim is to promote healthy physical and mental wellbeing. 
For more information about the latest architectural development, keep coming to Architecturesstyle.
Also, do follow us on our Instagram page, Architecturesstyleideas, to get daily updates.
Related posts
The Floating Pitch of FIFA World Cup 2026
The 2026 FIFA World Cup is set to be the largest and most ambitious tournament in the event's history, with…