Imagine living in a city with no roads, no pollution from cars, and plenty of green space. Isn't it like a dream? On the other hand, The Line Saudi Arabia promises all the aforementioned advantages in addition to extra bonuses like carbon-free areas and complete use of renewable energy.
Do you want to learn more about The Line Project, an exceptional future city?
We have covered all of the project's specifics, its builders, and the possible outcomes of this megacity in this blog.
What is The Line Saudi Arabia?
Source: atalayar.com
The Line project is a futuristic city development project in Saudi Arabia that was announced in January 2021. It aims to be a zero-carbon, sustainable city that runs entirely on renewable energy and is designed around the concept of walkability.
What's more? The 170 kilometers long city will be built in a straight line, hence the name "The Line". It will be part of NEOM Saudi Arabia, a $500 billion project that aims to create a new economic zone in the northwest of Saudi Arabia.
Highlights of The Line Saudi Arabia
1. The Line Saudi Arabia is a City for the People
Source: scene7.com
The 170 KM Gigacity is a new form of urban development that includes several, linked neighborhoods with natural and pedestrian-friendly areas. It values people and the environment, and significant tracts of land are set aside for protection.
2. Pedestrian Friendly
Source: moneycontrol.com
The Line Saudi Arabia has all the features that make it one of the best smart cities in terms of walkability! How? The city will have no cars or streets, and instead, it will be designed for pedestrians, making it easy for people to walk around and access all the city's amenities.
Moreover, the city will use advanced technologies, such as AI-powered traffic management systems, to provide seamless and efficient transportation for its residents. The ultra-high-speed transit systems will enable residents to move around the city quickly and easily, enhancing the pedestrian experience. You can also check modern townhouse design.
3. 5-Minutes Walkability
Source: designcitylab.com
You have probably heard about 15-minutes walkability in urban development projects. Well, the Line Saudi Arabia takes this concept a notch higher by introducing a 5-min walkable concept. It is easy to claim that everything is within a 5-minute walking radius, but how do they intend to achieve this?
This is the reason why it is planned to be a linear metropolis with a maximum width of 20 km (12.4 miles) and a length of 170 km (105.6 miles). The city will be split into urban clusters, each with its own central pedestrian spine connecting to the others. To make walking even more pleasant and convenient, the pedestrian spines will be covered, climate-controlled, and incorporate moving pathways.
4. The Line Project has Space for 1 Million People
Source: parametric-architecture.com
With all the futuristic amenities, you are probably wondering if the Line project is yet another experimental city accommodating about a few thousand residents. However, it is expected to be a significant urban development project, with a target population of one million residents by 2030. Let's see saudi arabia launch world's largest modern downtown in riyadh.
One of the primary reasons for the city's capacity is the elimination of automotive traffic and a linear construction plan. Apart from that, NEOM is reinventing public transportation by bringing high-speed trains and other non-ground means of transportation.
5. Powered By Renewable Energy Sources
Source: scene7.com
The Line's commitment to renewable energy is a key part of its vision for a sustainable future. By using renewable energy sources, the city will be able to reduce its reliance on fossil fuels and promote a more sustainable way of living.
Solar, wind, and hydrogen-powered power plants will supply all of the energy used in NEOM, assuring clean urban environments. With the integration of services into the infrastructural spine, The Line Saudi Arabia enables the establishment of a transmission and distribution system that is ecologically benign.
6. Striking Mirrored Facade
Source: timesofisrael.com
The mirrored facade of the Line project Saudi Arabia is meant to mimic the surrounding scenery and give a sense of harmony with the natural environment. Also, by reflecting sunlight and lowering the amount of heat absorbed by the structures, it will assist to minimise the amount of energy required to heat and cool the buildings.
NEOM- Philosophy
Now that we know all the exceptional features about Saudi Arabia- the Line City, let us learn about its parent body- NEOM Saudi Arabia.
NEOM is a planned futuristic development project located in the northwest of Saudi Arabia, along the Red Sea coast. The project aims to create a new model for sustainable living and to diversify the Saudi economy through the development of a high-tech economic zone. It is a part of Saudi Arabia's Vision 2030 plan, which aims to reduce the country's dependence on oil and diversify its economy.
Source: pngitem.com
Source: dezeen.com
Source: dezeen.com
Source: dezeen.com
Source: dezeen.com
Also Read: 25 Types of Exterior House Stone That You'll Love
What are the Projects Under NEOM Saudi Arabia?
NEOM is a massive project that encompasses a wide range of different initiatives and projects, aimed at creating a futuristic, sustainable city and economic zone in Saudi Arabia. Some of the key projects under NEOM include
1. The Line Project:
A 170-kilometre (105-mile) urban development that is designed to be completely car-free and powered by renewable energy sources. The Line will connect various parts of NEOM and will feature a range of residential, commercial, and recreational spaces.
2. The Valley:
A 160-kilometre (100-mile) development focused on technology and innovation. The Valley will be home to a range of research and development centres, as well as academic institutions, startup incubators, and other facilities.
3. NEOM Bay:
A mixed-use development along the Red Sea coast, featuring luxury hotels, residential properties, and recreational spaces.
4. NEOM Industrial City:
A massive industrial complex focused on advanced manufacturing, petrochemicals, and other high-tech industries.
What are Our Expectations from the Line Project- Saudi Arabia?
The Line project -in Saudi Arabia is an ambitious plan to build a sustainable and livable city of the future. While the project has generated excitement and optimism, it has also faced some controversies, including concerns about the displacement of local communities and the potential environmental impact of the development. Additionally, environmentalists worry about the potential impact of the mirror facade on local wildlife.
However, many people still have high hopes for The Line and expect to see it overcome these challenges to emerge as a visionary city of the future. Let's hope that The Line project will live up to its promises and set an example for sustainable and eco-friendly urban development around the world.
More from The Architecturesstyle
For more information about the latest architectural development, keep coming to Architecturesstyle.
Also, do follow us on our Instagram page, Architecturesstyleideas, to get daily updates.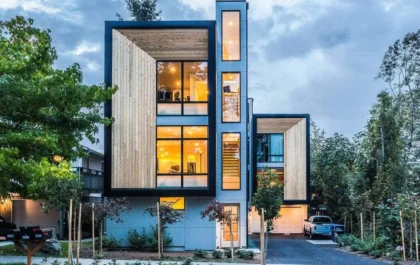 27+ Stylish & Modern Townhouse Designs for Urban Living.
The townhouse's first impression is normally too small, too compact, too narrower, and the list is endless. Well, let us…