Every day we cross at least one bridge, but have you ever thought that it might be one of the tallest bridges in the world? No..Right? (Who spends time thinking that in our busy lifestyle?)
If you never came across a bridge with the most breathtaking views, then you're missing a lot. There is an infinite number of viaducts across the globe, but some of them are just mind-blowing. Not only they have incredible structural designs, but the whole construction is like a fairy tale.
Now, you might think where those bridges are. Right? In this blog, we have gathered the top 10 tallest bridges in the world. So keep on reading and prepare your mind to get some architectural shock!!
So, the list starts from here. Keep reading and scrolling down as below is the list in descending order. Continue reading until the end to find the world's tallest bridge, and in addition to that, there is also a list of other viaducts that also come in under 20 rank.
10. Duge Bridge
Location:

Shuicheng County, Guizhou Xuancheng, Yunnan

Height:

269 meters (883 ft)

Year:

2016
The Duge Bridge is at 10th in our list of tallest bridges in the world. This bridge is situated in China and joins the Xuanwei city, Yunnan and Shuicheng County, Guizhou regions. The length of this beautiful bridge is about 720 meters (2,360 ft) on the Beipan River.
Did you know that this bridge shortens the time duration it takes to reach from one place to another? Earlier it used to take 4 long hours. However, since the construction of the bridge, it now takes just 1 hour.
9. Yi Sun-sin Bridge
Location:

Yeosu, Jeollanam-do, South Korea

Architect:

Daelim Industrial Company.

Height:

270 meters (890 ft)

Year:

2007
Yi Sun-sin Bridge not only comes in the top 10 list of the tallest bridges but with a span of 1,545 meters (5,069 ft), it is also the World's fifth-longest bridge. Interesting right?
The name of the bridge was named after the Korean Admiral, 'Yi Sun-sin.' He was born in 1945 and built the world's first ironclad warship called the ' Turtle ship.' This bridge connects Gwangyang with a small island called Myodo-dong.
8. Akashi-Kaikyo Bridge
Location:

Kobe, Japan

Architect:

Satoshi Kashima

Height:

298.3 metres (979 ft)

Year:

1988
Akashi-Kaikyo Bridge connects the mainland of Japan to beautiful Awaji Island. It was the longest suspension bridge in the world when it was opened in 1988. This is a six-lane bridge that connects Kobe city to Iwaya on Awaji Island.
This bridge is about 12,831 feet long (3,911 metres) with 2 spans, 6,532 feet (1,991 metres), 3,150 feet (960 metres).
7. Chishi Bridge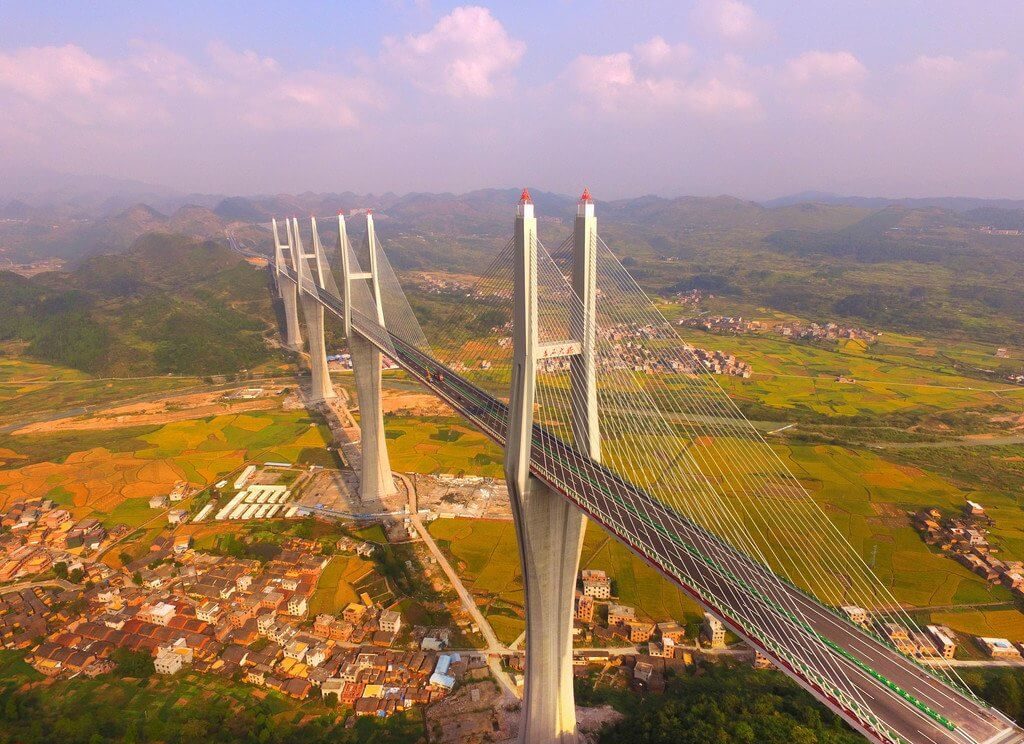 Location:

Chishi Township, Yizhang County, Hunan Province, China

Architect:

Hunan Provincial Communications Planning Survey and Design Institute

Height:

288 meters (945 ft)

Year:

2016
The New York Times says that this is not only one of the toughest bridge projects but also one of the proudest projects of China. By this, you get a fair idea that this bridge has some significant features that any other bridge doesn't have. The overall cost of this project was around US $300 million. With a height of 288 meters (945 ft), this comes at rank 7 in the top list.
6. Stonecutters Bridge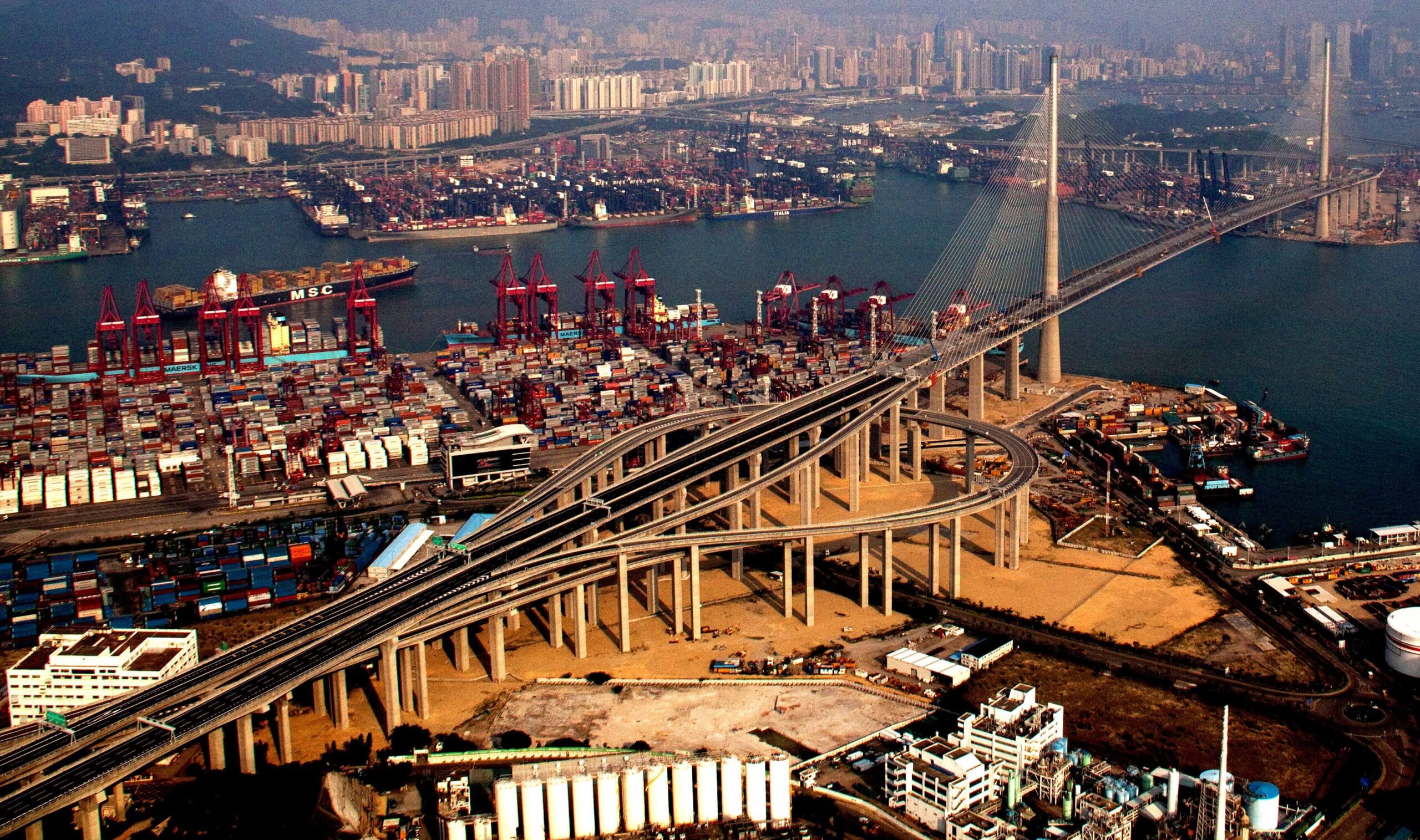 Location:

New Territories, Hong Kong

Architect:

Dissing+Weitling

Height:

298 meters (978 ft)

Year:

2009
Just look at the beautiful pictures of this extraordinary bridge, isn't it gorgeous? Stonecutters Bridge, a one-of-its-kind cable-stayed bridge connects Nam Wan Kok, Tsing Yi to Stonecutters Island. It took almost 6 years to complete this mega structure and was finally opened on 20 December 2009. In the same year, it became the world's second-longest bridge.
Did you know that 2.76 billion Hong Kong dollars were spent to get this structure up?
5. Sutong Bridge
Location:

Nantong / Changshu, Jiangsu, China

Height:

306 metres (1,004 ft)

Year:

2008
The "Sutong Yangtze River Bridge" is sometimes known as "Sutong Bridge." Did you know that the span of the Sutong Bridge is 1,088 m (3,570 ft)? That's why it remained the longest span bridge from 2008-2012.
Another fascinating thing about this bridge is that in 2010, it received the Outstanding Civil Engineering Achievement Award (OCEA) from the American Society of Civil Engineers.
4. Russky Bridge
Location:

Vladivostok, Russia

Height:

320.9 meters (1,053 ft)

Year:

2012
This magnificent bridge connects the mainland with the Russky island, which is home to museums, old forts, and a university. It opened in July 2012 for the public. The sad part is not many people use this bridge.
Another thing that is mind-boggling is that it took only 43 months to complete the whole construction.
So, are you excited to know the top 3 highest bridges in the world? Here you go:
3. Yavuz Sultan Selim Bridge
Location:

Istanbul

Architect:

Jean-François Klein & Michel Virlogeux T Engineering

Height:

322 metres (1,056 ft)

Year:

2016
The official name of this remarkable bridge is Yavuz Sultan Selim Bridge, but it is also known as Third Bosphorus Bridge. This bridge is unique in its own way because this is used for both rail and motor vehicles.
Not only Yavuz Sultan Selim Bridge comes at rank 3 in the list of world's tallest bridges, but also it is also one of the world's widest suspension bridges. Quite impressive, right?
2. Pingtang Bridge
Location:

Pingtang, Guizhou, China

Height:

332 metres (1,089 ft)

Year:

2019
The second rank holder is Pingtang Bridge, it is known initially as "Caoduhe Bridge." this bridge has a total length of 2,135 meters (7,005 ft) with Height 332 meters (1,089 ft) and it's longest span is about 2×550 meters (1,800 ft). Such dynamic dimensions justify the building cost which is 1.5 billion Yuan (approximately US $215 million).
1. Millau Viaduct
Location:

Millau-Creissels, Aveyron, France

Architect:

Michel Virlogeux & Norman Foster

Height:

336.4 metres (1,104 ft)

Year:

2004
And drum rolls…Please!! As we're going to tell you, who is the world's tallest bridge.
The tallest bridge in the world is none other than the Millau Viaduct Bridge!! Yes, it is the same bridge that was built 15 years ago, but still, there is no bridge that has similar dynamic dimensions like this because of the advanced technology and with the proper guidance & immense hard work of the architects, this became possible.
The total length of this viaduct is 2,460 m (8,070 ft) and the width is 32.05 m (105.2 ft). There are a total of 3 spans – 204 m (669 ft), 6×342 m (1,122 ft) (longest one), and 204 m (669 ft) respectively. The basic building material is Concrete & steel, and you'll be amazed to know that the design life of this ultimate bridge is 120 years!!
If you were excited to learn about the top 10 list, then we will get you thrilled even more as our write-up does not end here. Apart from these top 10 tallest bridges in the world, we have also provided a list from 11 to 20. Check them too because they also have some fascinating facts & things:
S No.
Bridge Name
Height (in m/ft)
Location
11

.

Jingyue Bridge

265 meters (869 ft)

Jingzhou, China

12.

Nizhou Waterway Bridge

260 meters (850 ft)

Dongguan and Guangzhou, China

13

.

Yachi River Bridge

258.2 meters (847 ft)

Guiyang (Guizhou), China

14

.

Jiayu Yangtze River Bridge [zh]

255 meters (837 ft)

Jiayu County, Hubei, China

15.

Yangsigang Yangtze River Bridge

254.9 meters (836 ft)

Wuhan (Hubei), China

16

.

Great Belt East Bridge

254 meters (833 ft)

Korsør, Denmark

17

.

Liuguanghe Xiqian Expressway Bridge

248 meters (814 ft)

Liutongxiang, Guizhou, China

18.

Zhongzhou Yangtze River Bridge

247.5 meters (812 ft)

Huangshi, China

19

.

Gongshuihe Bridge [zh]

245 meters (804 ft)

Xuan'en County, China

20.

Jiujiang Fuyin Expressway Bridge

244.3 meters (802 ft)

Jiujiang, China
Conclusion
So, this is all about the bridges (tallest bridges in the world). Not only their height is a matter of amazement but also their designs & the way they designed. Simple words just can't describe the work of designers & architects.
So if this takes your heart away and you're interested to know more about these kinds of enchanting structures and buildings, check out our previous blog on tallest buildings in the world.
Read More: