Project Specifications:-
Architects:

Joris Laarman Lab

; Engineers: Arup, MX3D

Year: 2021

City: Amsterdam

Country: The Netherlands

Photographs: Thea van den Heuvel, Adriaan de Groot, Jande Groen, Thijs Wolzak, Merlin Moritz

Technology: MX3D, Proprietary Software

Material & Structural Analysis: Imperial College London

Material Expert :ArcelorMittal

Research: AMS-3D Building Fieldlab, Amsterdam Institute for Advanced Metropolitan Solutions

Digital Twin Sensor Network And Systems Integrator: Autodesk

Digital Twin Modeling: The Alan Turing Institute

Construction Expert :Heijmans & Mous

Client: City of Amsterdam

Designer:Joris Laarman Lab

Sensor Network Design & Install: FORCE Technology, University Twente & Autodesk

Scanning: Faro Technologies
Parametric architecture and computational methods have paved the way to some of the most iconic structures in the 21st century, the bridge by MX3D in Amsterdam is one such stellar example. MX3D unveiled the world's first 3D printed steel bridge that has many awards in its hold till now. It is a futuristic stainless steel bridge designed by Joris Laarman Lab, Arup that will be placed over the oldest canals of Amsterdam in the red light district.
The project design and execution has been a culmination of years of work and thought. It was kicked off in the year 2015, when the firm proposed a 3D printed bridge that will be created by using innovative large scale 3D printing robots to create a technologically advanced prototype, way ahead of its time. The bridge has an authentic innovative form that creates a state of art within the district. It aimed to create a new form of architectural language by using technology. Let's see MX3D Smart Bridge.
"The Bridge is only the beginning for our technology, by now MX3D has introduced its metal printing tool on the industrial market, and with this tool already many companies have started printing like us. I am looking forward to all positive impact and new ideas our client will realize", says Gijs van der Velden, CEO MX3D (LRF)
Design Execution
This one of a kind project has been a collaboration of many stakeholders to create an ambitious vision ideated by Arup and Joris Laarman Lab. The construction was started in the year 2017-18 with the help of four 3D printer robots that used 6000 kgs of the stainless street to create this art piece as an urban intervention in the city of Amsterdam. Design of MX3D Smart Bridge.
The city in turn granted the designers two years to create this masterpiece ready for public use. It was created by using a generative design that uses optimisation techniques, reducing the overall material usage by helping the designers to make informed designs before the construction.
A Cutting Edge MX3D Smart Bridge
The bridge is like a living laboratory that is equipped with a state-of-art sensor network. The goal behind creating this piece doesn't end with just a single end product, the city of Amsterdam is viewing this bridge and the technology behind it as an academic and industry research to explore the role of IoT systems. The city aims to go deeper into understanding the nuances of IoT systems and how they can collaborate to thrive city life by aiming for a better-built environment.
These systems can be used to observe crowd behaviour that can help in understanding the tourism in the district. MX3D Smart Bridge is also visioned to question data ethics, city analytics and open several data. For this very same reason, the rather small-scaled bridge was granted open access of two years to be executed by the city of Amsterdam.
Enters The 'Digital Twin' To Create World's First 3D Printed Steel Bridge
A collaboration between MX3D, Arup, Autodesk, University of Twente, FORCE Technologies and much more lead to creating a sensor network for real-time data collection to create usable analytics. This was done to feed in these analytics in the Digital Twin of the bridge.
To simplify, the sensors in the bridge collect the data like a stain, load, displacement, vibration, etc along with environmental factors like temperature, air quality, etc. This data is then used to create a 'Digital Twin' of the bridge. It is a computer model which is accurate and precise that matches the real-time bridge.
Designers and engineers can then deeply study these factors to create viable design interventions like the MX3D Bridge for the city. These sensors also help in analysing the life span of the structure over time and predict its wear and tear. This sensor senor data will also help the bridge in understanding how many people are using it at one go and what is the frequency of the same. Therefore, the 'smart' bridge!
Autodesk designed software that served as a system to integrate the smart bridge. It collects the data from the sensors and helps in creating a digital twin model. They worked in close coordination with FORCE Technologies and Data-Centric Engineering Program at Turing to design as well as install this system. This technology is also helpful for performing several tests in the initial stages. These analyses added up to making this bridge well of to hold up to 19.5 tons, which is way above its ultimate design load.
Artificial Intelligence For MX3D Bridge
National Institute for Data Sciences and Artificial Intelligence along with Turing began their association with the MX3D Bridge after the digital twin. They assembled an interdisciplinary team of data experts and AI professionals to create a thorough ethics review to make sure that all its scientific goals are making sure that they don't compromise the privacy of the public. The Turing researchers are also doing a commendable share of work by developing advanced digital twin models for prototyping.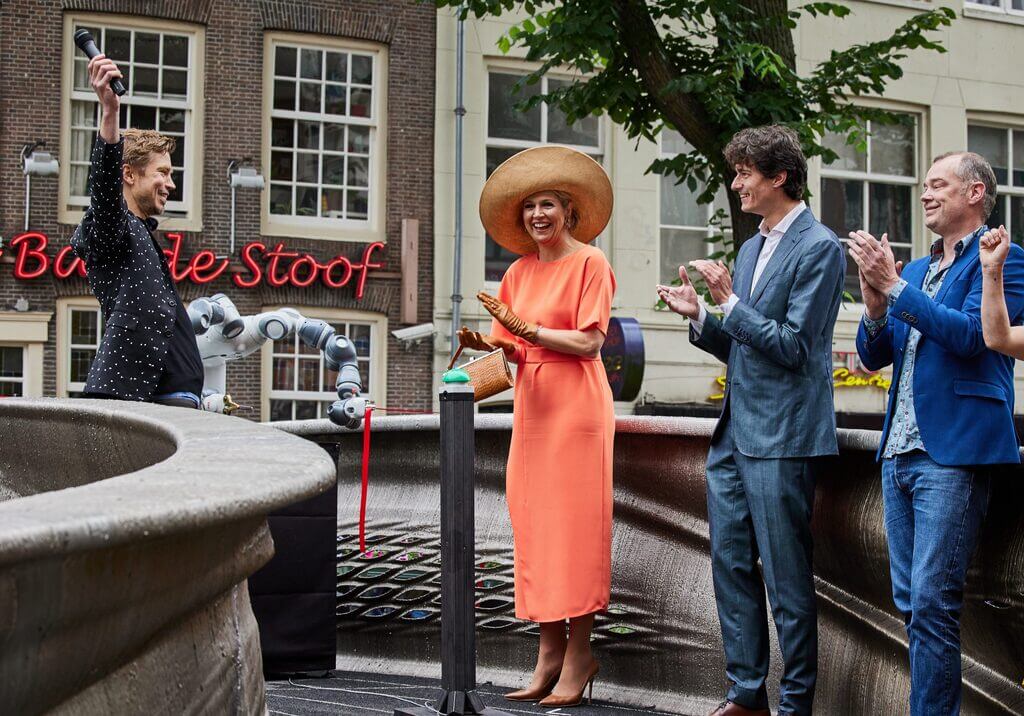 The Officials Take
The local government of Amsterdam has proven how the officials can act as city facilitators to build smart cities by collaborating cutting edge technology. This value research project has collaborated with top-not design thinners, 3d printers, robots and automation to create a mystical urban intervention.
Although, the original design concepts were changed majorly due to several engineering restrictions and safety concerns. A robot was triangulated in its position to print on-site, in a way validating the thought that bridges built by robots with no human interventions don't only exist in science fiction but are happening in actual reality.
This masterpiece by a streamline of designers, engineers, researchers, etc marks the inception of newer collaborative ideas by blending technologically advanced equipment at one go. It adds digital twins AI, sensor network, and robots to create a bridge that is way ahead of its time. With a purpose to increase tourism by identifying issues for the city of Amsterdam, this bridge connects the heritage city to futuristic avenues.
Discover More: