Dreaming of your own backyard pool? This can be the perfect place to cool off on a hot day, give your body a well-deserved rest, or even have a little swim. In a home's outdoor spaces, a pool is seen as one of the most exciting features.
If you've bought a house without one, though, retrofitting can be expensive. That's why you might have to get a little creative.
In this guide, we're exploring some of the alternatives to traditional backyard pools and ways that you can take advantage of pool plans to enhance your home. Let's dive into some of your options (pun intended).
Set Up a Stock Tank Pool
Source: ditchingnormal.com
Stock tank pools are made out of tanks traditionally designed to contain water for animals to feed from. They're often available at a pretty reasonable price, and it is possible to get models that can be packed away after summer.
A stock tank pool might not be as high-tech as other models, but it does give you options, and you can install a pump and chlorine dispenser to give it more of a pro design. On top of that, there are a lot of different designs and sizes, so you are likely to find something great for your own home.
Inflatable Pools
Source: bobvila.com
Inflatable pools are probably the easiest way to install some form of pool! If you're in a location where it is only hot enough to justify pools for a few months of the year (or even less), a pool like this may be enough. They're also usually relatively shallow and can be good for kids.
They take a bit of effort to set up, of course, but that doesn't mean you should ignore inflatable pools. They can also be put away in relatively small spaces once packed up.
Convert a Shipping Container
Source: pinimg.com
Shipping containers have become very fashionable, and a lot of people like to use them to add protected outbuildings to their homes. They can also be converted into a pool. In fact, with the right know-how, these can make a very good alternative to traditional pool design.
Certain companies specialize in containers and convert them into more useful structures. It certainly has a rustic look. but that doesn't mean it can't work, and like other pools, you can install things like chlorine dispensers and filters to keep the pool clean and safe.
Construct a Concrete Pool
Source: lathampool.com
If you are looking for a more permanent design, a concrete pool could be an option for you. Be careful with this as it is a big job to fill in once you finished the job.
A concrete pool is usually dug out from the yard, then concrete, tiles, and plaster are added to make a functioning pool. One of the top reasons to consider a concrete pool is that it can be made to your exact specifications and whatever pool type and size works for your backyard.
Plunge Pool
Source: havenlifestyles.com
A plunge pool is a smaller pool that can be relatively deep and give the option of swimming some simple laps or just dunking in to cool off!
They're based on the sort of pools you may see at the foot of a waterfall. They are usually quite deep so that they can maximize the space in your yard, so you don't have to sacrifice lots of space to get a deep pool.
These look great and are similar to traditional designs of pools but smaller, and as such, they are also more affordable. A plunge pool might be an option in a space where you don't quite have room for a full-sized pool but still want a relatively deep space in your yard.
Also Read: Outdoor Living: Take the Inside Comfort Outside with Garden Furniture
Wall-Mount Pool
Source: wp.com
Wall-mounted pools are great for building alongside a wall which can give some structure, keep the pool water nice and cool, and also provide you with a more affordable install. You will still need somebody to install this professionally if you cannot do so yourself, but it is a great option for use in the summer.
There are some really clever designs of wall-mount pools that fit perfectly within a backyard space. It is still not the cheapest option out there, but it is a lot cheaper than some of the bigger pool designs that a specialist would be required to fit.
Deck-Style Pool
Source: pinimg.com
This can be a great, clever way to integrate your pool. If you already have a decking structure, the pool can be integrated within. This can complete your perfect backyard design.
This is a more permanent design of pool than some of the others and can be more affordable than excavating a space in your yard for the pool. Carpenters and pool professionals might be required to make sure you have the perfect design, and that wood is treated so that you don't end up with algae or other pool-related issues. It is always essential to protect against this and make sure you have a hygienic pool design.
These are some of the most creative options for pool designs that may be much more achievable than you had thought.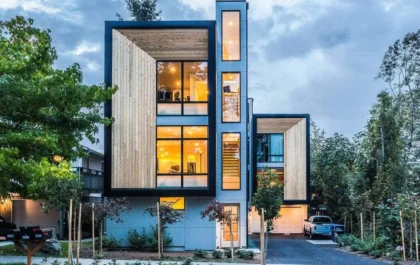 27+ Stylish & Modern Townhouse Designs for Urban Living.
The townhouse's first impression is normally too small, too compact, too narrower, and the list is endless. Well, let us…