Recently, a London-based studio 'Hopkins Architects' presented its newly completed structure, Turtle Sanctuary. It is located in one of the beautiful and sensitive reserves in the Gulf. So, what is this, and what is unique about this architecture? To get all the answers, keep on reading. 
Turtle Sanctuary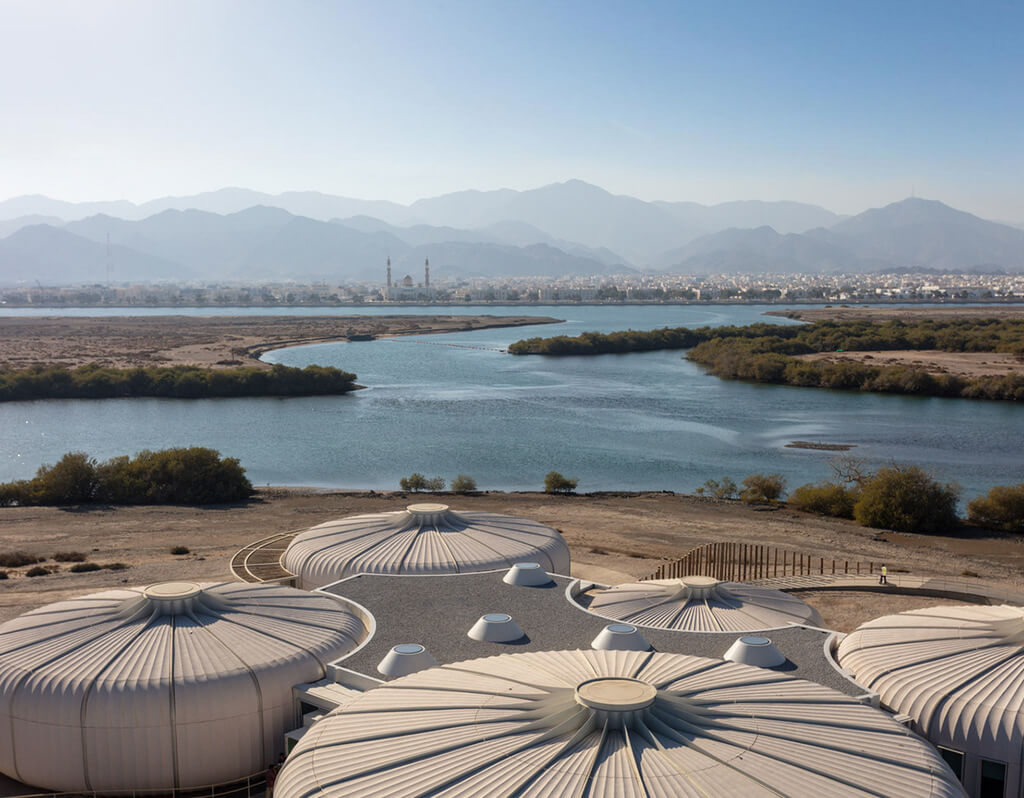 Source: worldarchitecture.org
Project Title: Khor Kalba Turtle and Wildlife Sanctuary
Architects: Hopkins Architects
Location: kalba mangrove reserve, Abu Dhabi, United Arab Emirates (UAE)ra remarkable structures. 
Year: April 2021
Khor Kalba Turtle and Wildlife Sanctuary is situate at the most breathtaking and biodiverse nature reserves in the UAE's gulf. Designed by Hopkins Architect, this project is defined by an unusual but amazing-looking cluster of rounded building forms.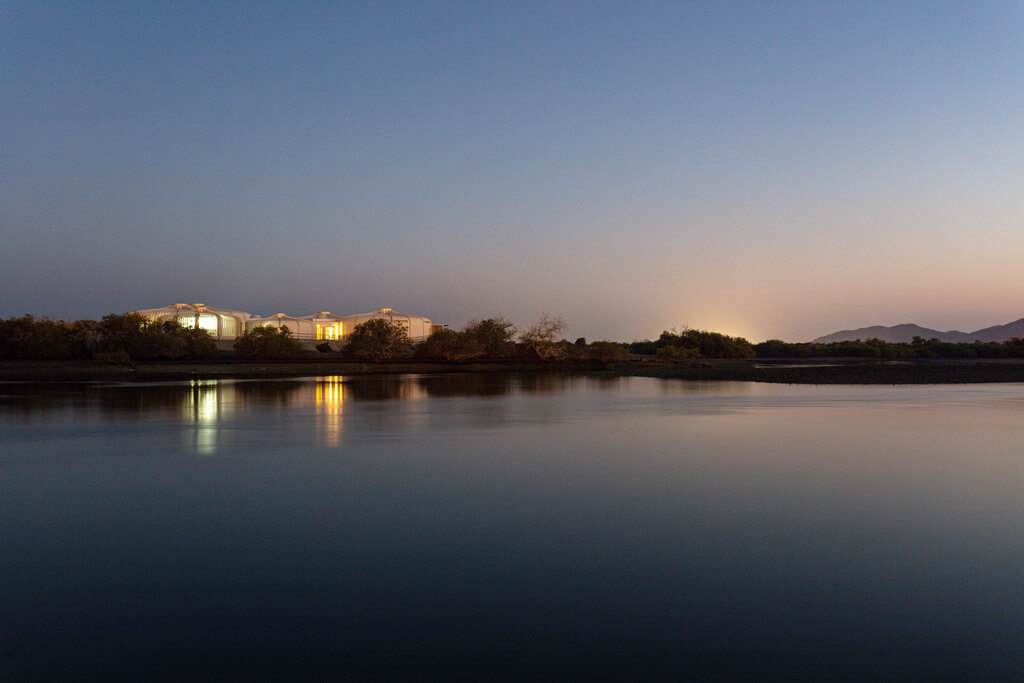 Source: dezeen.com
British studio Hopkins Architect aimed to design a series of interconnected structures that were sensitive to the site. The site is located by the Indian Ocean alongside a lagoon and dense mangroves.
With the help of local initiatives and expertise, architects have created these rounded volumes. They are use as a home for rehabilitating turtles and nurturing endanger birds.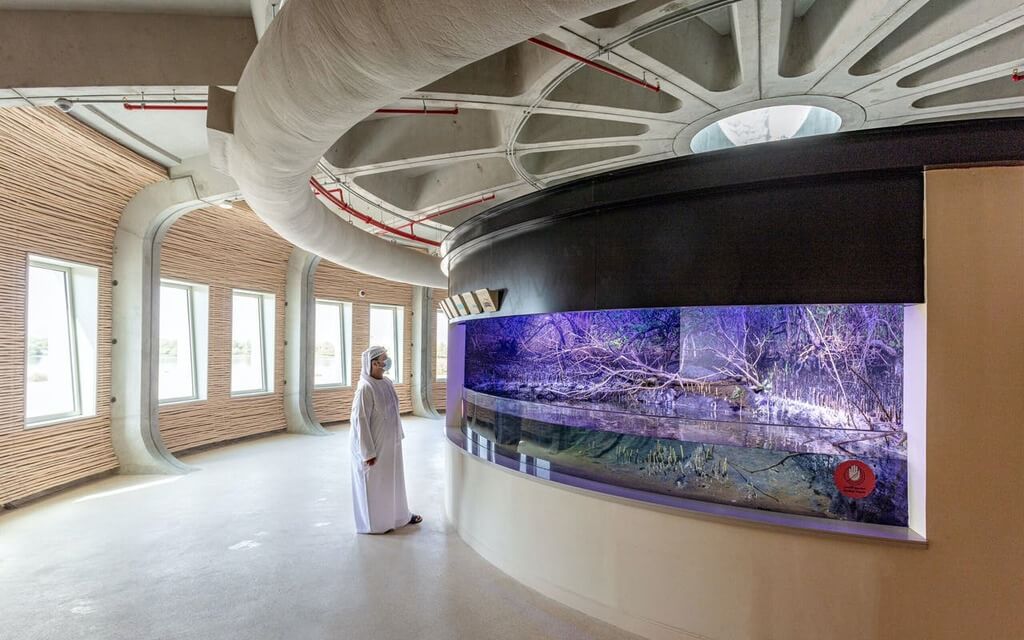 Source: images.fd.nl
Do you know that this center also provides education? Yes, this facility will also offer education and visitor facilities about nature and animals. This will increase environmental awareness in the people when they will engage with various conservation programs.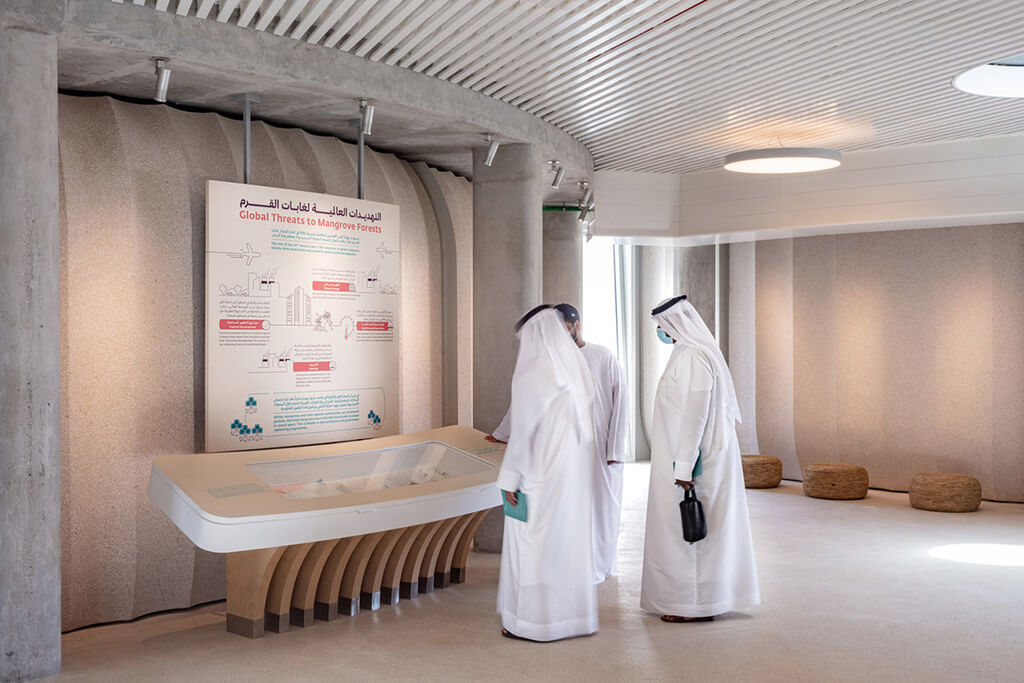 Source: worldarchitecture.org
These prefabricated concrete pods are situated on the eastern coast of the emirate of Sharjah in the UAE. The turtle sanctuary and visitor center are mainly built for or undertaken by Sharjah's Environmental Protected Areas Authority (EPAA). You can find this place on the edge of the Kalba nature reserve.
About The Architect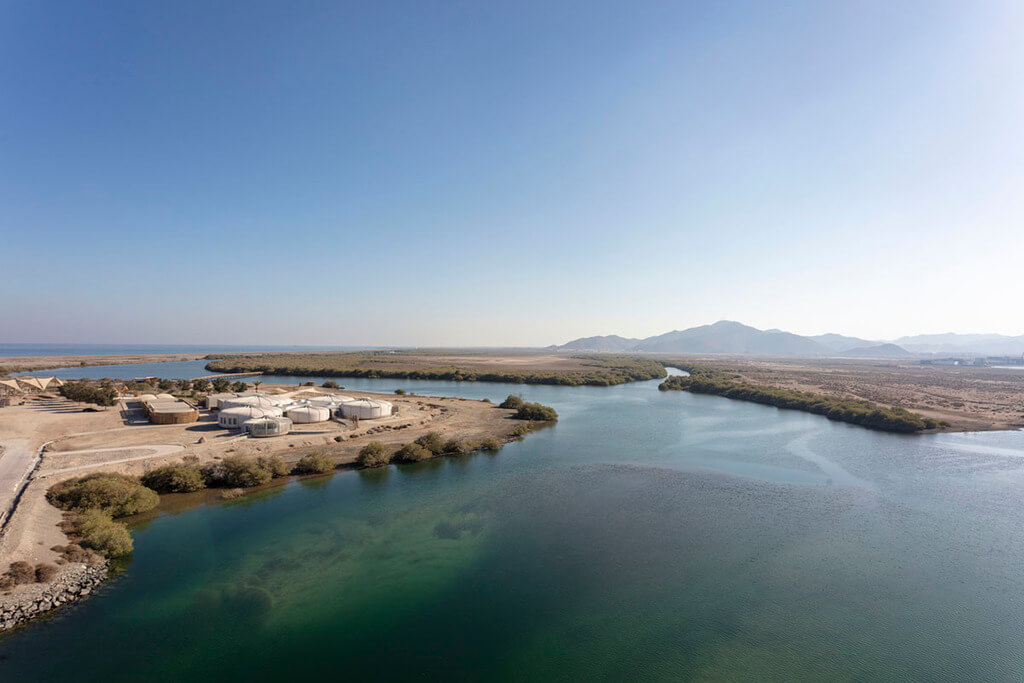 Source: worldarchitecture.org
Founded in 1976 by high-tech architecture pioneers Michael and Patty Hopkins, Hopkins Architects is a UK-based studio. They're known for including unique styles and elements in the architecture to create extra remarkable structures.
Source: adsttc.com
Their famous work includes their own home and the Portcullis House office block alongside Parliament in London.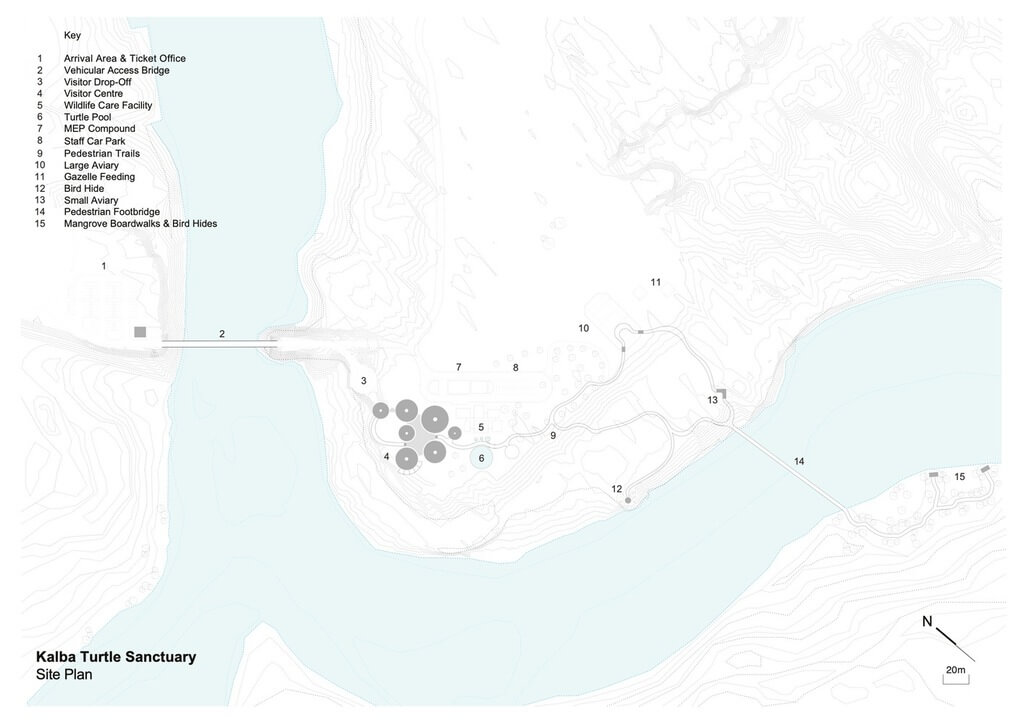 Source: adsttc.com
On this project, the team of brilliant architects and designers have worked together, including Simon Fraser (Principal and Lead-Designer), Andrew Ardill (Director), Tim Sheridan (Project Director), and Angus McDougall (Project Architect).
Other people such as e.Construct (Structural Engineer) and Godwin Austen Johnson (Design Mep Engineer) have also contributed to this incredible project. 
Simon Fraser, principal at Hopkins Architects, said, "In many ways, the site and the design are inseparable – the project itself is dedicated to the preservation of the site and its wildlife." 
Layout & Structural Design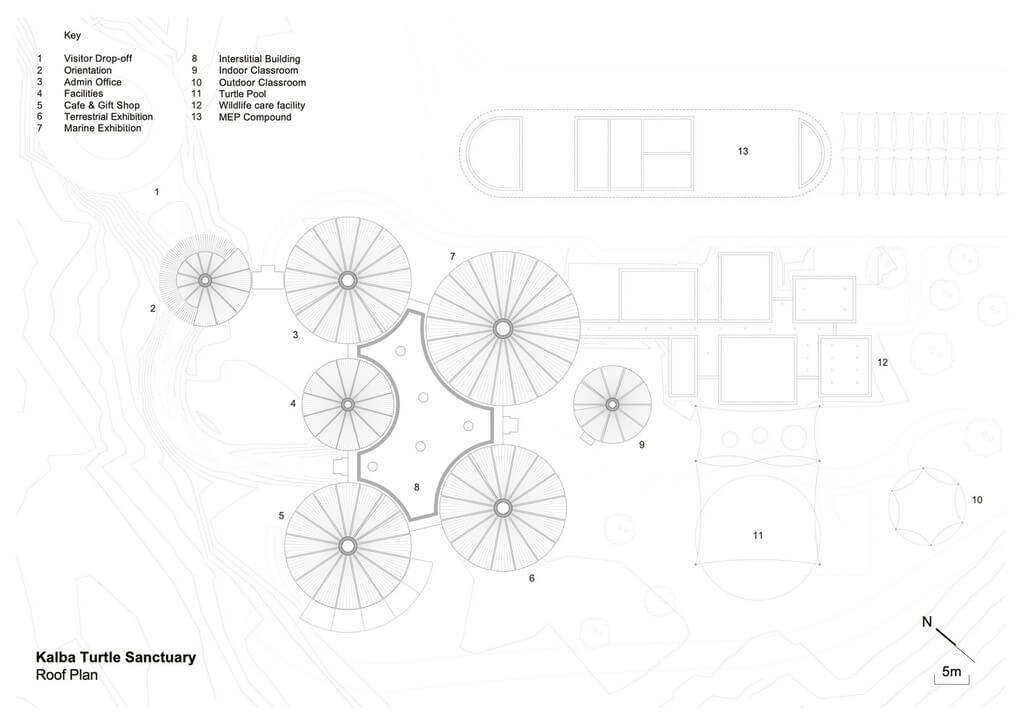 Source: adsttc.com
The turtle sanctuary will also serve as an operational base for research and analysis. It will perform all kinds of analysis and monitoring of the protected kalba reserve's natural resources and the UAE's wider east coast area.                                       
The entire wildlife sanctuary has seven interconnected tensile pods in total. These tensile structures also have terraces from where you can enjoy the panoramic views of the mangrove forests and distant mountains.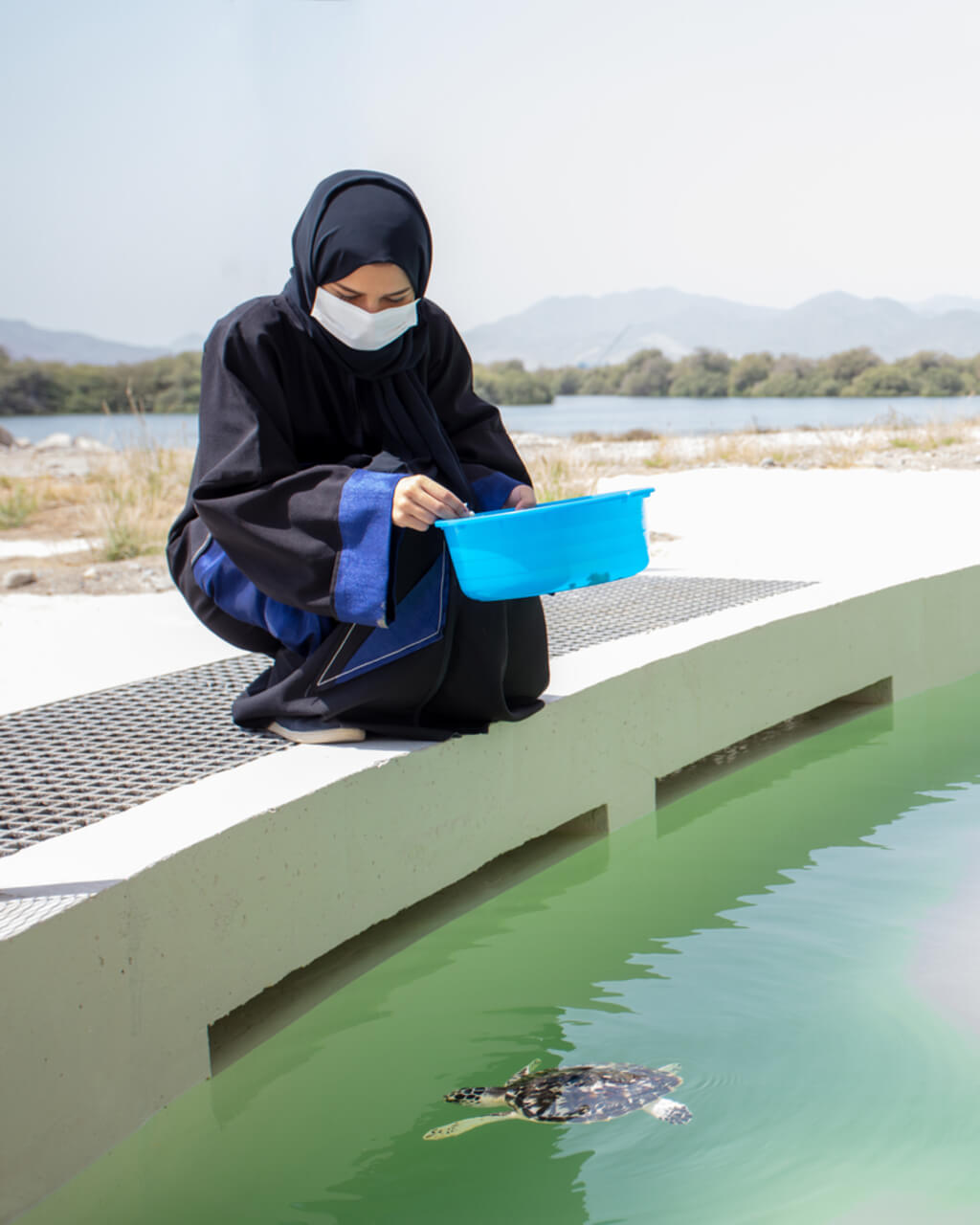 Source: adsttc.com
The architect explains, "Our client was very keen that the project would both celebrate nature and teach visitors about environmental responsibility."
He further added, "The challenge was really how to preserve the site's character and create buildings that sit in harmony with the setting."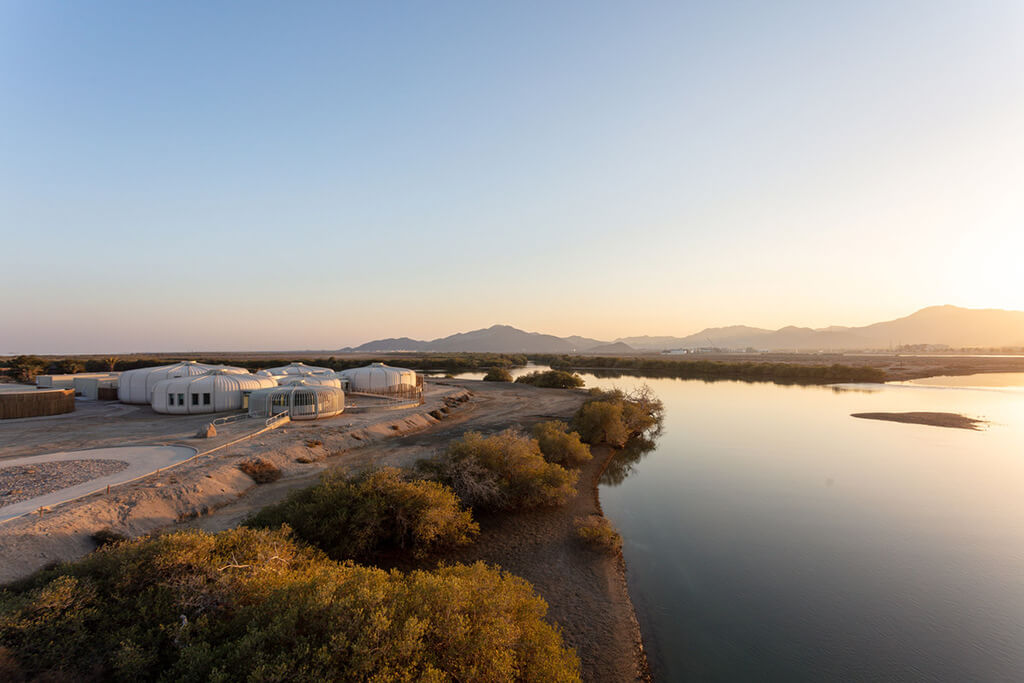 Source: worldarchitecture.org
These seven pods have geometric shapes which are inspire by urchin exoskeletons. These all are carefully design and lastly, they all are clad with multiple segments of white scallop pre-cast concrete. 
Concrete is specifically choose as the basic building material because it minimizes any type of disruption to the existing terrain.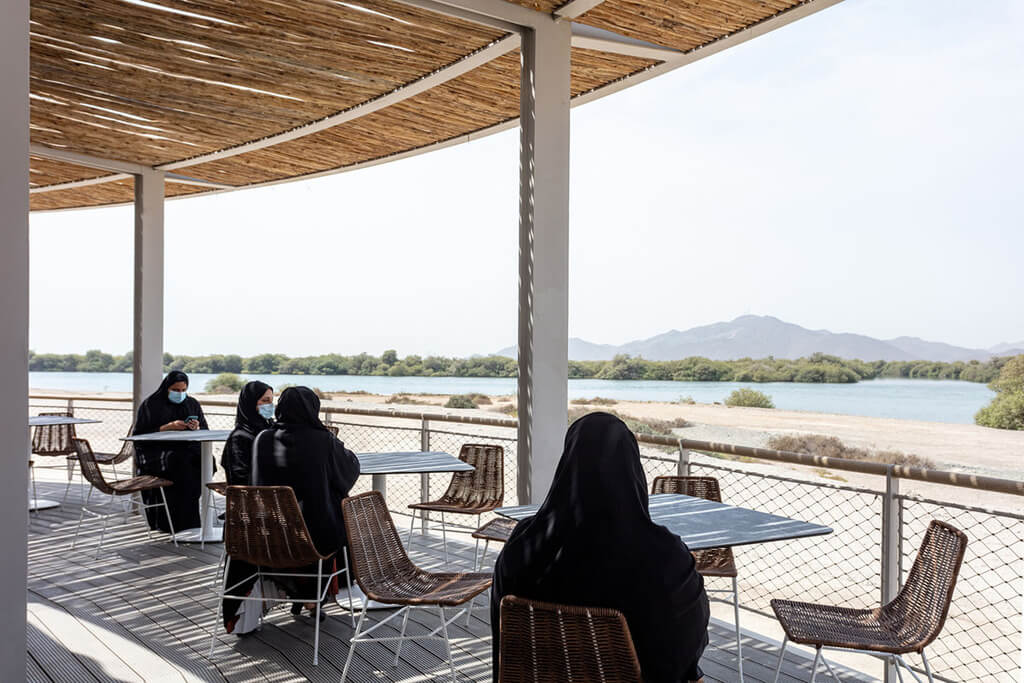 Source: worldarchitecture.org
The cladding is complete by the shells which are find on the local shoreline. In comparison, the solid concrete foundations have robust discs that are specially made elevated. This will protect the structures from various natural situations.  
Fraser further explained, "Our core concept was to create a series of soft, rounded forms that touch the ground lightly, complementing the setting and having minimum impact on the skyline."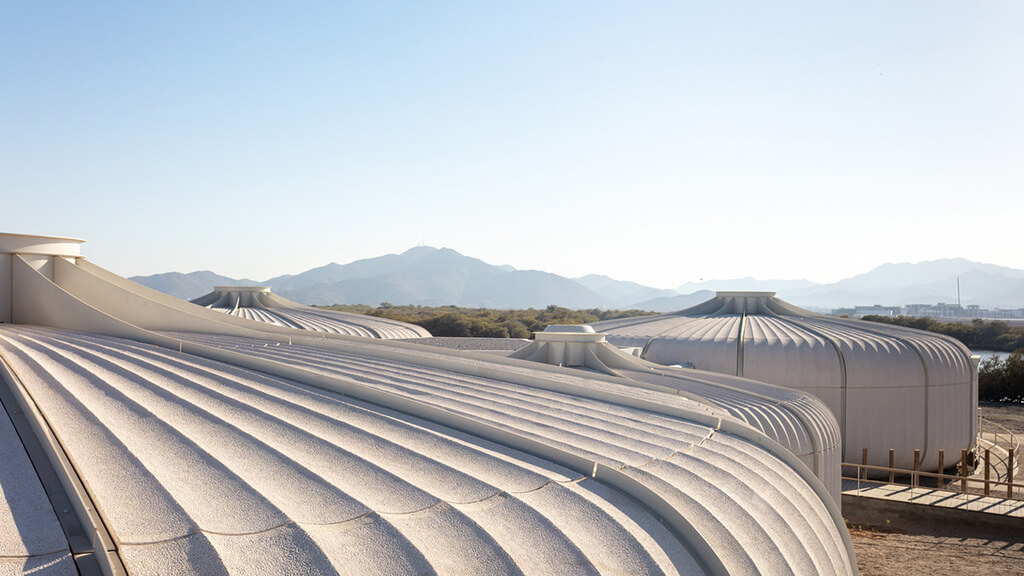 Source: worldarchitecture.org
Apart from this, an array of steel ribs have been use to accentuate the sculptural cantilevere forms and it also completes the robust cladding system. Overall, the building is design to withstand the site's harsh weather and coastal conditions.
"At Jebel Buhais, we used a metal cladding, but for the Turtle Sanctuary, we needed something a lot more durable to withstand the aggressive coastal environment, so we developed a different skin using a scalloped precast cladding with a white aggregate blended with discarded shells from the site," said Fraser.
What's Inside the Pods?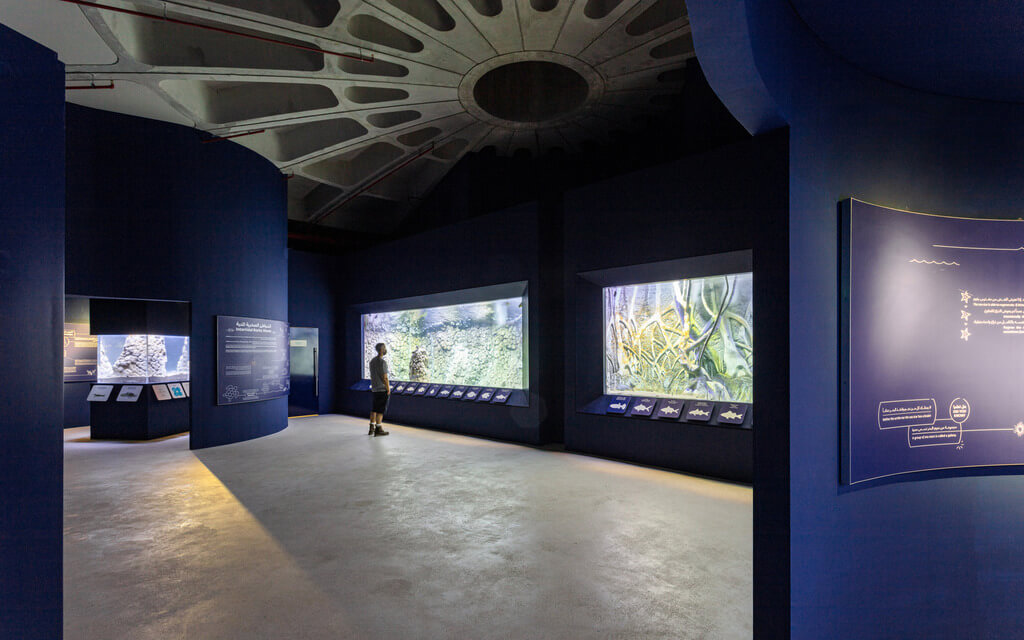 Source: adsttc.com
The sanctuary features many other notable spots like a visitor center with a terrace, 'aquaria,' exhibition areas, visitor amenities, staff offices, veterinary facilities, labs, classrooms, a gift shop, aquaria, and a cafe.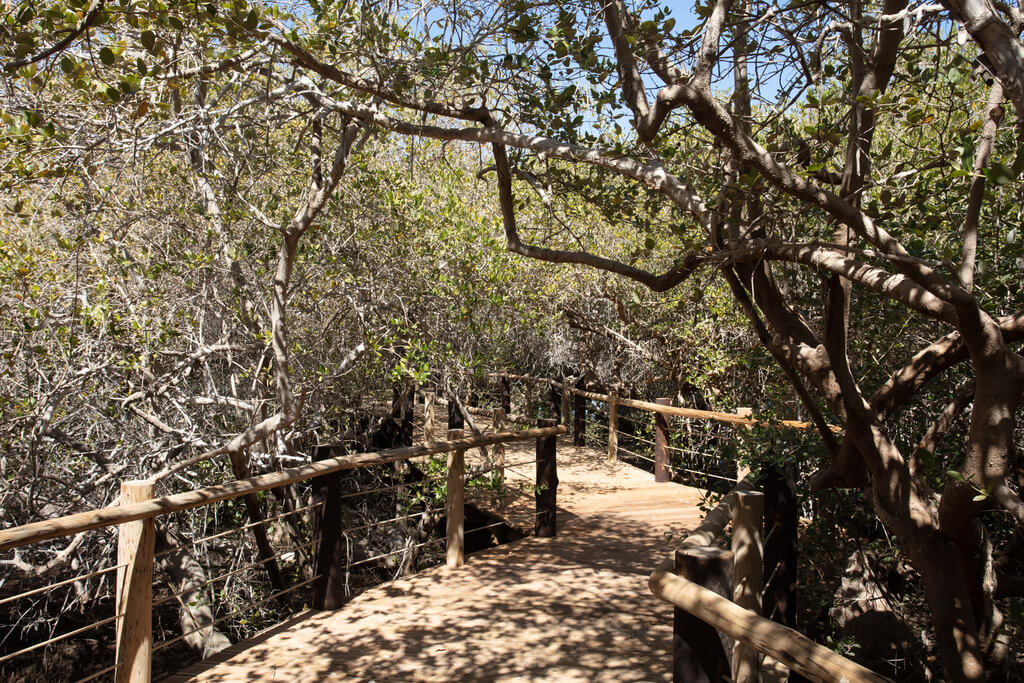 Source: adsttc.com
Architects have created the most interesting way to reach these places. A carefully set out nature trail has made so that visitors and tourists can follow the path and explore the reserve's rich biodiversity. You can also see the mangrove forests & animals and feel the living circumstances in mudflats.
When you enter the site for the first time, you will see a semi-enclosed ribbed pod. It is use as an orientation space. This place features remarkable glaze openings which are oriente toward key views.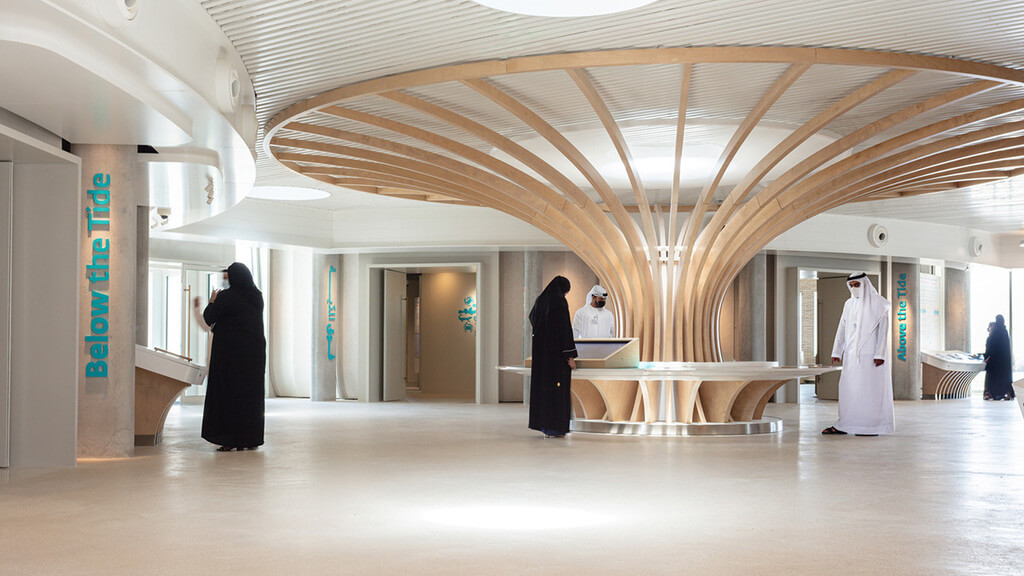 Source: worldarchitecture.org
The first part of the building consists of various small circular pods. They're located just before the main structure. This part consists of five pods of varying sizes surrounding a covered atrium.
The other two pods contain exhibition space – one dedicated to the marine life in the park and one to the wildlife.   
Fraser said, "We initially explored more rectangular forms and larger volumes but felt they were too dominant. A series of smaller fragmented forms seemed more appropriate, a bit like the kinds of fishing baskets often left around these coastal areas."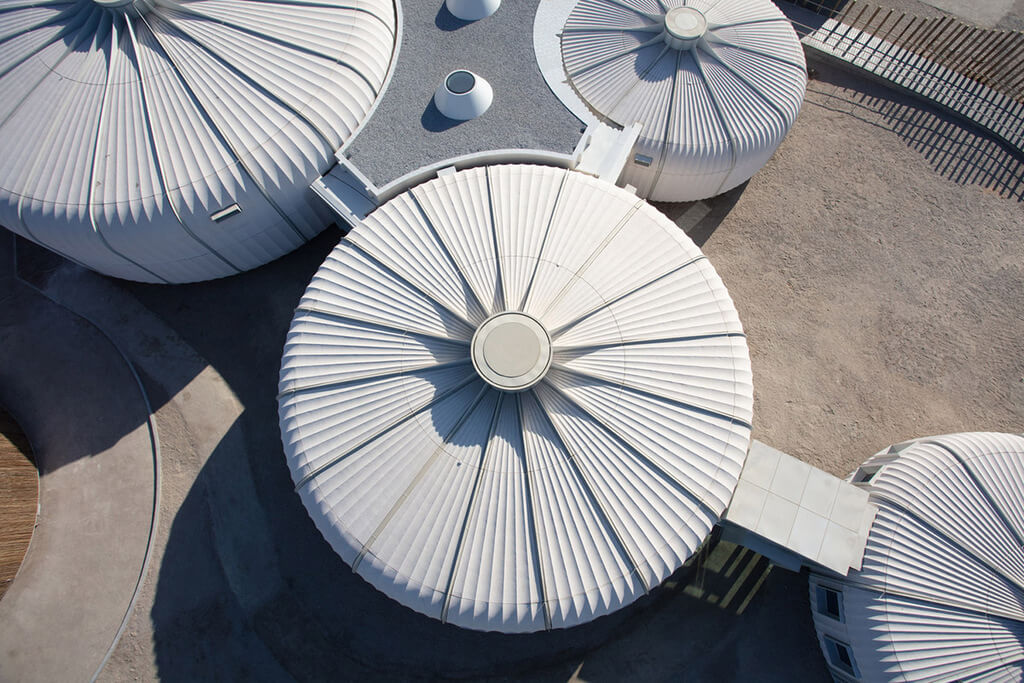 Source: worldarchitecture.org
The structure is particularly design to protect the interior spaces from the desert heat. It also lowers the overall operational energy required, making the building design more eco-friendly and sustainable.                          
The precast concrete shells, ribs, and in-situ foundation discs of the pods offer a well-sealed, exposed thermal mass across their floors, walls, and roofs.  A layer of waterproof membrane and insulation are also present on the top of the pod. 
Enjoy Serene Wildlife Sanctuary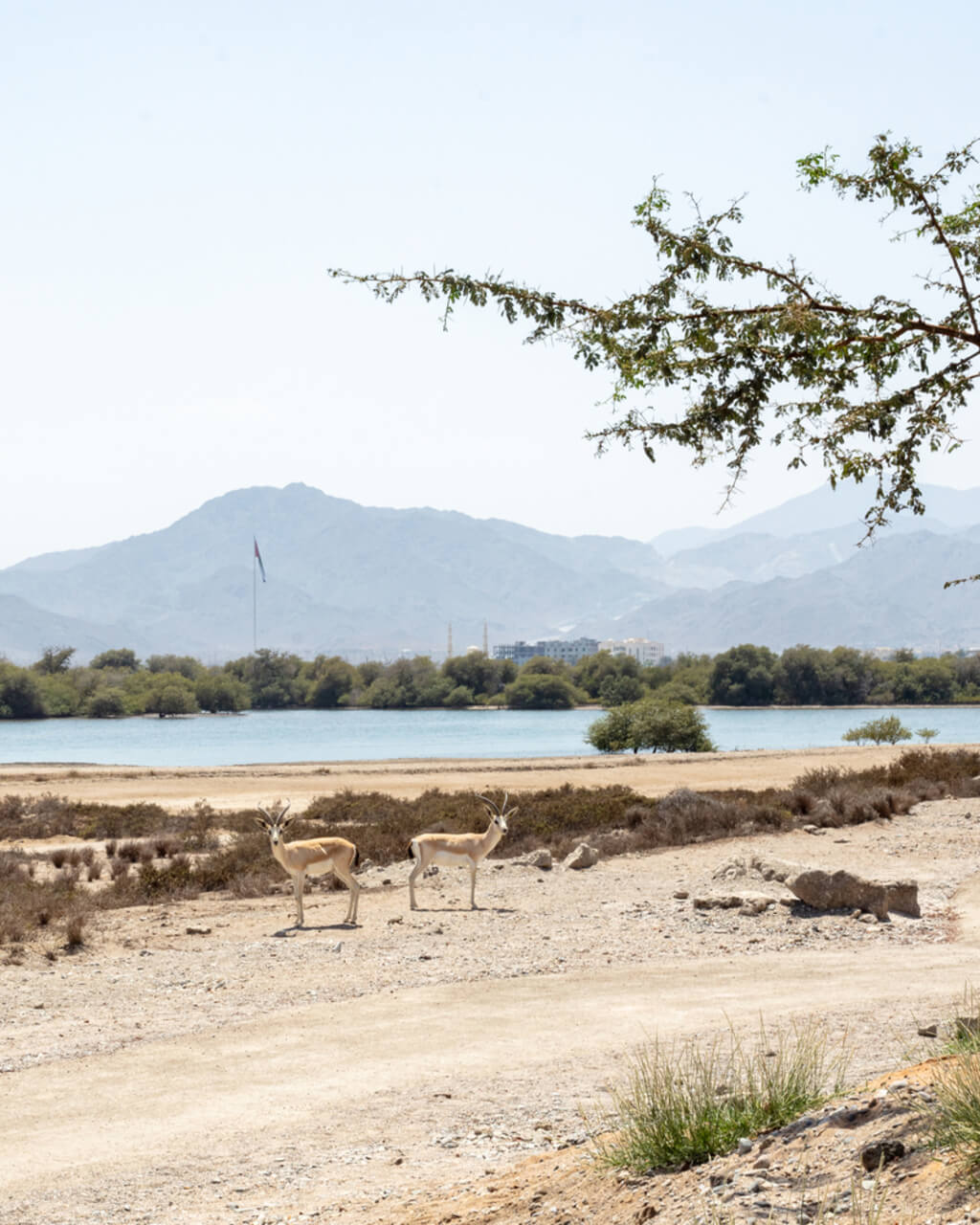 Source: adsttc.com
After the visitor center, a path goes to the small pod, which has an indoor classroom. There is also a wildlife care facility and a circular turtle pond. 
The offices and toilets are situate in two further last pods. The last pod contains a gift shop and cafe with fantastic views across the park.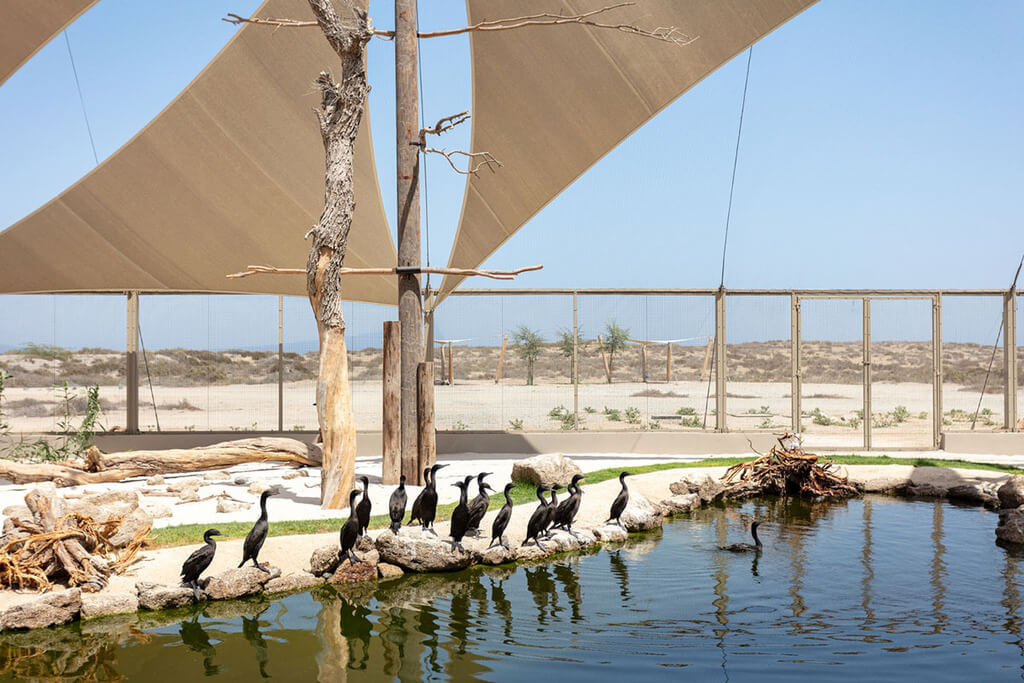 Source: worldarchitecture.org
Do you know that this turtle sanctuary is design as a second structure to complement the first architecture? Yes, this sanctuary works as the sister building to the Buhais Geology Park Interpretive Centre! The first structure also design by Hopkins Architects for a desert site within Sharjah.
The previous structure is entirely cover or clad in metal. The studio wanted to enclose the coastal building in white concrete.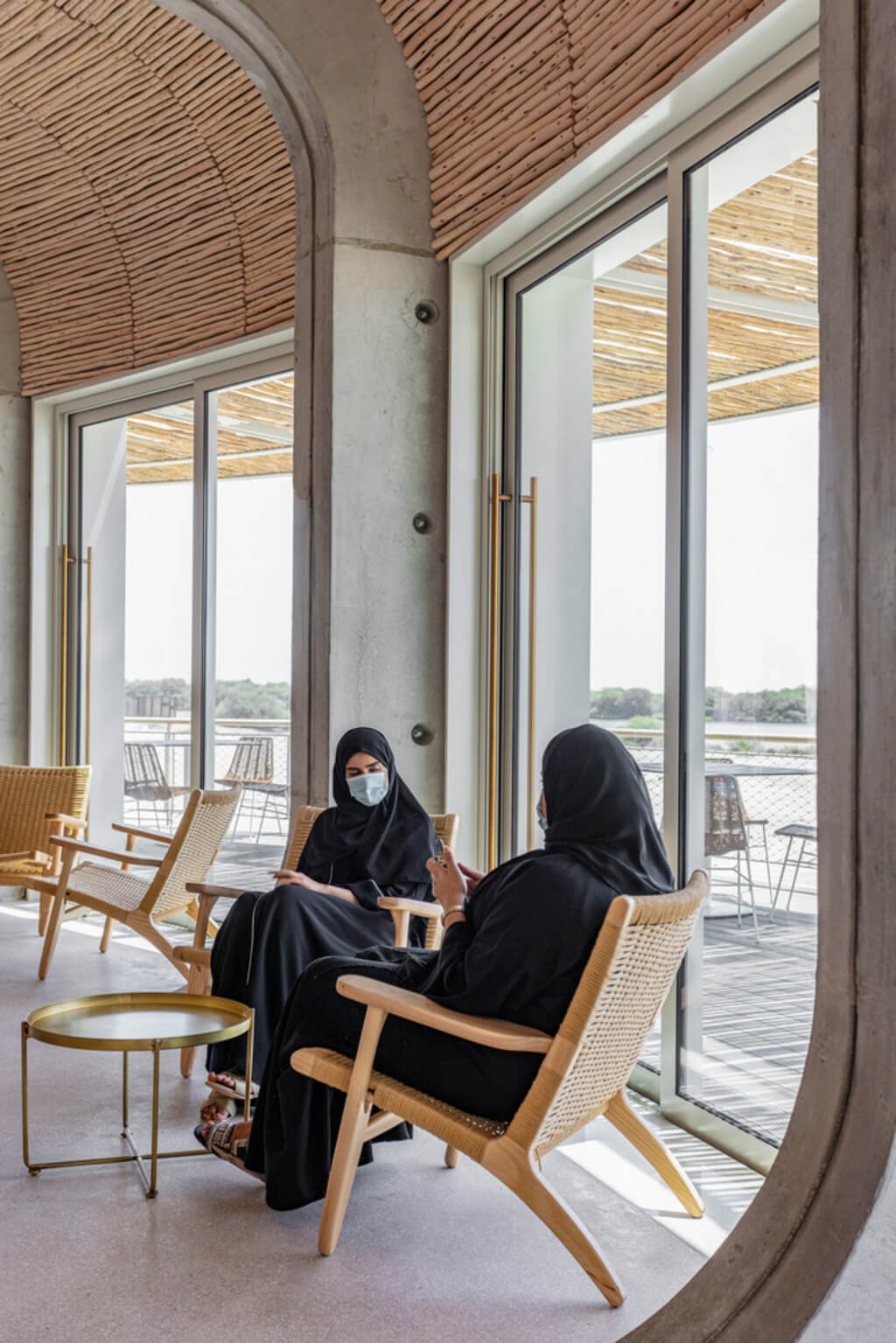 Source: adsttc.com
The Bottom Line
So this is all about the Turtle Sanctuary designed by Hopkins Architects. You can visit this wildlife sanctuary with your family. I hope you like this blog, and if you do, please share it with your family and friends. 
If you want to know more about these types of unique and unusual structures around the globe, read our previous blogs such as The Straw Pavilion, A Clay 3D Printed House: TECLA, An Eco-Floating Hotel, and many more. 
For more information about the various modern and ancient architectural techniques and styles or to know about the various types of construction styles or about home improvement ideas, keep coming to Architecturesstyle. 
For daily updates about architectures, don't forget to follow us on our Instagram page, Architecturesstyleideas. 
Himadri Shakya
Himadri Shakya is an enthusiastic Content Writer and Editor. She loves to create creative, engaging, and SEO-friendly content. Through her extensive research skills and practice, she has been generating high-quality and informative articles, and blog posts for over 4 years.
Related posts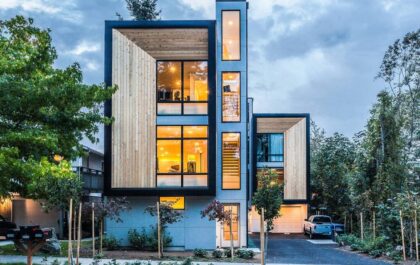 27+ Stylish & Modern Townhouse Designs for Urban Living.
The townhouse's first impression is normally too small, too compact, too narrower, and the list is endless. Well, let us…