Wall panels are no longer the antiquated installations from the mid-century. Building wall panels of the modern era has several advantages, such as minimal maintenance requirements, high-tech materials, and simple installation. The beautifully carved and natural wood panels of the past have given way to more contemporary wall panels. 

Modern materials that are more impact-resistant and long-lasting, including melamine and medium-density fiberboard, are appropriate for high-traffic locations where scuffs and denting are likely to happen.

There are many different textures, finishes, and grains with distinctive patterns for a decorative Panel Wall. Let's dive in!
Advantages Of Wall Panels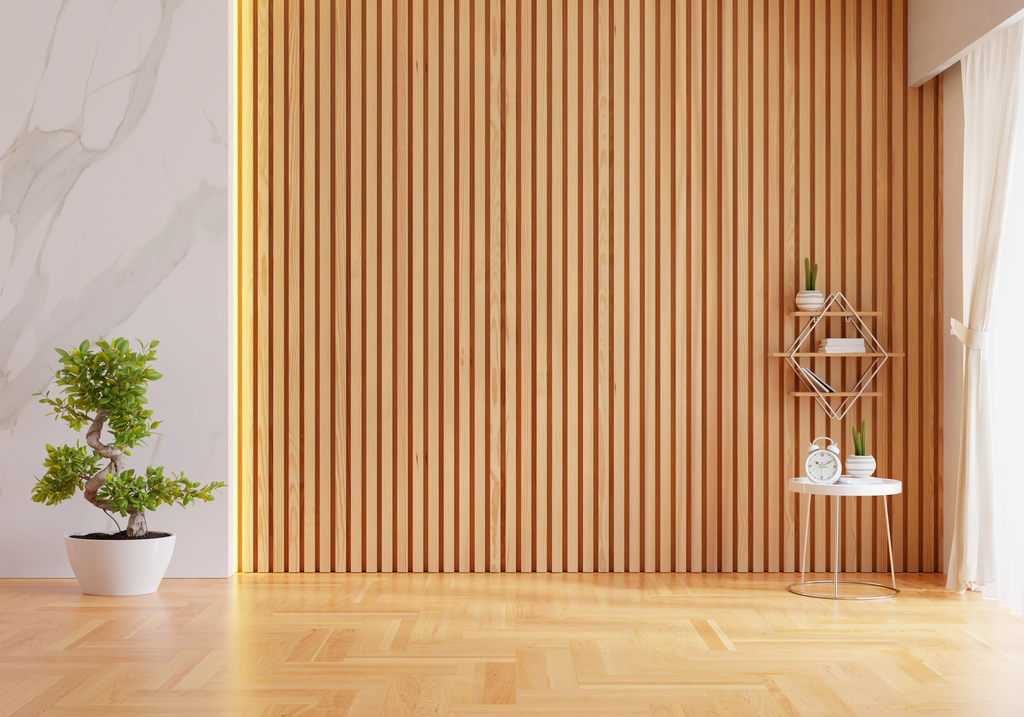 Budget-Friendly
For individuals looking to remodel on a tight budget, wall paneling provides a more affordable and realistic alternative to expensive materials like actual stone, brick, slate, wood, or concrete. Putting up brick, wood, or tile on your walls can quickly add up to a lot of money. After that, there are the extra costs of paying for installation, which is usually the job of a trained worker. It is much easier to get wall panels, which are also a lot cheaper.
Instantaneously Revives a Space
Wall paneling is the ideal choice for a fast and simple makeover or room fit-out. Your area will seem immediately refreshed and open up possibilities for a new design direction with the addition of a new background. They provide a variety of textures will help create a focal point for the room that is both unique and welcoming.
Simple to Set Up
You don't have to worry about the time, trouble, or extra costs that come with hiring professionals like stonemasons or tilers because panels are light and easy to put up. Because the panels are so easy to put up, you don't need any building or big tools. All you need are wooden tools, glue, joint filler, and repainting pigment. This means that any individual, builder, or handyperson can put the panels up. The panels are easy to put up, so you can start painting and filling the room sooner.
Several Design Choices
With Panespol wall designs, you have an abundance of options. You can discover a wall panel to fit your style in every kind of location, whether it be residential, commercial, hospitality, or anywhere in between.
Brick, slate, stone, wood, and concrete in a variety of hues, patterns, and textures are among the available finish possibilities. It's easy to add a luxurious touch to your area with imitations of highly sought-after materials like slate.
Important Things to Take into Account Before Installing Wall Panels
It might be simple to start wall panel installation as soon as you purchase them. It's advised against doing so since there are a few easy errors you may make.
Which Room of Your House Is the Paneling Being Installed In?
If you have purchased MDF wall paneling, you must decide which parts of your house to cover with the paneling. Wall panels are beneficial for every area in your house because of their flexibility; they may also be used to hide wiring and pipes.
Since our MDF paneling can tolerate moist and humid environments, installing wall panels is a suitable substitute for tiles in bathrooms and kitchens. The panels are an excellent option for the inside of your kitchen or bathroom since they can also withstand the occasional splash.
Selecting which rooms in your house to add wall paneling helps simplify the process of remodeling.
The Kind of Wall Paneling That You Are Putting In
You have to choose a style that complements the rooms you are remodeling since there are several wall paneling styles available. The kind of house you are putting the paneling in must also be taken into account. The many wall paneling styles that are available might assist you in selecting the ideal style for your home renovation project.
Make a Plan for the Appearance of Your Paneled Wall
You may get a better sense of your possibilities for wall panel installation by drawing out how your paneling will appear on your paneled wall. This way, before installing the paneling on the walls of your living room or bedroom, you can see how it will seem on paper.
It's good to sketch the panels on the wall after you've decided where you want them to go in order to have a better notion of their size. Mark the locations of each panel installation point using a pencil and tape measure. This will greatly simplify the installation procedure for you, saving you a great deal of time and anxiety when installing the panels in a bedroom.
What Height Do You Want a Room's Wall Panels to Be?
In your living room or any other room in your house, think about how high you want the wall paneling to go. Dado height is the most popular choice since it provides enough space around other bathroom fixtures like the toilet cistern and basin.
Paneling from the floor to the ceiling is a worthwhile addition to a sitting room or dining room if you want a dramatic effect. When using this method, you must take into account other features in the space, such as doors, windows, radiators, and fireplaces, so proceed with caution.
Final Thoughts
Installing wall paneling has several advantages, which makes sense given that it's a popular option for furnishing restaurants, retail establishments, and even residences. Due to their ease of installation, the panels are also ideal for those who like doing some do-it-yourself projects.
Wall paneling is a simple and affordable way to create a chic feature wall for your house or a sophisticated touch to your opulent cocktail bar. They also look great in focal points, such as establishing the mood for a rustic dining room or making a polished first impression in a reception area.
Explore Further: