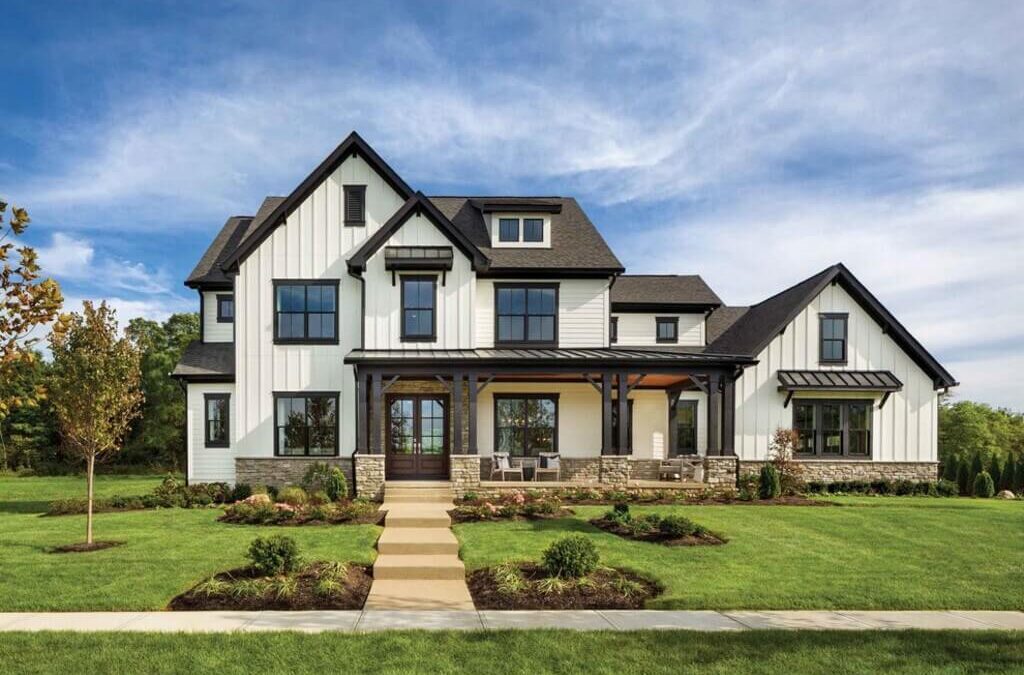 There is something so captivating and eye-catching about the white houses with black trim exterior. Back in the days, these types of white houses with dark trims were popular in America only, but today you can see white house black trims or homes with darker exteriors everywhere. White & Black is a classic color combo and this trend will never go out of style! Let's see white house black trim.
Are you also planning about using this combo in your home exterior design? If yes, you've come to the right page. Today in this blog, we've gathered up some of the most beautiful white houses with black trim. 
When it comes to a combination of dark and neutral color palettes, the choices are endless. You can either pick the singular black shade and one solitary white shade or go with a decoration based on your house's architectural style. You can use various shades of blacks and whites to create stylish, welcoming exteriors for your home. 
So no matter whether your home has a modern farmhouse exterior or coastal California look, these gorgeous white bases with black detailings will work perfectly. You can apply this classic style in almost every house part, including both the interiors or exteriors. So, let's dig in. 
9+ Timeless White Houses With Black Trim Design Ideas in 2021
So whether you want to renovate, remodel your house, or just want to add a layer of paint, these house ideas will give you some inspiration. You can use the black paint on your roof, door trims, or can use black window frames for a unique look. 
These white houses with black trim ideas will help you create a dazzling visual in your home exterior design. We've included every type of black trims and design for houses, from small black detailings to bold statement ones. So, get ready to be inspired for your next project.
1. Traditional White Brick House with Black Trim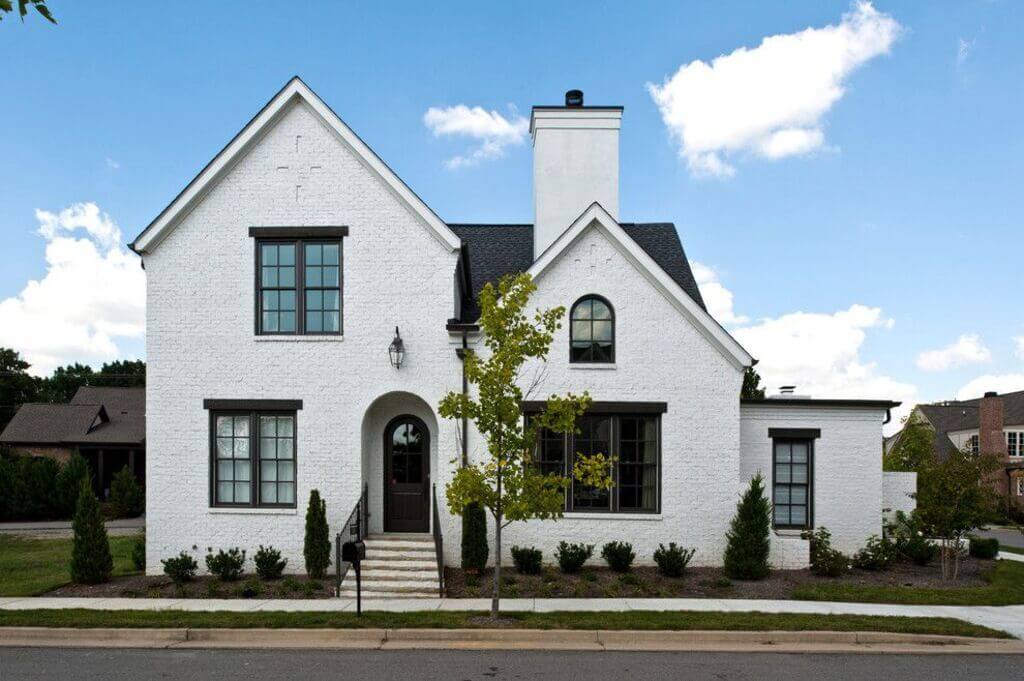 Source: saktidesain.com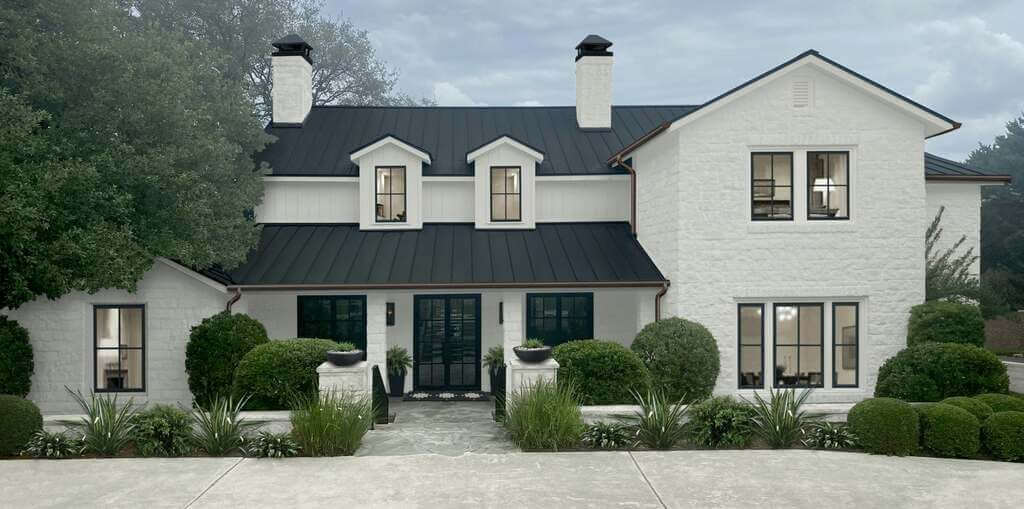 Source: brickandbatten.imgix.net
If you love traditional exteriors and want to recreate the look, go with the off-white base with darker trims. Yes, instead of white, the off-white look really fabulous on stone or bricks. 
Look at the above home with prominent black window top trim; here, oversized black window frames have been used to add prominence to the overall design. The upper trims are also bigger and longer than the lower ones. This creates a fantastic visual appeal to the house. 
A light coat of the base color on the siding and stone slurry will make your residence look more attractive. You can also add some metal roof pops, faux-copper gutters, or other decors to add a unique accent.    
2. Modern White House With Aluminium Black Trim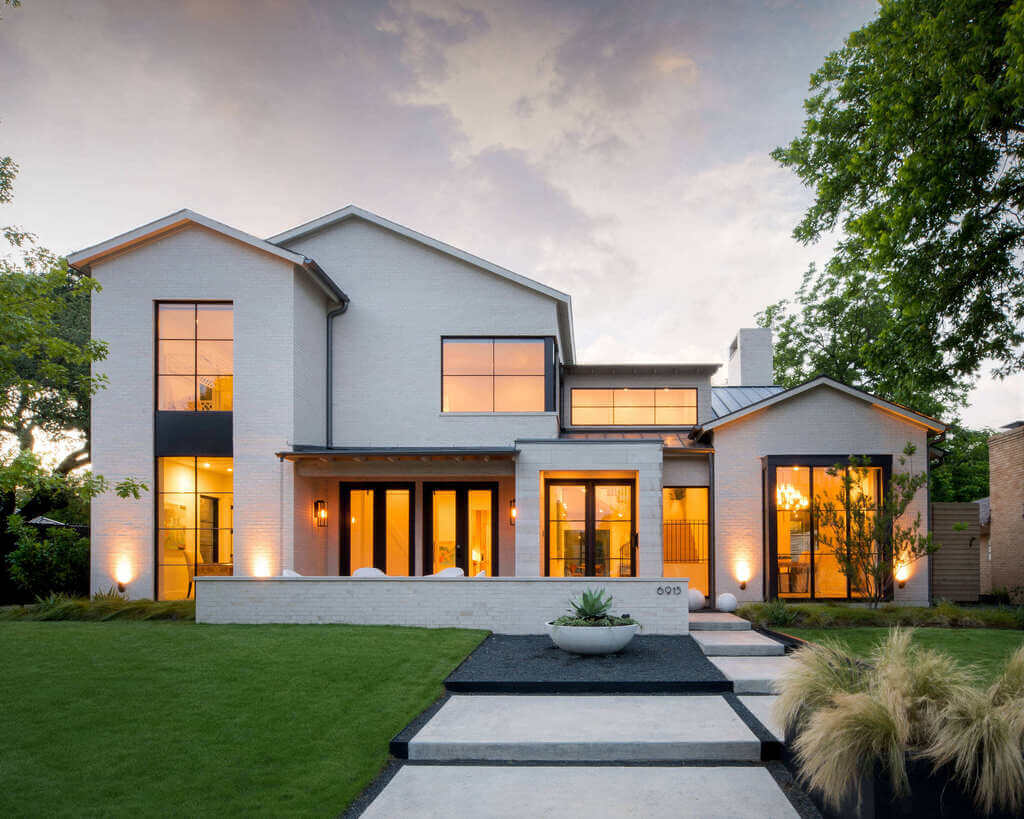 Source: alicdn.com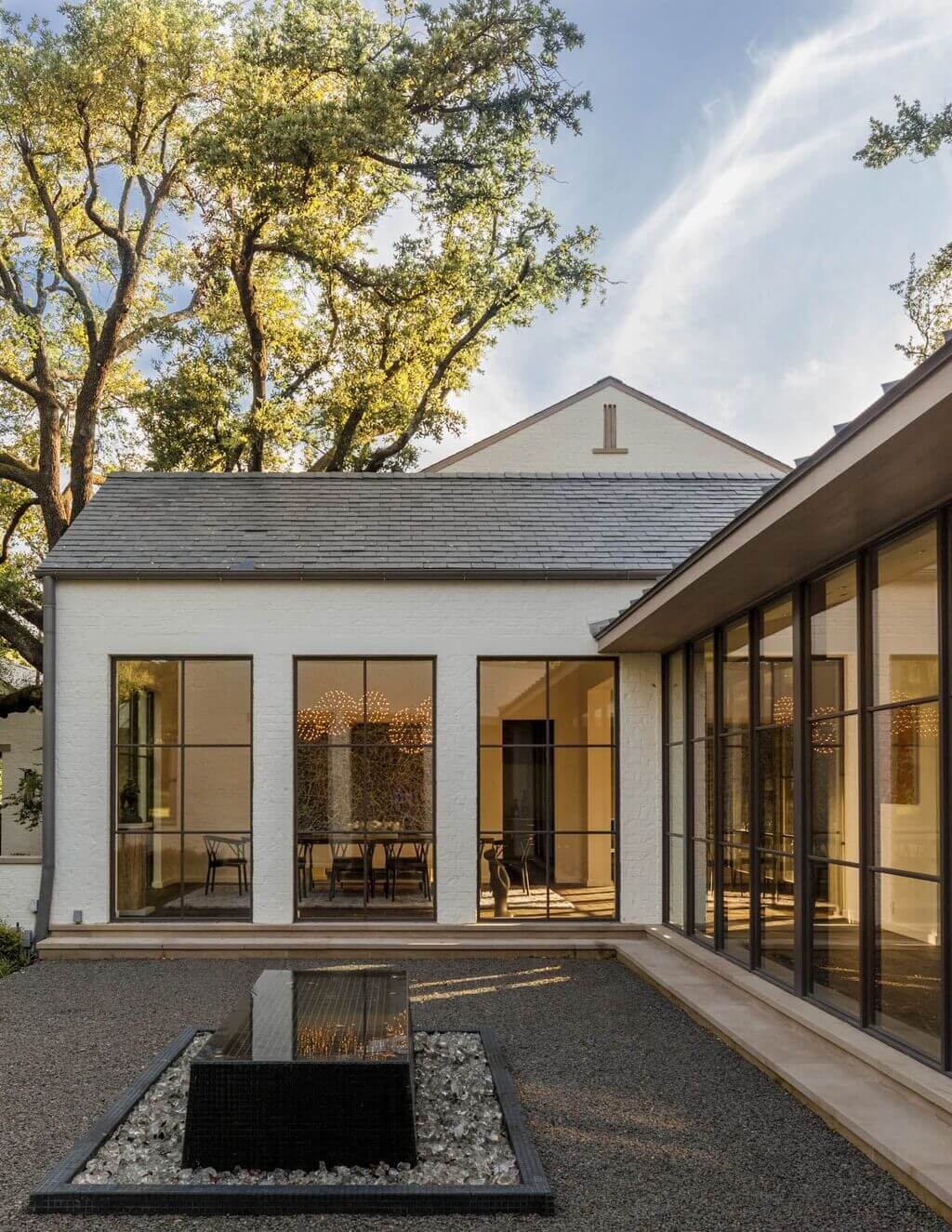 Source: pinimg.com
This is a huge two-story contemporary white painted brick house with stylish exteriors finished with metal roofs. The crisp white walls look beautifully contrasted with the trim of the door and windows.   
The house also features tall and huge glass windows, which are framed by aluminum frames. Even the doors are also aluminum-clad. If you live in a region with harsh weather and want to protect your windows, aluminum windows are the right choice. They're much more substantial and provide good protection as compared to vinyl windows. 
The roof in this residence is a standing seam roof with standard paint grip steel. It is not painted but still looks pleasant with the white-painted bricks. However, if you want, you can paint the roof in custom colors and finishes. Don't forget to add the warm pendant lights to add coziness and warmth. 
3. Wood Accent in a White Home Exterior with Black Trim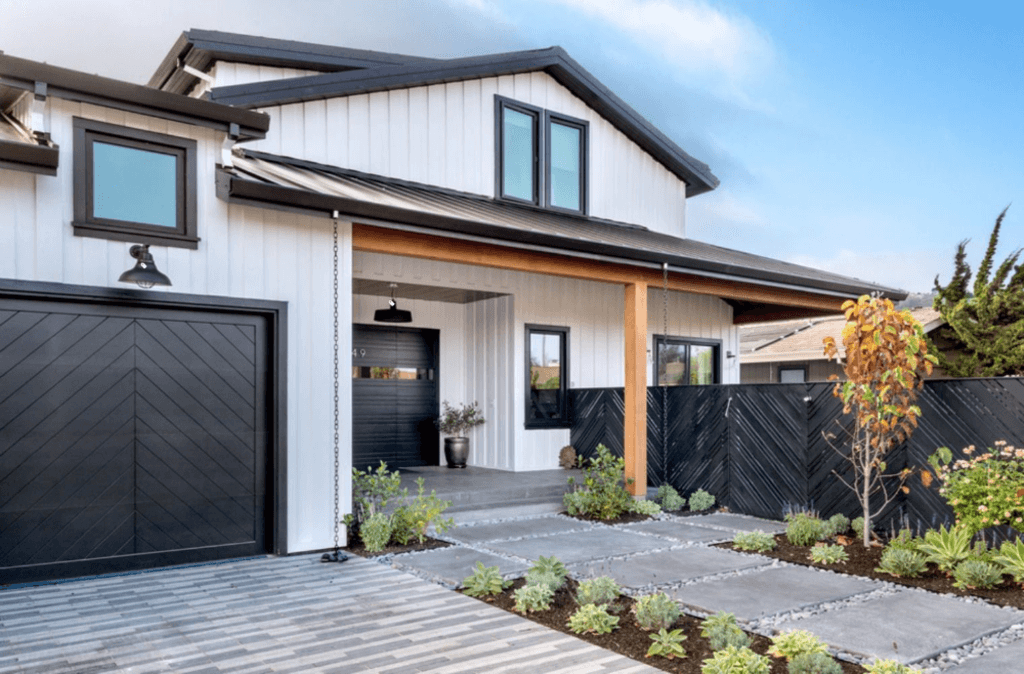 Source: pinimg.com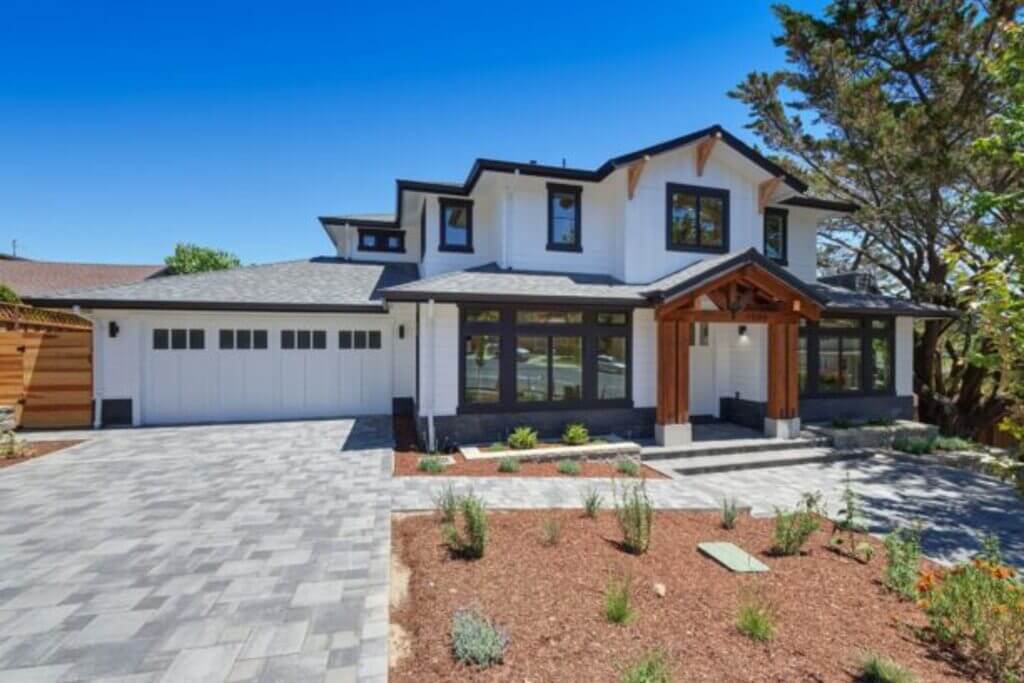 Source: aprylann.com
You can try this idea if you think that the white house can look more on the bold side because of black trim. People mostly feel this because when the exterior doors and windows are painted in a black tone and other black elements are overused.  
If you're not going for this kind of too-bold look, here's a perfect option for you. Look at the above picture; here, white house black trim wood accents have been used in the exterior design with black details. This will immediately reduce the black tone's boldness from the trim and exteriors of the white house.
You can use the natural-looking wood accent on the posts and beams. This will not only add color but also increases the welcoming visual of the house. However, the main theme is white and black, so don't use too many wooden portions or elements in your residence. 
All you need to do is to place the wood material in the right position that looks prominent but does not overpower anything else, especially the overall black and white design of your home.
4. White Siding House With Black Windows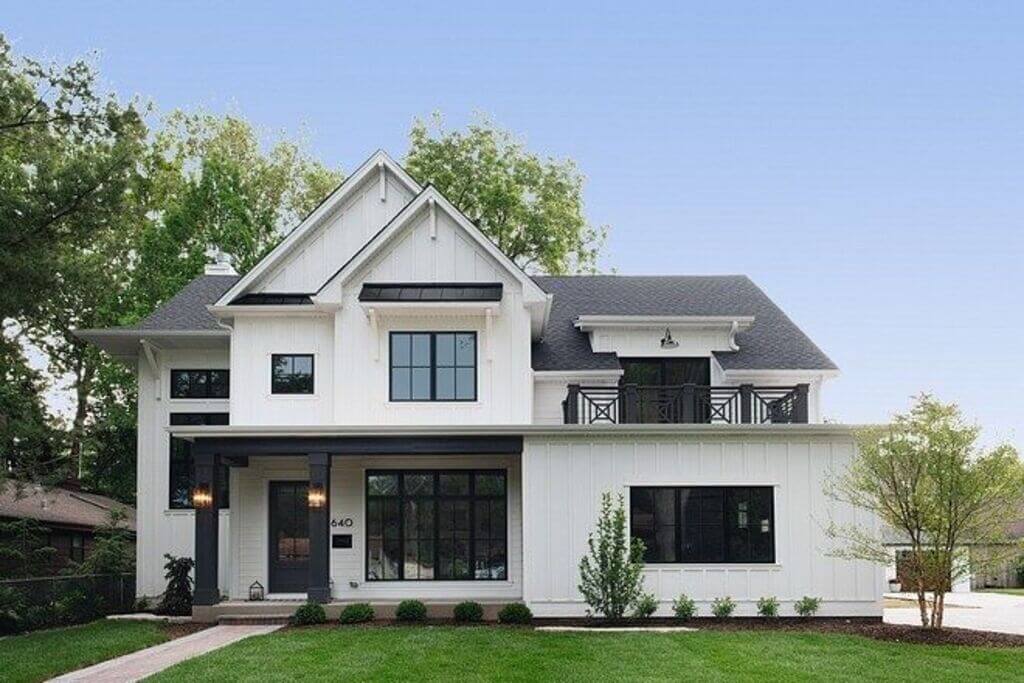 Source: pinimg.com
Who doesn't love to live in a wooden house? If you also want to construct a white wooden house, look at the above picture for some inspiration. This is a country white two-story wood house with black windows. The darker trims and details act as a great accent to the minimal exterior walls.
The exteriors of this small white house with black trim are made from wood siding and later painted white (Color Name: Farrow and Ball All White). The windows frame, deck railings, door frames, and roof are kept in the dark color, which is Sherwin Williams Iron Ore. All these contrasting elements look stunning, harmonious and give this house a modern look.   
To keep a balance between these two contrasting colors, the front porch ceiling is not painted; instead, it is stained cedar. Also, there is no added accent color or bold color in this house exterior. All these little details make the overall look of this small cozy white siding house classic and contemporary at the same time. 
5. Boldly Contrasting White Mansion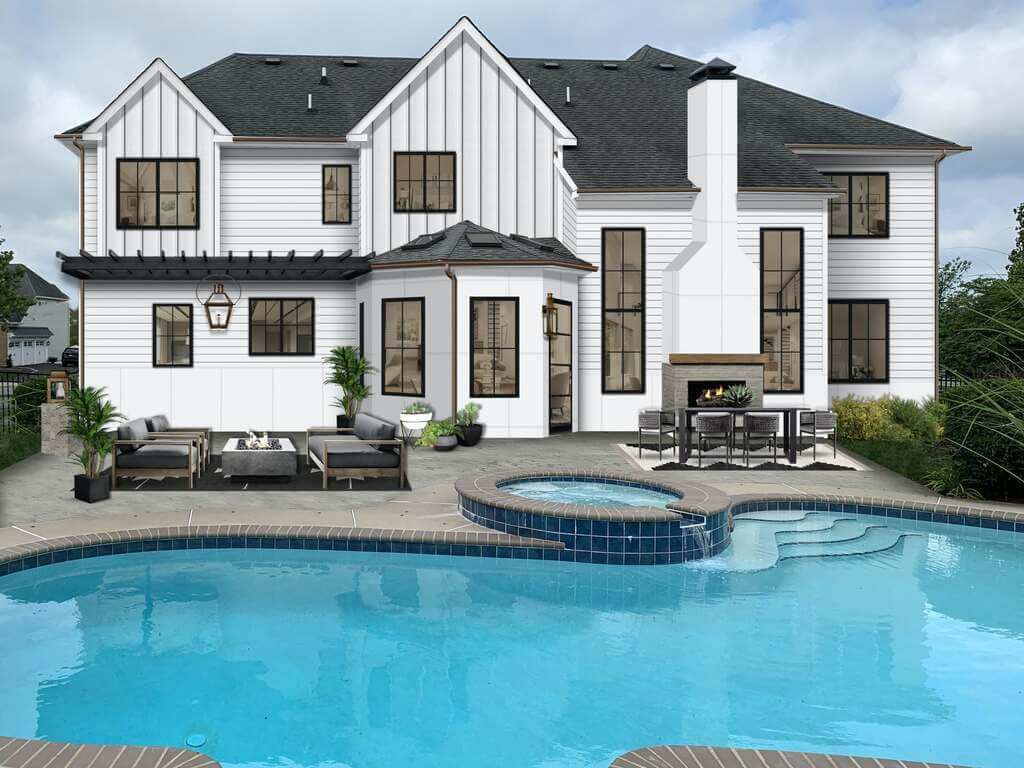 Source: brickandbatten.imgix.net
Black trims with white walls are not just for small houses or large two-story buildings. In fact, you can use this color combination on any type of architecture. Look at the above mansion; here, the classic white color is used with black.
Here Arctic Whiteis used against the black trims to create a contrasting effect. The black window frames, pergola roofs, and house roofs are in dark tones with the classic white color. 
The blue outdoor pool is making this combination more lively. If you also want to create a timeless contemporary look, go with this combination.  
6. White House With Black Rake Board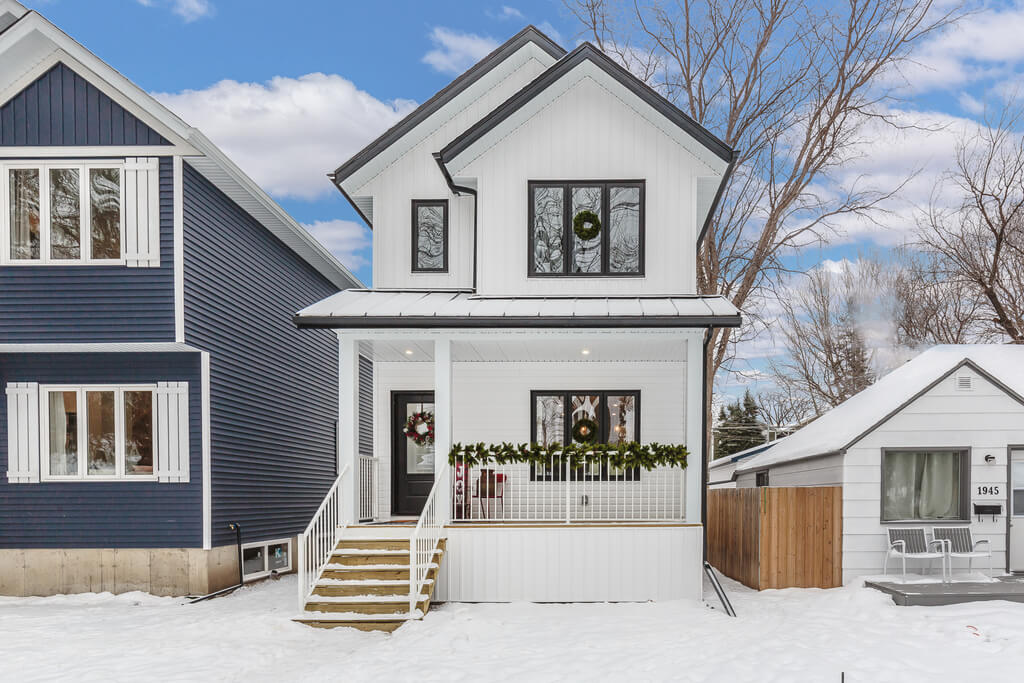 Source: sprucehomes.ca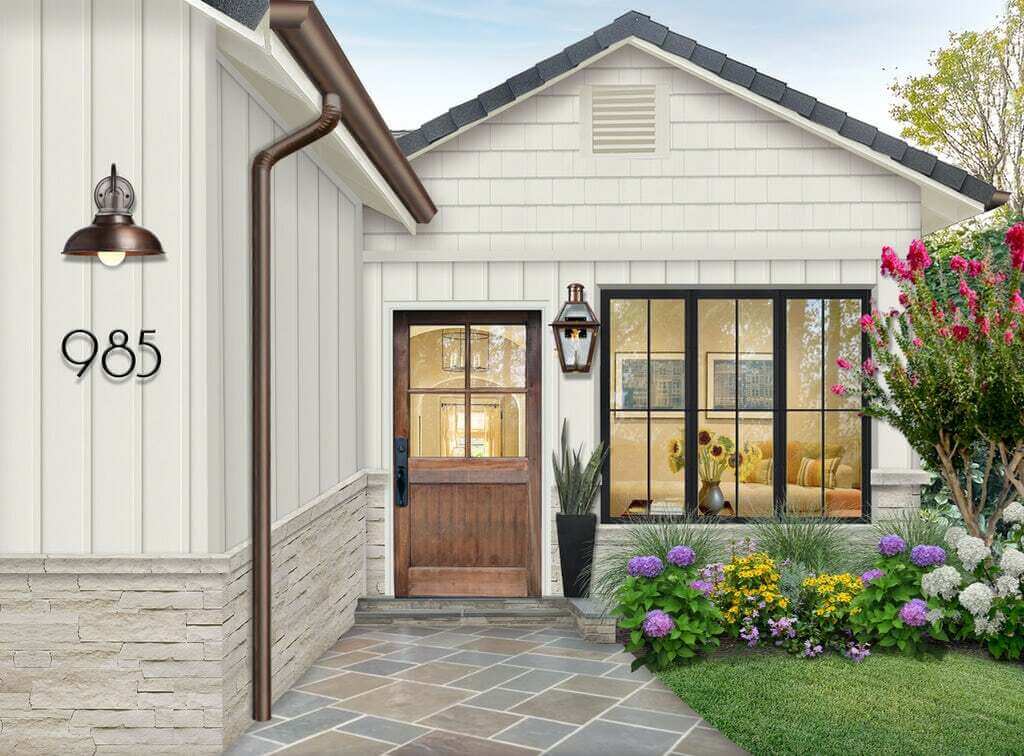 Source: brickandbatten.imgix.net
Located in a snowy region, this small but welcoming home is made from rake boards. It is a popular material for building homes. It is actually a type of exterior trim which is widely used in white house designs. 
You can also use rake boards to cover the sides of the sloped gable roof. You can take a look at the above photo and see how it looks. The black trims on the roof design are the rake boards. 
You can use either white rake boards, black rake boards, or both in your single-story white house black trim exterior designs. This combination of colors and black trims will give your home a finishing touch to your roofs. 
7. Classic Country White Wood House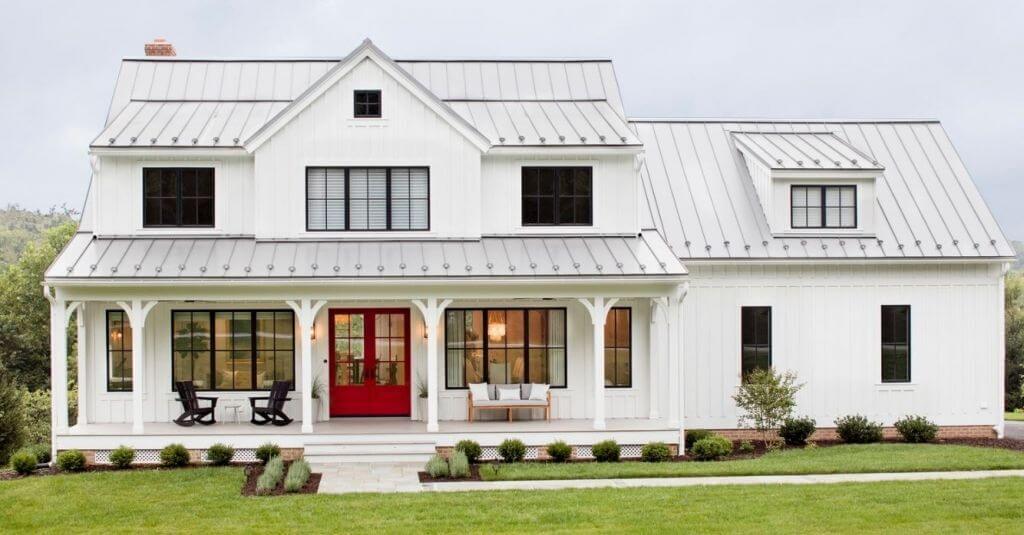 Source: pinimg.com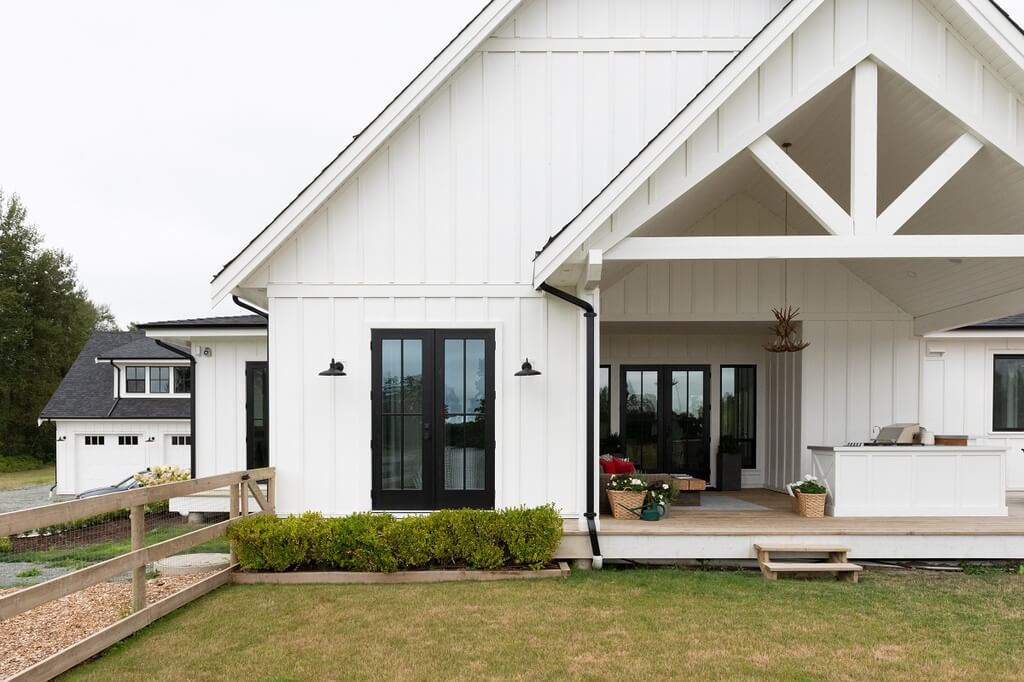 Source: belkcustombuilders.com
Country houses have a charm that makes anyone fall in love with them! If you're also looking for some inspiration for white country house designs, check the above house. This country house has a wood, board, and batten exterior completed with a stylish metal roof.
If you're thinking about the exterior paint color, it is not exact because the colors were custom mixed. Another fascinating thing about this home is the roofs. You may have seen white houses with black roofs, but here white roofs are placed. For the darker trims, black windows have been used. 
The unique white-white exterior, a silver-toned standing seam metal roof, and a bright red door are totally a stylish and classic combination.
8. White House Black Trim: Spanish-Style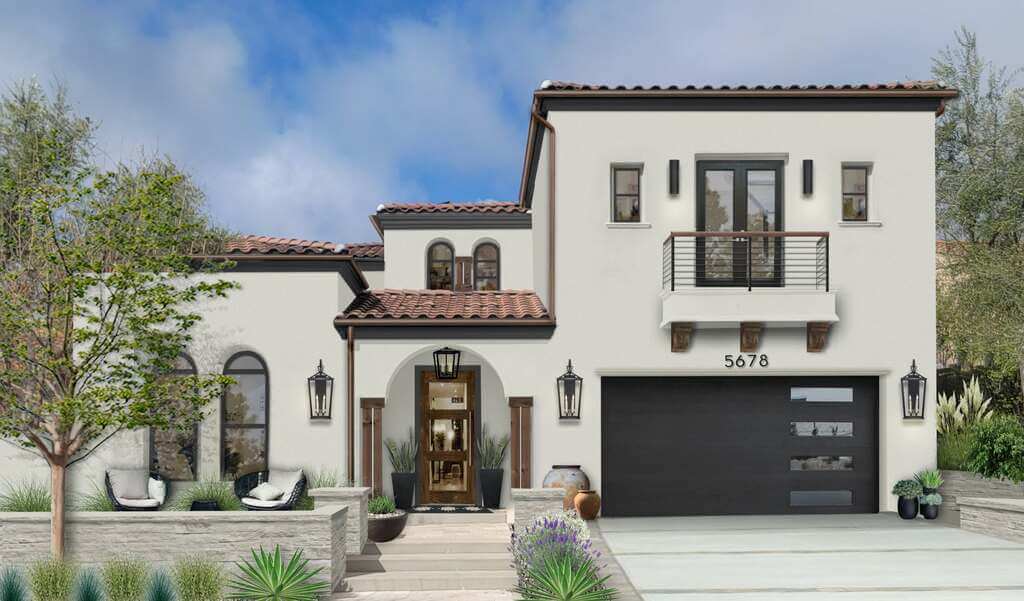 Source: brickandbatten.imgix.net
White house black trims are a classic evergreen combo that you can use in any architectural style. Yes, no matter the style of your residence, you can go with this combination without having any secondary doubts. 
Take a glance at this beautiful Spanish-style home; it is a stunning example. As we all know, whether traditional or modern, the exteriors of Spanish-style residences are made from stucco. Here the stucco exterior is from Light Pewter by Benjamin Moore, and the trim and the windows are from Onyx by Benjamin Moore. 
The bold, saturated color has been used in many places, which act as an accent. They work as an excellent complement to an off-white shade of the exteriors. The roof is made from clay tiles of deep burnt orange color which gracefully brings another unique color to the outdoor appearance of this house.
9. White House with Yellow Front Door and Black Trim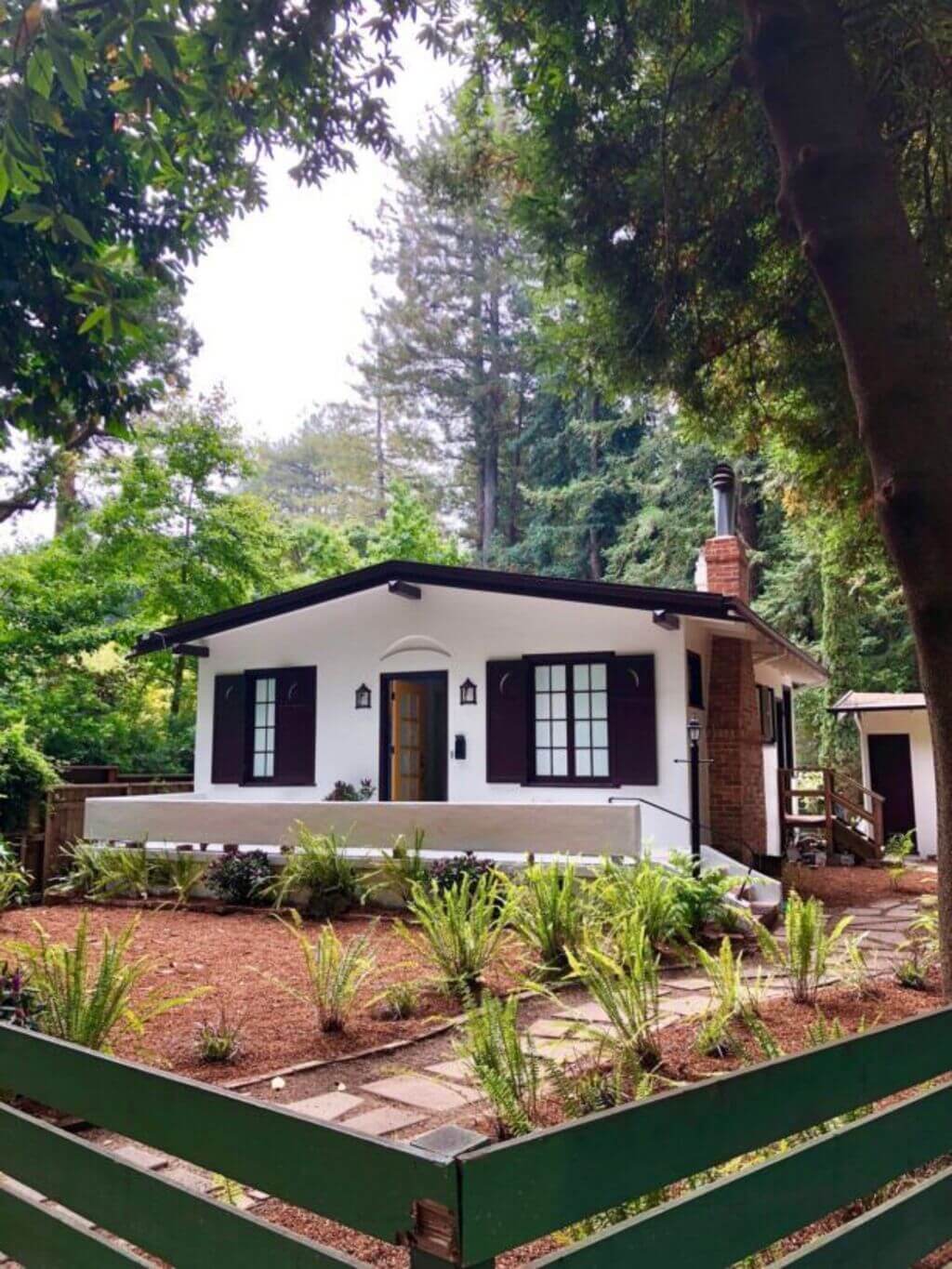 Source: pinimg.com
You can definitely go with the white trim for the white house, or white house "black window trim" and door frames for the white house. They all look stunning regardless of the style and levels of a building. This is the simplest and easiest way to select this color combination for a contrasting look.
However, if you want to create a more dazzling look, you can include other materials and colors in this color palette. This will add some drama and character to your exterior designs without looking too much or too plain.
For example, here in the above residence, a yellow glass door is used. It adds a popping look to the overall design. The yellow undertone doesn't look too bright and compliments the white walls pretty well.  
Just keep one thing in mind whenever you're using a bold color in a white house black trim, don't overuse it. This means just like the above house, a yellow door is used, but the windows are kept in black. This will balance out the overall exterior design and look.
Also Read: Popular Different Types Of Houses In 2021 (with Pictures)
Here are some more White Houses with Black Window Trim inspiration photos for you: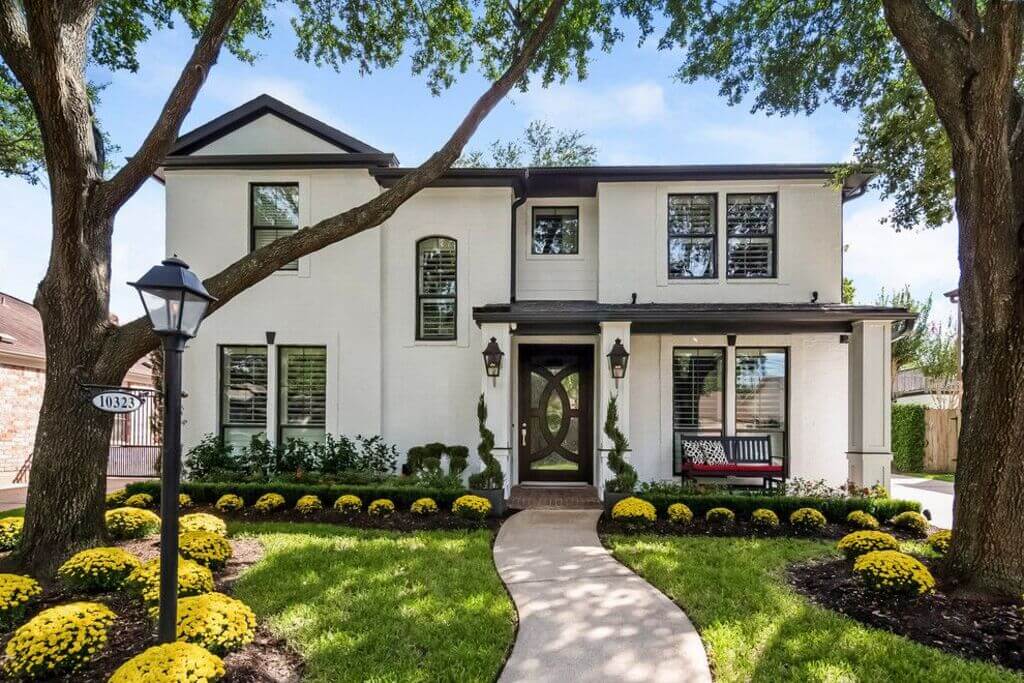 Source: pinimg.com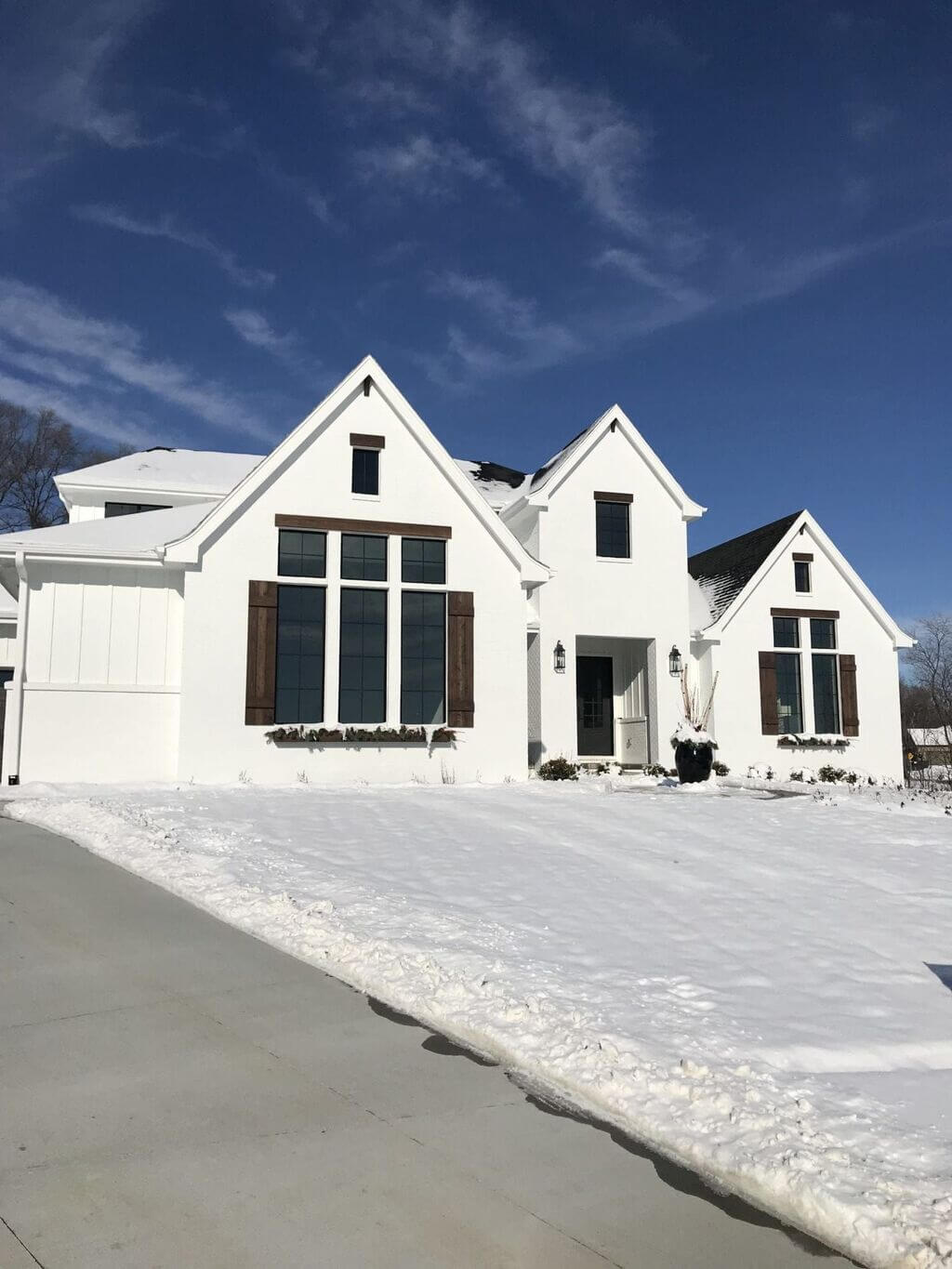 Source: pinimg.com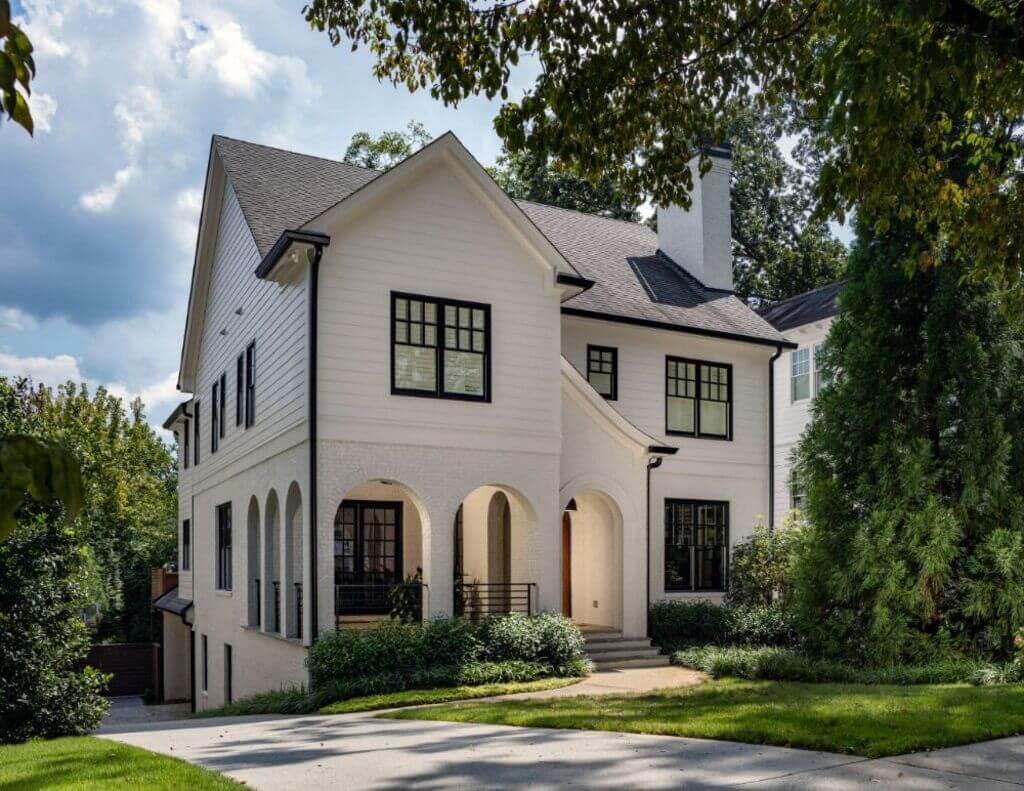 Source: pinimg.com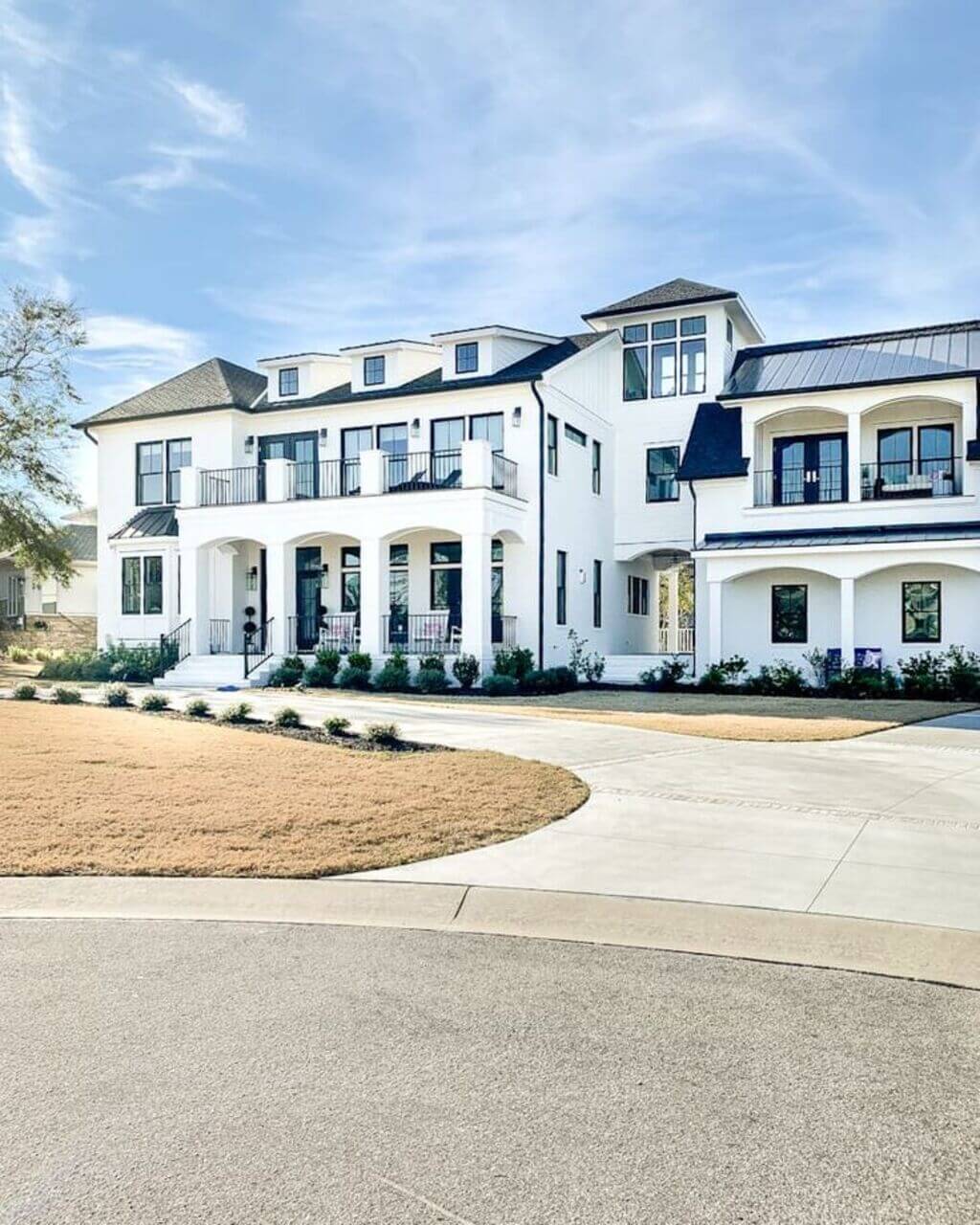 Source: pinimg.com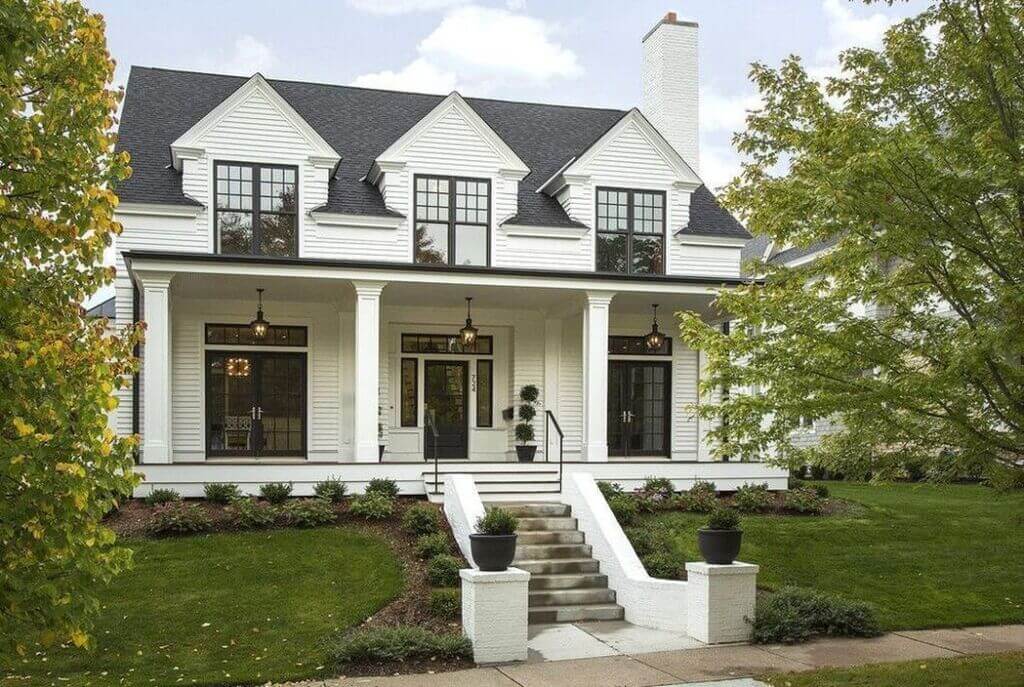 Source: pinimg.com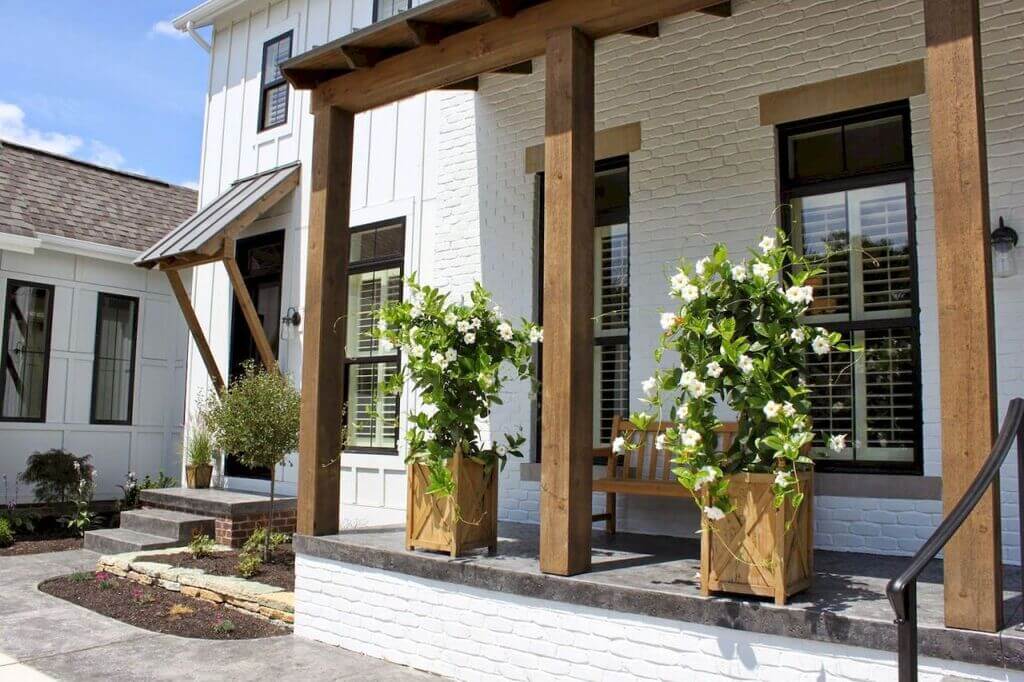 Source: pinimg.com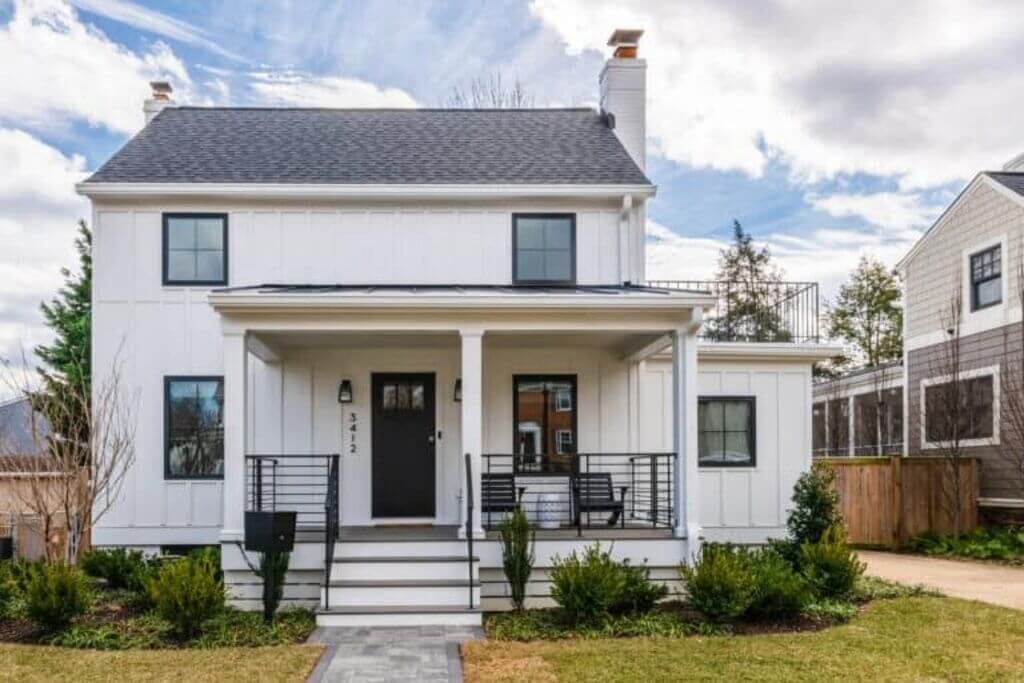 Source: pinimg.com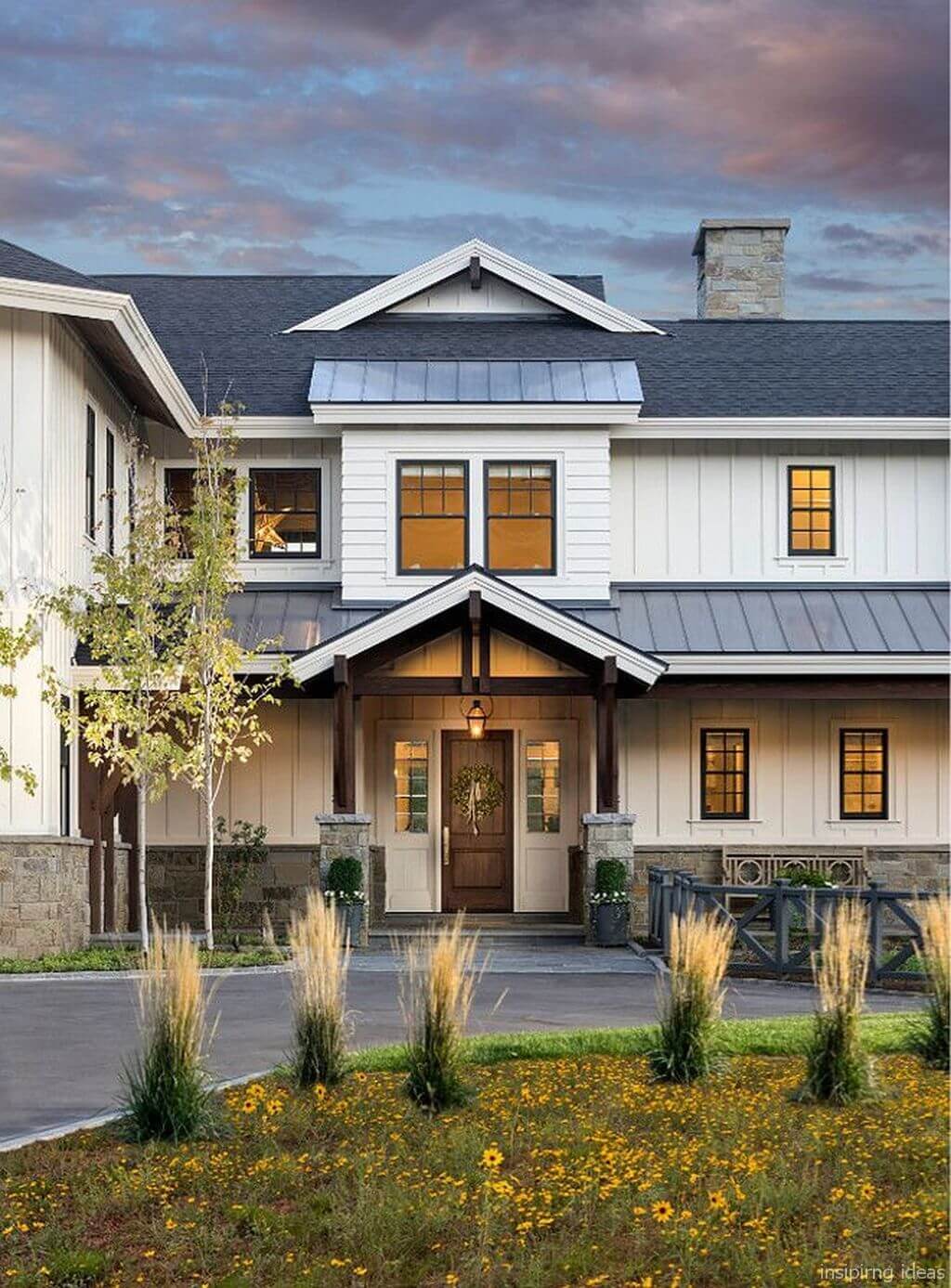 Source: pinimg.com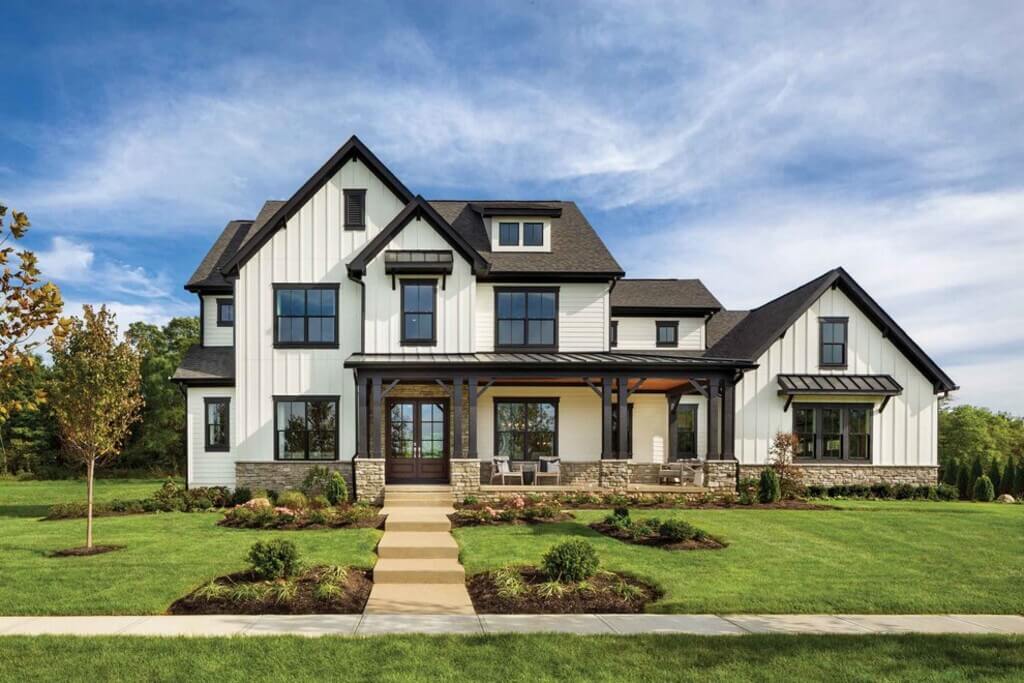 Source: st.hzcdn.com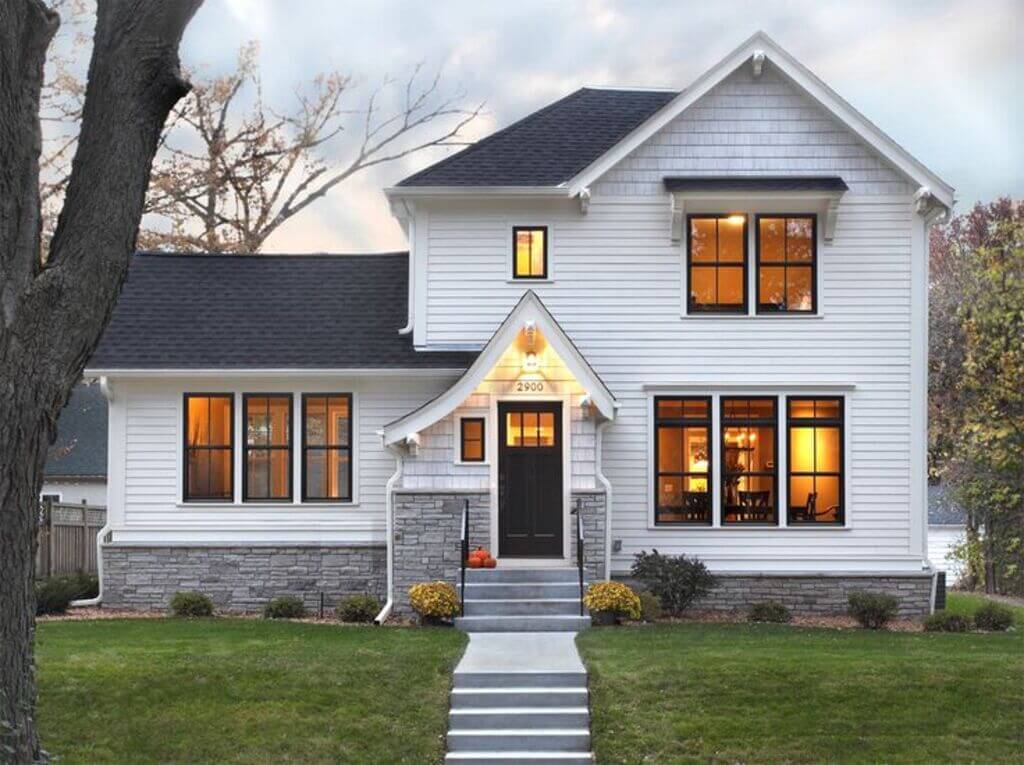 Source: pinimg.com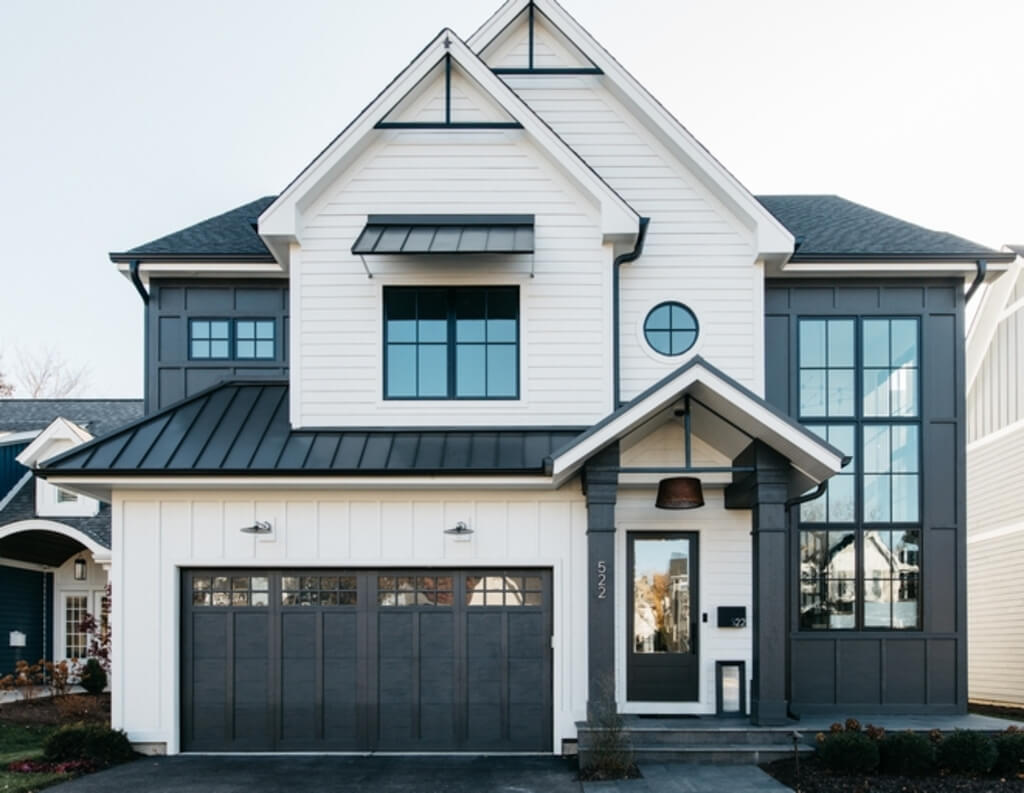 Source: homebunch.com
Consider White House Black Trim
From all the white houses with black trim ideas above, which one steals your attention? Black trim is not a new trend, and many architectural styles use it along with a variety of other darker shades. You can go with a modern white house with black trim or a black house with white trim; both ways, your exteriors will look spectacular. 
The best thing about this combo is that it is a classic, timeless color combination, which never goes out of style. Whether you want a modern, minimalist, or bold look, you can never go wrong with this black and white combination. You can also add an accent color or a glossy finish for an extra addition. 
So this is all about white house black trim. I hope you find this blog helpful and informative. Share it with your family and friends who are looking for some beautiful white houses with black trim designs and ideas. 
For more information about the various types of architecture and home construction techniques and styles or decoration ideas, explore Architecturesstyle. 
Himadri Shakya
Himadri Shakya is an enthusiastic Content Writer and Editor. She loves to create creative, engaging, and SEO-friendly content. Through her extensive research skills and practice, she has been generating high-quality and informative articles, and blog posts for over 4 years.
Related posts
The Floating Pitch of FIFA World Cup 2026
The 2026 FIFA World Cup is set to be the largest and most ambitious tournament in the event's history, with…