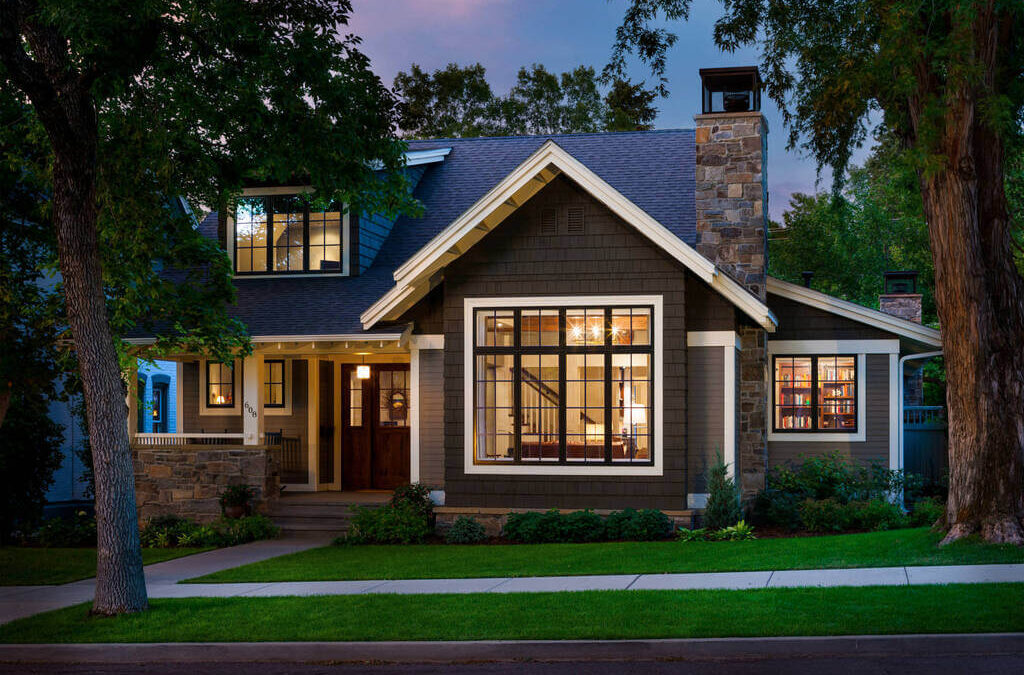 You may have seen that there is an increasing number of buildings with dark exteriors. Nowadays, many homeowners are going with dark blue, gray, and black exteriors. People get many different options as there is so much advancement in exterior paints and finishing materials technology. That's why it's pretty common to see bold, dramatic, and moody colors.    
One of the dark colors that is taking the internet on the storm is Black! This magnificent dark color adds the perfect drama and depth to the house exteriors. So if you're planning to paint your home exteriors, go with the black siding house instead of muted, neutral colors. The rich, saturated, dark tones like pure black will make the architecture appear more dramatic and magnetic.  
However, there are many things to consider while selecting the siding. That's because just based on the looks, you can't select the right material, and it may not perform the way you expect. 
There are so many different types and styles of black siding houses that are available. For example, if you want an aesthetic siding to add distinctive charm and texture, go for cedar shakes or board-and-batten siding, and if you're looking for a strong and durable siding option, fly ash siding will be best. However, the most affordable siding is vinyl siding! 
Are you confused about the black siding house? Not sure whether black will look good on your house exteriors? Don't worry; keep reading! 
Today in this blog, we're going to tell you everything about black siding house ideas. We've described in-depth the different types of black siding options. We've also gathered up some of the best black house designs and ideas for you. So whether you want to repaint your exteriors in black or want to change the trim and siding, these ideas will help you in selecting the right material and color for your home. 
Let's start. 
Types of Black House Siding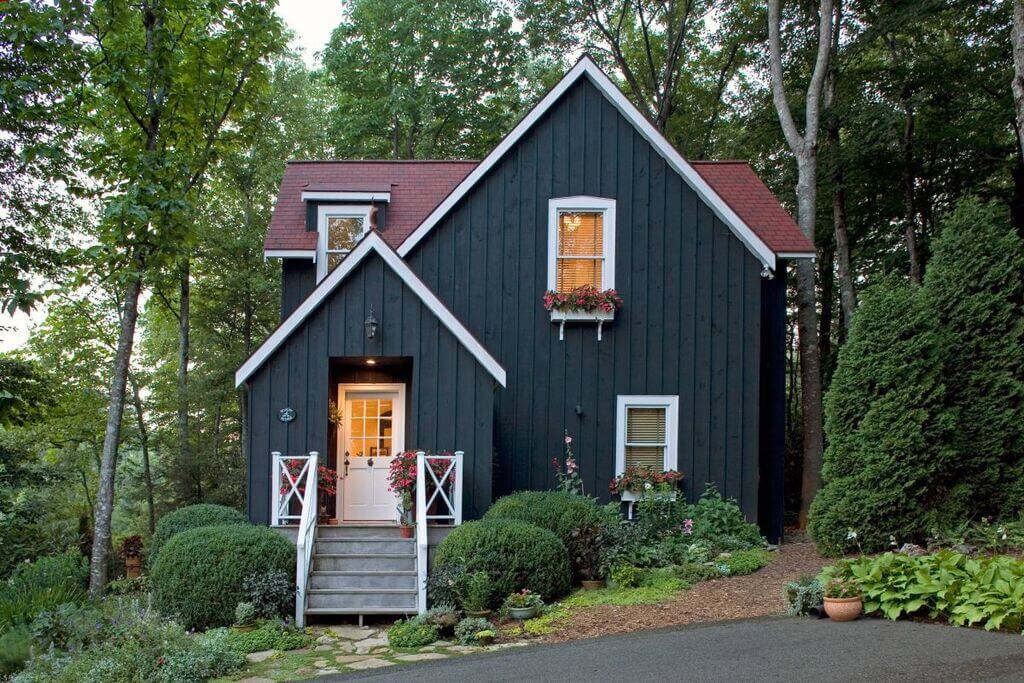 Source: homedit.com
Whenever we read or hear about home siding, the first thing that comes to our mind is vinyl! Yes, vinyl siding is one of the most popular types of siding for homes in the United States and worldwide. Why? That's because it's affordable, durable, and easy to install! 
However, today vinyl is not the only option. There are so many different types of siding available in the market. Here are some of the most common types of clack house siding:
Black Vinyl Siding House: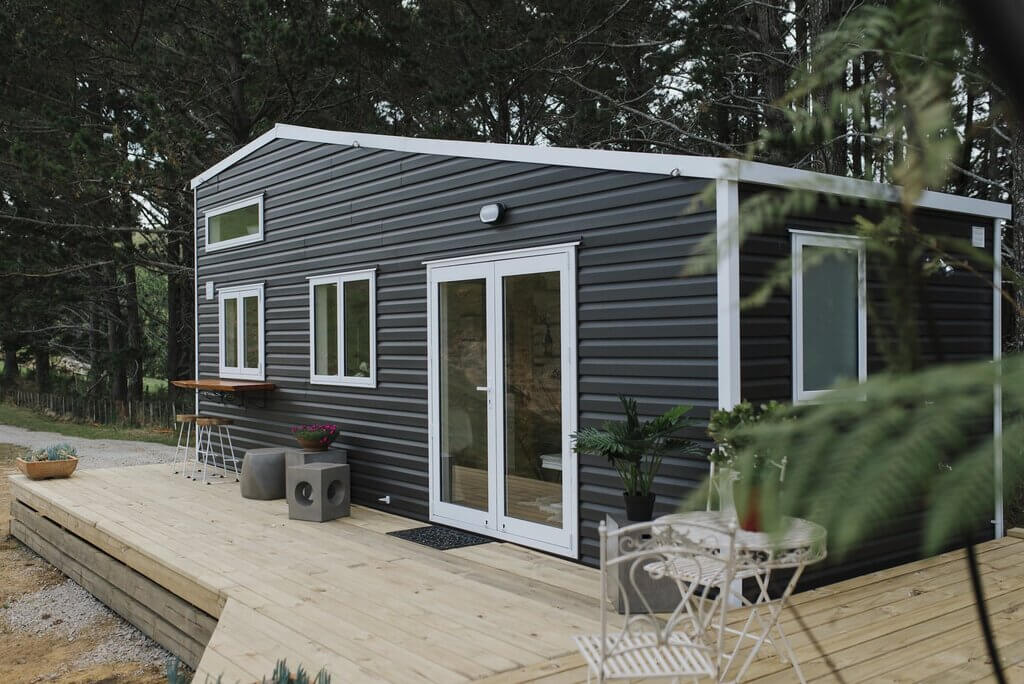 Source: dwell.com
Vinyl siding can be made in any style and color, even in black! People most of the time go with this siding because it's both attractive and durable. The vinyl black house siding is mainly made from PVC resin. That's why it also doesn't require much maintenance like repainting. 
A vinyl siding can last up to 10 to 15 years. It is available in many looks, shapes, and textures. You can achieve the desired appearance with the vinyl siding. 
Composite Siding: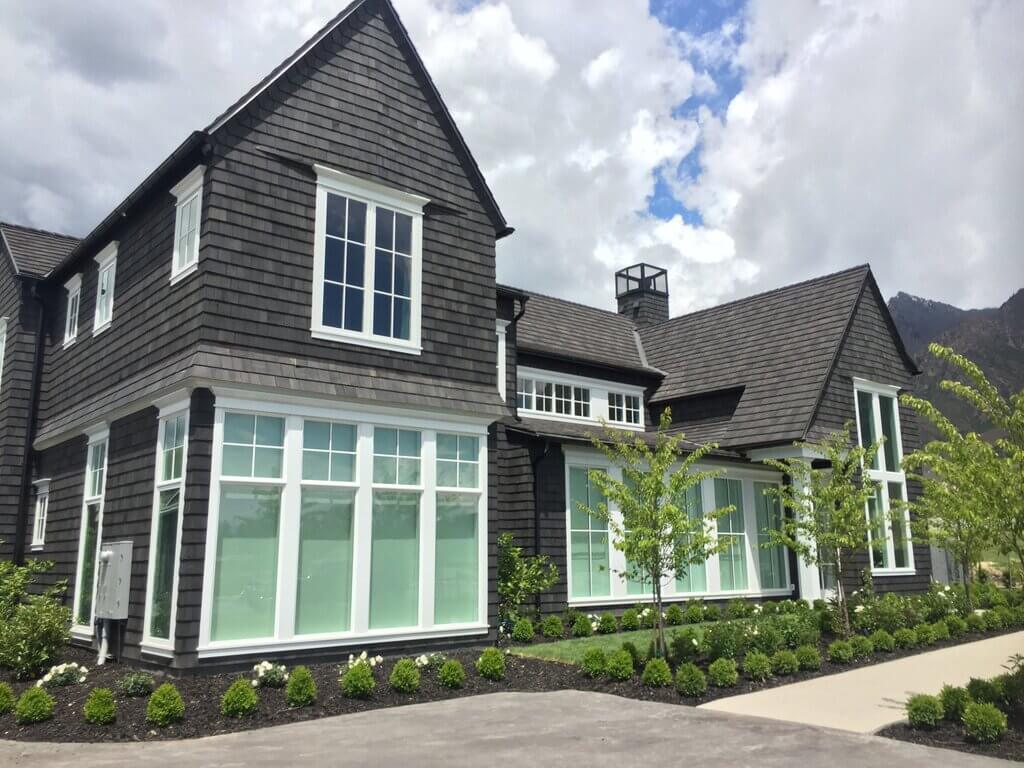 Source: squarespace-cdn.com
Composite siding is also known as engineered siding. This type of black house siding is made from compressed wood and bonded with resins. After this, this is also treated with some type of chemicals to avoid any type of bacteria. 
However, this type of siding requires painting, so you've to paint them after some time. These sidings are very durable and have a lifespan of about 30 years. 
Wood Siding: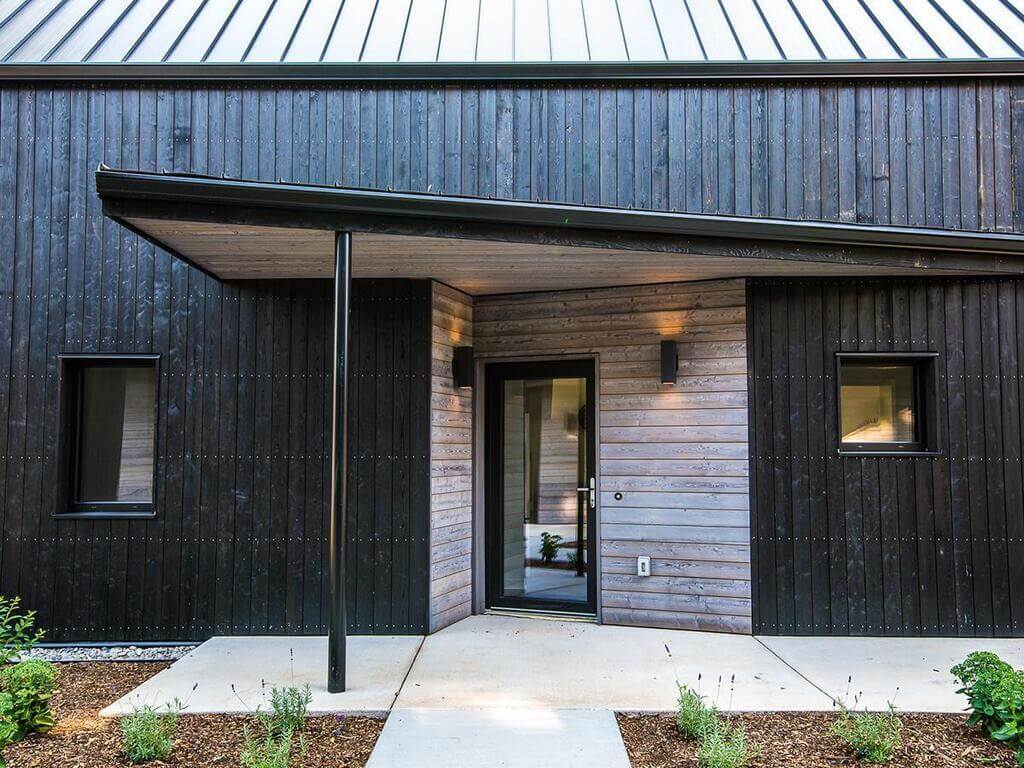 Source: mortarr.com
Wood siding is almost like composite siding, but they're basically made entirely from wood! According to your liking, you can get the specific type of wood and get the perfect looks for the exteriors. However, wood sidings are one of the most expensive sidings. 
The most common profiles for wood include:
Board and Batten

Clapboard

Drop Siding

Shingles

Vertical Boards

Wooden Sheet Siding

Shake siding

Log
Metal Siding: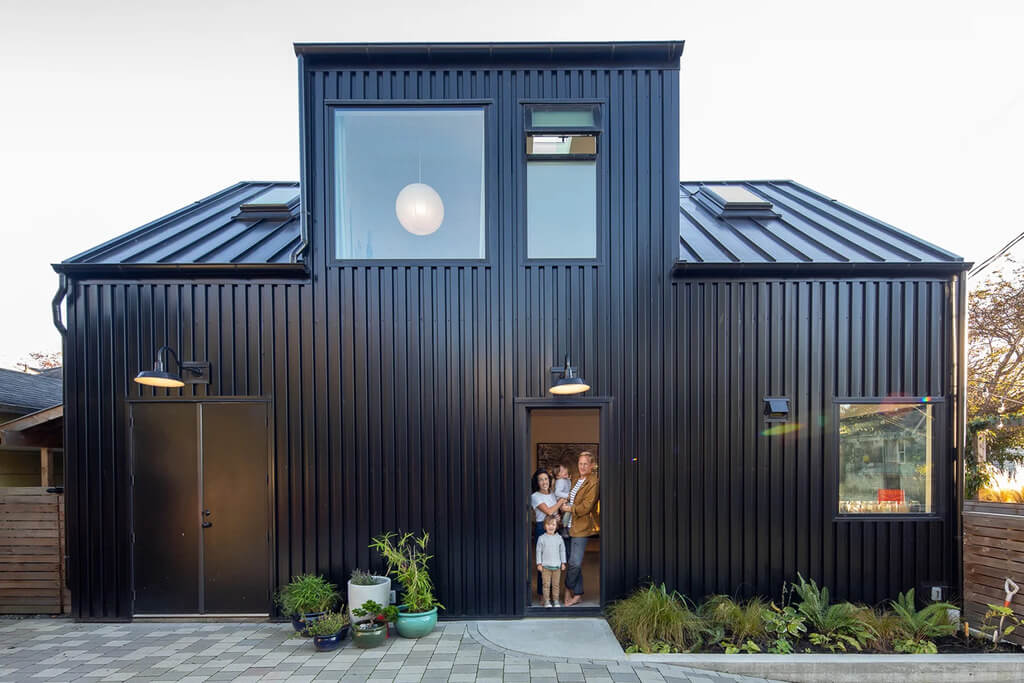 Source: domino.com
Metal siding is actually quite different from the sidings as mentioned above, but it looks pretty similar to them. Because of its ease of installation and durability, metal sidings are a popular black house siding option.  
Metal sidings also protect the home as it doesn't rot or rust and also increase fire resistance.
There are two different types of metal siding: aluminum and steel. These metal sidings can last up to 50 years with the repainting and maintenance between every 5 to 10 years on average.
Fiber Cement Siding: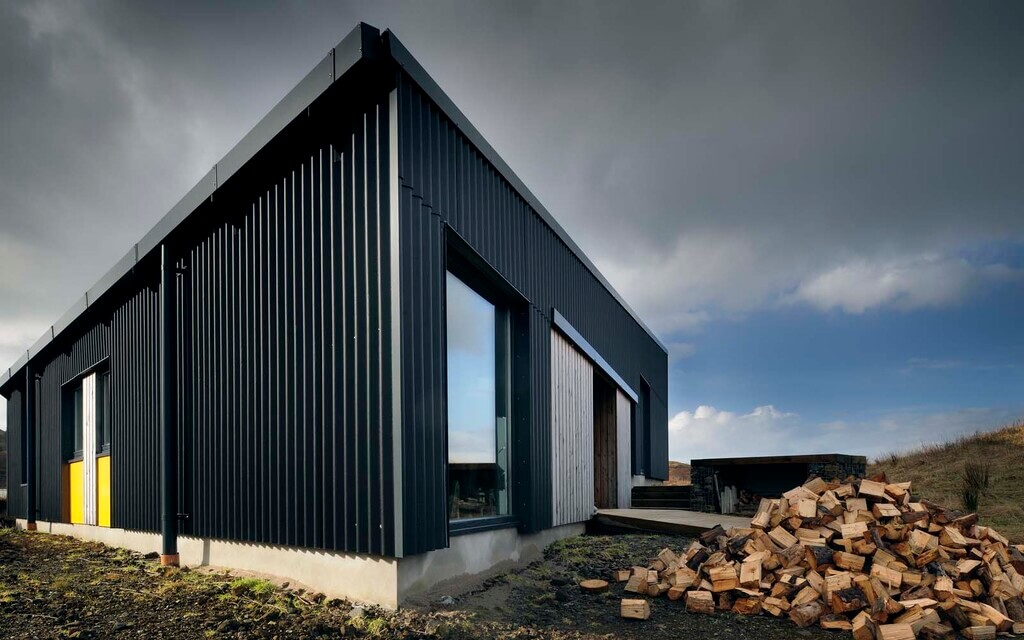 Source: corel67.eu
This type of siding is widely used in both residential and commercial buildings. It is made up of cement and cellulose fibers, and that's why it's known as fiber cement siding.
This siding is quite durable and comes in various styles and looks, including stone, clapboard, shingles, etc. another great thing about them is that they're cost-effective as compared to other siding options. Fiber cement siding does not rot, and it is also not affected by the wind, cold, or termites. 
Types of Houses with Black Siding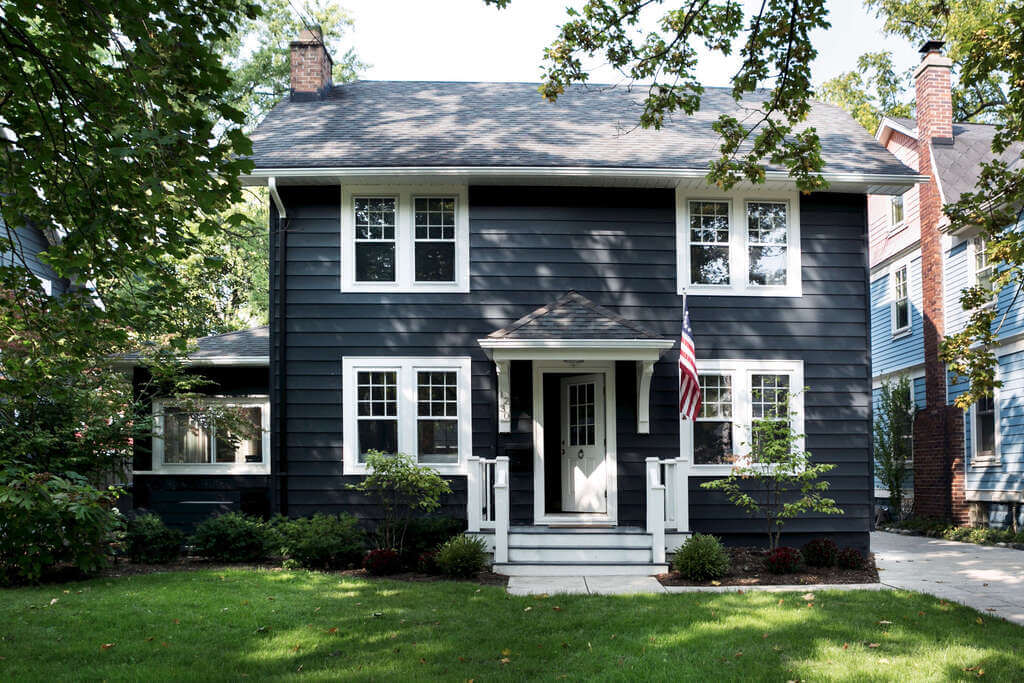 Source: remodelista.com
You'll be happy to know that the black exteriors look great in different architecture and styles of houses. Here are three different styles of homes where you can use black house siding: 
1. Modern Homes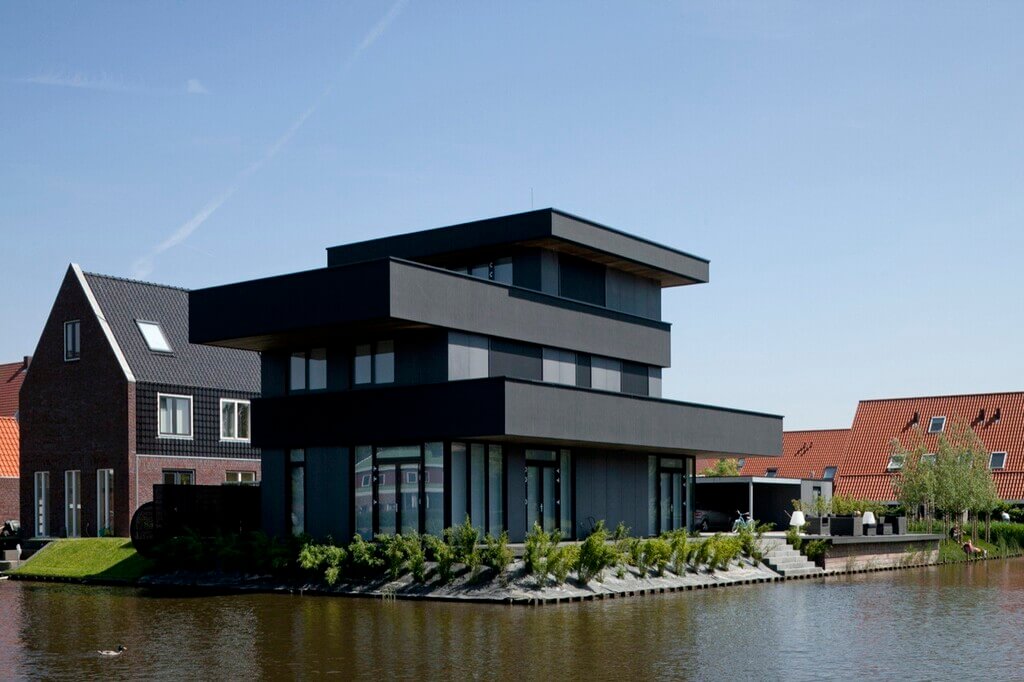 Source: homedit.com
Black is one of the great exterior colors for houses with modern looks. This dark color adds a unique contrast and intrigue to modern-style homes. You can add the siding to feature different parts of exteriors, including angled windows, contrasting trim, and metallic accents. This will create a striking but cohesive look and increase the property's curb appeal. 
2. Transitional Homes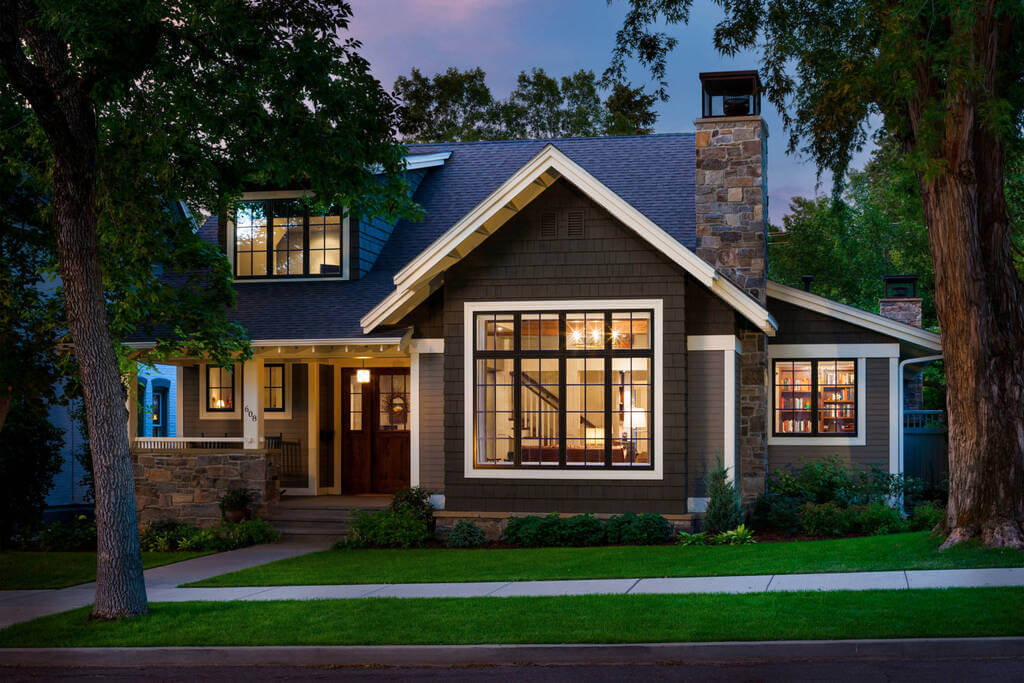 Source: hzcdn.com
Transitional homes have a blend of both modern and traditional elements. Black house siding is the perfect material to enhance its features. You can add boldness and softness by creating a contrasting effect by adding traditional features like double-hung windows and other natural elements.
3. Traditional Homes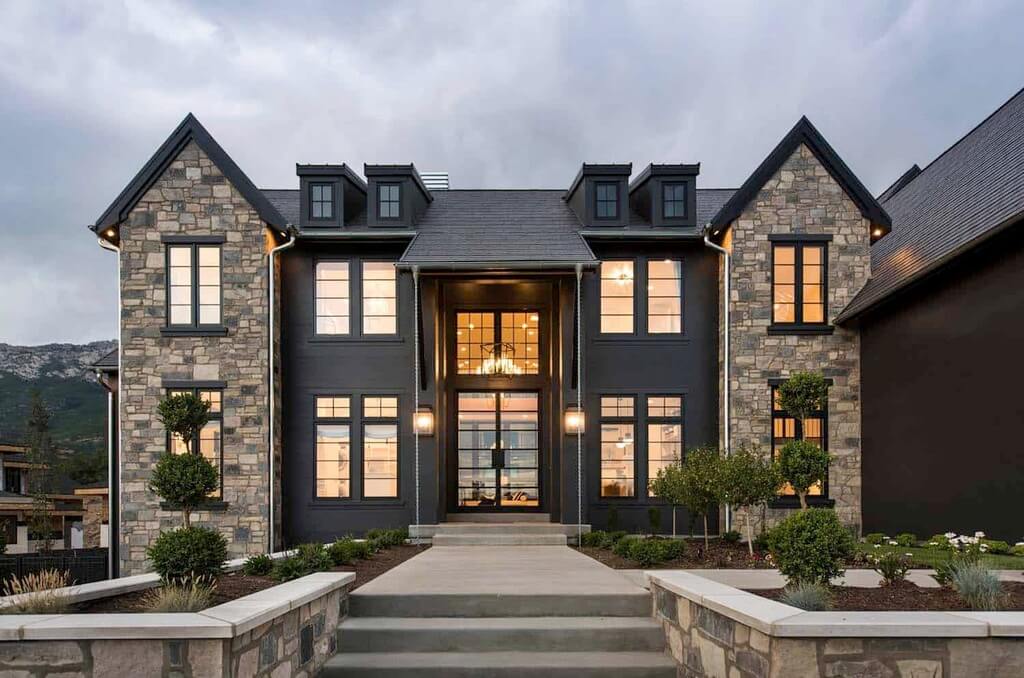 Source: homedit.com
Don't think that black won't look good or you can't use black color on traditional homes. You can add dark colors to create moody vibes with a major style upgrade. You can tone it down with your exterior design accents if it looks too bold.
Top 15 Black Siding House Ideas in 2022
After reading till here, you know the various types of black house siding and how it works with different styles of homes. Now let's move on to the black house siding design and ideas. 
1. Mid-Century Modern House with a Pop of Color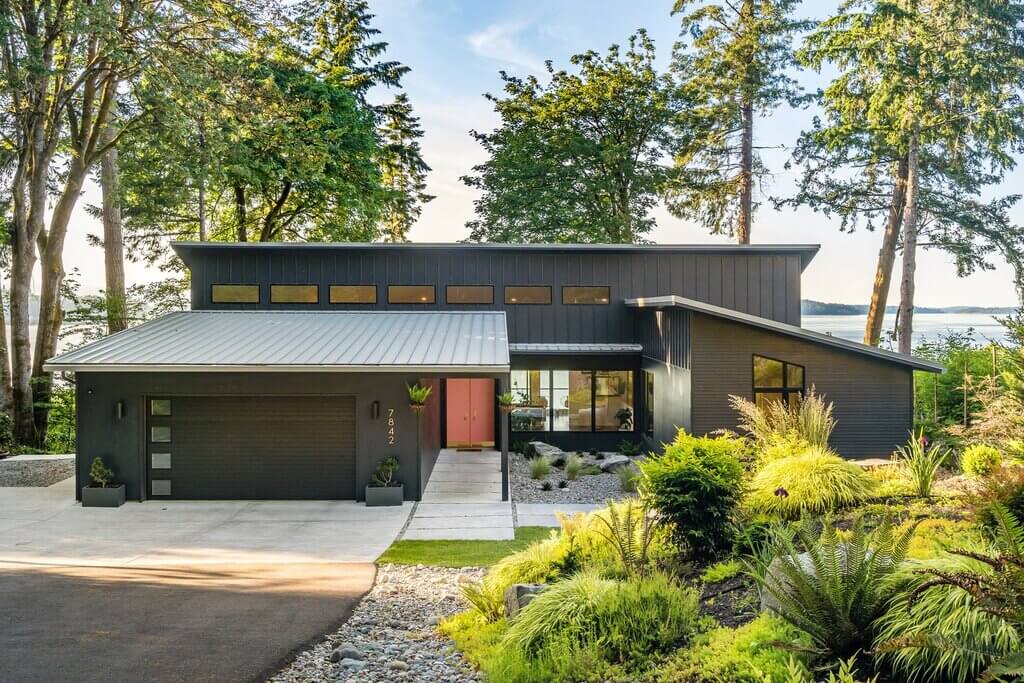 Source: dwell.com
Look at this modern villa. Here black is mostly used on the exteriors. However, if you feel that it's too bold or black is taking over the outer look, add a pop of color. Yes, here the homeowners go with a teal front door. This way, it creates a beautiful contrasting effect without looking too moody. 
2. Simple, Yet Striking Farmhouse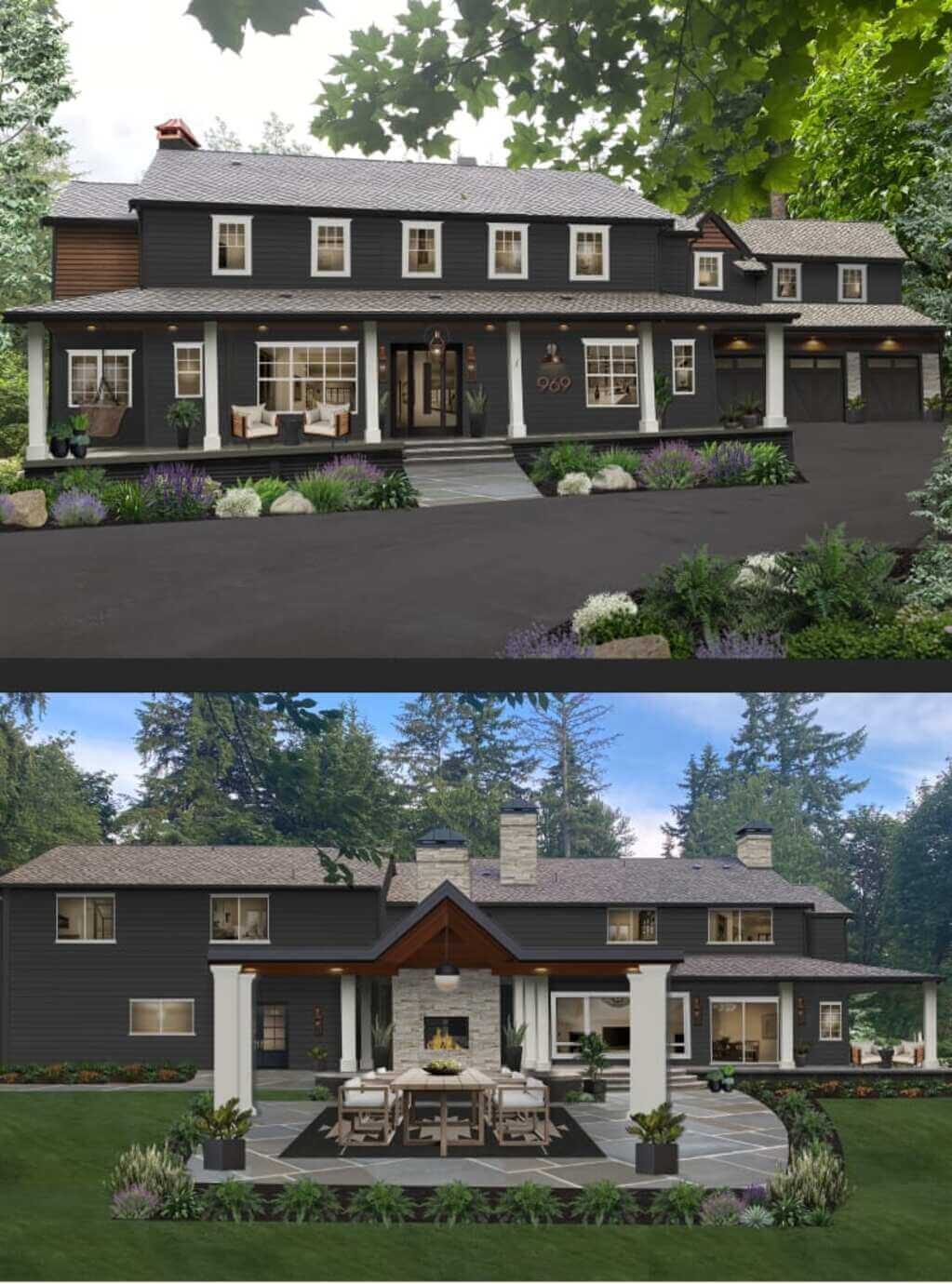 Source: cloudinary.com
Farmhouses are known for their traditional looks and calm vibes. However, you can give them a makeover with black paint! Here the house exteriors are painted in lack Beauty by Benjamin Moore. This way, the farmhouse gets a modern update while having its original feel to it. The white double-hung windows and a large wrap-around porch are the main elements of this large farmhouse.  
3. All Black Cabin In the Woods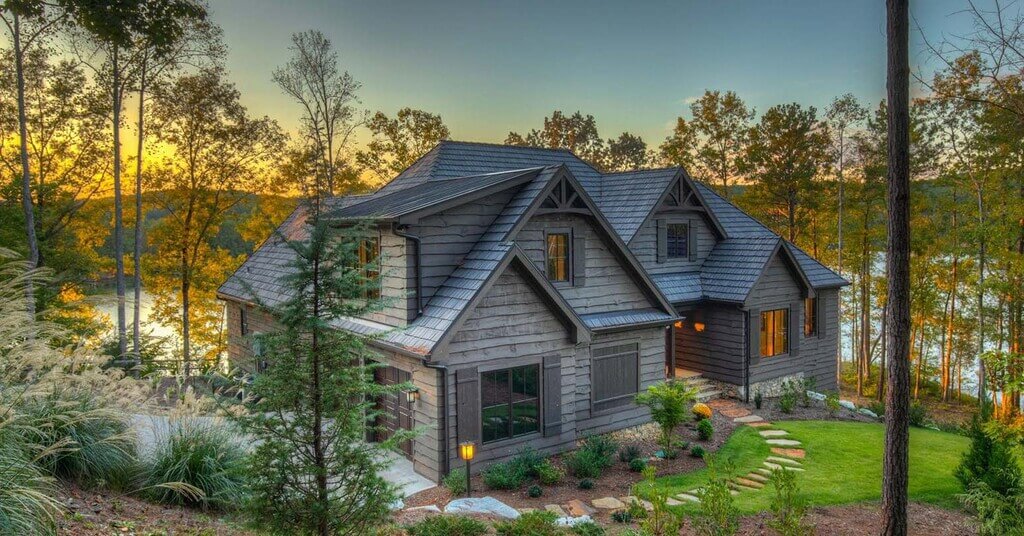 Source: gambrick.com
Living in the woods is a dream of many people! Selecting the black exteriors for your home in the forest is surely a bold and brave choice. This cabin blends perfectly with the surroundings. 
Here the wood siding is used in black color, which gives the dwelling a lighter, natural tone. You can also go with the same look and create an entirely different look.
4. Cool Craftsman Home in Black Forest Green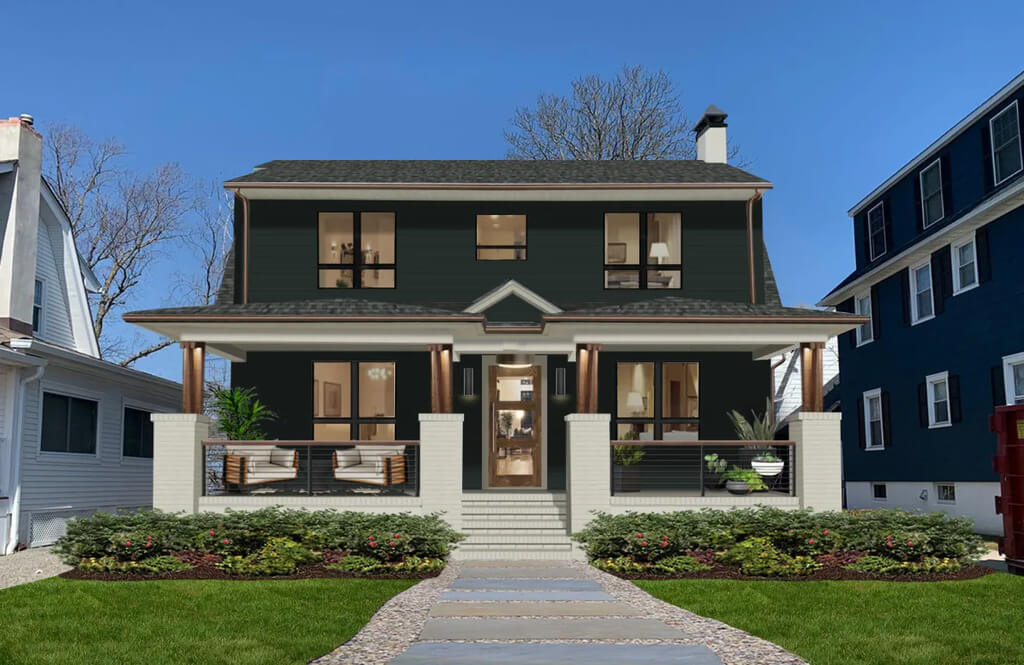 Source: cloudinary.com
Don't like the idea of a completely black house? Don't worry; here's another great option for you. Instead of dark black paint, go with black forest green! This will still give you the dark, moody vibes and also look less black! You can highlight the exteriors with copper accents. 
5. Concrete Modern Black and Grey House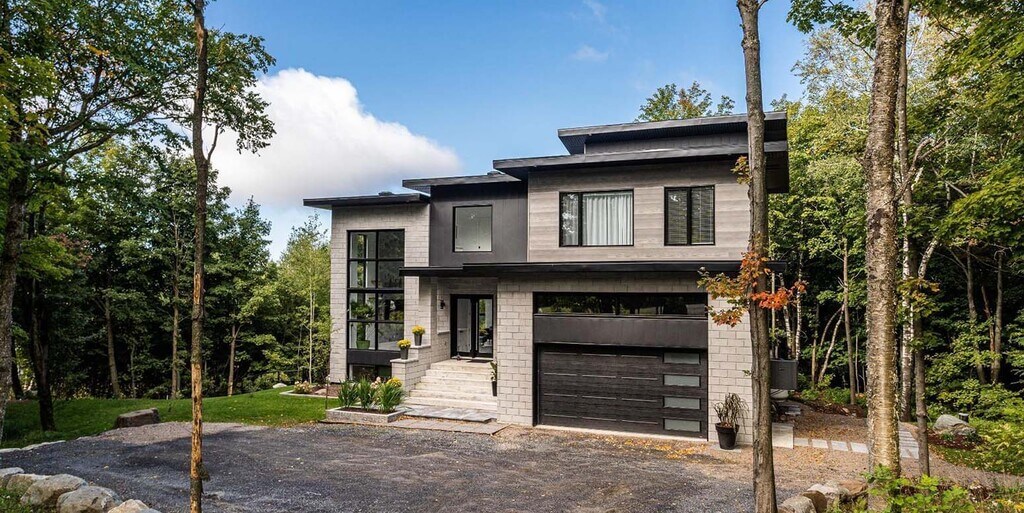 Source: gambrick.com
Many people fear excessive fading and the maintenance that comes with the black color! Do you feel the same? Go with the concrete and other masonry materials! These materials, including brick and stone, don't fade at all! 
Look at this modern black house with concrete exteriors painted in black. You can also go with a similar style if you don't like maintenance or don't want to paint again and again. 
6. Contemporary Dwelling in the Woods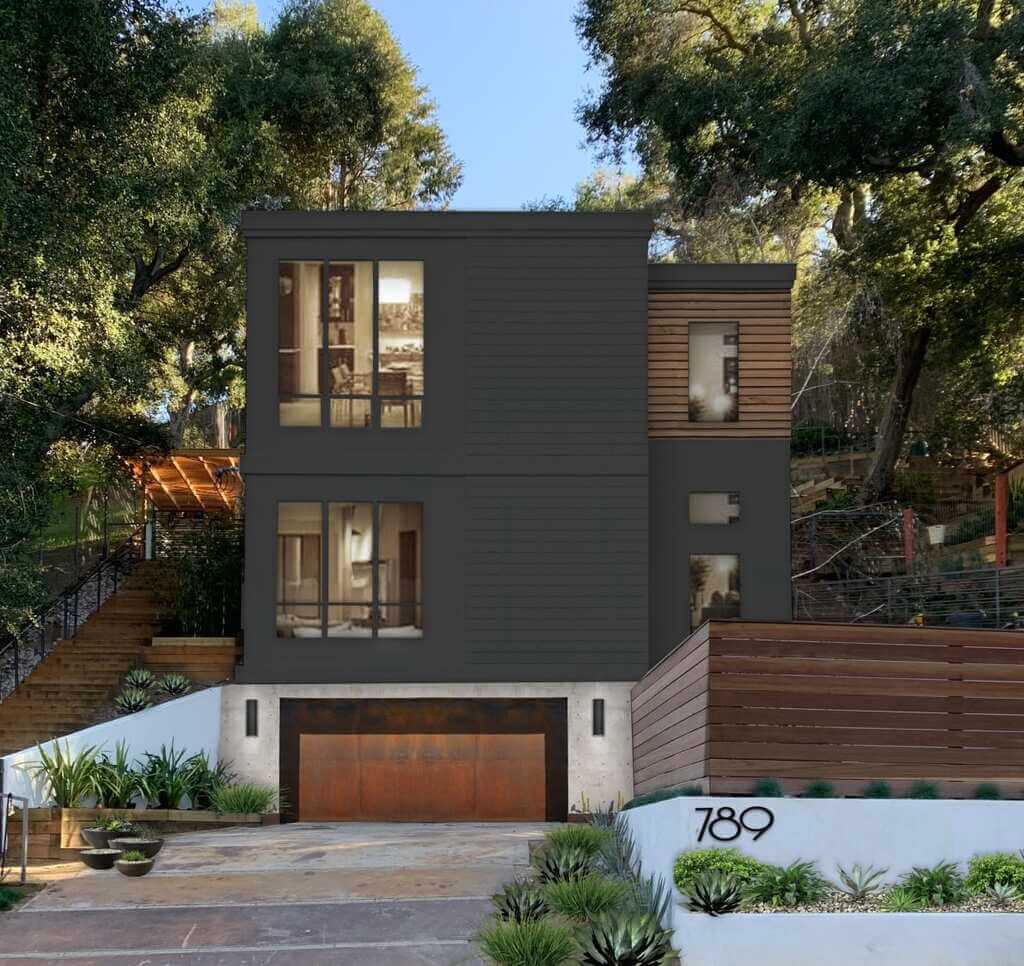 Source: cloudinary.com
For contemporary homes, Greenblack by Sherwin Williams is a great color option! This paint has a more muted black with a slight green tint, giving the house a fantastic look. 
You can go with this kind of black exterior for houses situated in the woods or with lush landscaping. 
7. Traditional Black Brick House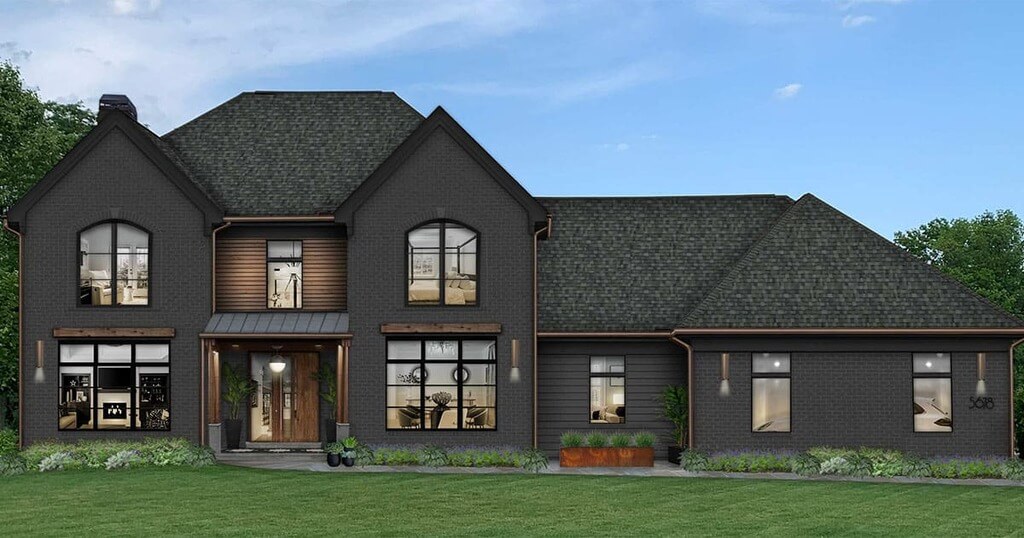 Source: cloudinary.com
Are you living in a traditional brick house? If yes, give it a stunning makeover with some black paint! Take inspiration from the above two-story home with large windows. Iron Mountain by Sherwin Williams paint is used to give this house an edgy upgrade. This is one of the fantastic ways to modernize your traditional home.
Looking for some more black siding house ideas? Scroll down!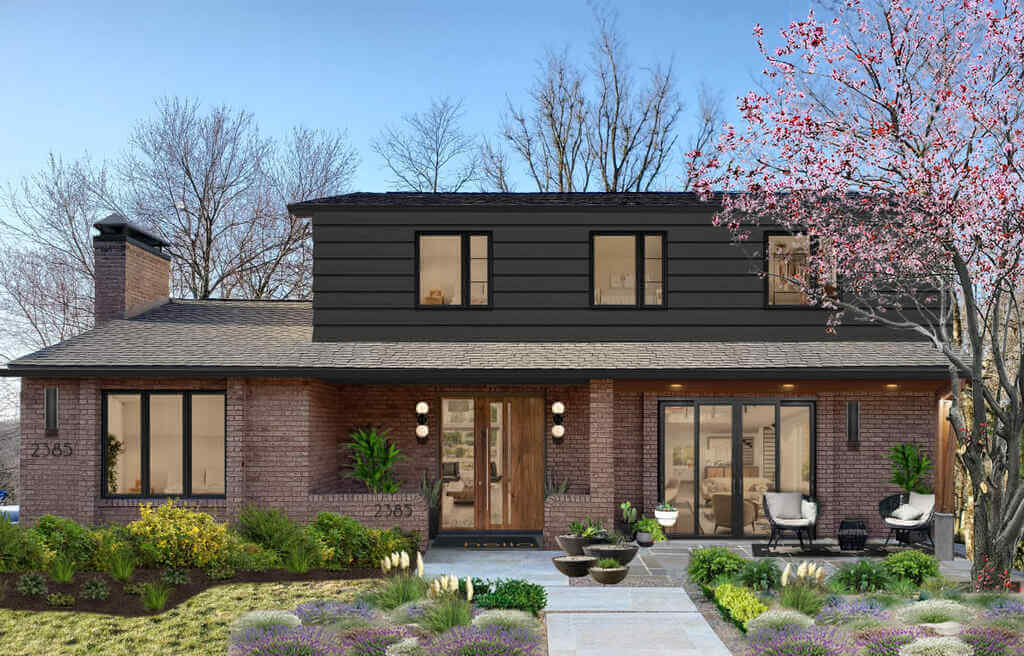 Source: cloudinary.com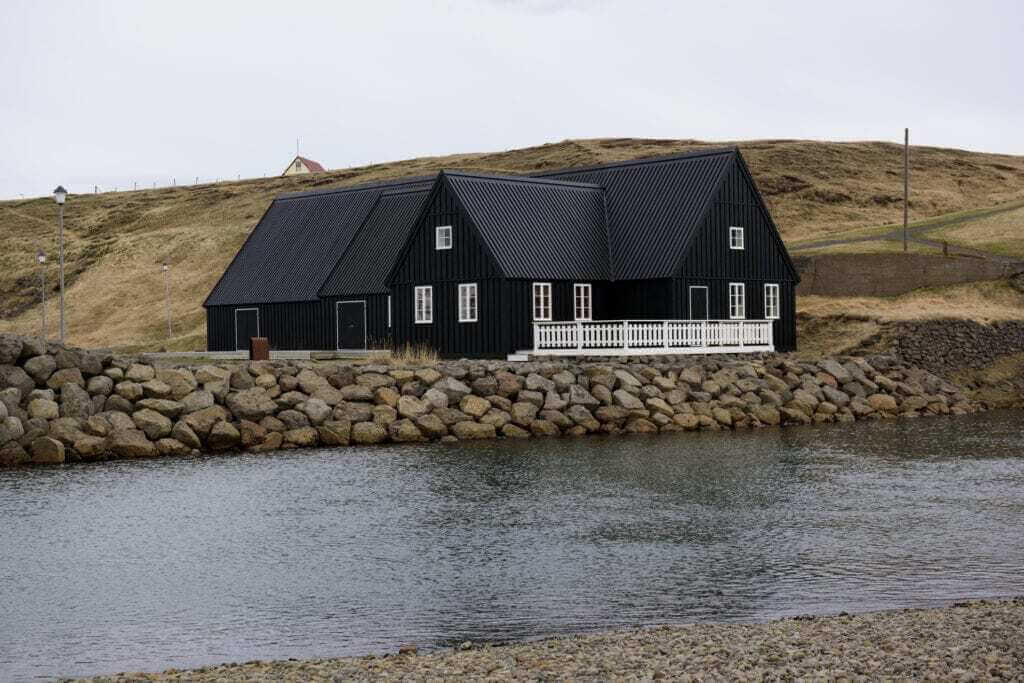 Source: mymove.com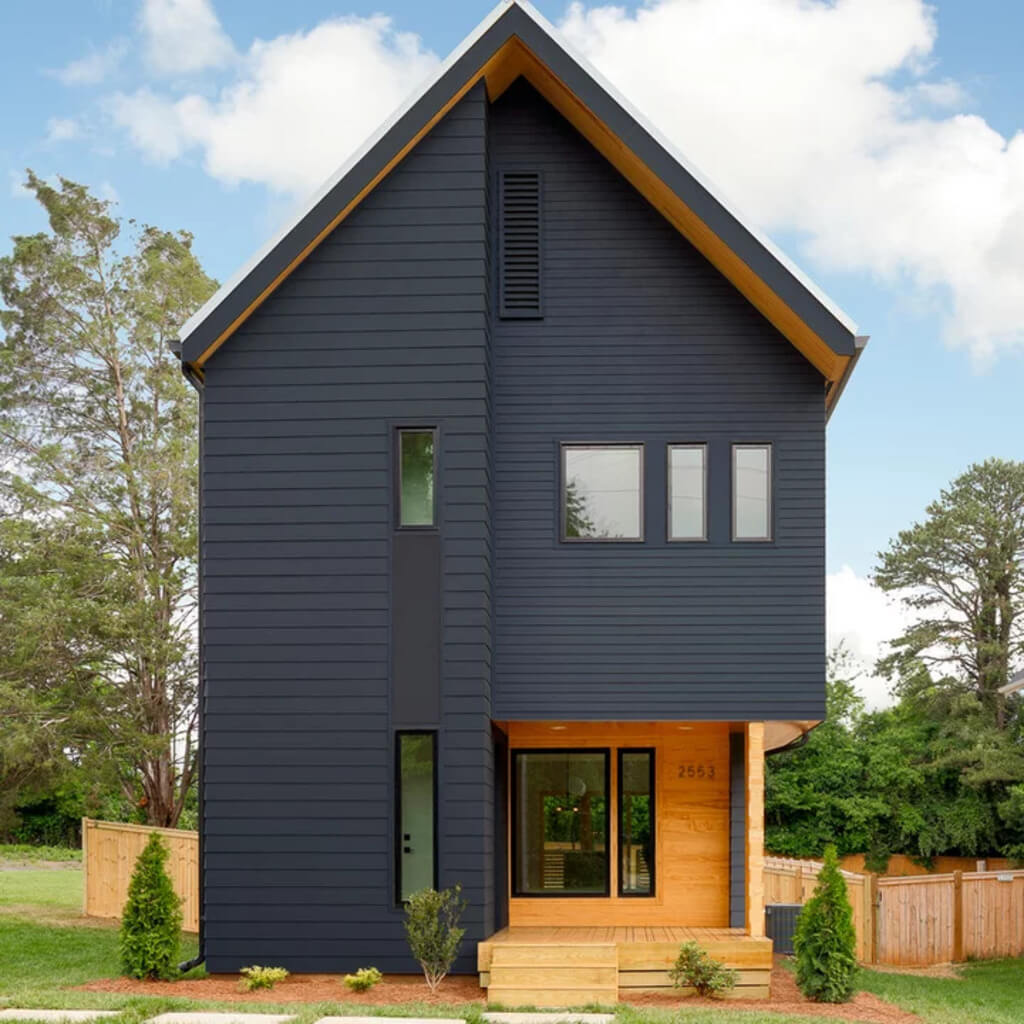 Source: hzcdn.com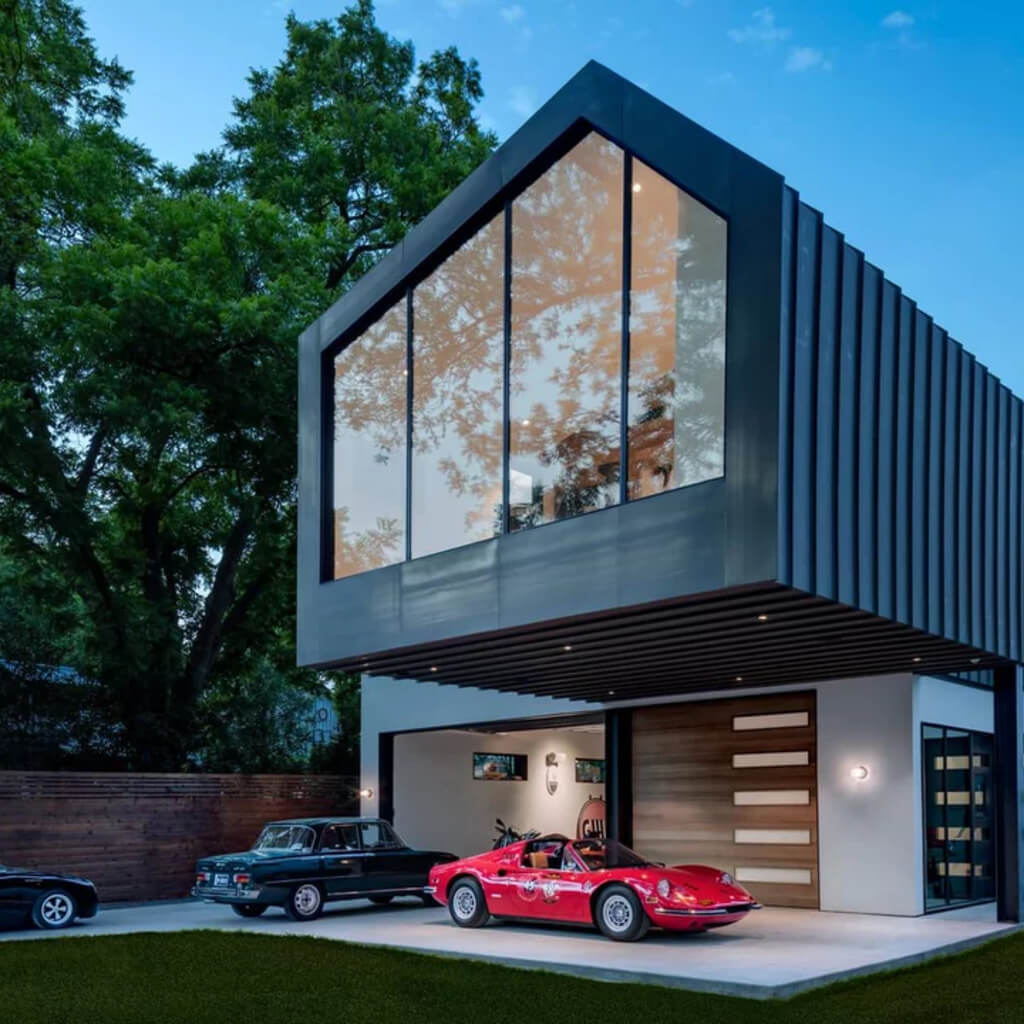 Source: hzcdn.com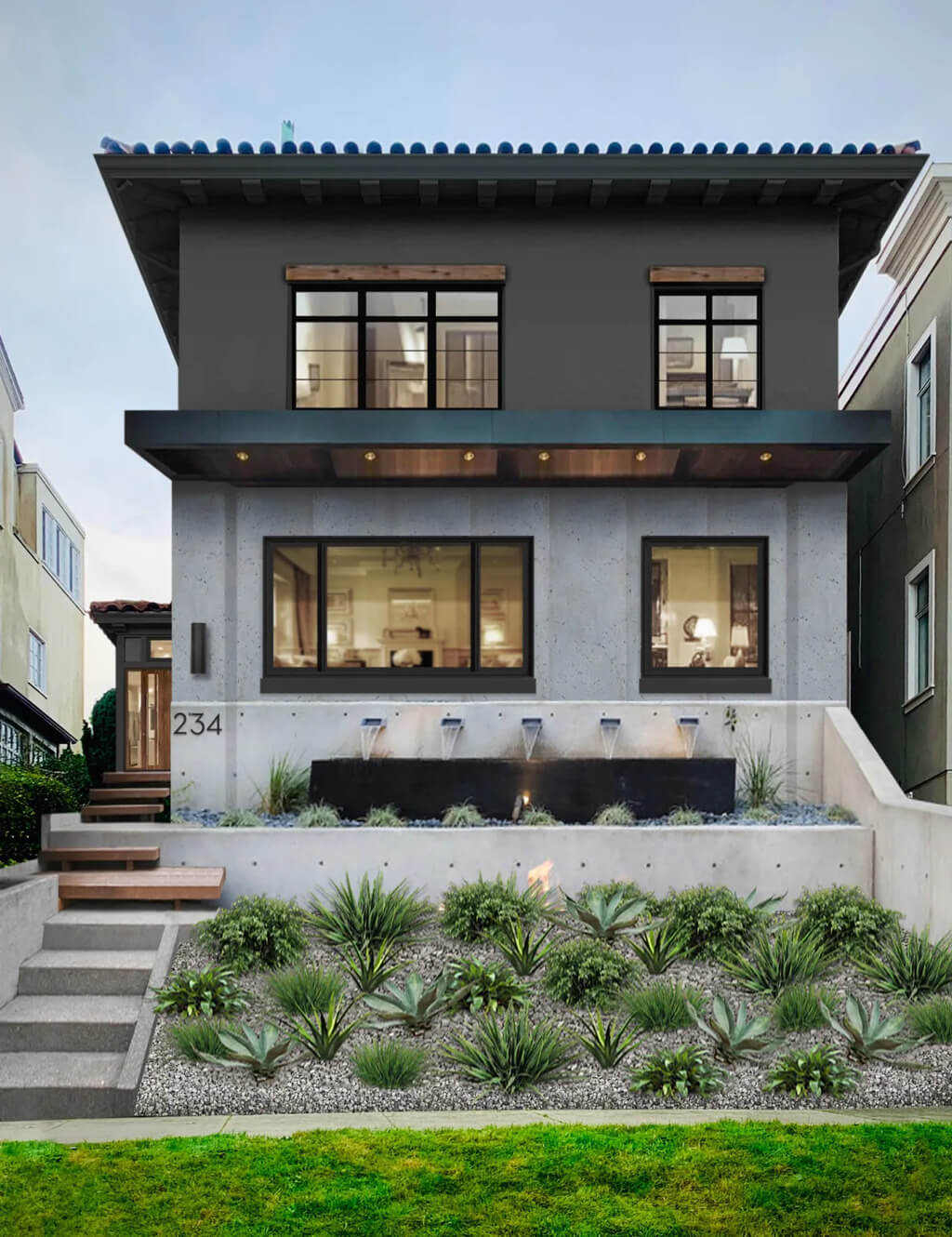 Source: cloudinary.com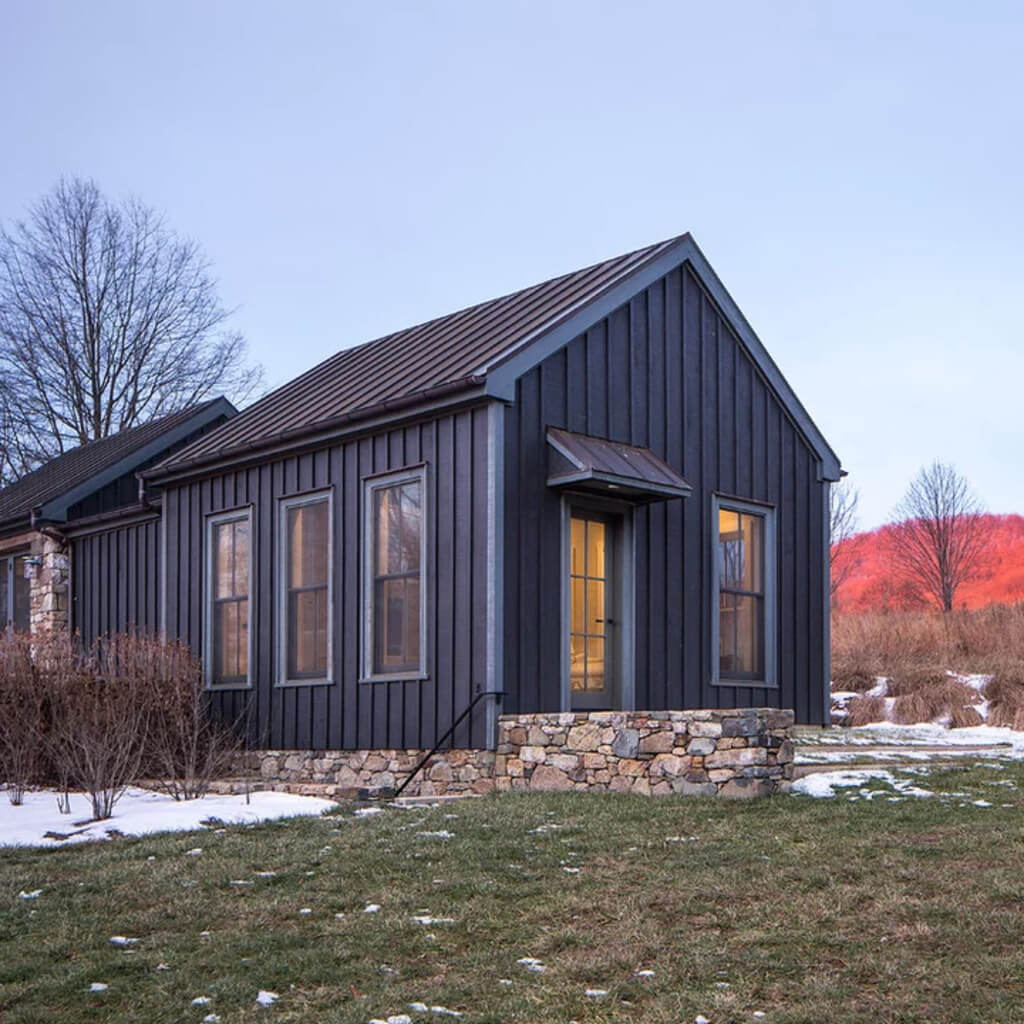 Source: cloudinary.com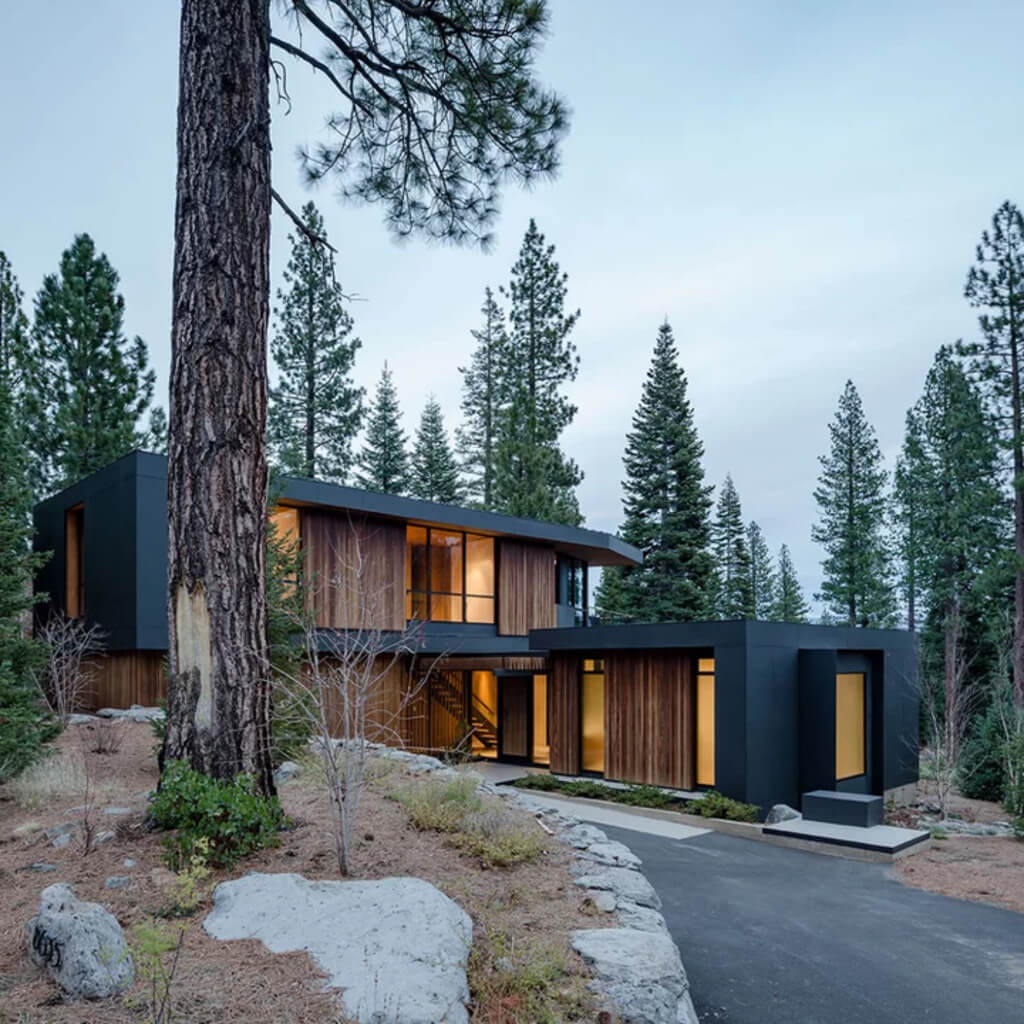 Source: hzcdn.com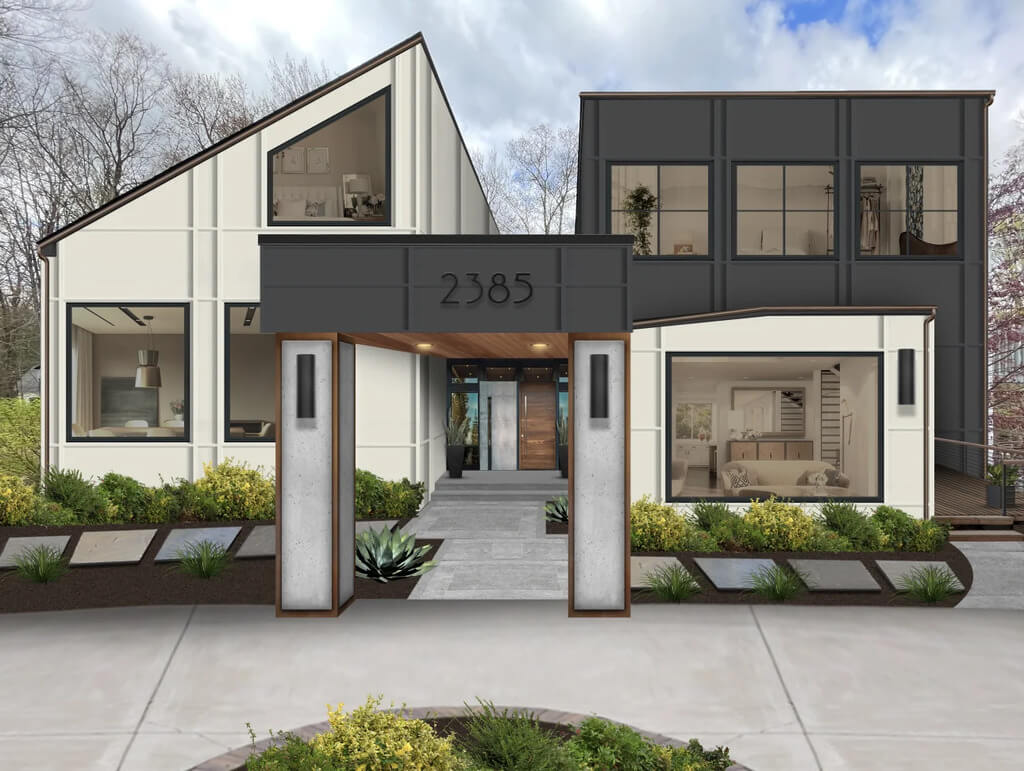 Source: cloudinary.com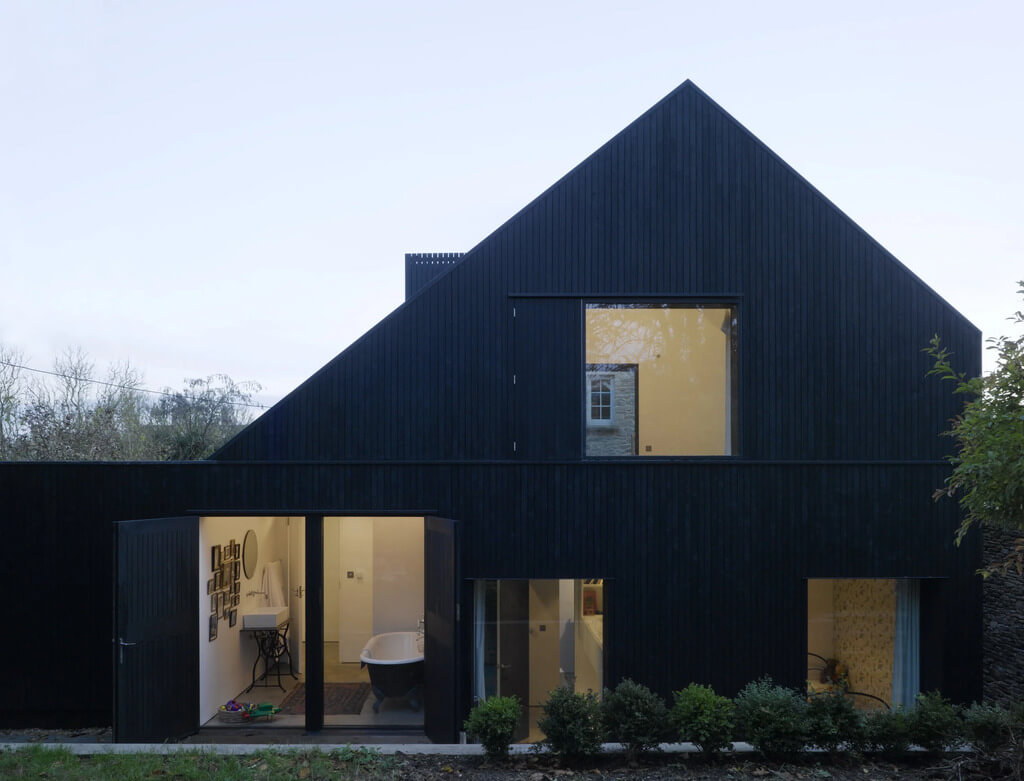 Source: archilovers.com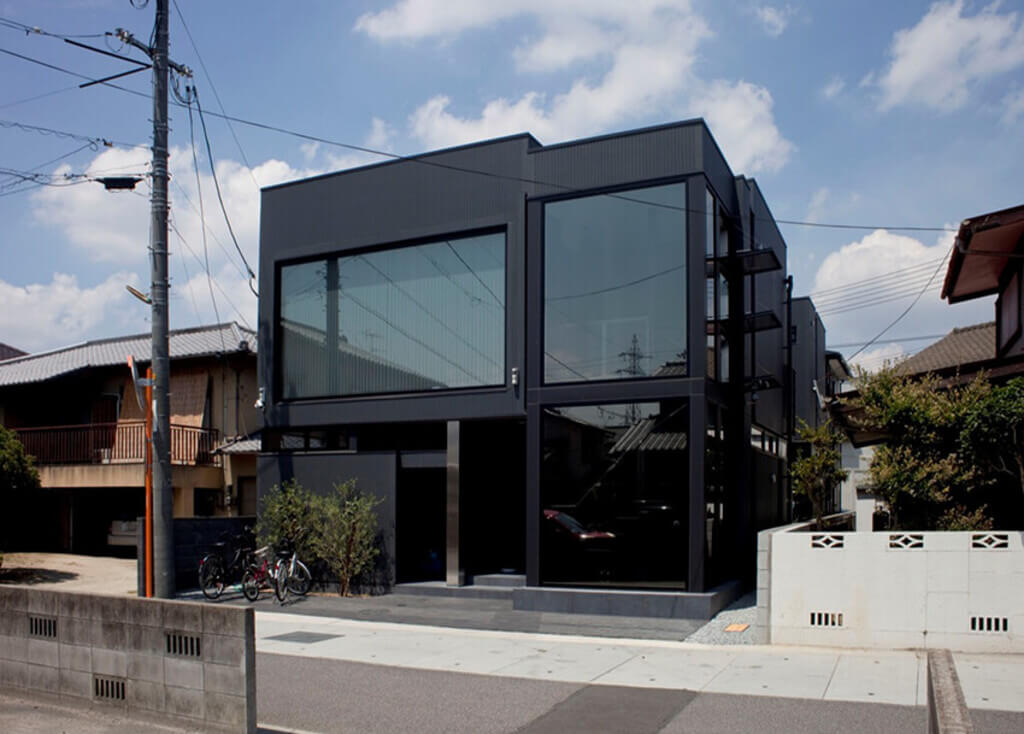 Source: outsourceplan.com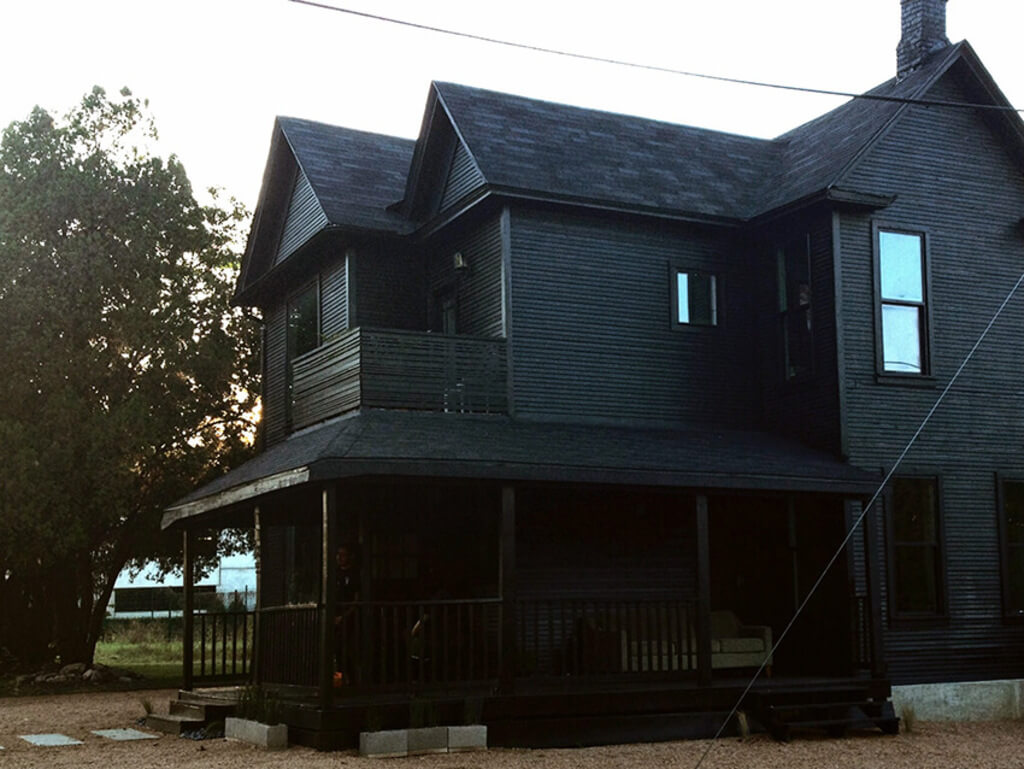 Source: outsourceplan.com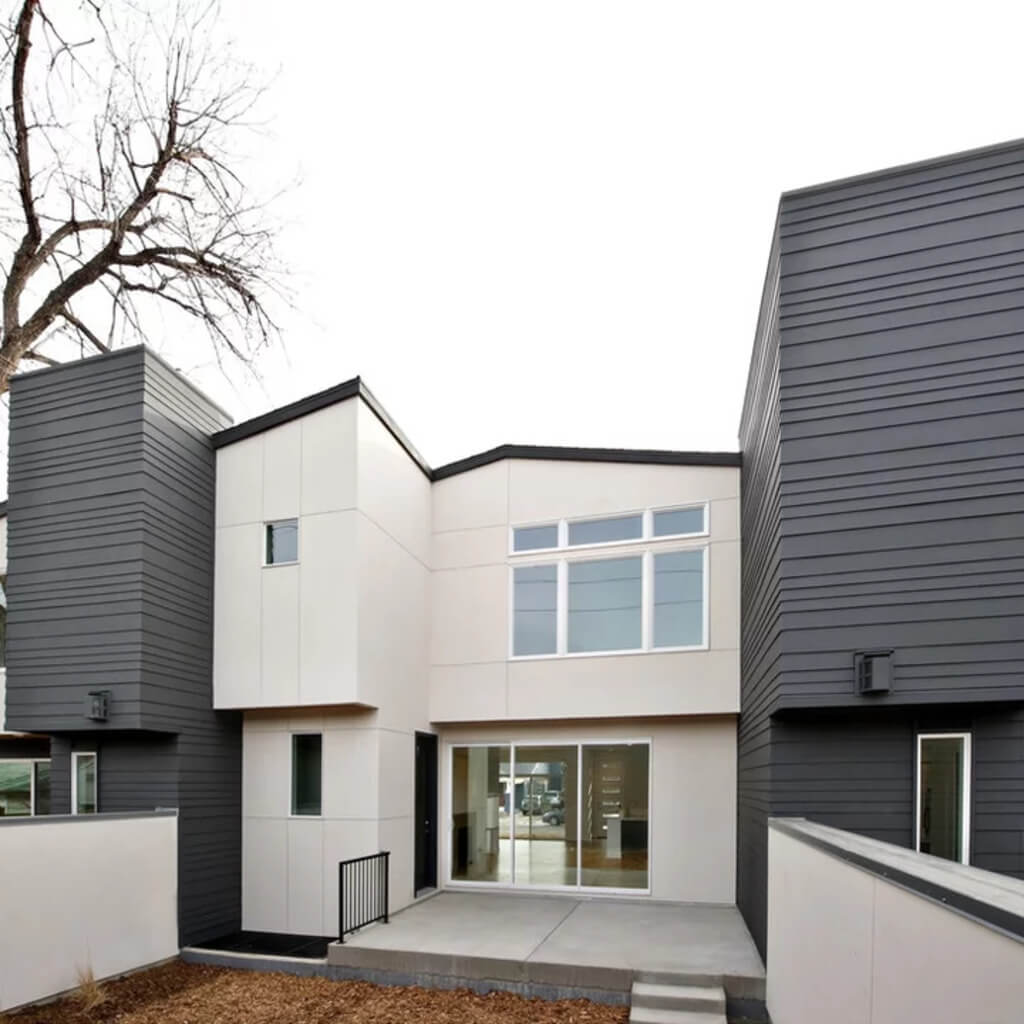 Source: hzcdn.com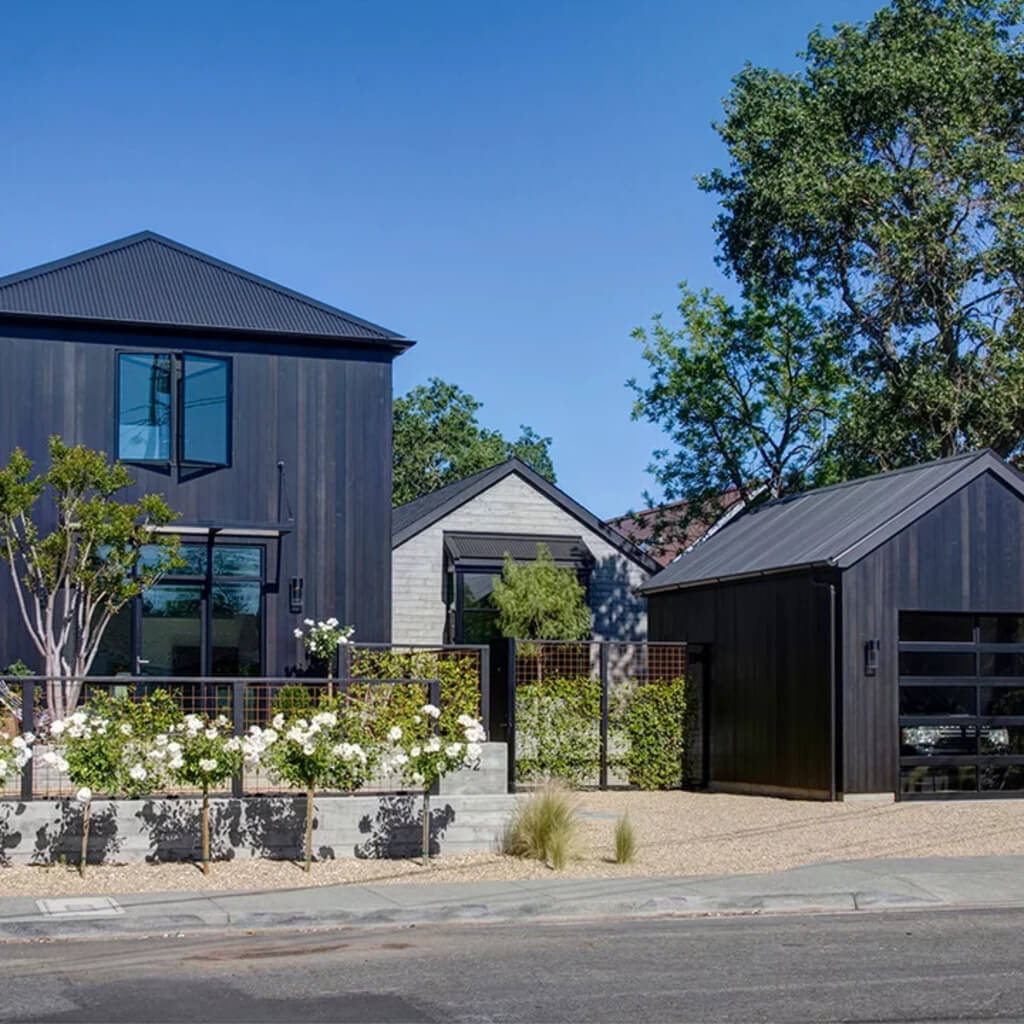 Source: hzcdn.com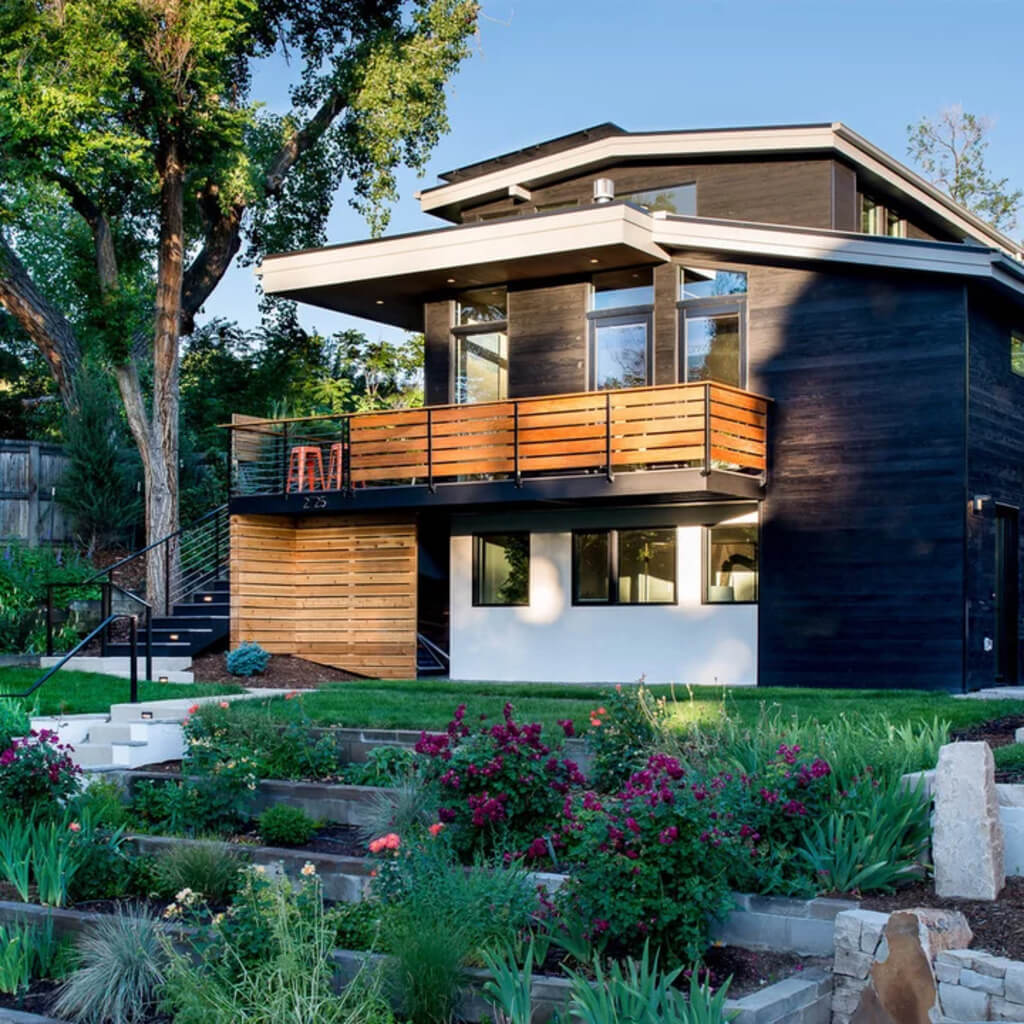 Source: hzcdn.com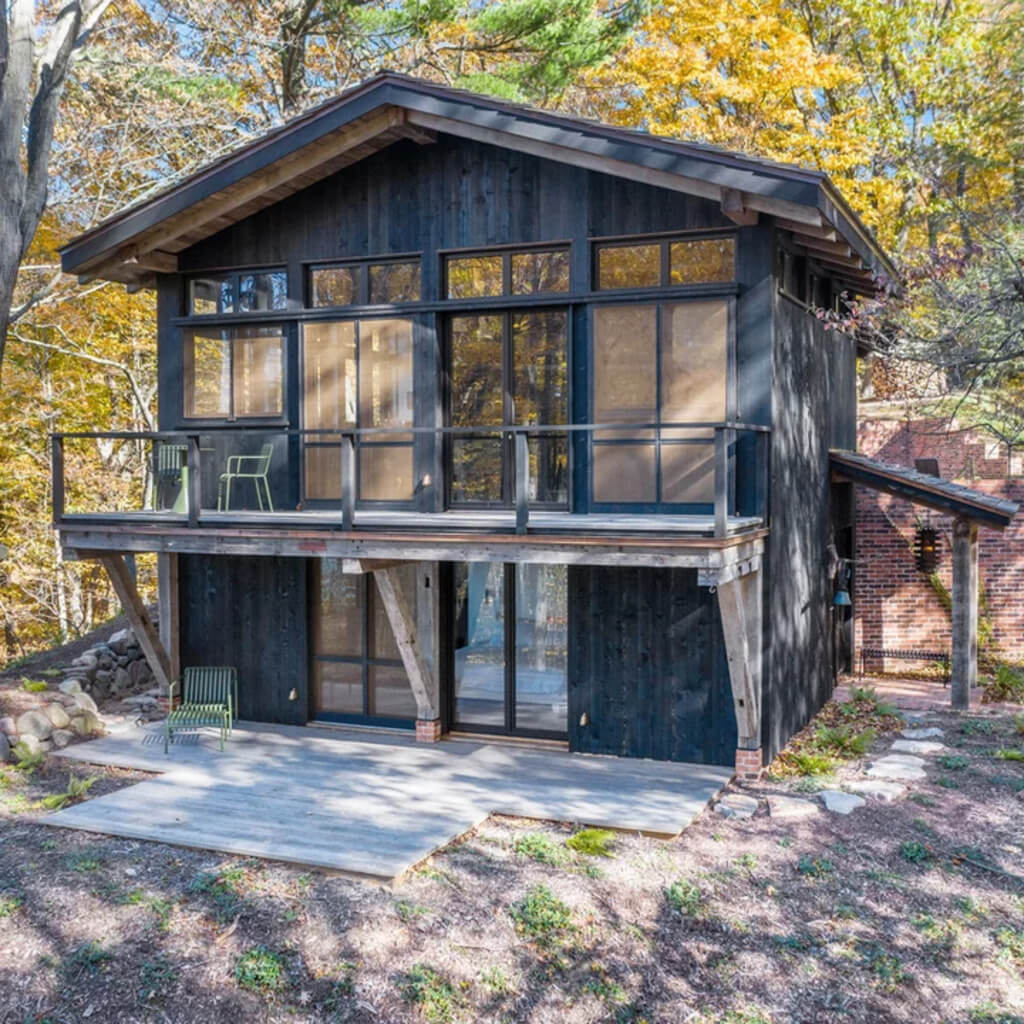 Source: hzcdn.com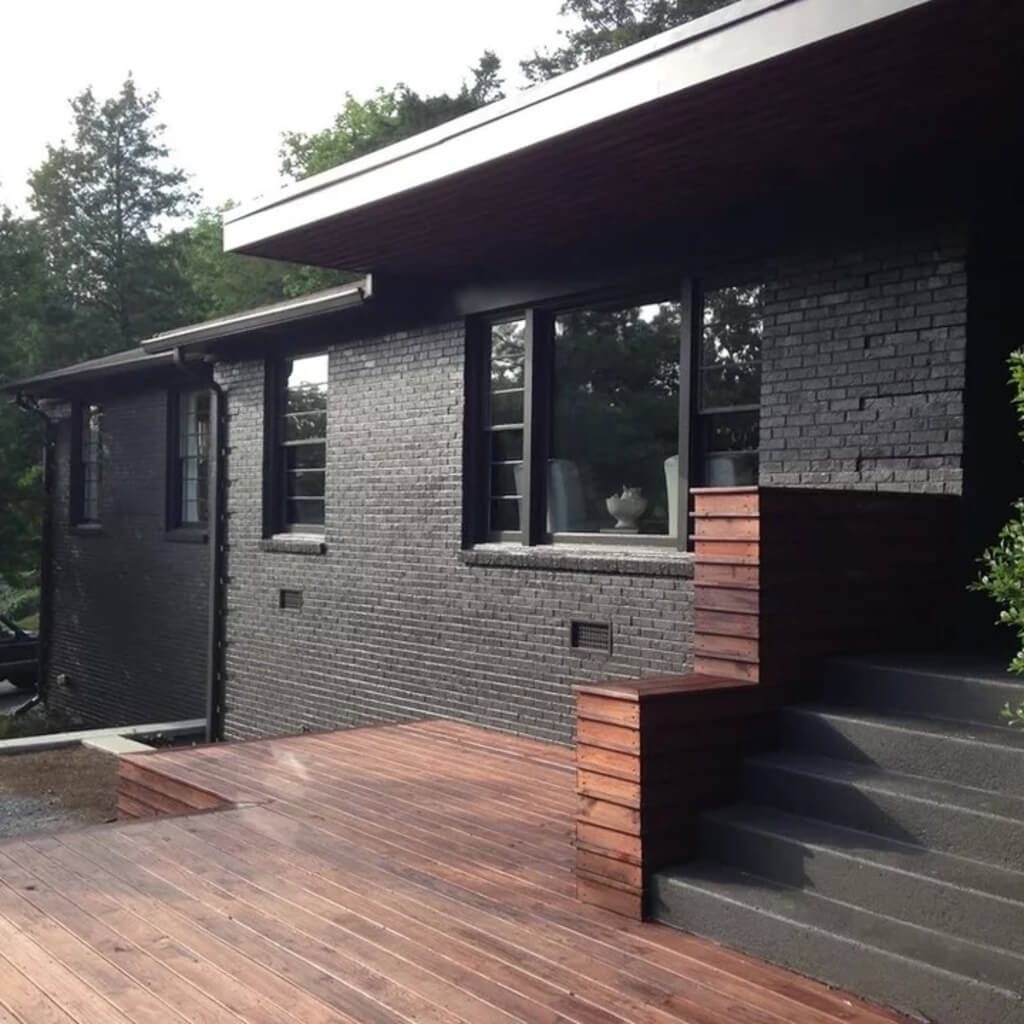 Source: hzcdn.com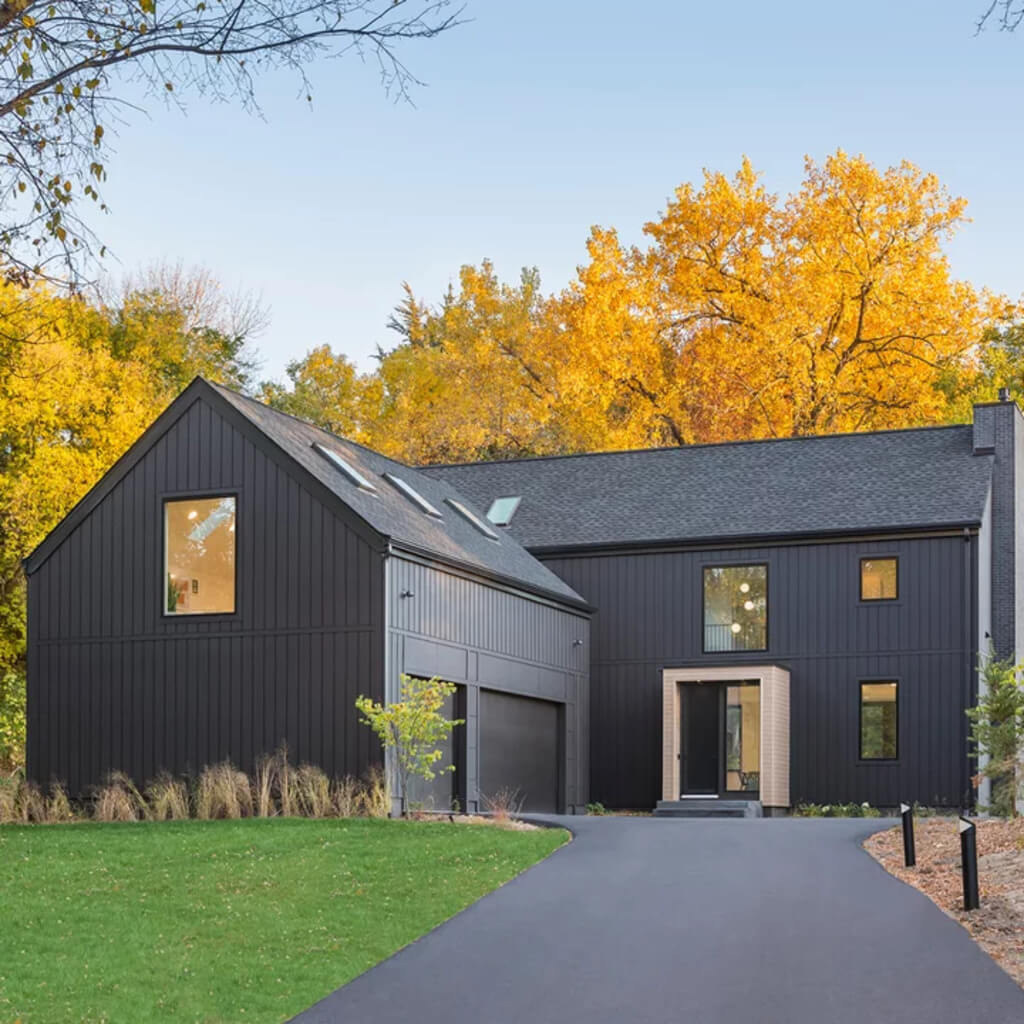 Source: hzcdn.com
Also Read: Popular Different Types Of Houses In 2022 (with Pictures)  
Beautiful Black Siding Houses! 
So which type of siding in dark colors do you choose for your home? Black is one of the trendy and popular color options for exteriors, but it's not for everyone! Select the black house siding according to the requirements like durability, quality, and your budget. 
So this is all about black siding houses. I hope this blog has helped you to select the best black siding design for your home exteriors. With these ideas and inspiration, you can easily transform your home. If you find this blog helpful and informative, share it with your family and friends who also want to upgrade the facade of their property.
Want to know more about house siding exterior ideas and designs? Read our previous blogs on board and batten siding, Sage Green House Exterior Paint Colors, White House Black Trim, Black Brick House, etc.  
For more information on different architectural techniques and styles or home improvement ideas, keep visiting Architecturesstyle.
For daily updates about architecture, don't forget to follow us on our Instagram page, Architecturesstyleideas. 
Himadri Shakya
Himadri Shakya is an enthusiastic Content Writer and Editor. She loves to create creative, engaging, and SEO-friendly content. Through her extensive research skills and practice, she has been generating high-quality and informative articles, and blog posts for over 4 years.
Related posts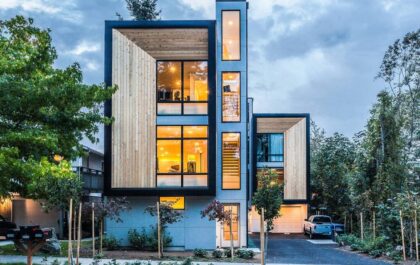 27+ Stylish & Modern Townhouse Designs for Urban Living.
The townhouse's first impression is normally too small, too compact, too narrower, and the list is endless. Well, let us…