Are you planning to update your kitchen? The best and most inexpensive way is by painting the kitchen cabinet. Every color has a different way of inspiring people and changing the way an area can look. When it comes to kitchen cabinets, the room for experimenting with different colors becomes wider.
For homeowners living in rental accommodations, painting the cabinets and installing quartz countertops for the small kitchens is the best way to give an upgrade to all the messy and old ones.
It might be a long and tedious task but investing time every minute will be worth it after the work is done. For homeowners looking for standout colors or a crispy neutral look; read on to find all the contenders for the best cabinet color for small kitchens spaces.
There are two ways one can paint their small kitchen cabinets. Either they can go for two-toned effects or keep it in a single tone. Let's discuss both of these options in length:
Single Tone:
Homeowners can get the aesthetic look by using single-tone shades on the kitchen cabinets. A single-tone shade will create a uniform effect making the cooking space stand out from the rest of the house. Let's see what the different colors that can be used are:
Gray:
The color gray has always been a favorite among homeowners when creating a contemporary kitchen. If gray is something that one wishes to use in one's small kitchen, but in just a few places, then kitchen cabinets are the best area to go to. This color is versatile as it allows homeowners to experiment in whatever way they want.
Yellow:
If there were a choice to pick a color that resonates with cheerfulness and energy, then yellow would top the list. This color gives an instant sunny and bright vibe to the kitchen. Those who want to tone it down a bit can go for some subtle tones of yellow. It will be enough to fill life and bring a cozy cottage-like feel into the kitchen.
Mint Green:
The rare colors of all time are mint green. When used in kitchen cabinets, it softens the prickly edges and makes the whole area look fresh. The shiny pastel texture of this color fits in perfectly with any type of kitchen, whether contemporary or traditional. Pair up the cabinets with some dark-colored handles and hinges to make the mint green pop up even more.
Blue:
Want to give the kitchen some oceanic vibes? Then nothing is better than painting a few spaces in blue. It is the best cabinet paint color for small kitchen spaces as it brings the cooking area into the limelight. A homeowner can easily pair a blue-colored cabinet with a bold or neutral countertop without much effort.
Lemon:
Bored of all the reds, greens, oranges, and blues? Try out a lemon color for the kitchen cabinetry. One of the unique shades, this color is becoming popular amongst homeowners. One can even combine a white countertop with lemon cabinets to enhance the overall look of the cabinets. With this combination, one's kitchen will look elegant and eye-catching.
Two-Toned:
When it comes to choosing two-toned shades, one needs to be quite careful with their choices. Not every color can work well with some other shade or tone. One more thing that homeowners should remember is to use lighter colors on top and darker shades on the bottom. Some of the popular combinations that one can work with are:
White and Green:
No matter what shade of green one is going for, when merged with white, it can change the whole outlook of the kitchen cabinet. Either homeowner can paint the cabinet's outer regions in white and the main door area in green or form vertical and horizontal stripes using these two colors. The cabinet is bound to make the kitchen look lively and fresh in both ways.
Combination of Red and Black:
As dramatic as these colors look, their pairing is unbeatable. Both of these colors have warmth and look extremely attractive. By mixing these two colors for the small kitchen cabinets, homeowners can create a bold little space for their homes. Use both colors on the cabinet, for example, a black cabinet with red flowers or another type of design. This way, both colors get used creatively.
Aqua and White:
Want to highlight the freshly renovated kitchen cabinet? Then the subtle and cool hints of aqua and white will surely be the best cabinet color for small kitchen spaces. Both of these colors will make sure that all the charming features of the cabinets are highlighted. Add some pretty lights to give a new look to your kitchen.
Pale Yellow and Green:
Homeowners looking to renovate the kitchen in farmhouse style should try using pale green and yellow for the cabinet area. These colors have a distinct vintage-type feel, which perfectly sits well with the country theme.
Gray and Orange:
The most interesting color combination of gray and orange is something that stands out from the rest of the color combinations that are mentioned here. This combination can give both modern as well as traditional touches together.
When used on kitchen cabinets, these shades create a fiery design that is hard to miss by any homeowner. You can also tone down your kitchen cabinet But the question is How To Tone Down Orange Oak Cabinets by adding a color that matches your kitchen appearance
Conclusion
With these above-mentioned best cabinet colors for small kitchens, a homeowner can make their cooking space look spacious and bright. Choosing between single-toned and double-toned can be a tough choice as both of them have different kinds of vibes.
With a single tone, a uniform-looking effect can be created, which looks all refreshing. Using two tones can help a homeowner create a modern and colorful space. The rest of it all lies in the imagination of the homeowner on how they want to decorate their tiny little kitchen.
In Case You Missed it!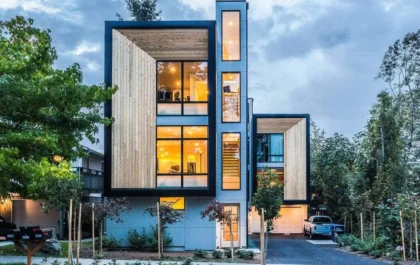 27+ Stylish & Modern Townhouse Designs for Urban Living.
The townhouse's first impression is normally too small, too compact, too narrower, and the list is endless. Well, let us…