Imagine living in a quiet place surrounded by green spaces, flowers, and serene natural surroundings. How would you feel? We're talking about a country house!
What comes to your mind when we say Country House?
You definitely start thinking about a spacious living space with natural elements like wood and stone. These elements are also an important part of a craftsman or a farmhouse style. 
So, if you're thinking about the above things and want to know more about country houses, you're on the right track!
Country homes are one of the most popular styles of houses these days. From their wide-ranging style to unique characteristics, this housing style is always able to capture the essence of quintessential America. There is no competition because, just like the other architectural styles, including farmhouse, colonial, craftsman, and cottage, the country house is also loved by people all around the globe.
Do you want to know more about country-style homes? Keep reading till the end.
Today in this blog, we're going to tell you everything about country house designs. From key characteristics to various style elements. We've also compiled some of the best interior and exterior country houses.
Let's begin.
What Is a Country Home?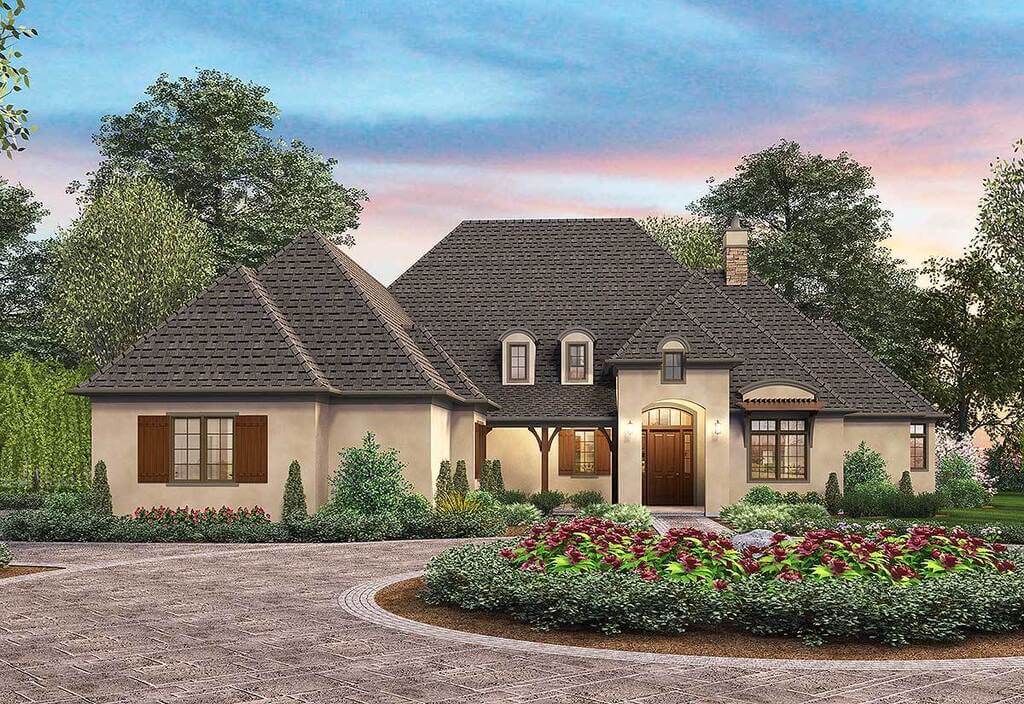 Originally country homes were situated only in rural areas on large lots of land. That's why the exact history of country houses varies. However, the early houses are similar to country houses in England. These homes served as spacious living spaces for the large families in the countryside. These homes are warm, spacious, and inviting and usually have mix-matched elements and a hint of rustic style.
Nowadays, the buildings in England refer to large, lavish mansions that are reserved for only affluent and elite families. Since the mid-1900s, the country house has been generally referred to as a vacation home in America.
So basically, the country-style home depends on the geographical location. But whatever they're called or known as, these homes are extremely popular these days.
Are you excited to know more about the country house? Let's start with the key features of rustic country houses.
Key Elements of the Country Style Homes
So how can you identify a country home? This is pretty simple! All you need is to look for two things:
Is it located in the countryside or on a large lot of land?
Has it finished exteriors and interiors?
If the answer to both of the above questions is yes, then it is 100% a country house!
Apart from the above factors, there are also many other architectural details in the exteriors and interiors that make a country house distinct from the other styles. If we talk about the interiors, it is all about the right accessories, comfort, and charm. You will see pastels and bright colors throughout the house. There are also unique design elements like vintage items and stenciling.
In country-style homes, the essential features are:
Fireplaces

Apron-front sink

Walk-in pantries

Attached garages

Wood-burning stoves

Spacious family rooms

Sunrooms and mudrooms
On the other hand, the exteriors of these homes are extravagant. They're usually one or two stories with at least three bedrooms. There is also a garage and porch or deck area for outdoor entertainment.
Here are some features that you can almost always find in every country house:
Shutters

Gabled roofs

Unique finishes

Dormer windows

Porches, decks, or patios

Natural elements like wood and stone

Lots of trim around the windows and doors
Now let's know these key features in detail.
Types of Country Interior Design Styles
As the country's architectural style is coming from many years back, there have been a lot of changes seen in this style. Over the years, some modern and contemporary elements have highly influenced this style.
So there are basically seven types of country interior design styles that are popular these days. They are:
1. Contemporary Country
2. Early American Country
3. English Country
4. Farmhouse Country
5. French Country
6. Scandinavian Country
7. Tuscan Country
Country Style Interior Examples (by Room)
Do you get fascinated by the beautiful interiors of the country houses? Do you want to make your home interiors the same? We've got you!
Below we've described the different interiors of each room. These country-style interiors will work for any architectural style. You can take inspiration from the below pictures of country house interiors and transform your home into a better place to live!
Whether you just want to change a single room or your entire interior, these interior ideas will help you create a warm and inviting atmosphere.
Are you ready?
Let's get started.
1. Living Rooms
Let's start with the place where we love to spend time with our family and friends. Yes, the living space!
Look at the above family room. A thin chandelier is hanging on the gray coffered ceiling, and just below it, there is a rustic wooden coffee table. There is also a fireplace that is made with red bricks and a wooden mantle that supports the wall-mounted TV. Overall this room speaks elegance and sophistication with the traditional country house look.
2. Kitchens
Next is the kitchen, the heart of the home!
The above kitchen is the perfect example of a Country-style kitchen! This charming space features glass pendant lights that are hanging over the narrow wooden kitchen island.
There is a butcher block countertop that perfectly matches the hardwood flooring. The green cabinetry of the peninsula and the red brick backsplash are resting a contrasting effect.
3. Dining Rooms
After the kitchen, the dining room comes! The above Country-style dining room is kind of eclectic styled or themed. This space has avocado green wooden walls that are specifically paired with a coffered ceiling. With a gray and white tone, this acts as a dynamic background for the simple white wooden dining table.
4. Bedrooms
After living rooms, another room where we love to spend time is a bedroom, right? If you want to create an authentic Country-style home bedroom look, go with this style! You can go with the cathedral ceiling and brown wooden exposed beams. Finish it off with a majestic crystal chandelier.
Above home features the same elements like a white wooden four-poster bed paired with a wall made of rustic wooden planks. What do you think about this?
5. Bathrooms
Don't forget about the bathrooms.
The above bathroom has a unique country-style look. You can also create something like this by bringing a small freestanding bathtub and placing it right in front of the window. The above bathroom features a glass door in the shower area and the gray tiles, which are the same on its walls and the flooring.
Country Style Homes (Exteriors)
Now let's talk about the beautiful and spectacular exteriors of the country-style architecture. Below we've gathered up some of the best and most cute country houses worldwide.
Check out these country house plans and get some inspiration:
1. Rustic Red and Yellow Country House
At first, this house seems like it has two structures. The left part of the home has this sunny yellow tone on which the blue garage doors look absolutely gorgeous. Whereas on the right side, there is a rusty red hue that creates a contrasting effect with the lush green landscaping surrounding the home.
Other features of this home are two A-frame roofs and an L-shape backyard patio with stone mosaic flooring.
2. Southern Elegance by Luxe Homes & Design
Look at this lovely country house!
This home literally speaks of ultimate comfort and homey vibes. The left section of this home has a main entrance with a tall stone chimney on its Gable roof. There are three garage doors with a Gambrel roof and a couple of dormer windows on the other side.
3. Magnificent Hobson Road Luxury Custom Home
This is a country house with traditional and vintage exteriors. With the multiple brown Gable roofs, this house literally looks like it is a part of a mountain range with several different peaks. Which, by the way, really goes well with the various windows and the colorful landscaping.
Apart from this, it also has a backyard that features a brilliant blue pool adorned with a wooden trellis structure. This wooden structure perfectly matches the outdoor patio, whereas the outdoor fireplace matches the bright exteriors.
Love the country house style?
Here are some more pictures of country homes and inspiration for you: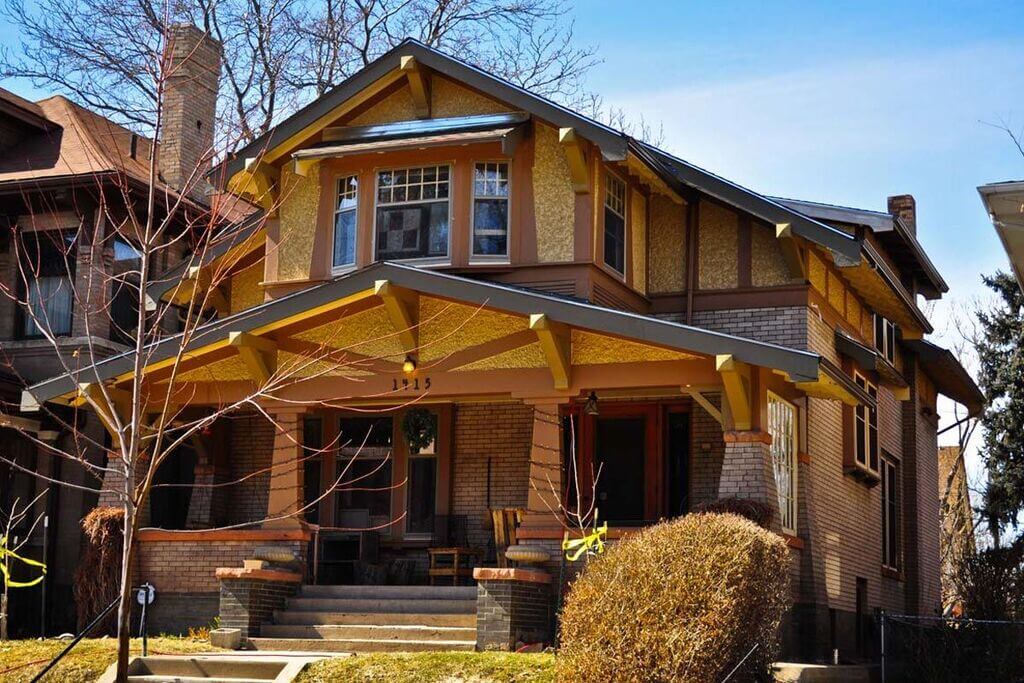 The Bottom Line
So this is all about country house architecture.
I hope you find this blog about nice country houses informative and helpful. If you like reading about this unique architectural style, don't forget to share this blog with your family and friends or anyone curious to know about the cute country houses around the world.
Do you want to know more about the other architectural styles? Read more about different types of houses, read our previous blogs such as Cape Cod House, Spanish Colonial House, Different Types Of Houses, Different Types Of Architecture, and many more.   
Discover More