Do you often get fascinated by the beautiful American Homes?
Double stories, large front yard, spacious rooms, large windows, and unique roof designs, there are a lot of things to admire about American architecture!
Though many architectural styles are particularly famous, rambler houses have been so popular. These homes have been in the United States for over a century.
So, why is this American architecture style so notoriously popular in the country?
Apart from its amazing aesthetics, another major reason behind its popularity is that the ranch-style homes are both utilitarian and fashionable. That's why it is loved by many people.
Now questions like what is rambler house and where did it come from might be coming to your mind. Let's explore everything through this blog.
Today in this blog, we're going to tell you everything about Rambler houses. We've covered everything, from its history and key characteristics to types of rambler houses. We've also included some best rambler home design ideas for you. So keep reading till the end.
Let's begin.
What is a Rambler House?
Source: portsidebuilders.com
The ranch, also known as a rambler, American ranch, California ranch, or rancher, is basically a domestic architectural style in the United States.
Originated in America, this style is popularly known for its long, close-to-the-ground profile and wide-open layout. The name 'rambler 'is also given to the way these houses spread across a large piece of land. The house is built in a way that it occupies the maximum width just like a 'ramblin' man wanders across long distances.
Originally, the ranch style had an informal and basic design to support a casual living style but later, the ranch-style houses which were built in the Sun Belt region) or in the early 1960s had modern and dramatic elements.
These rambler houses had features such as varying roof lines, sunken living rooms, cathedral ceilings, and extensive landscaping and grounds.
So, where does this architectural style come from? Let's dig into its history.
History of the Rambler Home
Source: mspmag.com
The West Coast architect Cliff May designed the first Rambler home in the 1930s. He was inspired by the ranches in the Southwest, as well as Mexican adobe haciendas. He was also credited with creating the California ranch style, which is considered the original ranch-style or rambler home.
These ramblers initially have basic but strong features like low-pitched roofs, extended eaves, and large windows. However, during World War II, we can see an immense gain in the popularity of this style. They're the perfect spot as a living space for growing families in the suburbs as they're low-cost and easy to construct.
Key Characteristics of a Ranch Style House
Source: rocketmortgage.com
There are so many different architectural styles, including Craftsman, Colonial, Tudor, Queen Anne, Townhomes, Cape Cod, French-Style, Victorian, Cottage, and the Mediterranean. Each one has its unique characteristics and identifiers. Some of them have strong and creative elements, while styles like ranch are more minimalist and simple.
Below are some of the most common key characteristics of rambler houses:
1. L or U Shaped Layout
Source: pinimg.com
Source: hzcdn.com
Ranch-style houses usually have an L- or U- shaped layout surrounding a patio area. If we talk about the indoors, there will be a casual and open layout. If the house is a single-story, basements are often finished to have more living space.
Even though the house is only a single level, the ceilings will always be vaulted or have exposed beams. This will give the house a modern yet traditional look.
2. Continuous Floor Plans
Source: hzcdn.com
This feature can also be seen in the Spanish colonial style in that there are also spacious and continuous floor plans. There is a central corridor, and rooms are built around it. This will allow the residents living in different rooms to have access to the central area, and it also leaves a continuous airflow in the entire house. Rooms are built spacious and large with a good source of natural light.
3. More Horizontal, Less Vertical Space
Source: impressiveinteriordesign.com
There is so much horizontal space in the home that there is no need to construct the second floor. This is incredible for those who don't want to or cannot climb stairs. In rambler houses, everything is on the ground floor only.
4. Facade Parallel to the Street
Source: hzcdn.com
Previously the house facades were mostly tall and thin, but this architectural style is different.
Ranch-style homes have dimensions of the facade, which is twice the depth of the house. For example, if the house is 10 meters deep, the front facade will be around 20 meters.
5. Connection with Nature
Source: mydomaine.com
This is another great thing about rambler homes that they connect with nature. These houses have large windows or sliding glass d to link the house with the surrounding doors. There are two major benefits of this thing; first, the residents can enjoy the neighborhood views, and second, they will never feel suffocated inside.
Other than the above characteristics, a Ranch-Style Home also has:
Low-pitched gable roofs

Extended eaves

Usually one story

Post and beam ceilings

Sliding glass doors

Large windows

Attached garage

Wide horizontal profile
Ranch style or rambler houses, if these two different names haven't confused you yet, there is more! We're talking about the different types of rambler houses. Let's see what they are.
5 Most Popular Types of Rambler Homes
These days, it's pretty to see houses with a mixture of old and new styles in America. Even ranch style has many variants. So basically, there are five overarching types of ranch-style rambler homes:
California ranch

raised ranch

suburban

split-level and

storybook ranch.
Even though they are different types of ranch homes, they still share similar characteristics. Let's see each one of the types in detail.
1. Split-Level Ranch Style House
Source: waynehomes.com
Source: bobvila.com
This style of ranch home has three levels with the traditional look on the outside. Half-staircases separate each story, and the rest of the open floor plan has an entryway to the kitchen, living, and dining room.
These homes are not the usual ranch homes that were constructed by the architect Cliff May.
2. California Ranch Style
Source: impressiveinteriordesign.com
Source: hauteresidence.com
Architect Cliff May designed this particular type of rambler house. He designed these homes so that they could be extended seamlessly into the landscape of California.
Experts say this style was borrowed from different movements such as the Arts and Crafts movement and the Spanish Colonial movement. The California ranch is well known for its L- or U-shaped floor plan and a spacious courtyard in the center part of the house.
3. Raised Ranch Style House
Source: impressiveinteriordesign.com
Source: vox-cdn.com
As its name suggests, this type of ranch house has an additional level, and also the ground level is slightly raised from the ground. That's why you'll often see a small staircase to the entrance.
Rambler-style homes are also known as "split-entry" houses. Rooms like garages and storage are often beneath. They're not on the same level; these rooms are underneath the kitchen, bedrooms, or living rooms.
4. Suburban Ranch Style House
Source: amazonaws.com
Source: twimg.com
These rambler houses became extremely popular for mass construction during World War II. The "Suburban Ranch" style is the smaller and simplified version of the rambler home. Typically built with concrete slabs, these homes have open plans and can easily blend with the outdoors.
Even though they're smaller and simpler, the suburban ranch style is known for being a modern rendition of the ranch-style. They are more manageable for homeowners.
5. Storybook Rambler Style Homes
Source: impressiveinteriordesign.com
Source: netdna-ssl.com
Some people call it Cinderella's ranch house, and some call it Storybook Rambler Style Homes. Why is that so? Because the detailing and elements of this type of ranch house have been pretty remarkable.
These homes have unique exterior features like trim, different shaped windows, and other design characteristics. This minimalist and simple ranch style has structure protruding from the walls that act as a decoration piece. The windows and doors have glass panels that have more complex shapes.
Also Read: Suburban House Ideas: Traditional to Modern All at One Stop!
Top 15 + Ranch Style Rambler House Design Ideas
Source: hzcdn.com
Are you looking for some inspiration to update your home into ranch style?
See; basically, the rambler houses are casual and modest in their architecture, and the same goes with their interiors. The inside of the house has an open plan, with steep ceilings and lots of natural light. You can create a cozy ambiance with modest wood furniture, plenty of woven textiles, and some farmhouse-style decor. That's it!
Here are some more interior and exterior rambler houses design ideas for you:
Source: futurecdn.net
Source: hzcdn.com
Image Source: hzcdn.com
Source: adsttc.com
Source: pinimg.com
Image Source: hzcdn.com
Source: impressiveinteriordesign.com
Source: impressiveinteriordesign.com
Image Source: hzcdn.com
Source: hzcdn.com
Image Source: mydomaine.com
Source: impressiveinteriordesign.com
Image Source: sndimg.com
Source: idesignarch.com
Source: homedit.com
The Bottom Line
So this is all about the Rambler Houses.
I hope you liked this blog about rambler homes ranch style house. Don't forget to share this blog with your family and friends or anyone curious to know about the latest architecture in the world.
If you want to know more about the other architectural styles and types of houses, read our previous blogs such as Greek Revival Architecture, Queenslander House, Roman Architecture, Cape Cod House, Spanish Colonial House, Different Types Of Houses In 2022, and Different Types Of Architecture, and many more.
For more information about the various types of architectural techniques and styles or home improvement ideas, keep visiting Architecturesstyle.
For daily updates about architecture, don't forget to follow us on our Instagram page, Architecturesstyleideas.
Himadri Shakya
Himadri Shakya is an enthusiastic Content Writer and Editor. She loves to create creative, engaging, and SEO-friendly content. Through her extensive research skills and practice, she has been generating high-quality and informative articles, and blog posts for over 4 years.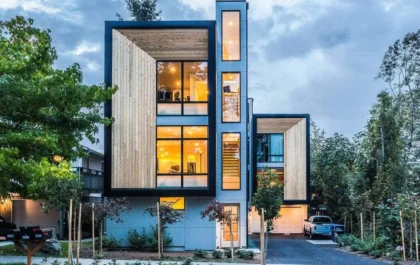 27+ Stylish & Modern Townhouse Designs for Urban Living.
The townhouse's first impression is normally too small, too compact, too narrower, and the list is endless. Well, let us…