Wooden tables automatically become the centerpiece of a room, especially for the dining area. It is important to invest in custom wood Singapore since this is where meals are served and memories are made.
There are a lot of options you could go to when searching for the perfect table to add to your home. And some people prefer to have their tables made instead of buying mass-produced models from furniture shops. If you are considering custom made and want to know more about it, you are on the right track! We will discuss everything you should know from the pricing down to the maintenance.
Why Is It Better to Buy a Custom Made Table Than Mass-Produced Units in Singapore?
Source: theperfectthing.net
If you are still doubtful about getting a custom made table for your home, this list would help you figure out which best fits you.
Custom Made Table Materials
When you go for a custom made table, you are in full control of the materials you want to use. You could align this with the budget you have as well as your preference. From wood, metal, or marble, you could handpick the quality and pattern you want.
Custom Made Table Style
If you are getting inspiration from a photo you have seen overseas, it is harder to locate that design in your area. It is so much easier and simpler to find a trusted furniture designer and carpenter, and tell them what you want and how you want it.
Perfect Fit Custom Made Table
Since it will be customized, you are one to decide how big you want the table to be. You can also go creative with the shapes you want. custom made tables allow you to maximize the space in your dining area and blend well with the whole motif of your home.
Custom Made Table Quality
When it comes to quality, there is no doubt custom made tables are at an advantage. Since it is solely created for you, the builder crafts it delicately and with attention to detail. With you being part of the whole creation, you will not be disappointed with the long-lasting quality of the finished product.
One of a Kind Custom Made Table
If you like receiving guests and giving a home tour, you can be assured that no one has the same block table as you. With custom made tables, you can stretch out your imagination and craft that into reality.
Should I Buy a Wooden Dining Table in Singapore?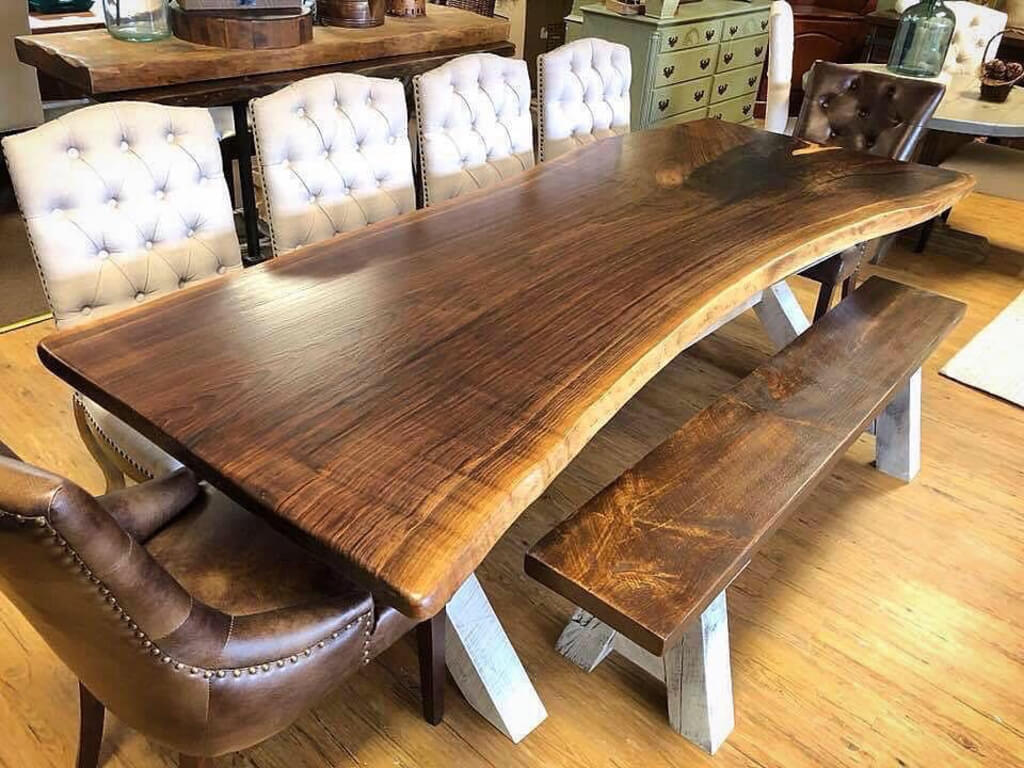 Source: chicantiquellc.com
Wooden dining tables are long-term investments. These are the tables you can pass down on generations, and most likely where you share memories with your relatives and friends. Compared to other materials, wooden dining tables are preferable, and here's why!
Wooden Dining Table is Highly Durable
Wooden tables are highly durable and would last you for years. They are less likely to break and chip. If you have kids and pets in your home, it would be best to have a sturdy table that would not crack when a kid suddenly jumps on it.
Seating Capacity of Wooden Dining Table
Perhaps you have a big family, then a wooden table is definitely the one for you. Wooden tables can extend the seating capacity as much as you want, with the right design.
Easy Maintenance for Wooden Dining Table
Unlike other materials which are prone to rust, or easily get affected by the temperature, these tables only require little maintenance. You only have to wipe it off with a wood cleaner on a regular basis, and you can expect it to look as good as new.
Cozy Ambience of Wooden Dining Table
Wood patterns and colors add a cozy accent to your room. This is great since it encourages comfort and engagement. If you are after getting everyone to feel involved while the room is filled with the scent of home-cooked food, this would do the trick for you.
Things to Know Before Having a Wooden Dining Table Made in Singapore
Source: shopify.com
Before contacting a woodworker and getting the table done, you may want to prepare first and ensure you know everything you are stepping into. This would help you finalize the project faster and avoid any confusion or disappointments throughout the process.
Price of a Custom Made Table
A custom made wooden dining table would cost higher compared to the tables you see in a showroom. The price difference would come from the higher labor cost since it is specially-made, the materials which are specifically chosen, the unique design and craftsmanship applied.
Maintenance & Life Span of Custom Made Table
Wooden tables would get through years and years with the proper maintenance. Wood does not require a lot of maintenance to survive, you only have to wipe it regularly and make sure it will not sit with water to avoid staining.
Wood Type of Custom Made Table
There are various wood types available for your tabletop. You may want to research first on what you prefer beforehand. To help you out a bit, here are some of the most popular wood types ideal for your dining table.
Oak Table
Oak is the most popular wood type for dining tables. Aside from its durability, its pattern is another reason for its popularity. It is perfect for a family home with its welcoming ambiance. Even when it has dents from the year's wear and tear, it would only appear as an accent to the table instead of damage.
Beech Table
Beechwood leans more on a salmon-like color and would fit a light-toned palette. It is preferred since it has no odor, which is present in other wood products. However, this is not ideal for humid areas since Beech is naturally absorbent.
Elm Table
Elm is another good option, it could last for years with its interlocking grain and splitting resistance. It has excellent patterning and coloring, making it easier to fit as a decorative piece. Elm may not be as hard as oak, but it is easier to work with.
Walnut Table
Walnut is the second hardest wood, next to oak. It has a richer and darker tone and showcases gorgeous patterning. If you are going for an urban look in your home, consider using walnut for your custom made table.
Pine Table
If you are going for a more budget-friendly material, then we suggest you get pine. This is a softwood that is widely available in the market. It may not be as hard and sturdy as an oak, but it would still give you a strong and shock-resistant quality. For rustic and country styles, pine is the perfect wood type.
Design of Custom Made Table
You cannot just request a custom made table without having a design in mind. To help your furniture designer and carpenter provide the exact table you want, think of the design and details in advance and share it with them. Since this is a collaboration, be open to their suggestions as well since some materials may not be ideal for your case.
Size of Custom Made Table
Think ahead of the purpose of the table you want, whether they are for outdoors or for the common dining table. Let the carpenter know the seating capacity you want, and show them the space where you want to put your table.
How Much Would a custom made Table Cost in Singapore?
Source: cdn.com
We know the custom made is more expensive in comparison to those in malls, but how much exactly are we talking about?
It is hard to give an exact cost since custom made varies on every table, from the materials to the design. For comparison, wooden standing desks would range from S$400 to S$3000, coffee tables from S$400 to S$2900, and dining tables from S$2000 to S$6000.
The beauty of getting a custom made table is you can discuss your budget with your craftsmen. Said prices are flexible depending on the size you prefer, the details you requested, and the wood material you chose.
If you want to get an exact amount, you can inquire with your trusted designer and carpenter first, and work out a budget before giving the go signal.
Is a Custom Wooden Table Worth It in Singapore?
Since S$6,000 is not a cheap price, you could be wondering if it really is worth it. Although it is great to invest in a wooden dining table. It would not be worth it if it is not within your budget. When it comes to quality, design, and life span, a customized table is definitely the best option in the market.
However, if your budget does not meet the pricing in the market. It is best to get a more affordable yet functional table in the meantime. At the end of the day, the meals shared would count more than the exclusivity of the table you have eaten.
Tips in Getting a Custom Made Table in Singapore
To make sure your new table would meet all your expectations. Ensure these tips are followed for a smooth and hassle-free transaction.
Get a trusted carpenter. If you do not personally know a carpenter, get one recommended by a friend. It is ideal to pick one that you have a common friend with so you can easily get in touch and you can see their previous work.

Ask for their portfolio. You can ask for pictures of samples of their work. So you can be assured they can handle the design you want.

Make a contract specifying your agreed budget and design with signature. In case something goes wrong, it is better to have the agreement in black and white.

Set dates of inspection. Since it is pricey to get a dining table customized, ask your carpenter if you could check the progress every once and a while. So you can check as well if everything is in place.

Always ask for receipts. Keep track of receipts for payments made, as well as the materials.

Keep in touch in case there are repairs to be made. Since it is custom made, it would be easier to call the same carpenter in case there are damages to the furniture.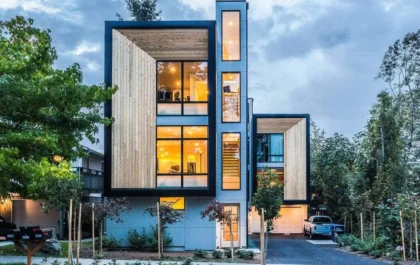 27+ Stylish & Modern Townhouse Designs for Urban Living.
The townhouse's first impression is normally too small, too compact, too narrower, and the list is endless. Well, let us…