Now, when you have decided to purchase a standing desk, you might be confused by the choice. There are so many options, and most of them aren`t cheap at all. So, we have prepared a short guide to help you to choose the best option that would serve you for ages and comply with all your requirements.
Choose the Desk of a Right Size
Even the best standing desk isn`t suitable if it doesn`t fit in the place allocated to it. So, make sure the chosen desk model fits. If you are going to put the desk in corner, a corner ryzer or an L-shaped desk is fine for you. Both of them allow you to save space in the office without compromising the functionality of your working place.
If you have a big office though, you are the lucky one. You can afford a desk of any size and shape.
Consider the Weight Lifting Power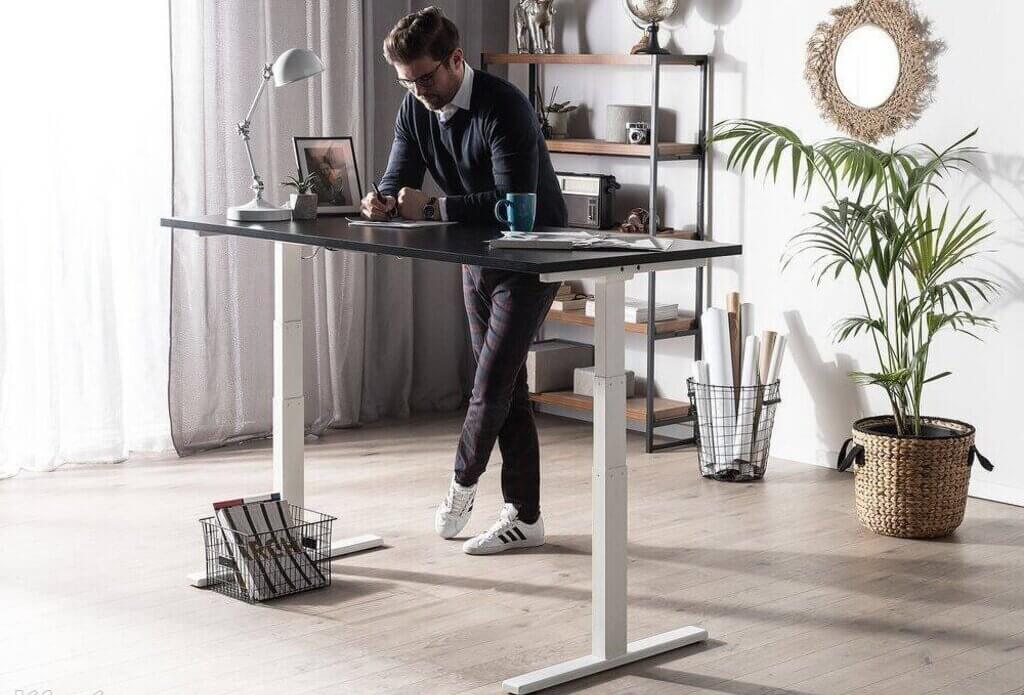 You can just skip this advice if you use an ordinary PC to perform your daily working tasks. However, if you need several monitors to work, or if you use additional equipment, say, professional printing hardware, and you need to install it all on the desk, check whether the desk can handle it.
No, don`t hope that weighing all the equipment is enough to determine whether the desk can or cannot lift it. The desk shall handle it in movement. There is a special formula that tells how to calculate it all. If you haven`t heard about it or aren`t sure about how it functions, consult a specialist.
Desk Top Materials Can Be Different
When you are choosing a desk top, pay attention not only to its color and design. A crucial factor is actually the material from which the desktop is made.
The majority of options are made from MDF. This material is lightweight, durable, and it looks nice. It is relatively inexpensive that makes such tables affordable.
Another option is to choose a desk top made from wood. Wood looks amazing, it is very durable if treated properly. However, it is also heavy. The prices for wooden things are also very high.
Finally, one more option is plastic. Tops made from plastic are durable and inexpensive. But they won`t give that nice feeling of luxury and comfort that tops made from MDF or wood provide.
Noise Generation Level Shall Be Acceptable
You don`t want to wish to escape from your room every time you move your desk down or up, check whether the desk isn`t going to generate strong noises. While more expensive models mostly comply with this requirement, cheaper models might be pretty noisy.
Even if you are normally not too demanding of the environment, constant noises will bother you in the end and will influence your productivity in a negative way.
Stroke Length Is Crucial
Normally, there is nothing to worry about if you are using a more expensive desk manufactured by a brand specializing in standing desks. Such desks have a stroke length that on average is pretty satisfying doesn`t matter whether you are taller or shorter than on average.
But in cheaper models, the stroke length is rather limited. If you are shorter or taller than average, double-check to make sure your desk is going to be comfortable in both a standing and a sitting position.
A Desk Builder Can Help You
Now, some words about the design. It is believed that buying online is complicated because you don't see the design. There is a special tool called desk builder. It allows you to choose one detail after another by clicking on it. Step by step, you are building a virtual standing desk.
Along with the progress, you will see the price changes. It allows you to control the expenses and avoid unpleasant surprises at checking out.
Some Accessories Might Be Needed
Conclusion
Now, when the issue with the desk choice is solved, you can have a look at the available accessories. There are some pretty nice ones. So, if you work with documents, you can check a functional and modern document organizer.
Another option is to get a drawer for a standing desk. If you see that there are cables hanging around, consider getting a cable management system or some clips to keep them in order.
Now, it is time to move on and get that desk.
For More Information: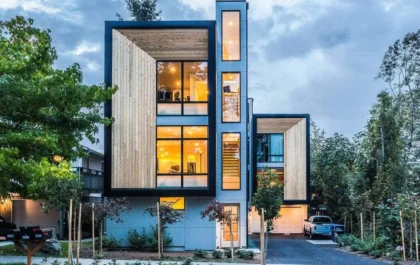 27+ Stylish & Modern Townhouse Designs for Urban Living.
The townhouse's first impression is normally too small, too compact, too narrower, and the list is endless. Well, let us…