Most of us want a garden where we can relax and unwind, but also where we can enjoy hobbies like gardening or bird watching and where we can entertain friends and family. We want our gardens to be stylish and to suit our indoor décor and personality, but if they are to meet all of our needs, we also need them to be practical. This means that our furniture choices are essential.
Here's a look at some of the pieces your garden needs to create a stylish and practical outdoor space.
Dining Table and Chairs
Source: amazon.com
One thing that we love to do in our gardens is to eat peacefully. Food always seems to taste better outside. Whether you have a BBQ and cook outdoors or bring Food out from indoors, it'll always taste delicious in the fresh air, and eating out is a fantastic way to spend time with your friends and family.
Make sure you buy enough chairs for every household member, and if possible, a few extra, and that your table is big enough for everyone to have Food and drinks comfortably.
The trick is to take into account how much space you have available. Then, think about what else you would want in the area beside the table and the chairs. When you do that, you can easily realize what size is best for your purposes. Even a smaller table can do wonders, but it might not be a great investment if people cannot use it.
Sun Loungers
Source: hearstapps.com
If you want a garden where you can relax, soak up some sunshine, and read a book in the summer, you need sun loungers. These options from VidaXL are both stylish and practical. If you want your loungers to be comfortable, consider options with padded cushions and even built-in tables for drinks on a hot day.
A Garden Sofa
Source: futurecdn.net
A garden sofa makes a nice change from a laid-down lounger and a more formal upright outdoor dining chair. Garden sofas are often ratan and come in many shapes and sizes to suit your space. If you choose a garden sofa, you may also want a low outdoor table, as your dining table will be too high to use.
Just make sure you choose good materials for the garden sofa you pick. What is particularly important is high resistance to the elements since weather can easily destroy some garden sofas. Also, remember that some need to be stored indoors during winter.
A Statement Piece
Source: nyt.com
A statement piece of furniture can be a fantastic focal point that draws the eye and adds a touch of elegance and style to your garden. Your statement piece could be something like your outdoor sofa, as long as it's an eye-catching colour or design, or extra seating like a hanging egg chair or an oversized rocking chair.
If you feel particularly bold, you can even go for something big, like a fire pit. If you opt for something extravagant, be informed, so you know what you will need to do in terms of maintenance.
A Practical Parasol
Source: immediate.co.uk
A parasol gives you options if you want to use your garden as much as possible. You may have an umbrella with your dining table, but a different parasol you can move around helps you block the sun no matter where you are sitting or what you are doing.
Lighting
Source: hampshirelight.net
Solar lights can make your garden feel pretty, warm, and cosy while keeping things light so that you can entertain or relax with a good book on a late summer's evening. And there is a huge diversity of solar lighting options available for any effect you want to achieve with your garden area.
Things to Consider When Buying Garden Furniture
Some of the things that you should think about when you are buying furniture for your garden include the following:
The climate in your location.

The size of your garden.

How many people are in your household, and whether you have young children.

The materials that you like, and which are the more durable, weatherproof, and hardwearing.

Your budget matters the most in this matter.

The design of the furniture you will choose is going to match or not.
Investing in the right pieces of furniture means that you will have a garden that both looks fantastic and gives you options for functionality. If you can, it's also worth investing in quality items that will last for years.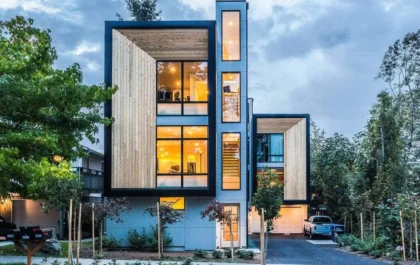 27+ Stylish & Modern Townhouse Designs for Urban Living.
The townhouse's first impression is normally too small, too compact, too narrower, and the list is endless. Well, let us…