Making your home look vintage will never go out of fashion. In fact, the vintage look can make your home feel more homely and welcoming. It can also be an ideal solution for those who love browsing through their local antique shops or have a family heirloom that they would love to display in their home.
And when you are expecting guests, your taste in décor can become an effective conversation starter. Here are improvements that will help you to give your new home a vintage atmosphere.
Liven Up The Plain Walls With Wood Panelling
Source: makeoveraz.com
Walls in modern homes can look rather plain. Of course, there is nothing wrong with that if you love a minimalistic design and clean lines. However, when you want to make your home look more vintage, walls should be one of the things you focus on.
One of the things you can do to liven up the walls in your home is to use wood panelling. It is a classic interior design feature that can add character to your home. Whether you leave the panelling in its natural state or paint it with a colour, you can achieve impressive results.
Decorate Your Home With Vintage Mirrors
Source: architecturaldigest.com
Mirrors can brighten up even the darkest rooms in your home. If there are some rooms that are small or get barely any natural light during the day, mirrors can offer an effective solution. Due to the reflective surface, the room can appear larger and brighter at the same time.
But mirrors can also be an impressive addition to your interior décor. They are available in an endless amount of shapes, colours and finishes. If you want a truly vintage piece, explore your local antique shops.
Replace The Modern Interior Design Details
Source: thespruce.com
Details are critical in interior design. While turning your focus to handles or light switches might seem insignificant, such details can make the biggest difference. Companies like Corston Architectural Detail offer a variety of light switches that will stand out in any vintage home and become an effective accessory without disturbing your wallpaper or colour.
You might also want to consider replacing handles on your door, cabinets and wardrobes. If you are on a tight budget, there are many options that can bring your home to perfection without breaking the bank.
Invest In A Centerpiece Light Fixture
Source: proremodeler.com
Every vintage home has an impressive light fixture that captures your attention. With the market full of more modern options, you can take it as another opportunity to explore everything that antique shops have to offer.
Whether you're going to explore online shops or go there in person, you will be able to find authentic pieces that have a rich history and can become one of the main features of your home.
Dress Up Your Staircase
Source: thespruce.com
Another element that historic and vintage homes often pay attention to is a staircase. When you live in a new modern home, you might not have the luxury of being able to work with an intricate vintage balustrade. However, you can still decorate the area with a stair runner carpet.
Look for carpets that have a design that seems slightly worn out. You can also focus on finding carpets of specific patterns or colours. Besides having aesthetic value, such carpets can also be functional. If you have children or expect older visitors, you can prevent accidents that might be caused by slipping.
Give Modern Windows A Vintage Feel
Source: houseandgarden.co.uk
When you enter a room, your eyes might automatically go towards the windows. To make the scene more pleasant, you can frame the views with beautiful curtains or drapes. While it might seem old-fashioned to some, it can create a real sense of luxury in your vintage interior.
Ideally, the drapes should start a few inches above the window and go all the way to the ground. As a result, the room will seem taller and bigger. To create a vintage feel in your new home, you can try to choose curtains with a checkered pattern. However, you can also look for floral prints or any other patterns specific to an era of your choice.
Also Read: 25+ Stunning Luxury Shipping Container Homes in 2023
Find The Perfect Wallpaper
Source: hearstapps.com
Of course, we've already talked about brightening up your walls with wood panelling. However, you might also want to consider working with wallpaper. While putting up a wallpaper may seem easy, it requires a lot of patience and precision.
But in the end, all the effort is worth it. This way, you can bring a burst of colour into your home. And even though it is important that you love the pattern and colour, try your best to make it work with the rest of the interior. Then, the atmosphere of your home will become more calming and welcoming.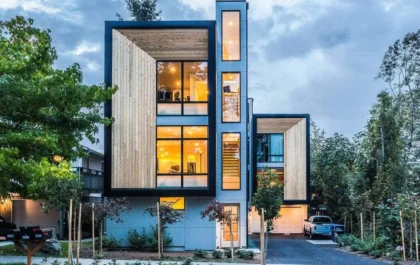 27+ Stylish & Modern Townhouse Designs for Urban Living.
The townhouse's first impression is normally too small, too compact, too narrower, and the list is endless. Well, let us…