Do you wish to spruce up your home? Let's begin with the most fundamental external makeover strategy, exterior paint colours. Since the pandemic began two years ago, we have perfected the art of colour schemes and interior design.
However, aside from aesthetics, exterior colour selections are influenced by a number of other factors. This covers the house's surroundings, climate, and even typology.
A fresh coat of paint is the best way to give your home a new lease on life. However, if you are unsure about which colour scheme would complement your exterior home profile, we have compiled a list of the 25 best exterior house colours.
Best Exterior Paint Colours 2023
1. Classic White
Source: townsquare.media
The enduring Cottage style house design is one of the few home styles that can be said to be classic. White is an effortless yet functional exterior paint colour that may go well with almost any design element. It is not surprising that this classic colour combination is at the top of the list of exterior house colours, 2023.
2. Timeless Grey
Source: ricreditunion.org
One of the most common and highly favoured exterior paint colour selections since ages, grey is definitely a timeless colour. Lighter and dark shades of grey have different visual impacts. The light grey colour offers you a refined, contemporary style. While the darker exterior colour enhances the elegance of your property.
3. Sleek Black
Source: pinimg.com
Black embodies sleek elegance and elegant appeal. The colour provides depth to your home, boosting its charm. Combine it with metallic or white trim for the finest effects. Your home will stand out in the neighbourhood if you use these exterior house colour ideas.
4. Mystical Green
Source: bobvila.com
The colour green has become popular exterior house colours in 2023. It promotes a sustainable approach to housing construction and ornamentation. You may paint your house exteriors in deep green tones, especially if you want a rustic theme. Design elements like front porches and colourful flower-filled vines goes well with this colour palette.
5. Earthy Clay Brown
Source: hackrea.com
This year is all about going back to your roots. Take inspiration from mother earth's fundamental colour if you want to imbue your house exteriors with a warm and inviting spirit. Brown is one of the trending exterior house colours as it symbolises strength and harmony. The best part is that brown blends in both urban and rural settings.
6. Soft Pink
Source: georgiannalane.com
It's high time that we stop labelling colours and use them for their natural essence. Achieving a light pink exterior theme for your home might be more challenging than other traditional colours. Soft pink exterior paint colours are suitable for coastal and tropical settings. It adds a sense of glamour to the otherwise rustic context.
7. The All-rounder Navy
Source: pinimg.com
Do you want your house to exude a coastal vibe? Then, navy blue should be at the top of the list of best exterior house colours. Even if you decide against using blue entirely for the outside, you can still use it in conjunction with white to get the ideal visual harmony. They have a refined air about them that makes them ideal for the modern house.
8. Royal Purple
Source: pinimg.com
If you want something delicate and exquisite, purple should be on the list of exterior house colours in 2023. Its rich colour may break through the monotony of urban neighbourhoods and make your home look picture-perfect. Though purple is a gorgeous colour on its own, you may play with other tones of it.
9. Woody Orange
Source: pinimg.com
Orange might be too flashy for using as an exterior paint colour. Wood can be overly rustic for modern home owners. Why not use the best of both worlds? This wood orange paint may offer a lot of charm regardless of whether you want to maintain a traditional yet modern appearance or revitalise the external design and make it cosier.
10. Brick Red
Source: pinimg.com
Can any other colour surpass the boldness of red? This shade should be on the list of your exterior house colours in 2023 if you wish to stand out from the crowd. The brick red's brown undertone helps it seem harmonic and integrated with its surroundings. Although it is a classic shade, the exterior brick red hue offers a contemporary spirit that stands out brilliantly against any natural background.
11. Bare Beige
Source: turnbullroofing.com
Are you looking for the ideal shade to complement the muted textures of walls? Beige is another common shade for exterior house colour ideas. This neutral tone conceals dust and filth better than any other colour. It looks sombre with white accents. Beige exudes a warm aura when paired with natural wood.
12. Rare Tan
Source: risingdoors.com
Tan can be thought of as the hue of sand or a very pale variation of brown. In fact, covers a bit more land and has yellow undertones. Tan is a versatile neutral colour that works well with both bright and dark hues. If you desire a rustic look for your home's exterior, this colour should be on your list of exterior paint colours 2023.
13. Chirpy Yellow
Source: shutterstock.com
Yellow is an excellent choice for exterior paint colours that will make your property look to be straight out of a fairy tale. The rich colour can make your home appear bright and joyful in any season, even when natural light is limited. For all those looking forward to creating a fun and quirky facade, yellow tops the list of best exterior house colours.
14. Comfortable Taupe
Source: pinimg.com
If you like the muted theme, taupe may be an interesting choice for an exterior home colour. In contrast to other trendy neutral tones that could appear overdone, it's an effortless shade that won't grab too much attention. If you are planning to sell your house in future, this shade is one of the best exterior house colours.
15. Calming Blue
Source: pinimg.com
A delicate colour like pastel blue can have a calming effect. Although some homeowners may find this hue of blue a touch too saccharine, it is an excellent palette for natural contexts. It is the one of the best exterior house colours to add a touch of sophistication to your facade, without overdoing it.
16. Rustic Olive
Source: roofingsouthshorema.com
The colour olive green has a rich tone that may be used to emulate natural design and decor. This dark green has the beauty and lushness of a mossy woodland. You can pair it with earth tones for a rustic look. You can also use white trims and shutters to enhance the warmth of this colour. The duality of this shade makes it one of the best exterior house colours.
17. Wine Red
Source: pinimg.com
Wine red is a vivid hue that quickly draws attention and is one of the trending exterior house colours. You can use certain hues that trend toward blackish tones to tone down the flashiness of red. Wine red, for example, is a sophisticated colour that embodies the warmth of red while exuding a traditional elegance.
18. Elegant Turquoise
Source: pinimg.com
If you like blue but prefer other tones, turquoise and teal are obvious possibilities for your home's exterior paint. This colour has a charming feminine vibe to it, as well as a refreshing and relaxing impact. The combination of turquoise and white is one of the most dynamic exterior house colour ideas that you will find this season.
19. Tangy Orange
Source: pinimg.com
Paint your home's exterior in brilliant orange to add excitement and grandeur. Orange represents positivity and energy which makes it one of the best choices for exterior paint colours. But if you feel that it is too overwhelming, pair it with neutral tones. Add some design elements like creepers and lamps to get that retro look.
20. Creamy Off-white
Source: southernliving.com
Pure white may appear ethereal, yet it is extremely difficult to maintain. Many homeowners are shifting from blinding white, more muted choices with relaxing energy are becoming more popular. Cream colour has always been a classic choice to achieve that cottage-style aesthetic. No wonder this soft colour is making its way to the list of exterior house colour ideas.
21. Summer Peach
Source: bhg.com
Do you want to give your facade a splash of summer freshness? Peach is the way to go! When coupled with white for the house's exterior colours, it works well for both old and modern-style residences. While pale peach is a light colour, it may make a room look larger and provide an air of elegance and chicness.
22. Cool Mint
Source: homedit.com
Another unique shade of green is trending this season. If you want to have a gorgeous summer house, you can never go wrong with a cool mint green home exterior colour. This colour is highly popular since it has a more calm yet rich quality. This colour has a gentle, inviting vibe and is one of the best exterior house colours.
23. Ash Purple
Source: casapinka.typepad.com
What if you want the regal touch of purple with a sombre undertone of grey? Ash purple is the ideal colour for you. This colour exudes sophistication. Pleasant and inviting, with a tranquil sense of enjoyment and inherent elegance. Add this one-of-a-kind colour to the list of top exterior paint colours.
24. Mustard Yellow
Source: pinimg.com
Mustard yellow is an excellent choice if you want to give your house a quirky vibe. Even in the darkest of days, it gives your house a feeling of firmness and power. Using this hue to design the exterior of your home may need some work, but the results will provide a rich aesthetic impact. Some of the major aesthetic styles that work well with this tint include retro, 80's glam, and mid-century modern house.
25. Dusty Charcoal
Source: homebunch.com
Black is a chic choice for home exteriors. But what if you want to add some texture and character to the exterior wall> Charcoal is the way to go! It is the perfect blend of ash and black. If you want to get adventurous with your exterior house colour ideas this season, apply a dash of dusty charcoal shade on your exterior walls.
Also Read: 20+ Exterior Brick Paint Color Ideas That You'll Love
Make a Statement with the Best Exterior House Colours This Season!
Consider your exterior walls as a blank canvas to show the world your aesthetic choices. Exterior house colour ideas are the first steps in this process of expressing your style to the world. With the myriad of colour choices choose a shade that is a trendsetter yet unique!
Source: cloudinary.com
Source: cloudinary.com
Source: cloudinary.com
Source: cloudfront.net
Source: cloudfront.net
Source: googleusercontent.com
Source: googleusercontent.com
Source: googleusercontent.com
Source: googleusercontent.com
Source: googleusercontent.com
FAQs: Best Exterior House Colours
1. Why Are Some Exterior Paint Colours Not Recommended?
Avoid using darker tones. Light is absorbed by dark hues, whereas light is reflected by brighter colours. As a result, deeper colours fade faster than lighter hues.
2. Does the Colour of the External Paint Impact the Temperature?
The paint colour you choose might imply the difference between your house absorbing or reflecting heat, making it warmer or colder inside.
3. What Kind of Paint Lasts the Longest Outside?
Acrylic paint has the longest lifespan and is noted for its resistance to weather and other natural elements.
For more information about the latest architectural development, keep coming to Architecturesstyle.
Also, do follow us on our Instagram page, Architecturesstyleideas, to get daily updates.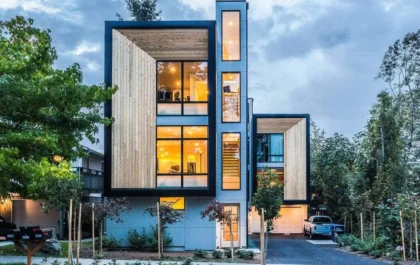 27+ Stylish & Modern Townhouse Designs for Urban Living.
The townhouse's first impression is normally too small, too compact, too narrower, and the list is endless. Well, let us…