Interior design is a work of art and can be a true representation of the aura inside a house. The colour scheme used while designing and decorating a house can deeply impact the atmosphere in and around it. Every colour and colour combination resonates with a particular mood, emotion and vibe, and holds a significant meaning. Colours truly have the power to affect people's mood and reactions. Thus, selecting the right colours is important to bring positive, pleasant emotions to the people living in it. When selecting colours for the interiors of their homes, most people want them to represent their personal style, artistic preferences, and personality. Brown tones for a luxurious interior is favourable by people and designers looking for a mature and strong look.
It can combine with different shades of itself, and a number of other colours including shades of grey, red, black, white, ivory, pink, teal, and more to give the house an earthy, lively and mature look. Being surrounded by colour so prominent in nature in the form of wood and soil encapsulates the desire to be close to, and one with nature.
Brown is an elegant colour known to be a safe, warm, composite and down-to-earth colour. The colour's simplicity and warmth represent stability, friendliness, dependability, health, security, healing, reliability and wholesomeness. In colour psychology, brown honest, genuine and sincere.
In art and psychology, the colour brown has held significance with time and has been used to demonstrate a range of feelings, including those of security, strength, loneliness, warmth, isolation, resilience, dependability, and more. Today, however, it holds positive, earthly and friendly emotions.
Even though mixing brown can be a complex procedure, the colour has gained more popularity over the years, especially with the rise of modern, classy and simplistic styles. It is known to stimulate harmony, friendliness and liveliness, and can be quite a conversation starter.
Plus, shades of brown have almost always been a part of interior design and prefer furniture. Here are some popular shades of brown that gives the interiors a classy and luxurious look, leaving a lasting impression.
Light Brown
A creamy Frappe brown has become a trend in recent times, both in art and interior design. Usually used on walls and furniture, this shade is believed to bring out the warmth in the house. The light tone gives room to a number of possible colour combinations, some of the most common ones being pale yellow, cyan, cream white, blue, green, purple and red, and tends to give the house a minimalist look depending on how it is used.
Reddish Brown
Reddish-brown is a dark, classy, and earthy tone that makes the house look elegant and rich. It can be used with different colours like shades of yellow, grey, pink, red, white, and more, and can give an autumn-like warm look, or a dark, modern look depending on these combinations.
Dark Brown
Dark brown is another dark and classy shade that can be combined with different light and bright colours to introduce contrast in the colour scheme, and give the house a sharp look. This coffee or chocolate-like shade works in combinations with light brown, white, yellow, mint, turquoise, orange, pink, etc. It looks exceptionally good with a hint of gold in the form of curtains or showpieces.
Greyish Brown
A light, ashy shade popular in modern home styles and designs, greyish brown is known to give the inside of a house a luxurious touch. Be it on the walls or cabinets, greyish brown is considered one of the quirky choices for interior designs. It works well with glass décor.
The shade can be combined with darker shades of brown, black, white, dark blue, yellow ochre, and other similar down-to-earth colours to give the house a modest, modern-day look.
Light Tan
Light tan is known as one of the convenient colours for the interiors, especially for a warm and playful look. The shade enough versatile to give a classy, minimalistic look, or a cheerful, bright look depending on the colours used. The colour looks best with bright, white walls or furniture, and also go with shades of pink, brown and blue.
Depending on warm or cool undertones, different brown tones for a luxurious interior can use to match vibes and aesthetic. Mixing brown can be quite a task, and should do by taking the right proportions to get the best results. The right techniques can bring the insides of a house to life and can use to represent the owner's personality.
Discover More: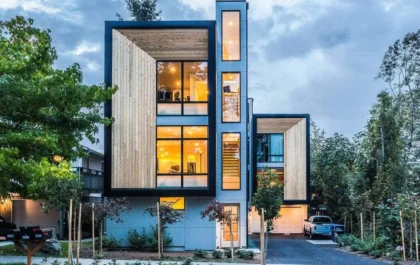 27+ Stylish & Modern Townhouse Designs for Urban Living.
The townhouse's first impression is normally too small, too compact, too narrower, and the list is endless. Well, let us…