Project Name: Hainan Performing Arts Centre
Architect: Heatherwick Studio
Completion Year: 2022
Have you ever attended an opera show? Or have you ever visited an opera house?
Opera houses are basically a part of larger performing arts centers. A special type of sound reinforcement is used in these opera houses, known as an acoustic enhancement.
One of the most recognizable opera houses in the world is the Sydney Opera House. Everything about this structure is unusual and unique, from its spectacular interior design to remarkable architecture. That's why it's considered a masterpiece of 20th-century architecture.
Recently, British designer Thomas Heatherwick studio designs has unveiled the visuals of a performing arts center in Hainan, China. Just the visuals are out, but it's already a sensational topic between the people.
So what's new about this building? Why is everyone talking about it?
The performing arts center is in the news because of its landscape design. The architecture of this art center is highly influenced by the volcano and surrounding landscapes. Do you want to know more? Just keep reading!
Source: adsttc.com
All set to be built in the city of Haikou on the island province of Hainan at the southernmost point of China, this structure will surely be a masterpiece in the entire country. It is a part of a large-scale master plan constructed to create a new cultural area in the Jiangdong district.
To create this kind of sensitive and challenging project, Heatherwick Studio designs has been selected. This is the first-ever opera house or any type of music venue project for the studio. The studio was quite excited while designing this tropical opera house.
The design features three performance spaces:
an opera house,

a concert hall, and

a theatre
Island's unique geology is defined by a sweeping canopy where all the above parts of the opera house come together. So what's inside this opera house?
See, basically, every opera house is like a theatre building that usually includes a stage, an orchestra pit, and of course, the audience seating. There are also backstage facilities for costumes and building sets.
If you see the visuals, you'll notice that the structure occupies a rectangular site. The entire area is covered by a unique curving roof plane. This roof plane joins with the other three sculptural volcano-like cones at its center.
The studio wanted to design the opera house in such a way that it would become an extension of the city!
Hainan Performing Arts Centre: Design & Concept
Source: adsttc.com
So what's the inspiration behind the unique design of this tropical opera house?
The Heatherwick Studio designs partner Eliot Postma explains, "Our inspiration came from the volcanic landscape and the costumes, colors, and movement of Hainanese opera."
The building was designed through detailed and intensive analysis. There was a lot of research, and there was also immersive digital modeling just to create a structure that responds to the local ecology and weather conditions.
The structure was developed while keeping energy consumption in mind. It reduces both energy consumption and cost while providing a cool and comfortable atmosphere so that both performers and guests can enjoy it.
Hainan Performing Arts Centre: Construction
Source: adsttc.com
The design of the Hainan Performing Arts Centre is actually a competition-winning entry arranged and organized by Haikou Tourism & Culture Investment Holding Group.
So if you're already excited to visit this place, you'll have to wait some time. That's because the construction of the main building is expected to begin towards the end of 2022.
In 2021, Sou Fujimoto Architects also released the design for the Pavilions by the Seaside development in Haikou. This is also the major part of the area's redevelopment master plan.
The construction has already begun at the starting of the year as the studio opened its 1,000 Trees shopping center in Shanghai. This nine-story building features over 1,000 trees and 250,000 plants.
The volcano-inspired roofs will act as a canopy and will surround the entire art center. This will give an opportunity to create multiple open-air publicly accessible spaces.
The roof will be covered with multi-colored rectangular tiles that will give it some colours and movement.
Hainan Performing Arts Centre: Amenities and Facilities
Source: adsttc.com
The most fascinating thing about this opera house is that it will have a capacity of 3800 people!
Yes, not only this, there will be many combining spaces for arts, learning, rehearsals, and performances. The visitor will get a wide range of large-scale opera and ballet. Not only this, people can enjoy musical events, avant-garde drama, fashion, and immersive multimedia performances. Isn't it great?
"Many opera houses are cut off from their surroundings and only come to life when a performance is on. We wanted to create a space that is an extension of the city and will contribute to life on the street throughout the day. So the canopy shelters a mix of different spaces that form an open-air village, of which the halls are a part. It blends the formality of performance with the informality of island culture, making opera more accessible and offering everyone a space to meet whether you have a ticket or not. — Eliot Postma, Partner and Group Leader at Heatherwick Studio."
Also Read: Rice University New Architecture Art Building by Diller Scofidio + Renfro Architecture
The Bottom Line
So this is all about the Hainan Performing Arts Centre in China. This isn't the only project by Heatherwick Studio designs, but earlier this year, the studio also proposed another project, 'Leaf', which is a dynamic multi-leveled pier. It promotes notions of "community spirit, activity, equality, play, and togetherness."
The leaf features uniquely designed platforms that will be completely covered by plants. These floating platforms will be constructed on the Han River and will offer recreational and cultural spaces to the visitors.
I hope you liked this blog about the Arts Centre in China by Heatherwick Studio designs. Don't forget to share this blog with your family and friends or with anyone who is keen to learn about new architecture around the globe.
If you want to know more about these types of unique and unusual houses or places located in various parts of the world, read our previous blogs such as Odsherred Theatre, URAM Extreme Park, Sarofim Hall by Diller Scofidio + Renfro Architecture, and many more.
For more information about the various types of architectural techniques and styles or home improvement ideas, keep visiting Architecturesstyle.
For daily updates about architecture, don't forget to follow us on our Instagram page, Architecturesstyleideas.
Himadri Shakya
Himadri Shakya is an enthusiastic Content Writer and Editor. She loves to create creative, engaging, and SEO-friendly content. Through her extensive research skills and practice, she has been generating high-quality and informative articles, and blog posts for over 4 years.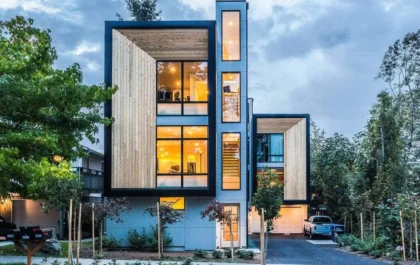 27+ Stylish & Modern Townhouse Designs for Urban Living.
The townhouse's first impression is normally too small, too compact, too narrower, and the list is endless. Well, let us…