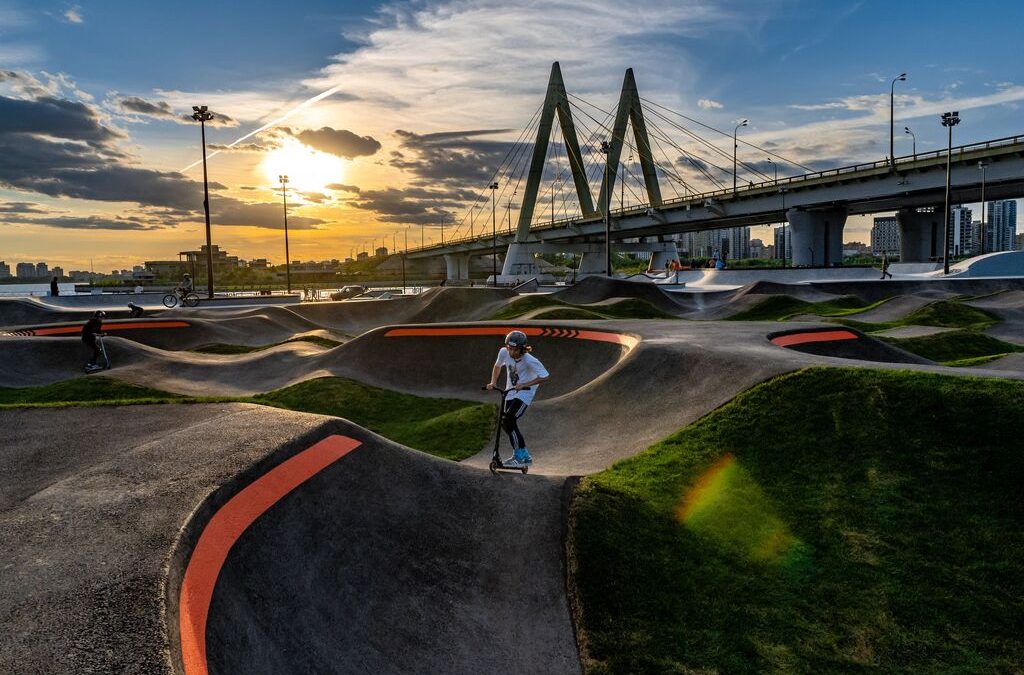 Architects: KOSMOS Architects, Legato Sports Architecture
Location: Kazan, Russia
Area: 7980 m²
Year: 2021
Recently, one of the biggest parks in Europe was unveiled in Kazan, Russia. Designed by KOSMOS Architects and Legato Sports Architecture, this park is known as URAM Extreme Park.
This is more like a public park with an 8,000 sqm structure. It features multiple extreme sport zones such as an airpark, street plaza, concrete bowl, and skate house. This place also has various cultural spaces open to everyone, such as a center for contemporary music, DJ school, skate shop, dance hall, gallery, lecture hall, cafe, and recreation area.    
URAM Extreme Park: Design & Concept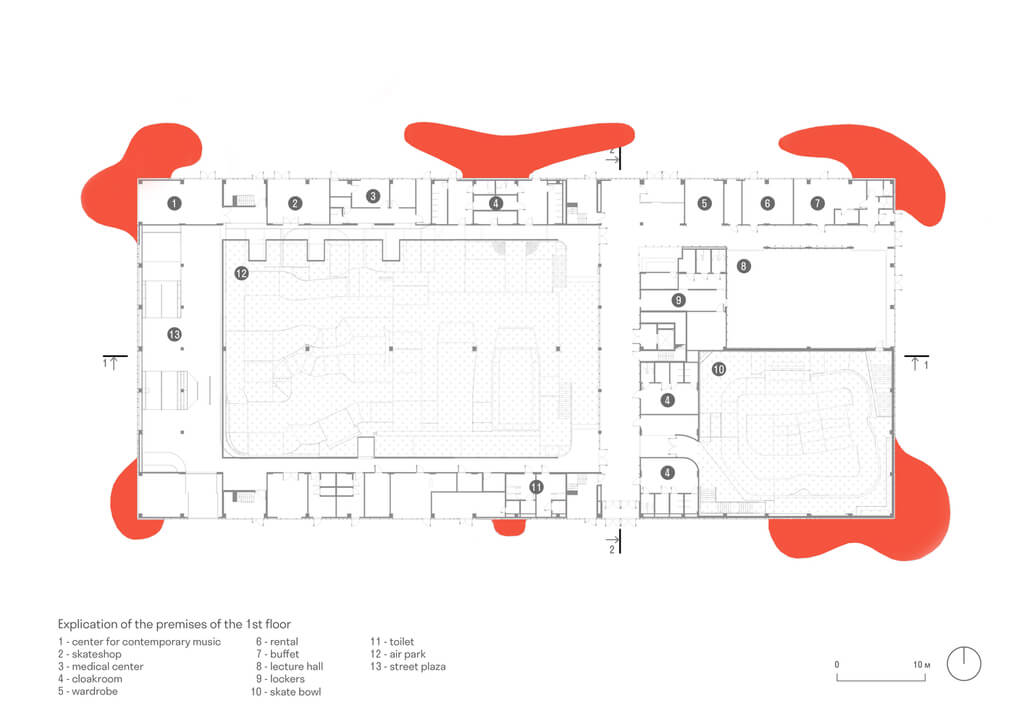 Source: adsttc.com
The name of the park is unique in itself; URAM means 'street' in Tatar. This park has a huge structure with industrial interiors. This distinctive architecture features:
A Plywood Ocean

Metal Point Cloud

Concrete Cave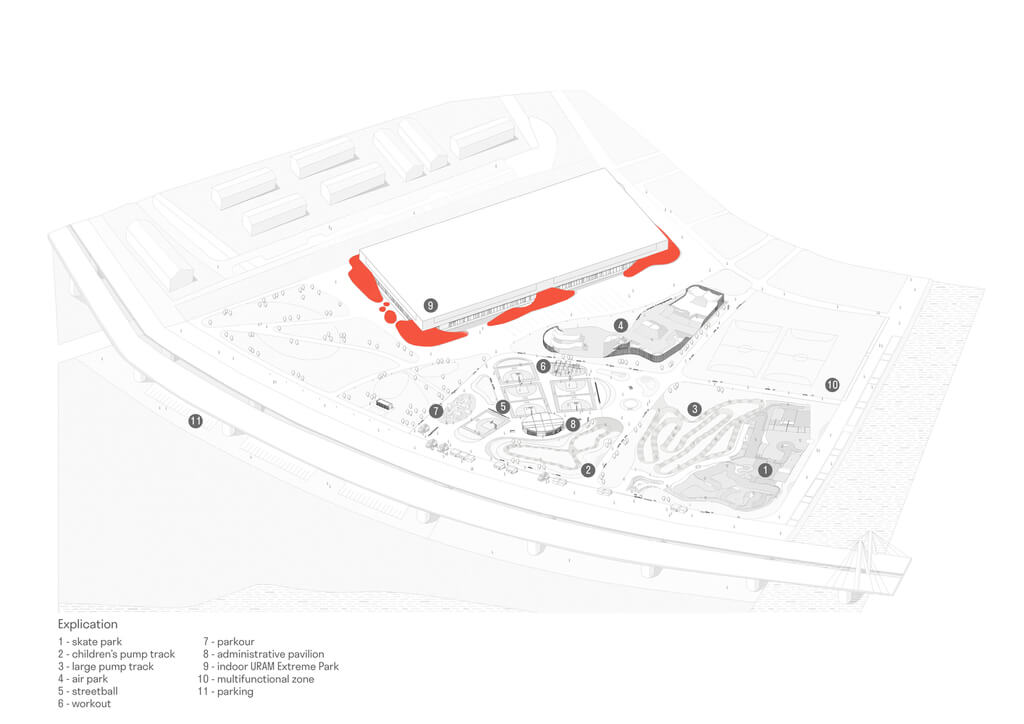 Source: adsttc.com
Completed in summer 2020, this new indoor sports center in the open part of the extreme all-season park is the ultimate center of street youth culture. This structure will also generate a new urban landmark for the area. Here people can play, enjoy and spend their time in sports, educational, and social functions under one roof.   
While designing and planning the main design of the park, architects and designers have faced many issues.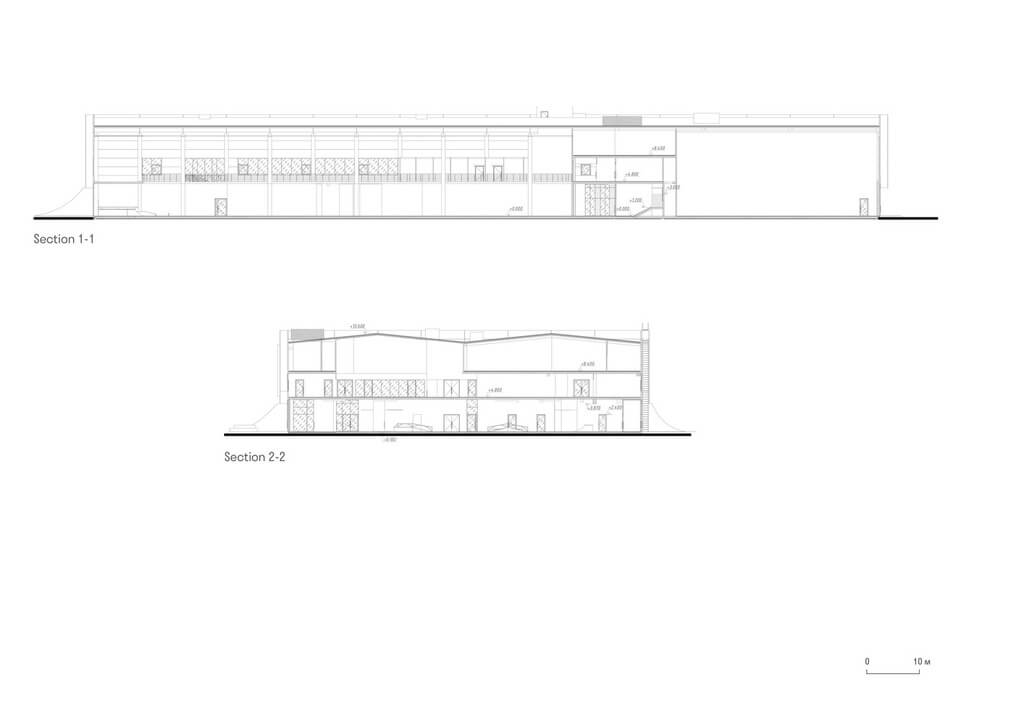 Source: adsttc.com
According to architects, "they wanted to build a park that:
Combines all the sports facilities necessary to prepare extreme athletes for high-level competitions, such as Olympic Games.

Has simple extreme zones where amateur athletes will be able to develop their riding skills.

Fits into the context of the historical city center of Kazan.

Will become an open and free public space for urban recreation."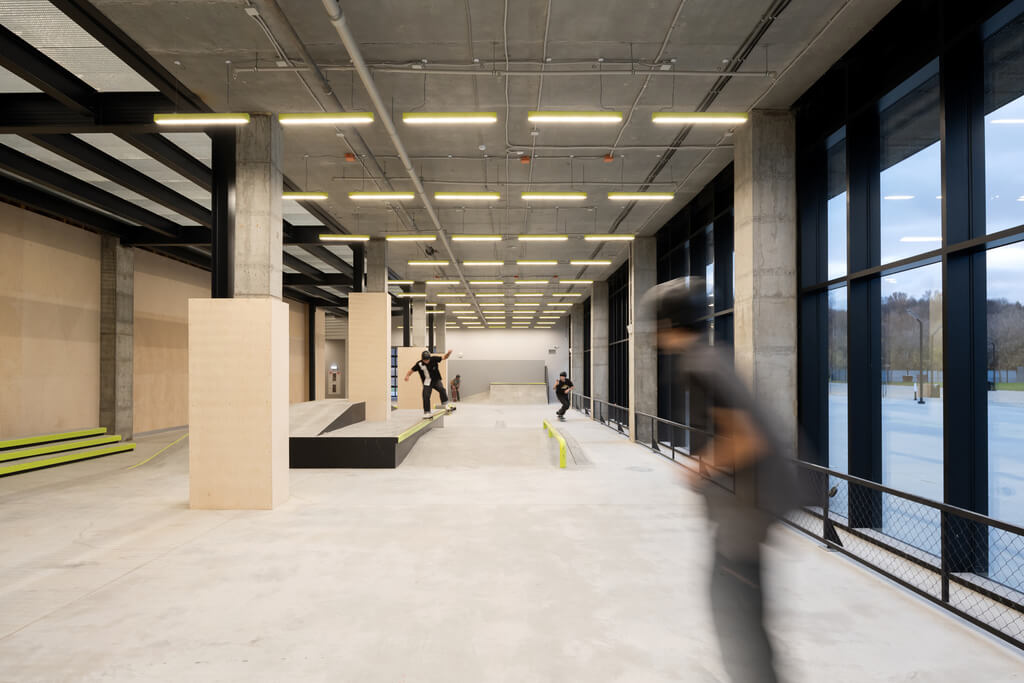 Source: adsttc.com
As you can see in the pictures that all of these tasks were completed brilliantly. Now URAM has become one of the world's rare extreme parks which cleverly and skilfully manage to perform two functions simultaneously: 
A professional training spot for Olympic athletes, and 

A completely open and free public space at the same time.
URAM Extreme Park: Architecture Theme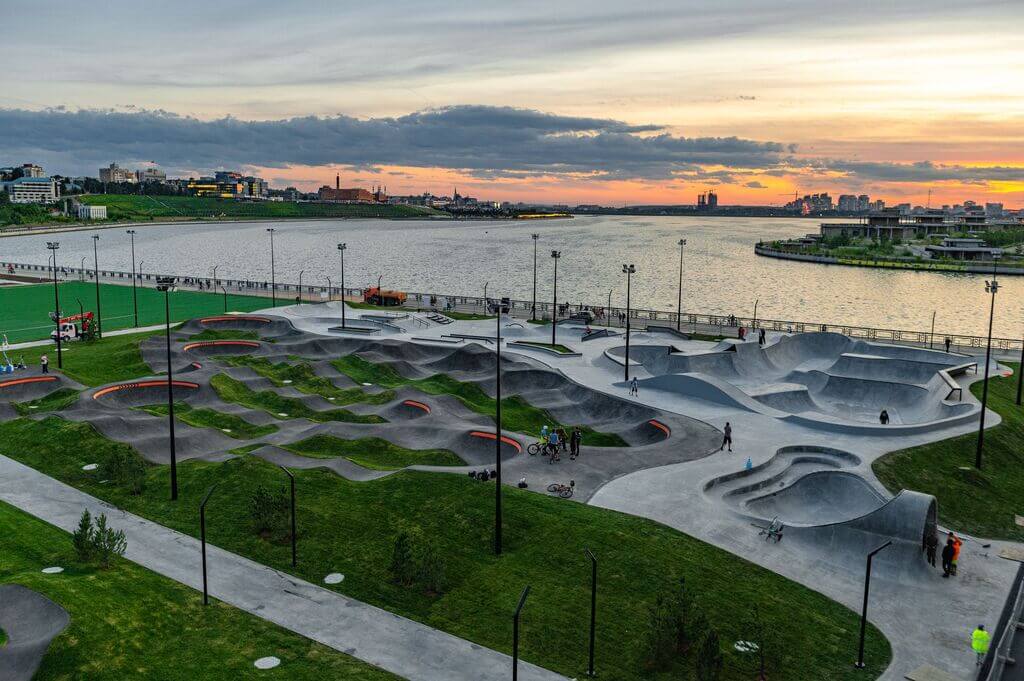 Source: arch2o.com
On this project, the Subcontractor was Legato Sports Architecture Renovation and Development, and the General Contractor was Eurostroyholding. For the client (Head investment and construction office of the Republic of Tatarstan), the Engineering Solutions was provided by Tatinvestgrazhdanproekt along with the KOSMOS Architects and Legato Sports Architecture.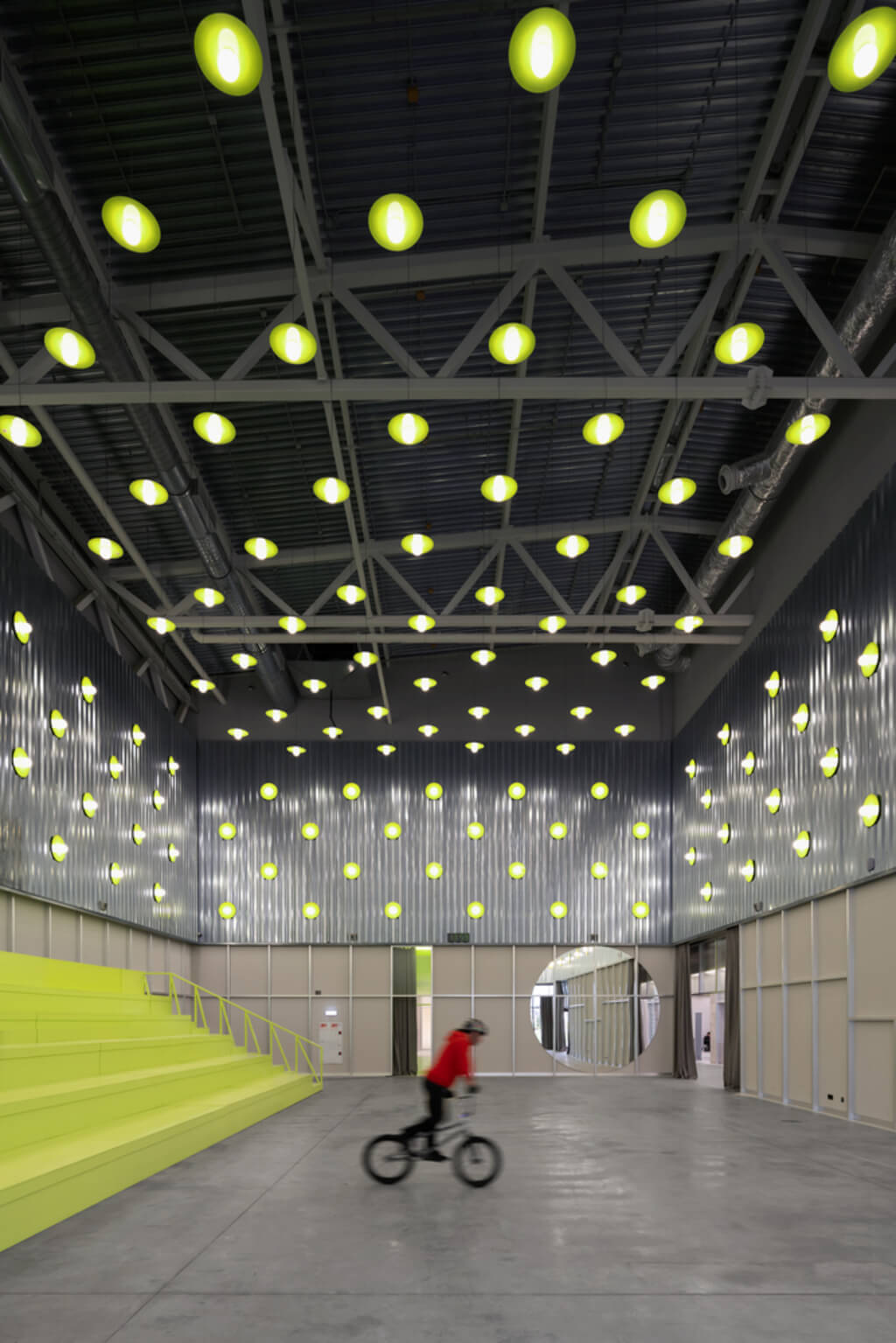 Source: adsttc.com
With an area of 8 000 square meters, this indoor sports center is divided into two floors in extreme sport zones. The best thing about the new structure is that it is not only an Extreme Park URAM but also works as a multifunctional public space. This place also offers a unique set of venues and a diversity of extreme sports facilities within one building, where visitors can come at any time of the year.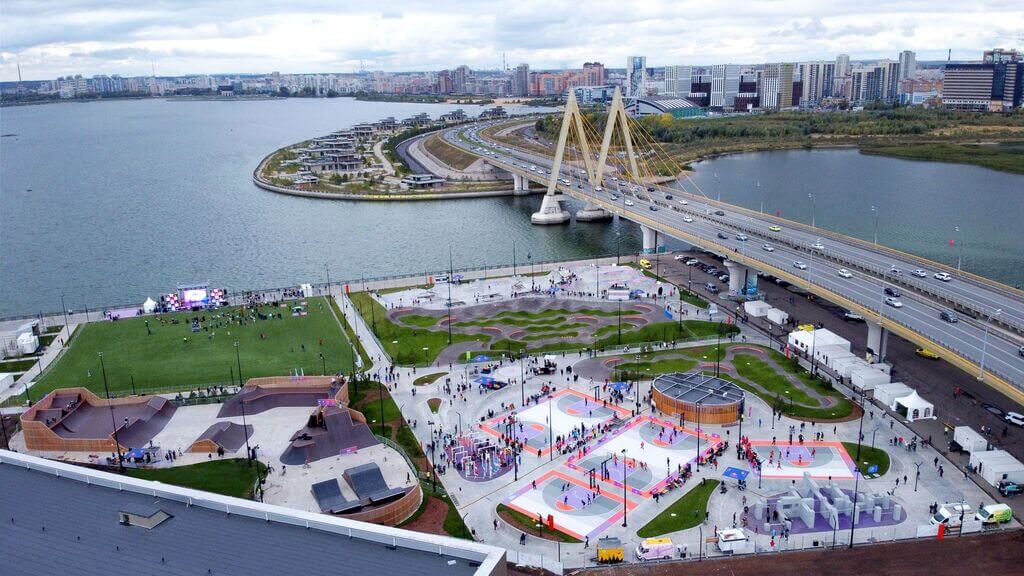 Source: arch2o.com
FUN FACT:
You'll be surprised to know that URAM Extreme Park has become one of the most popular public spaces in Europe. Every month around 13,000 guests visit the park, and 4,000 riders train in the park regularly. 
URAM Extreme Park: The Extreme Exteriors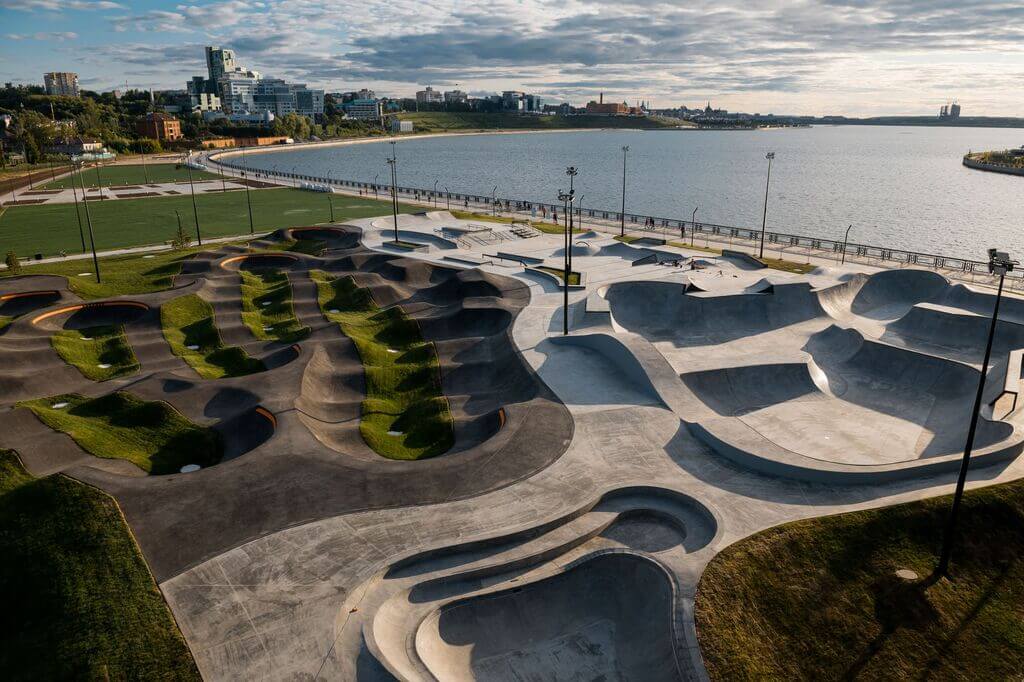 Source: arch2o.com
Let's talk about the exteriors and outside design of the park. The overall design of the Extreme Park is quite minimalistic; however, while looking closely, you'll notice some spectacular details. This simply means that architects have paid great attention to accentuated details.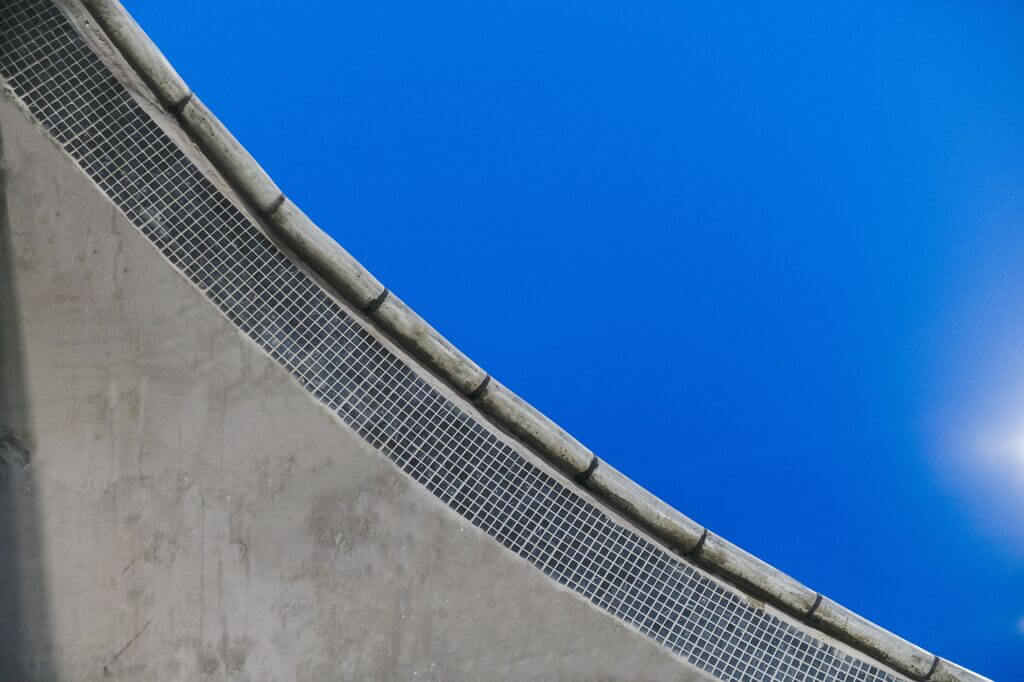 Source: arch2o.com
For example, mosaic panels have been used to decorate the side surfaces of the street plaza elements. This can remind you of Soviet monumental art. The color palette of sunsets was specifically picked so that they can be observed in summer from the Kazanka River.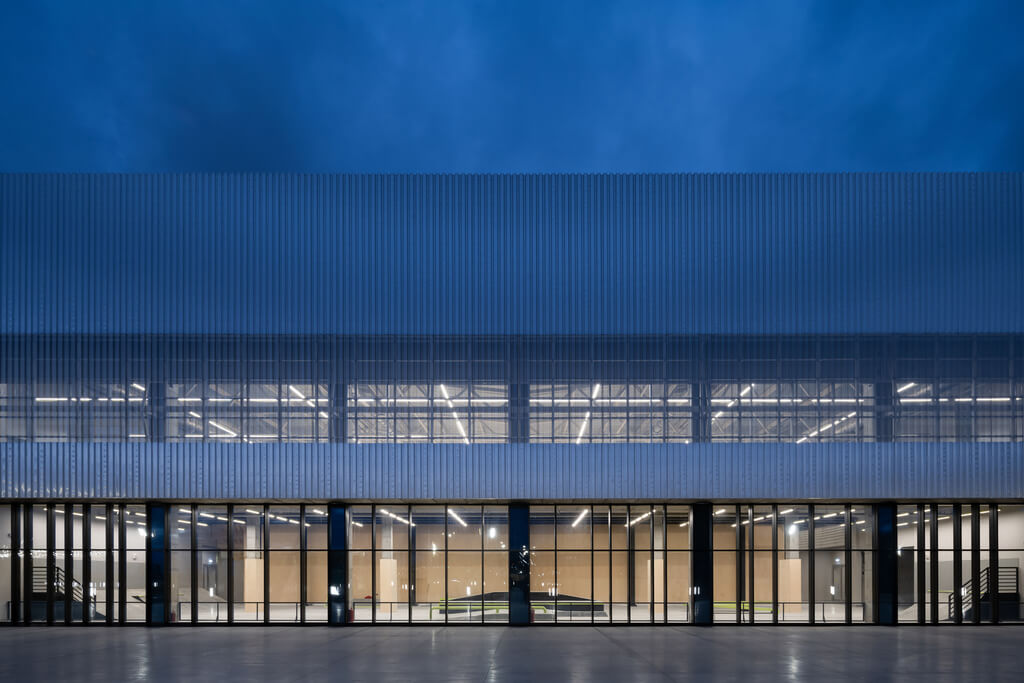 Source: adsttc.com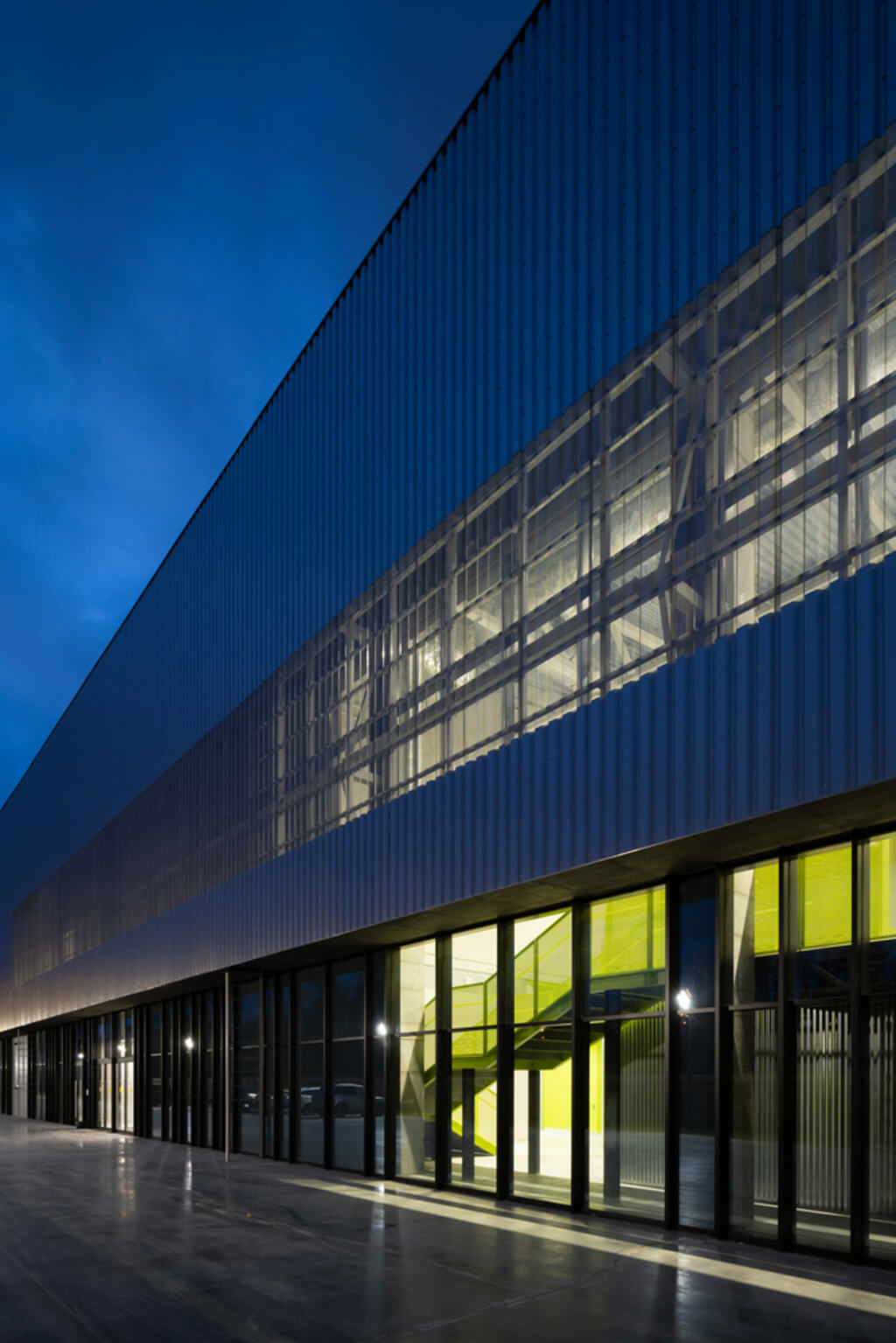 Source: adsttc.com
The Uram Street Culture Center has a climb-able, Slide-able, Roll-able facade. It also consists of 2 parts, and both are performed on different scales. 
The upper part of the building is a minimalistic rectangular block. It is faced with brushed stainless steel and performs on an urban scale. You can see this part of the building from the opposite side of the Kazanka River. This facade has a special abstract effect that reflects the sun or grey sky and also changes its looks depending on the weather conditions. That's why it also works as an urban landmark for the city. Pretty amazing, right?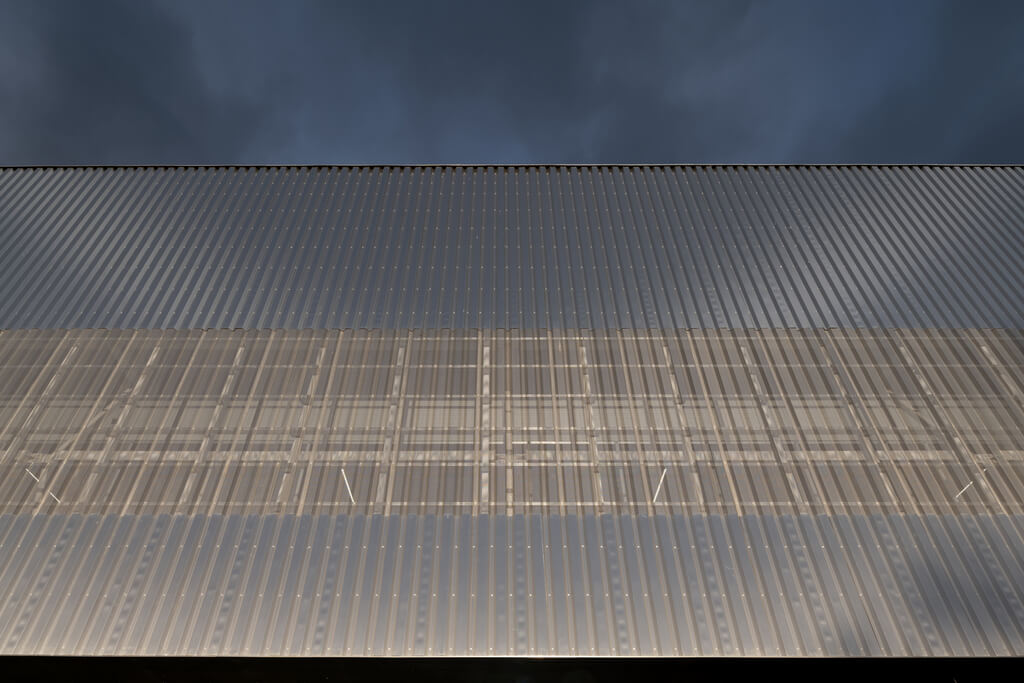 Source: adsttc.com
Now let's move on to the facade materials. Corrugated metal sheets have been used on the facade, which can be commonly seen on industrial buildings and fences of the surrounding area. Whereas on some parts, the stainless steel has been polished to give the building a mirror shine. This makes the building facade unique and eye-catching.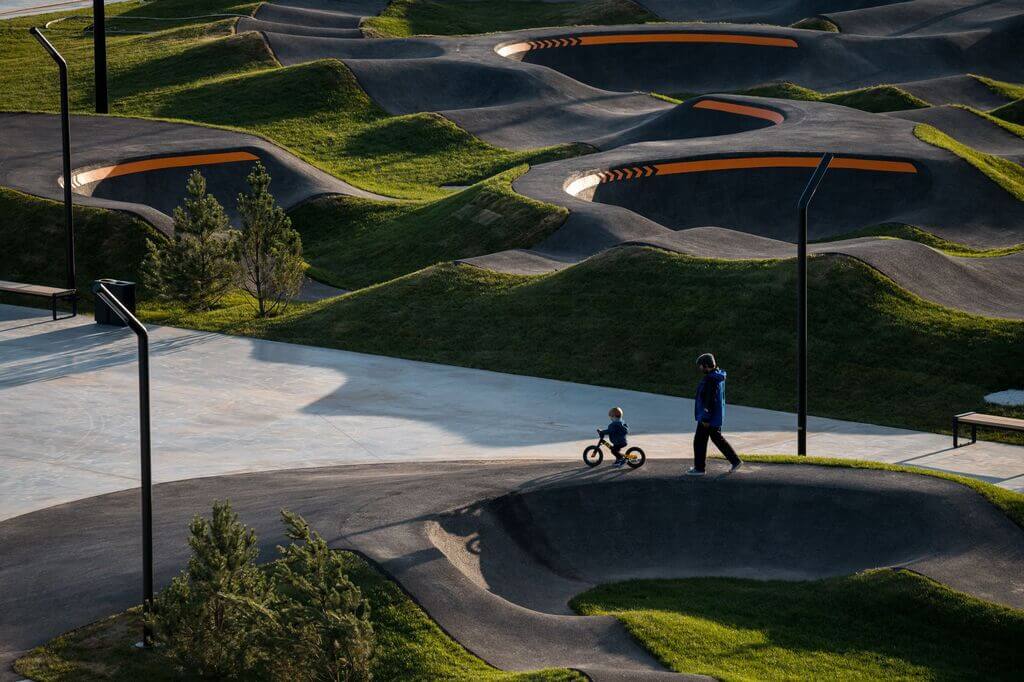 Source: arch2o.com
Architects have used traditional construction methods to build the skate park and both pump tracks. They were made manually because their forms are complex and unique. 
The upper volume of the building is constructed on several flamboyant concrete hills as part of the outdoor extreme park. This part of the outdoor structure is built at the pedestrian level. It also has a human-scale space of about one-hundred-meter.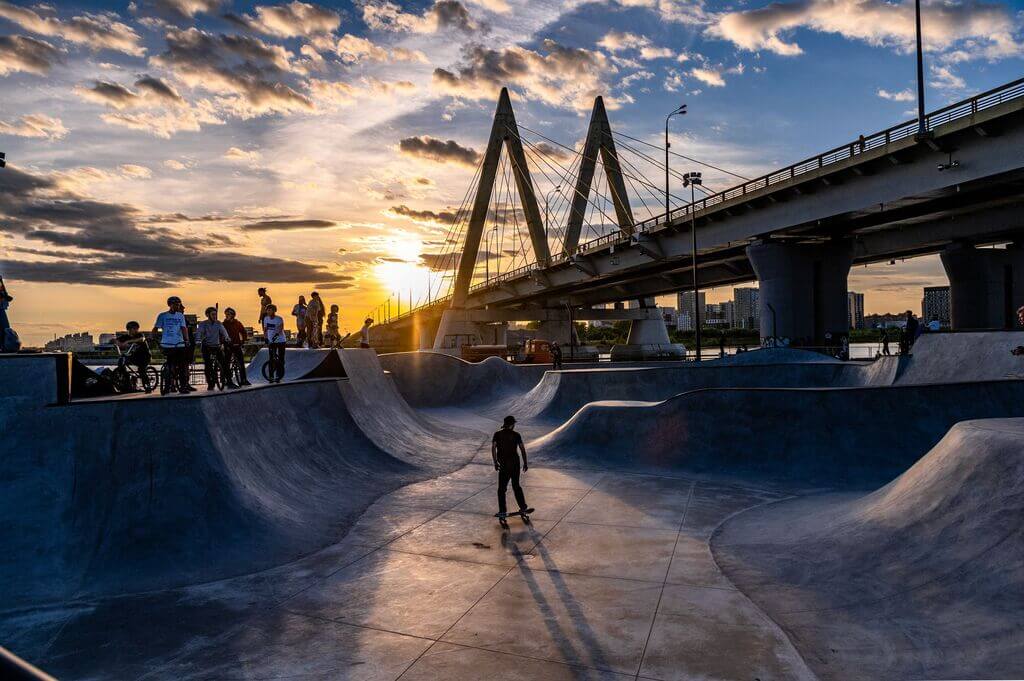 Source: arch2o.com
Architects have built the building in such a way that it seamlessly blends with the surroundings. Apart from this, hills also play a major role in blurring the lines between architecture and park infrastructure. And because of this, the facade of the entire building has been transformed into a radical functional landscape.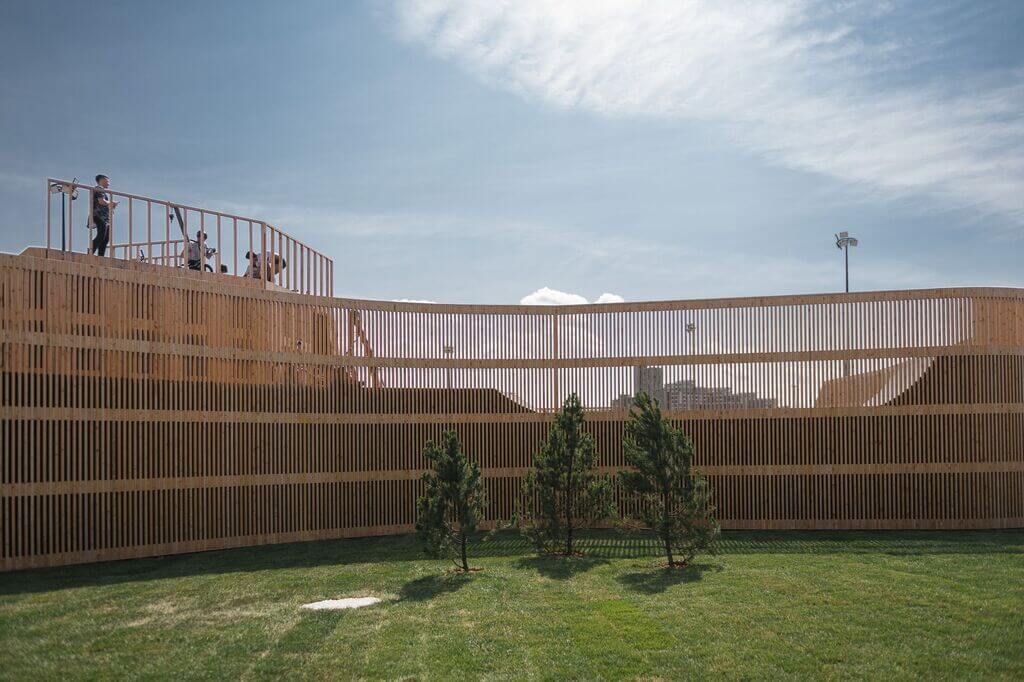 Source: arch2o.com
Though the exteriors and outdoor parts of the center haven't been completed yet, there will be a lecture hall, a playground, and an open space for regular sports functions.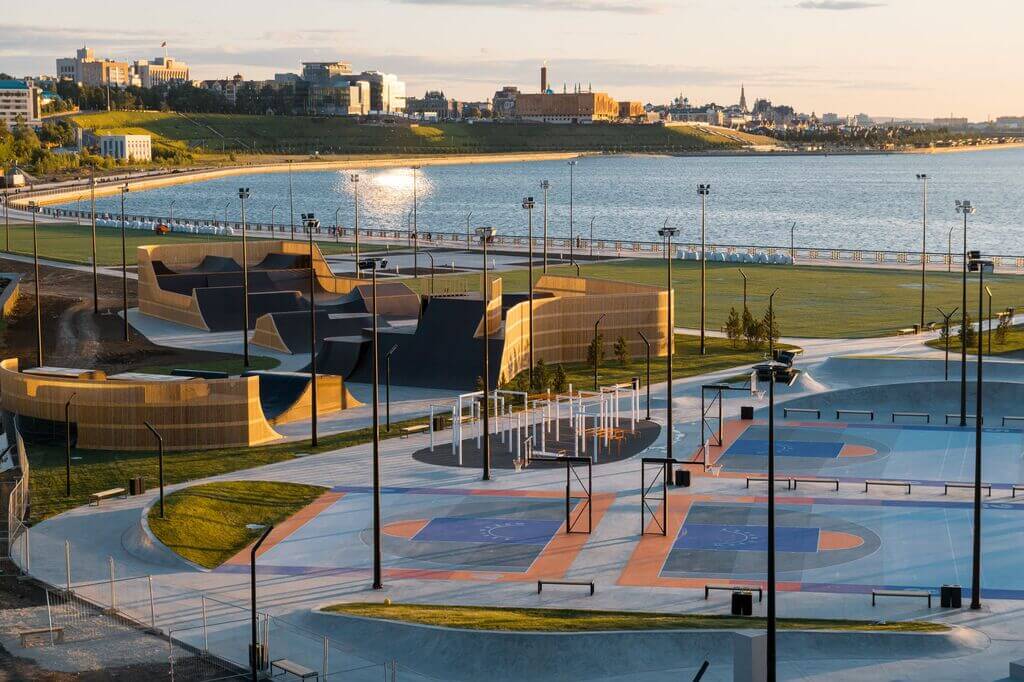 Source: arch2o.com
URAM Extreme Park: The Intimate Interiors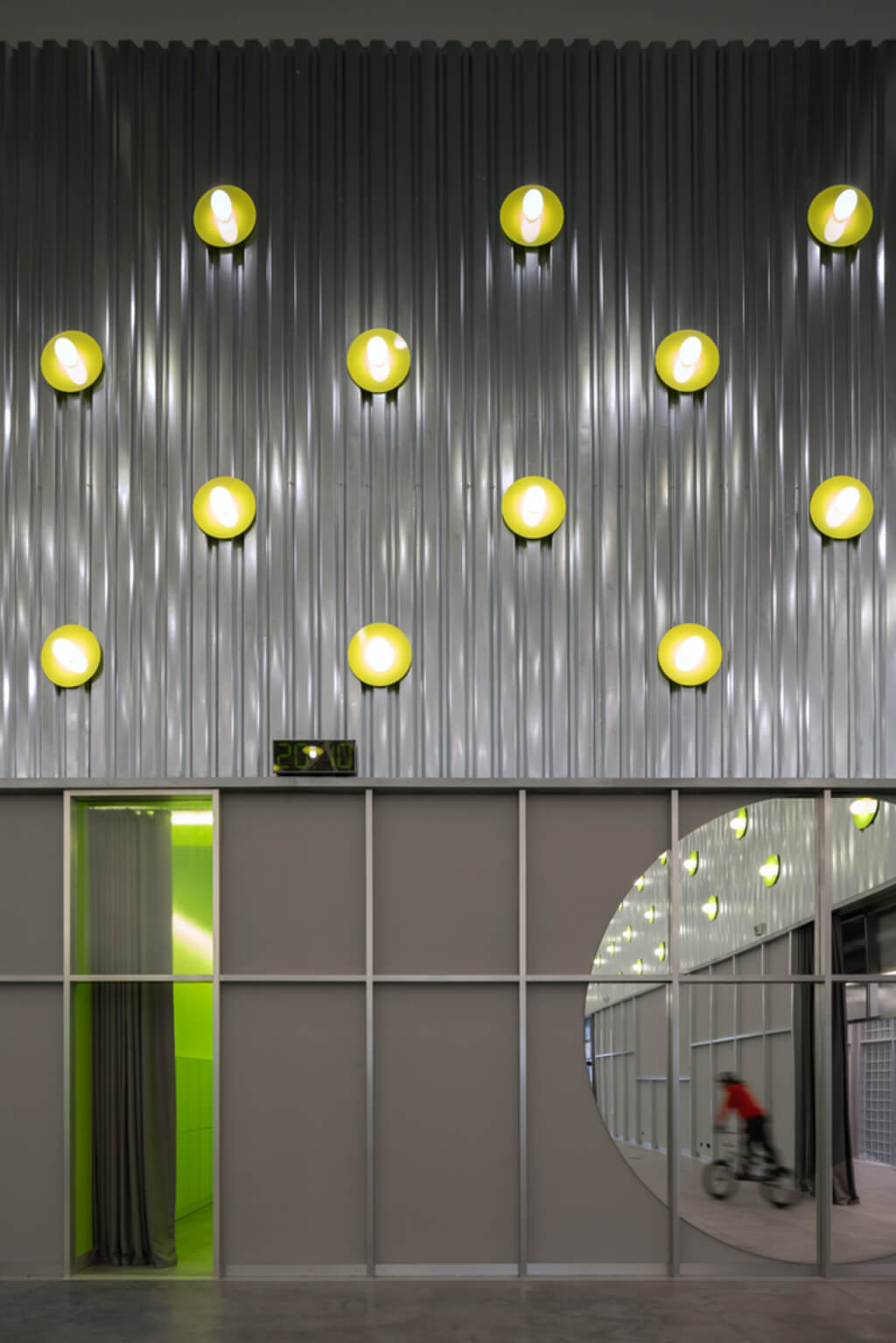 Source: adsttc.com
This architecture seamlessly merges with sports facilities and diverse spaces. This sports center offers a powerful atmosphere while supporting modern street culture. 
For this project, Kosmos architecture did long research on the principles of utilitarian architecture, published in the book 'ConTemporary ArchiTecture.' Legato has a wonderful experience in working these kinds of unusual structures as they have previously worked with the world's best riders and park builders! They also have created a unique team of park builders who are professionals in creating extreme culture.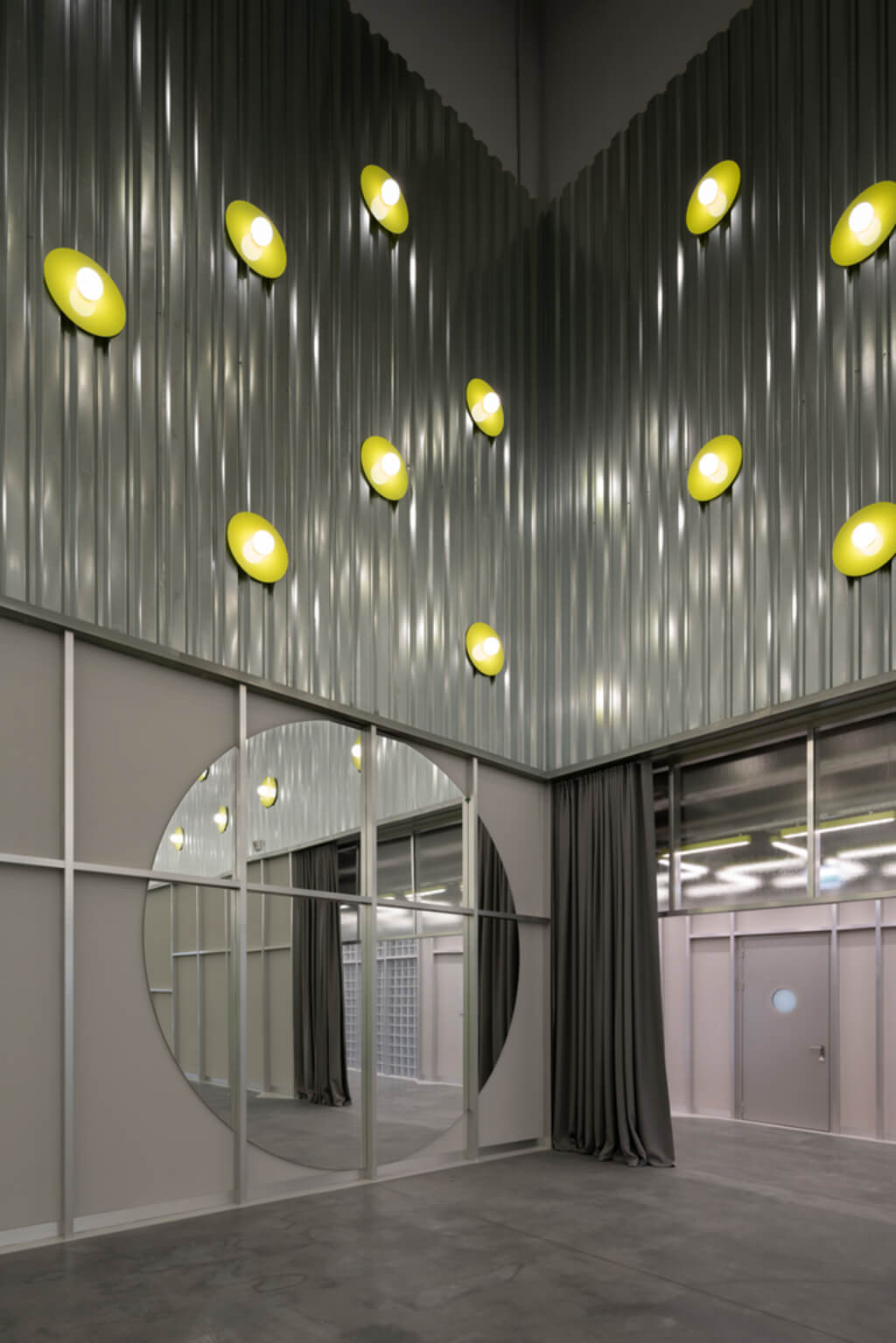 Source: adsttc.com
After looking at the pictures, you might be wondering about the building's unique interiors? The entire building's interior is basically based on exposure to simple street and industrial materials. These materials are inexpensive and practical such as concrete, sheet metal, reinforced glass, plywood, drywall, masonry materials.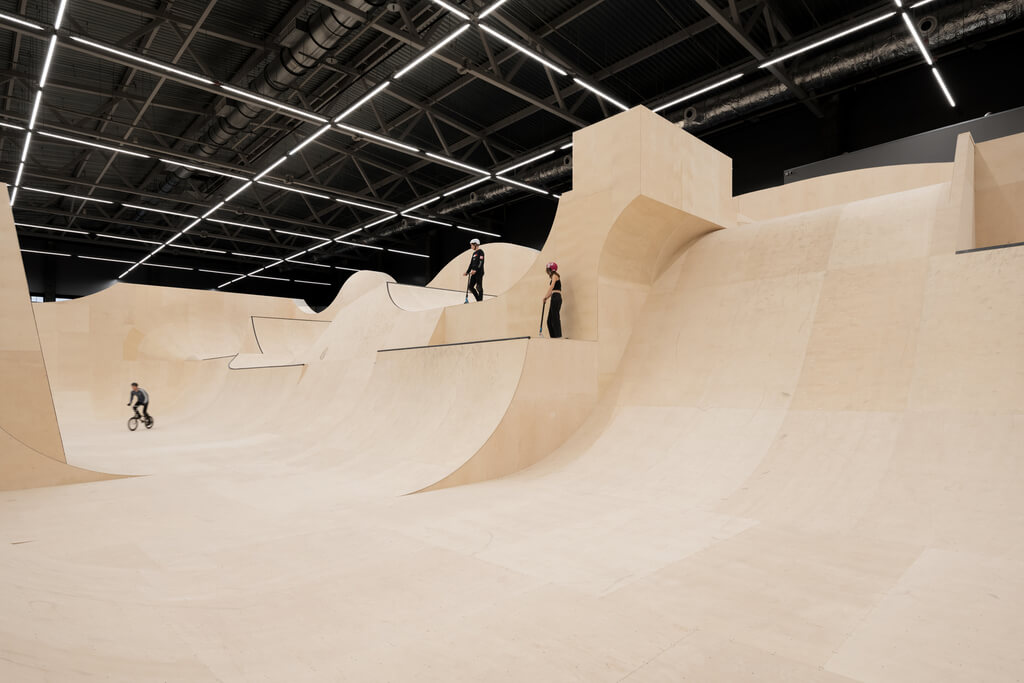 Source: adsttc.com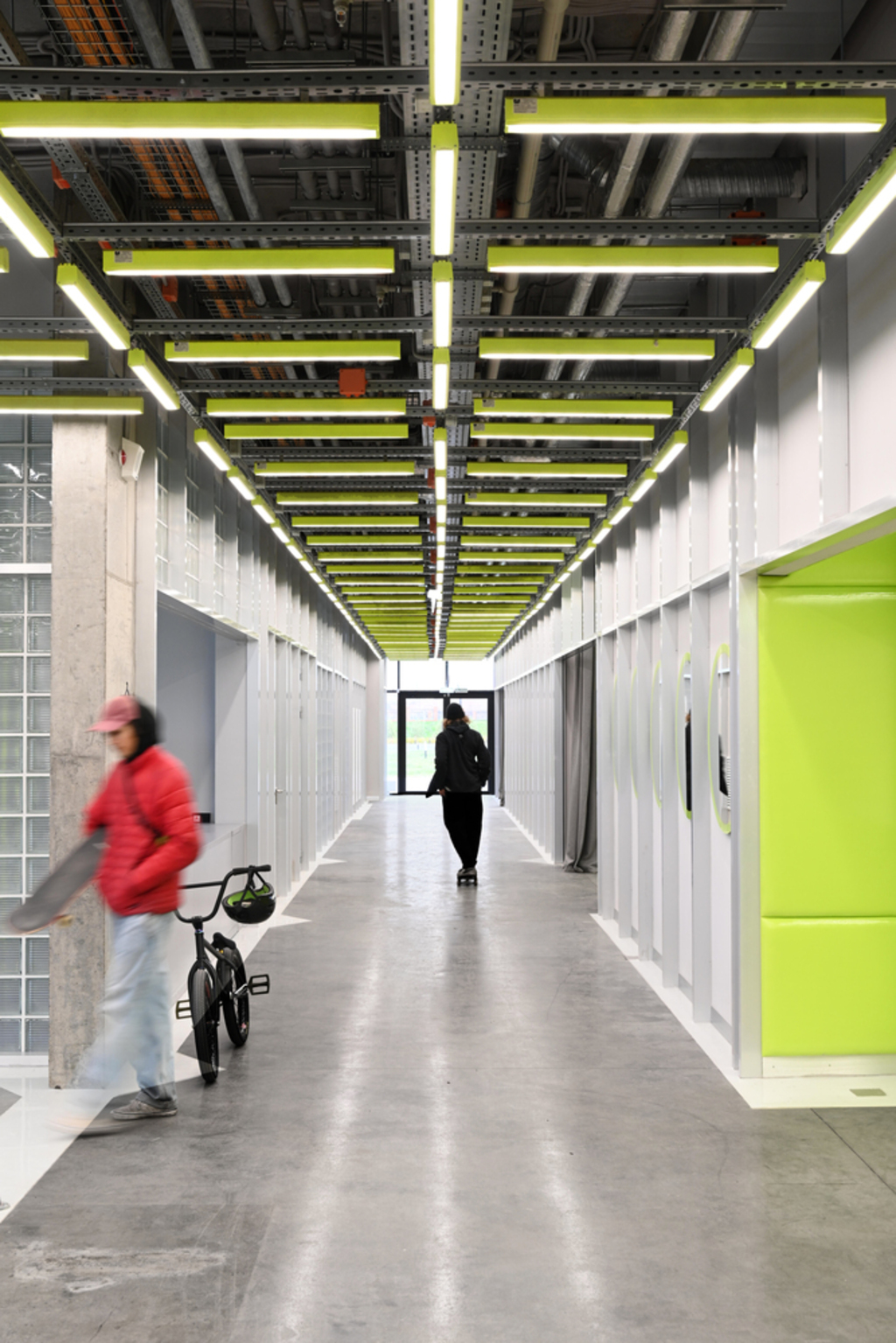 Source: adsttc.com
Let's talk about the color palette of the space. As you can see, mostly the natural color of the materials is similar to gray. So to give more depth and definitions, another bright signal color, Volt (bright green-yellow), has been used in the interior space. Volt color has been used in street and road navigation to ensure safety as this is the most noticeable to the human eye. That's why it is also used in the center to create safe and comfortable navigation in the sports center.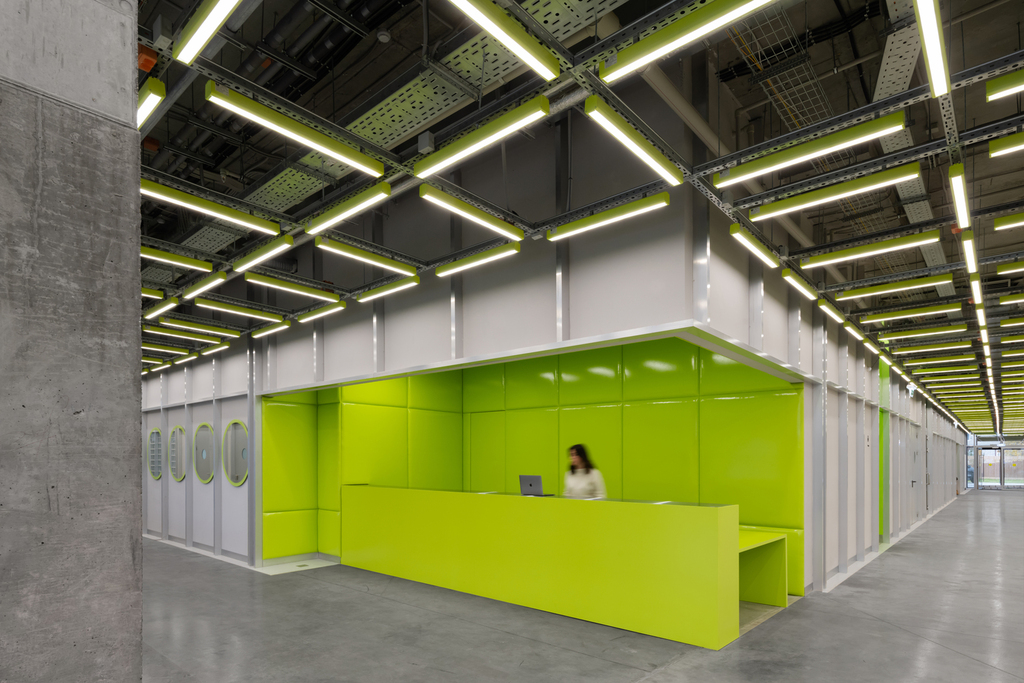 Source: adsttc.com
To guide visitors on the way to go, this contrasting color(Volt) has been used in the most important areas in the building, including reception, information board, and entrances on the escape route. This highlighted color also allows you to know the geometry of the space.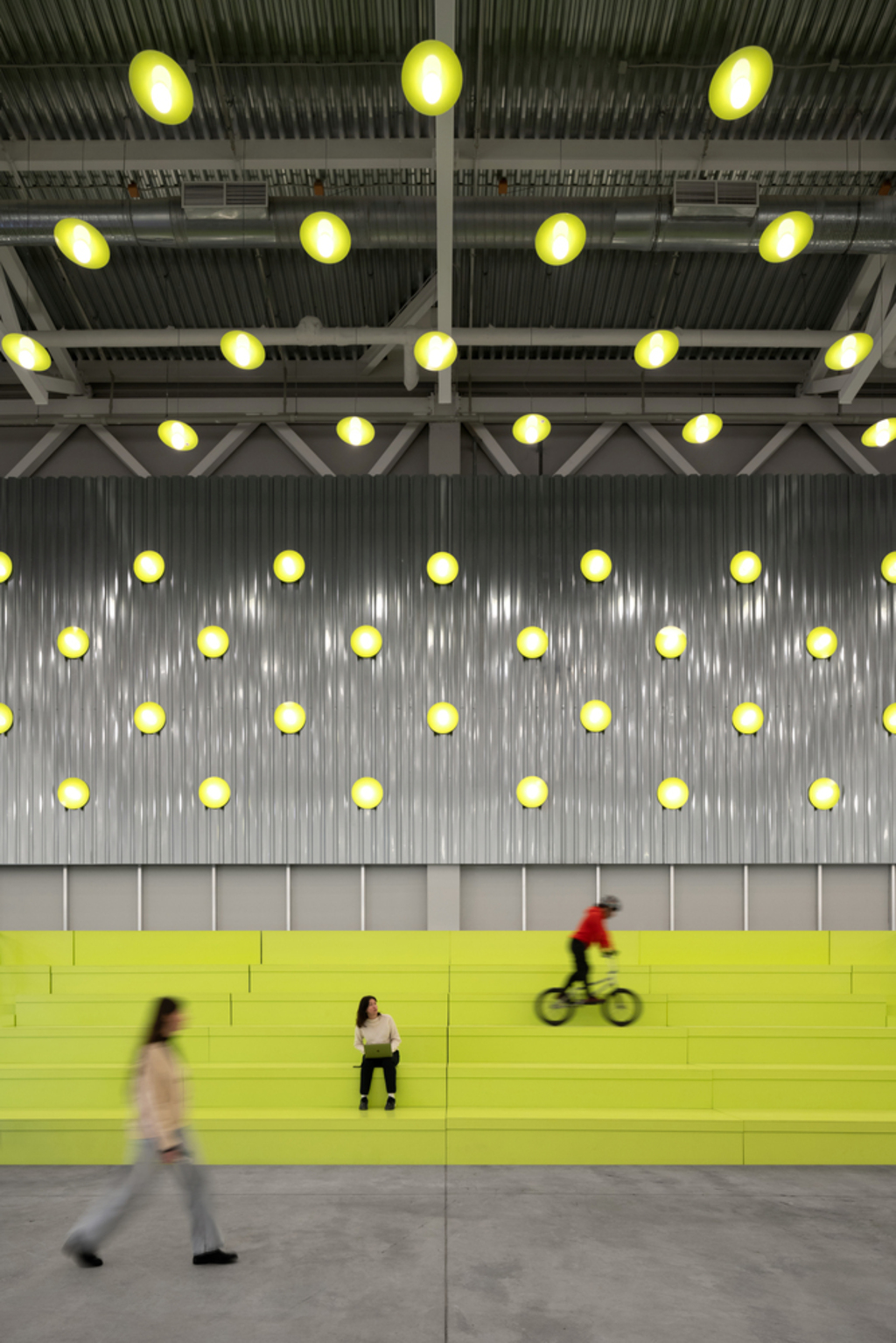 Source: adsttc.com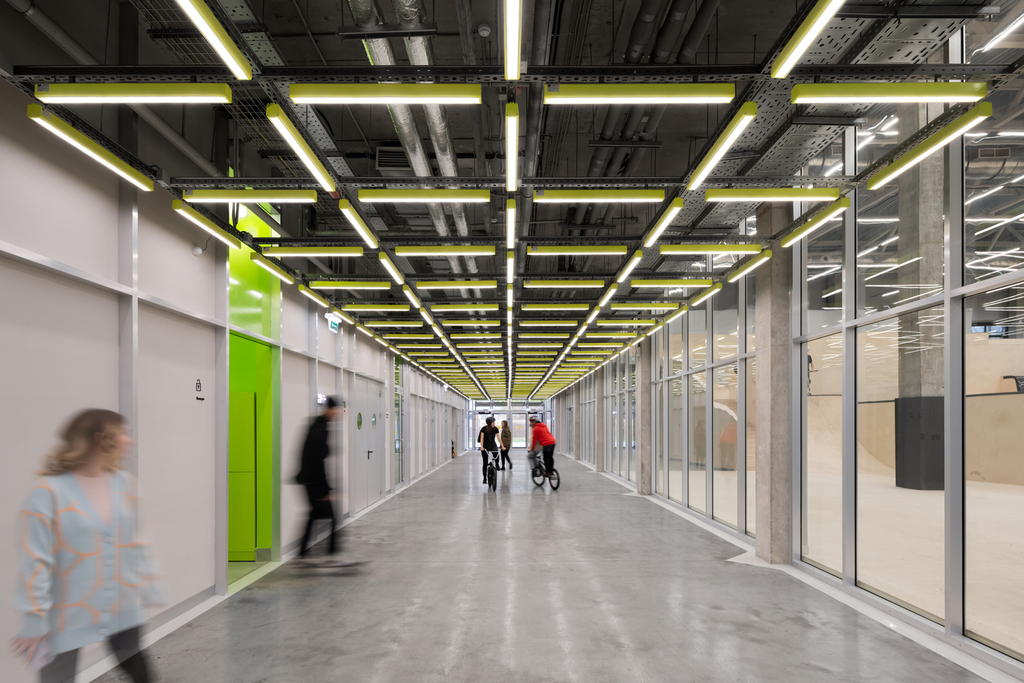 Source: adsttc.com
The most surprising thing about the URAM extreme park is that each and every area is designed uniquely, and only one type of material or technique is used to create it. 
The airpark is completely made from plywood, and this creates a spectacular "plywood ocean."

Similarly, in the lecture hall, the space is formed with the help of a "cloud of points." These points are basically some suspended lamps that help to form an alternative geometry of the space. 

The main material for the Bowls is concrete, and the rest of the interior of the main inner street is marked by a spatial grid of lamps and wall frames. 
According to the architect, "This radical, functional, and creative design follows the logic of infrastructure facilities, street and road navigation: its simplicity, radicality, and functionality." 
URAM Extreme Park: Sports Objects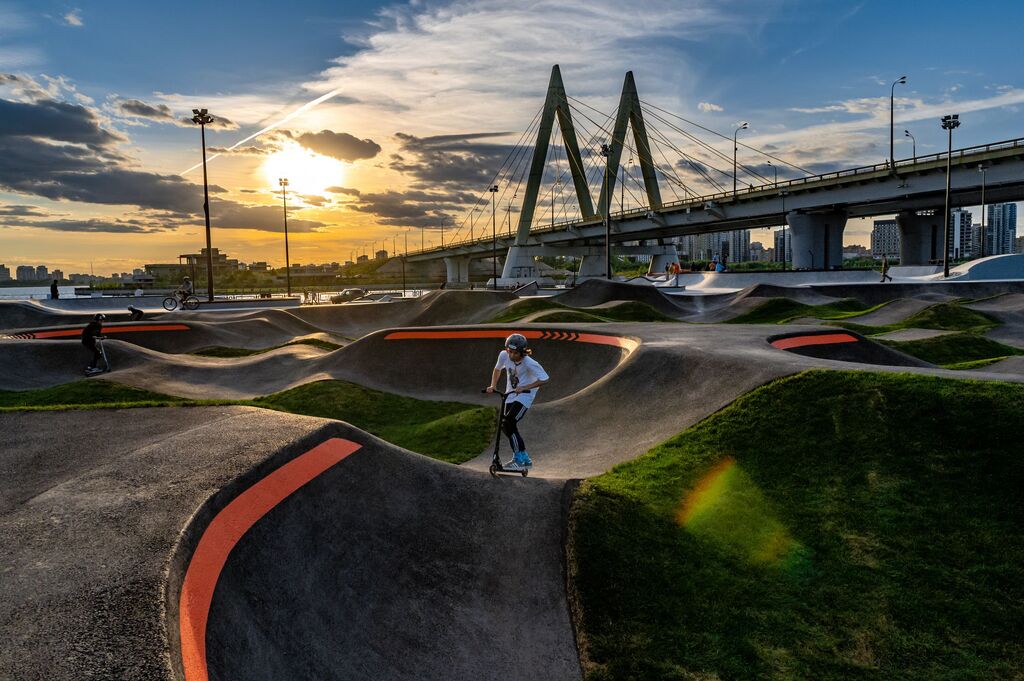 Source: arch2o.com
Now let's see various parts of the extreme park one by one: 
Concrete Skateboarding Bowl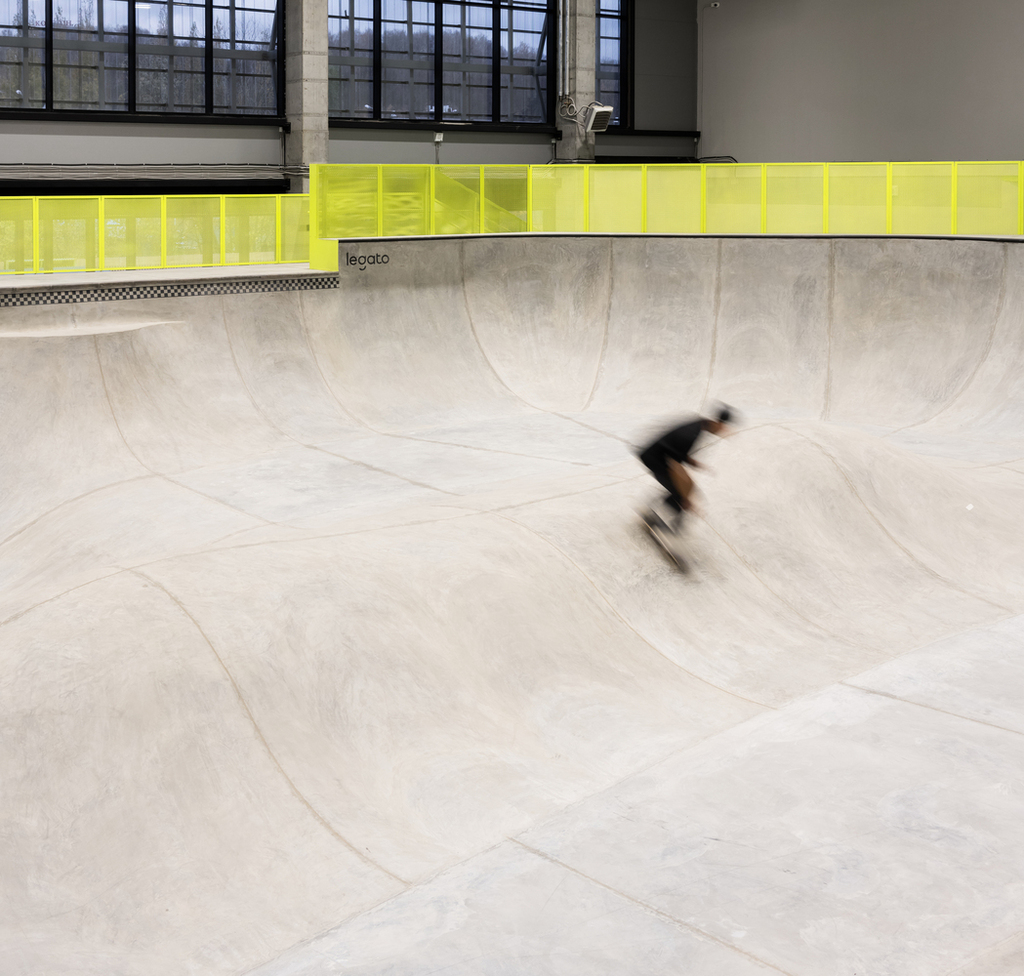 Source: adsttc.com
This space is actually a deep bowl for skating, which is designed for competition as per the key rules of skateboarding. The chief designer of Legato Sports Architecture, Vasily Borisenko, worked with John Magnusson on this concrete bowl. He is one of the most famous Swedish skateboarders.  
All the sports equipment related to skating is available. You can also climb the bowl using a ladder whose railings are painted in vivid volt color. 
Amphitheater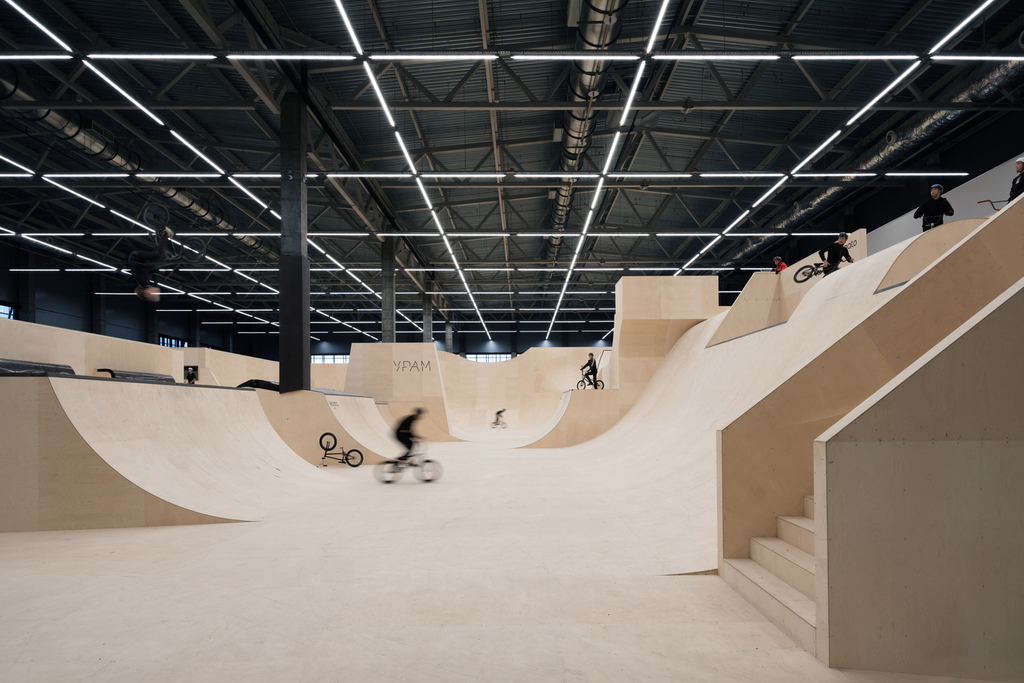 Source: adsttc.com
There is also a concrete amphitheater where athletes can relax and hang out after the training sessions. There are also unusual figures on the flat parts of the bowl so that players can practice and perfect their new tricks.  
The amphitheater also separates a large children's area from the main airpark by a wall for safety. This space is long enough to accelerate and make the skiing as safe as possible; some necessary figures are also assembled.
Also Read: The Pacifica Residential Tower Plus Architecture: Reshaping the Skyline
Plywood Sea for BMX Freestyle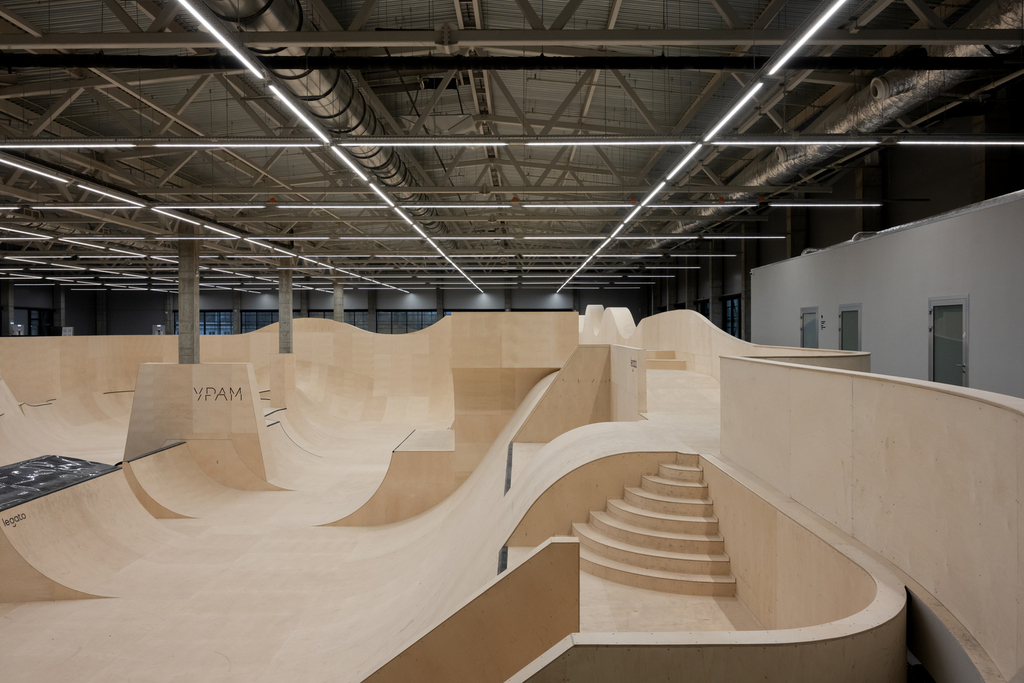 Source: adsttc.com
Though there are quite a few indoor wooden airparks in Europe, URAM is something so unique and different. In terms of scale and diversity, This place takes BMX freestyle training zones to a new level.  
There is a gallery on the second floor, from here people can watch the wooden airpark comfortably. This is because the space around the perimeter of the area is raised 4.5 meters above the floor. On the other hand, windows offer a beautiful view of Kazanka without blocking the views of the plywood park. Spectators, riders, and judges will be able to watch everything that happens below comfortably.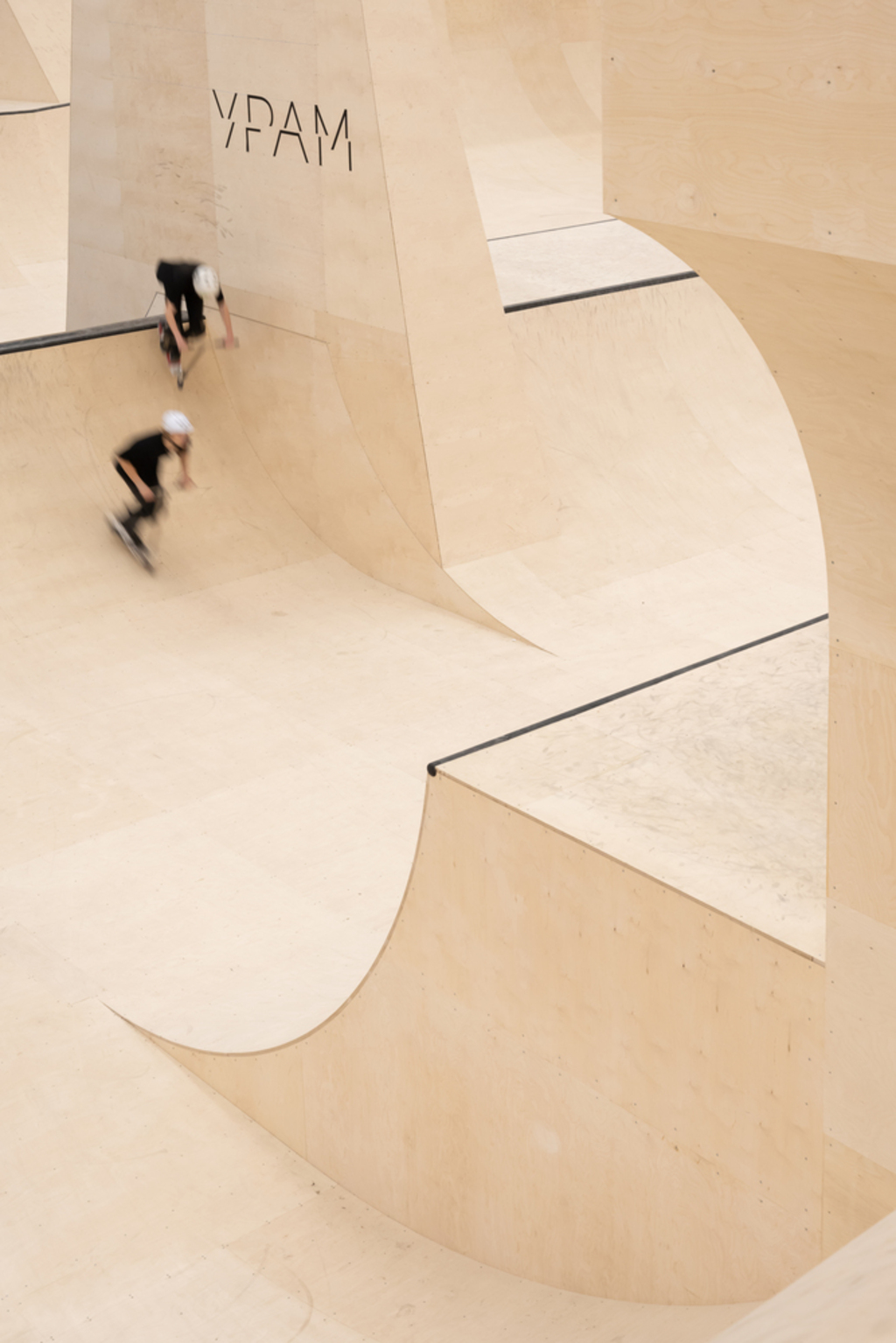 Source: adsttc.com
This Contemporary architecture was created as part of a program focused on improving Kazan's ecological situation and increasing biodiversity. That's why everything was made with natural materials. 
The architect explained, "that every extreme object was built while keeping surroundings and environment in mind. For Example, 
The facade of the airpark is made of larch. 

The hard coating of the streetball area does not emit harmful elements into the environment.

All the materials are durable. 

Instead of fences, skateable flower beds and green spaces were used."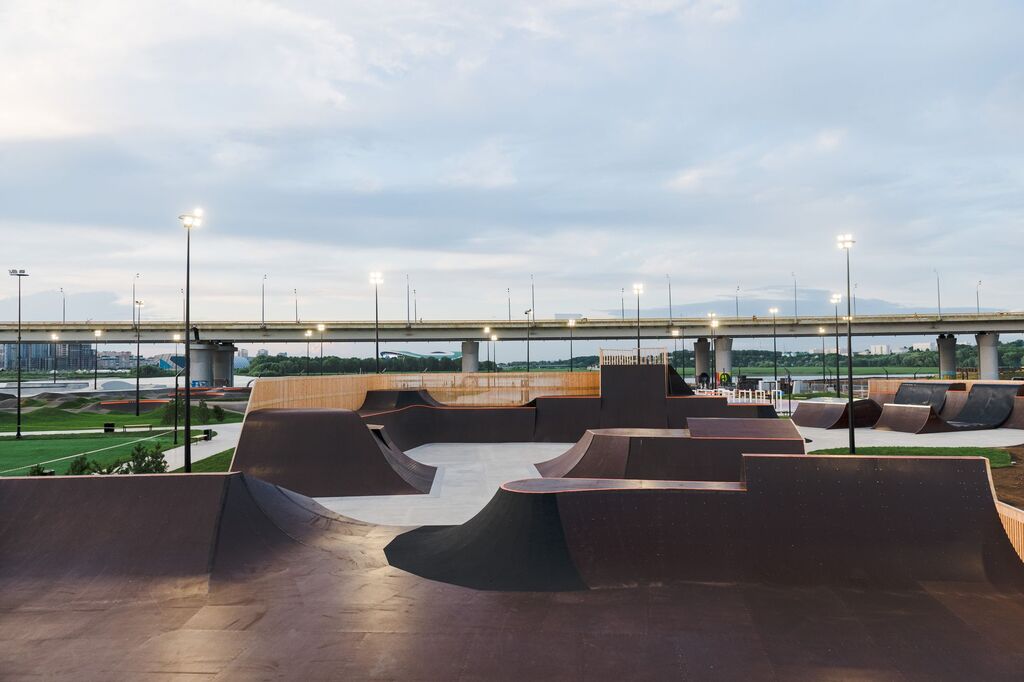 Source: arch2o.com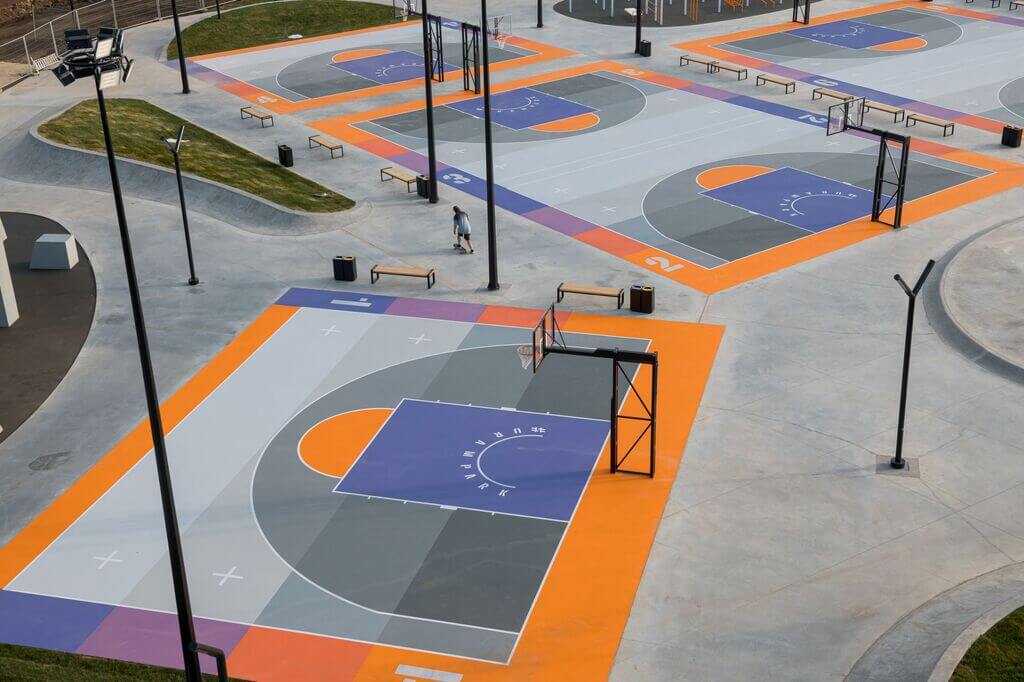 Source: arch2o.com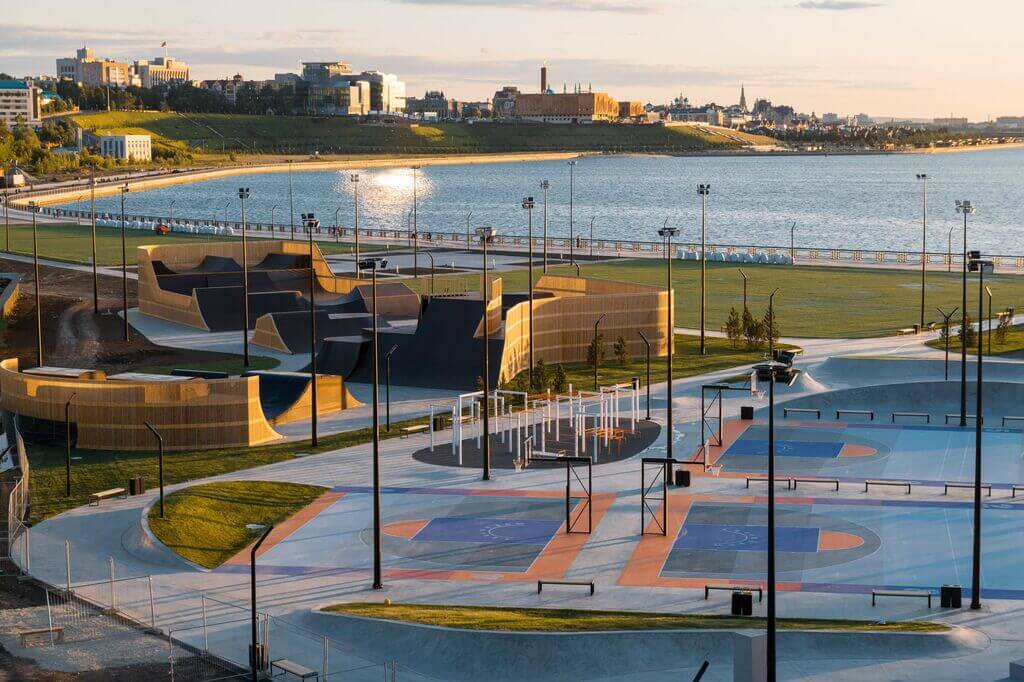 Source: arch2o.com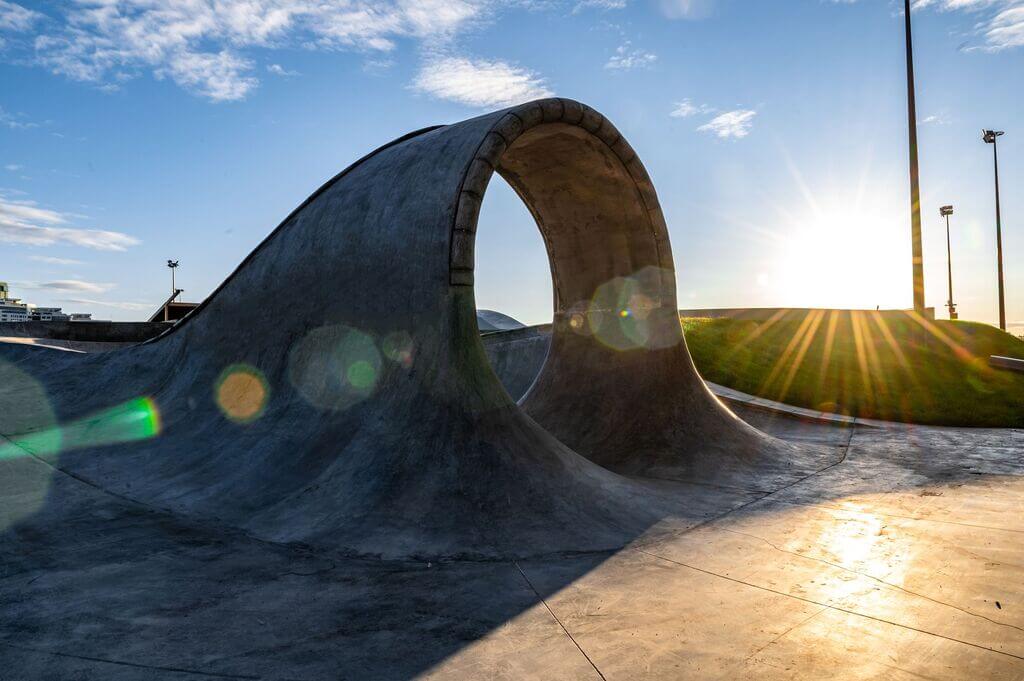 Source: arch2o.com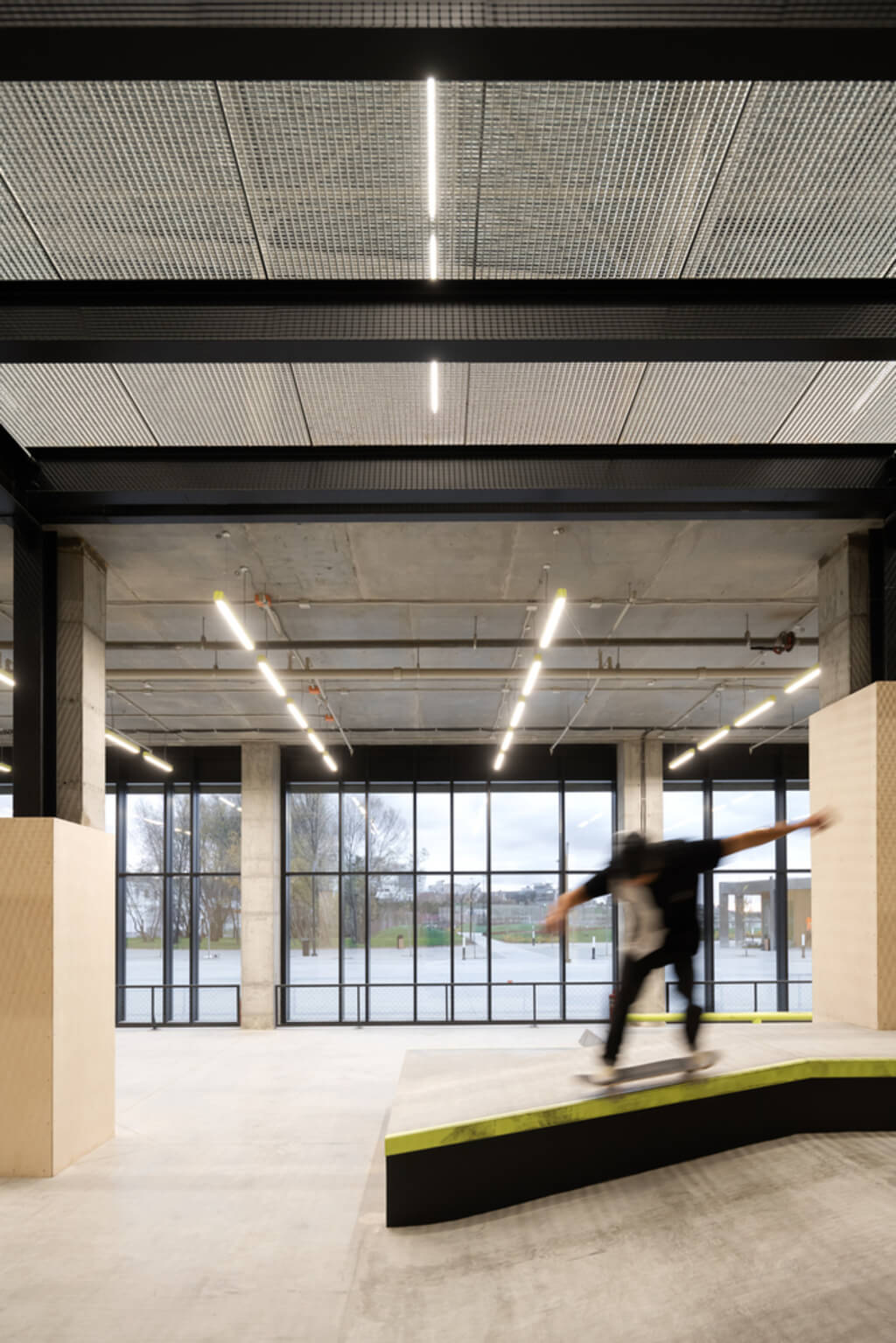 Source: adsttc.com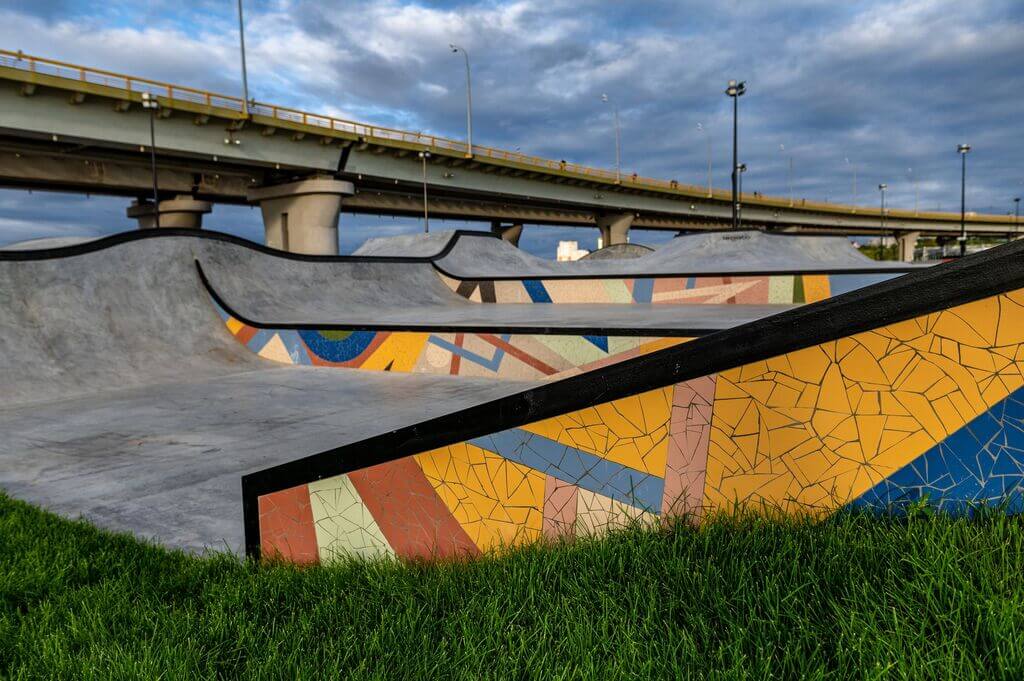 Source: arch2o.com
The Bottom Line
So, this is all about URAM Extreme Park by KOSMOS Architects and Legato Sports Architecture. The architects and designers paid attention and adjusted every detail, and that's why they were able to achieve the perfect result. It becomes one of the city's focal points as it is located in the middle of the pedestrian route between Gorky Park and the Kremlin. So, URAM Extreme Park attracts even more visitors every day. This public space with all the details, high-class facilities, and training areas will surely make the riding and training process exciting and fruitful for athletes.
I hope you liked this blog about URAM Extreme Park Russia. Share this blog with your family, friends, or anyone who is an athlete and lives near this park. Tell them all the new features, advanced technology, and overall how cool the URAM Extreme Park is. 
To know more about the various types of architecture and home improvement techniques and styles or decoration ideas, explore Architecturesstyle. For daily updates about architectures, don't forget to follow us on our Instagram page, Architecturesstyleideas.
Himadri Shakya
Himadri Shakya is an enthusiastic Content Writer and Editor. She loves to create creative, engaging, and SEO-friendly content. Through her extensive research skills and practice, she has been generating high-quality and informative articles, and blog posts for over 4 years.
Related posts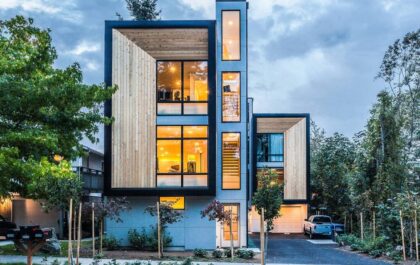 27+ Stylish & Modern Townhouse Designs for Urban Living.
The townhouse's first impression is normally too small, too compact, too narrower, and the list is endless. Well, let us…