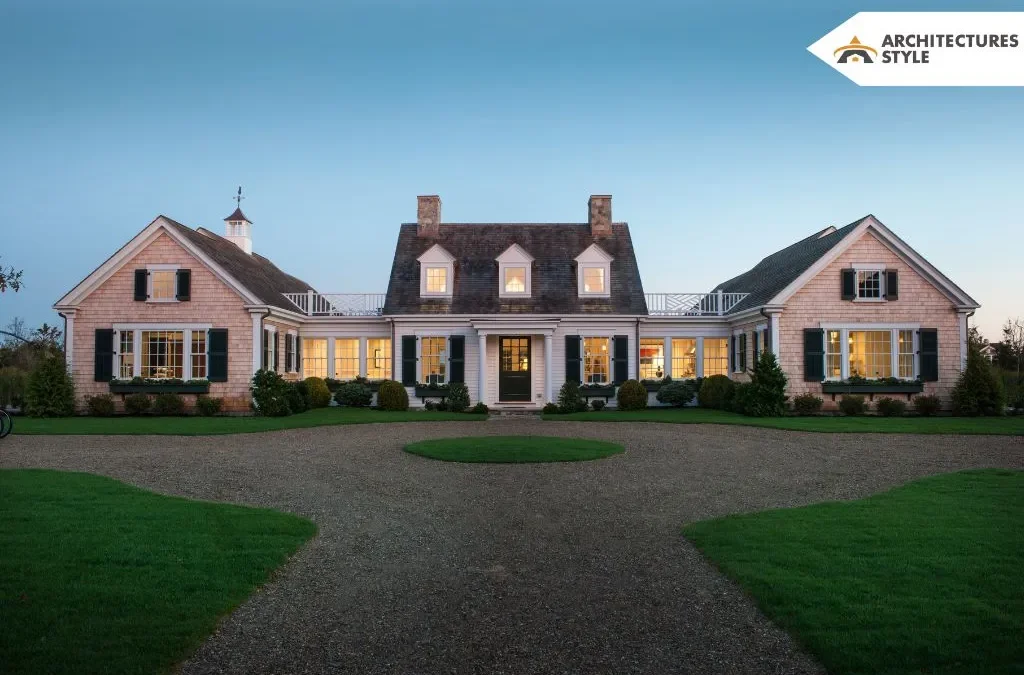 Everyone wants to live in their fantasy dream houses!

Living in our dream home is the desire of everybody, right! Whether big or small, we all want to live in a house where we can feel comfortable and safe.

A swimming pool? A theatre room? A large backyard? Enormous bedroom? What's your desire that you want to include in your dream house?

We all have a list of things we want in our dream home. For some people, it's about architecture, whereas for some, it's the decoration and fancy amenities and luxury bedrooms.

If you're planning to buy a home or want to construct the house of your dreams, this guide will surely help you. After all, there are a lot of things to consider while building any type of home, like where it should be located? What style should it be?

You have to think about everything in detail, from its architecture and style to interiors and exteriors. Constructing a house is not an easy task; after all, we have to keep so many things in mind.

Today in this blog, we're going to tell you how to build your dream home and what are the important things that you should know while constructing your place. We've also included the modern simple dream houses in the world. So keep reading till the end.
7 Most Popular Beautiful Dream House Styles of the year
Before jumping on the interiors and decors, the very first thing that you should be clear about is the style. Yes, it is super crucial to know the architectural style. What type of house style do you want? There are so many different types of house styles these days like modern, contemporary, traditional, and even some fusion and mixed styles are also popular.
So sometimes it's really confusing which way to go, right? Don't worry; we've gathered up all the dream house styles here. So read about each home style and figure out what works for your space!
Let's start with the dream houses styles:
1. Contemporary Homes
Contemporary style is one of the top types of houses that are popular not today but for so many years. You can never go wrong with a contemporary style, no matter where you're living (in terms of style and climate).
Contemporary style mainly consists of simple lines and geometric forms. Yes, the simplicity with a modern touch makes this style so distinctive and popular. You can immediately notice a contemporary room from its clean, bright, and airy look. This style consists of large glazed surfaces and bold contrasting colors. There will be a mixture of these elements in various shapes, shades, and materials.
Another architectural detail of contemporary homes is the flat roofs and simple exteriors. Don't confuse contemporary with modern in terms of both architecture and interiors.
Contemporary homes mostly have a monochromatic color scheme and minimal ornamentation. But these days, many homes also have a mixture of elements, whichever architecture is in trend at the moment.
2. Cottage-Style Houses
A cottage style is basically a kind of tiny home that is a mixture of various architectural styles and designs. The cottage style is generally inspired by the countryside homes in the medieval period in England.
All in one, we can say that the cottage style typically refers to a small cozy home in the countryside. Most people also consider these homes as summer homes or vacation homes.
Houses in this style can be both single story or multi-story. However, these homes are not only limited to rural areas but can also be seen in urban sites with modest residential functions. Cottage-style houses feature stucco walls, bay windows or windows with small panes, steep roof pitches, shingled balconies, and small porches.
Types of Cottage Styles
English cottages

Nordic cottages

Canadian cottages

American cottages

South African cottages
3. Craftsman Houses
If we talk about the exteriors, the craftsman homes have low-pitched roofs with wide overhangs and exposed rafters. These houses are one to one and a half stories tall.
Which typically have wide, open front porches.
If you see the interiors, they're quite welcoming and cozy. Mostly woodwork is used in these interiors, which makes the ambiance warmer. This style was quite famous during the time period 1905 to 1930, and now it's coming back again.
4. Victorian Houses
The Victorian era is between 1860 and 1900, and the buildings constructed during this time period have really eye-pleasing and detailed aesthetics. You can immediately recognize a Victorian house by its Gothic influences and intricately designed woodwork.
Even the interiors have tall ceilings, and they are filled with lots of patterns, textures, and colors. A Victorian-style architecture won't get complete without the steeply pitched roofs with a front-facing gable and way windows. Apart from these features, these residences also have wraparound front porches, cylindrical turrets, roof towers, and way windows.
5. Tudor Style Houses
Tudor houses originated in England during the 16th century. Today's Tudor homes are based on this style but feature an updated and revised look. They have steeply pitched roofs, cross gables, and tall and narrow windows with small panels.
Want to know more about Tudor style? Read our previous blog, Everything You Should Know About Tudor Style House, and get every single detail about this unique house style.
6. Cape Cod Houses
Dated back to 1675, cape cod homes are one of the top and most recognizable American architecture styles. Previously cape cod architecture featured small and dormer windows, but now houses with this style are much bigger. These homes feature steep rooflines, wood siding, and windows with panels.
If you see the features, you'll know that this architectural style is pretty similar to the traditional American Colonial homes. Cape cod houses either have a single floor with an attic or a smaller upstairs area.
7. Mediterranean Style Homes
If you notice homes with a large, symmetrical facade, U-shaped floor plans with a central courtyard, and a fountain, there is a high chance that it is a Mediterranean-style residence. These houses often feature wrought Iron balconies, window grilles, and decorations.
When it comes to interiors, the rooms are specifically designed so that they're open to outdoor areas like the garden and backyard. Also, this style features low-pitched roofs covered in red tiles. Other than this, architectural elements like the arched windows and doorways are pretty common in the Mediterranean style.
There are three distinct styles of Mediterranean architecture:
Italian Renaissance

Spanish Revival

Modern Mediterranean
Now you know about the dream house style, let's move on to the next important part: the house exterior siding materials. Yes, there are so many different choices available out there. You can also consult your designer and architect and get the best one according to your house style and budget.
Dreams House Exterior Siding Materials
We just don't select the material just because we love the overall look; even though it is also an important part, you should also make sure about the siding as it will protect your home from all weather conditions. You should also consider elements like climate, look, texture, and durability while picking the exterior siding for your property.
Below is the list of the most common exterior siding materials used in the US.
Stucco
Stucco is a cement-based plaster that is applied to the walls, and sometimes, it is also used on other surfaces. This material is affordable as compared to brick or stone. However, it is not suitable for people living in humid climates as the climate can wear down its surface over time.
Wood
Wood is a magical material because whether it's modern, contemporary, or traditional, you can literally create anything. The natural charm and beauty that you'll get from the wood are unmatched. That's why it has been a popular siding material for many, many years.
So if you like to give your exteriors a classic and timeless look, you can go with the wood. However, wood requires regular maintenance, and it is also susceptible to insect and rodent infestations.
Fiber Cement
Fiber cement (composite) is made of cement and cellulose fibers, and it generally comes in the form of sheets. These fiber cement sheets are easy to install and clean.
Dream House: Top 10 Wish List Ideas
If budget weren't a concern, what are the things that you want to add to your dream place?
So many things, right?
We've gathered up some of the top ideas to give you some inspiration. These rooms and ideas are commonly seen in many luxurious mansions or, more precisely, dream houses worldwide. These are some of the things that all dream houses have in common.
From simple and basic rooms like laundry and garage to creative and extravagant things like an indoor pool and home theater, people desire a lot of things in today's dream home.
So are you excited to know about them?
Here are some of the important things to add to your dream home wishlist:
A grand kitchen
Indoor Swimming Pool/Spa
Fitness Room / Home Gym
A Large Outdoor Patio
Media Room / Home Theater.
Game Room / Bowling Alley.
Wine Cellar
A Walk-in Closet
Home Library
Mud Room
Top 5 Dream Houses in the World
Below is the list of some of the best dream homes on this planet. Let's take a tour:
1. The Wall House

Architects:

Guedes Cruz Architects

Type:

Residential (Private House)

Year:

2016

Size:

10,000 sqft – 25,000 sqft
Located in a coastal town, Cascais, also known as the Portuguese Riviera, the wall house is a modern private residence. Designed by Guedes Cruz Architects, this home is majorly made with concrete, wood, and glass.
However, that's not the focal point. The most surprising thing about this place is the two swimming pools. One is located on the patio; the other one is suspended above it. The sea gives extraordinary views and allows the fresh breeze to come inside. You'll feel that you've entered a whole new world when you enter this space.
This detail makes this home a dream place to live in. What do you think?
2. The Jungle House

Architects:

Samanta Cafardo, Studio MK27 – Marcio Kogan

Area

: 805 m²

Year:

2015
Do you have a dream of living in the middle of the woods?
If yes, this house can be your biggest inspiration.
There are so many things that can make anyone fall in love with this place. From its raw concrete architecture to the infinity pool on the rooftop, there is so much to admire, apart from its gorgeous location.
Perfect habitat for those who want to live in the middle of the rainforest with greenery and nature. The jungle house in Sao Paulo was designed by Studio MK27. The owners wanted to have a connection between the indoor and outdoor areas.
3. Villa K

Architects:

Paul de Ruiter Architects

Area:

248 m²

Year:

2014
The homeowners of this place have a big desire to live eco-friendly and to be close to nature. Paul de Ruiter Architects decided to develop the "Villa K" project in Germany.
In order to make the residence sustainable, architects have constructed the home with only glass, steel, and concrete. The glass facade is beautifully integrated with the surroundings and also provides unobstructed views to the residents. There is also a U-shaped terrace and a patio which is partly indoor and partly outdoor. The roof is also surrounded by a garden where vegetables and fruit trees grow.
4. Dream House

Architect:

Kipseli Architects

Type:

Single-Family

Size:

5,381 sq. feet

Year:

2015
Situated by Kefalari, Athens, the "Dream House" was designed by Kipseli Architects. This residence is a perfect example of a mixture of both traditional and modern elements.
You can see how architects have used the old, the classic, and the antiques, and with the contemporary architecture, simple geometric forms. This creates a sense of purity and color. According to architects, these "old" and "new" elements act like two pieces of a three-dimensional puzzle.
5. Spa House

Architects

: Metropolis Design

Year

: 2011
Located in Hout Bay, on the coast of Cape Town, in South Africa, the spa house is a contemporary residence. Completed in 2011, the house was designed by Metropolis Design.
One of the best features of this project is the underwater room. You can see the overall design is highly connected to the water and its surroundings. The unique architecture with a peaceful ambiance will provide the habitats with a serene and relaxing experience.
Do you need more inspiration?
Scroll down; here are some of the best dream houses in the globe for you to get inspiration to construct your place:
Build Your Dream Home with Love!
So, this is all about dream houses. No matter how big or small you want to build your dream house; construction is always a tiring and time-consuming process. From checking local building codes, selecting the perfect design to materials, and of course, costing, there are a ton of things that you have to consider. After all this hard work, you'll get a place which you can call 'home' and live peacefully with your family and loved ones.
Investing in a home is a one-time thing in our lives, so it's always good to research a lot and include the things that you love. I hope this in-depth guide on dream houses has given you complete information. Now you know what to include, what kind of architectural style you want and which type of rooms and amenities you want in your house.
So, if you find this blog on modern dream houses ideas informative and helpful, share it with your family and friends or anyone who is also seeking some house inspiration.
For More Information