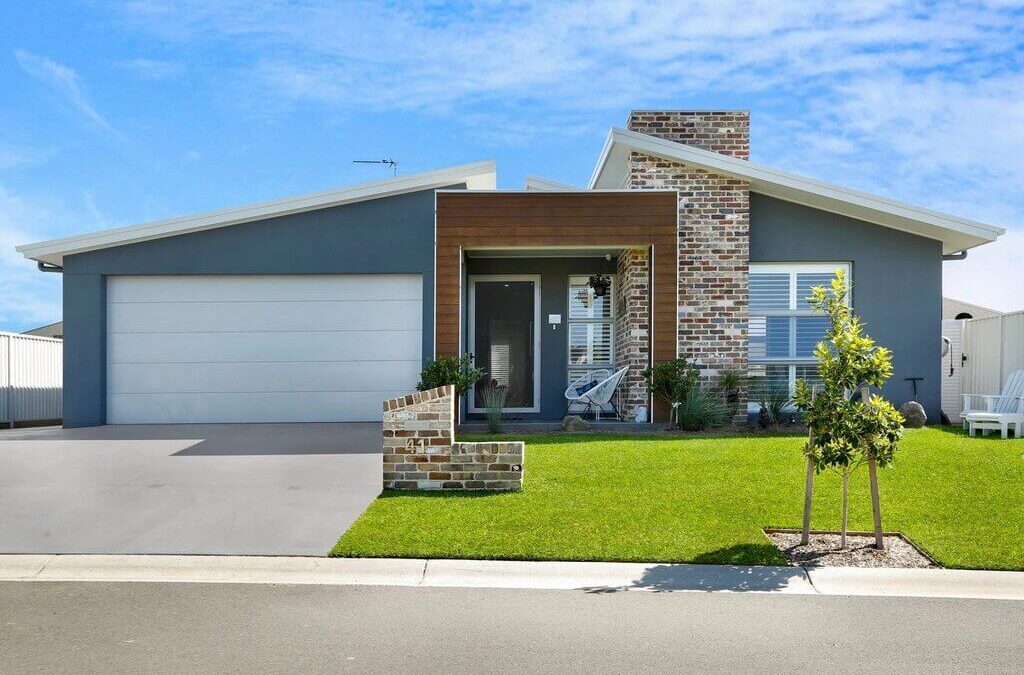 30+ Modern House Design Single Floor Ideas of 2023  
archistyladmin, 9 months ago
11 min

read
6935
Home: This is the place to find happiness. If one doesn't find it here, one doesn't find it anywhere
There are a lot of things that you will have to think about while constructing a home, including design, layout, structure, interiors, and thousands of other things. Even if you hire an architect and designer for the construction, you still have to tell your requirements to them so that they can create and build exactly what you want.
That's because your dream house isn't going to build itself!
And one of those many important things, there is also house design. This is one of the initial steps that are crucial to consider. The right house design will uplift the exteriors of your property while increasing the curb appeal. Nowadays, one of the top house designs is house design single floor style! 
Many homeowners prefer single-story house designs over double or multiple stories. Even if it is a one-floor design, you'll get a wide range of options in design style. So whether you're looking for a modern home design, traditional or cottage style, house designs like the single floor can easily fulfil your dreams.
So if you're planning to build a new home or just want to renovate your existing house, keep on reading. 
Today in this blog, we're going to tell you about the single story house designs. From the advantages of living in a single floor house to things to consider while designing a single floor, we've included everything. Apart from this, we've also gathered up more than 30 house design single floor ideas for you. So keep reading till the end and find the best design for your dream home.
These days, one story homes are so popular. You can literally see these homes everywhere, from Instagram feed Pinterest boards to even in your neighborhood. 
So what's the reason behind their popularity? 
One story house plans are simple, and they have almost every feature and functionality that you could find in other types of houses. Apart from this, these types of architectural-style homes work well in warm and windy climates.  
Apart from these, there are many other benefits of house design single floor style. Let's see what those are?  
Advantages of Single Floor House Design
Easier to Maintain
Single floor house designs are so much easier and more comfortable to maintain. This means you have to do less cleaning, fewer house chores, and the overall general maintenance (both internal and external) is low. 
Ease of Mobility
These types of house plans have everything on a single level. From the kitchen, bedrooms to the bathroom, and laundry areas, everything will be on the ground floor. This means you can easily walk up to any space, unlike double story houses where you have to use stairs to go up and down multiple times in a day. 
Perfect for All Ages 
House design single floor style is ideal for families with toddlers, older or disabled members. Senior citizens generally use wheelchairs, and it will be so hard for them to move on to the higher levels of the house. A ground floor elevation prevents accidents; that's why it is safer. 
Lower Overall Costs
A single-story home design is way more affordable than a two-story house in terms of both construction and maintenance costs. From utility bills, electricity bills to appliances and furniture costing are less in one-story homes as compared to multiple ones. 
Top 30+ Simple Modern Single Floor House Design & Ideas of 2023
1. Contemporary Single Floor House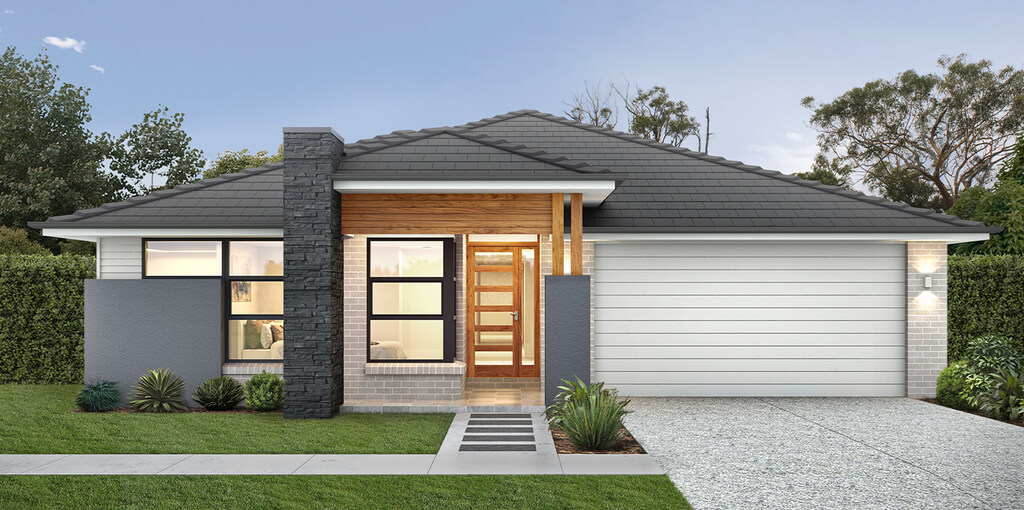 Source: realestateconnected.com.au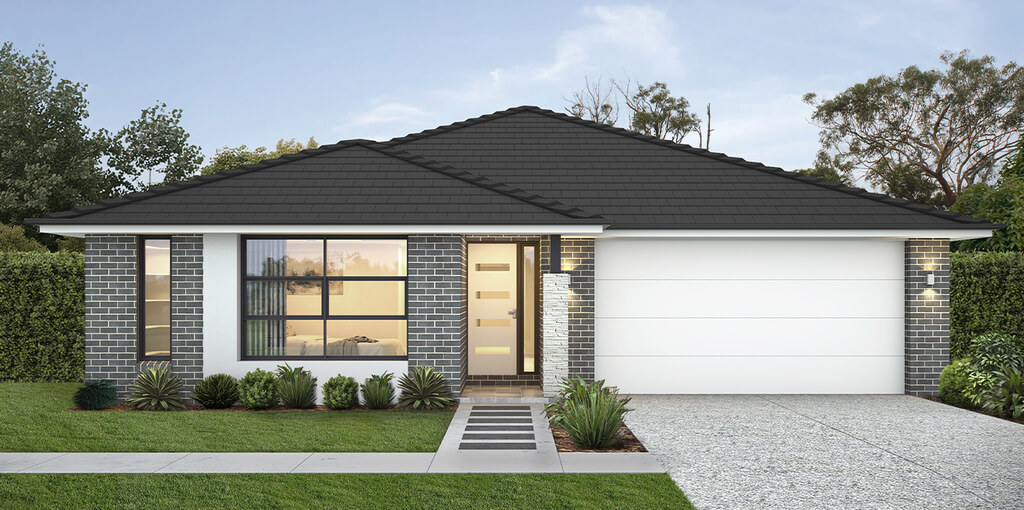 Source: realestateconnected.com
This is a contemporary house design with a 4 bedroom plan. With a 249.33 square meters area, this home is perfectly suited to modern family living. This home features an open plan layout with 4 spacious bedrooms, 2.5 bathrooms, and two big parking spots. 
This place has all the amenities and practicalities that provide a modern, busy lifestyle. There are many interesting things, from an open-plan kitchen to two living areas and plenty of storage. There are also two study/IT nooks from which you can convert one to a bar to entertain your guests on your alfresco.   
2. Simple Single Floor House Design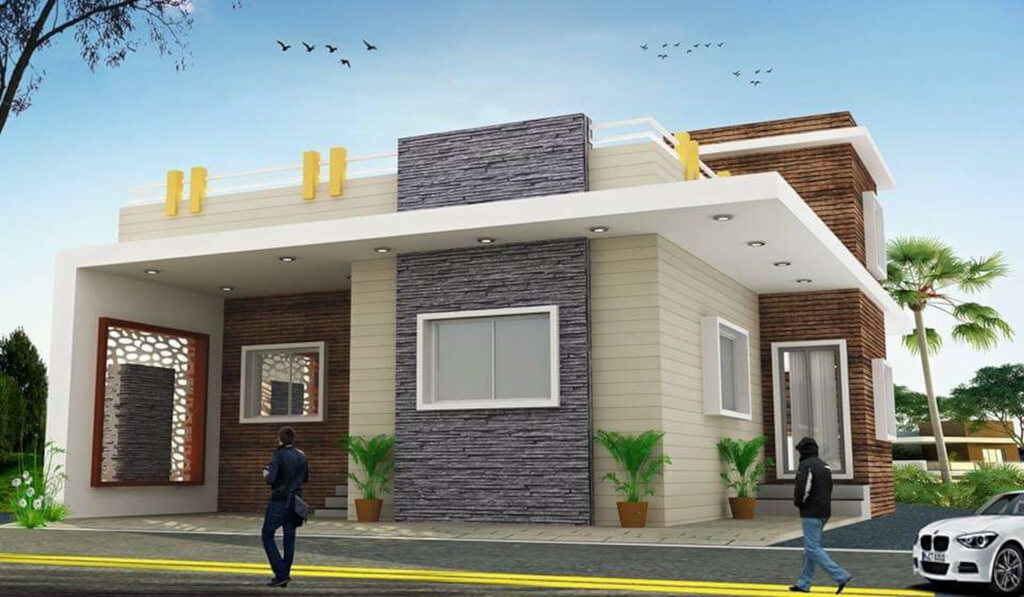 Source: proptiger.com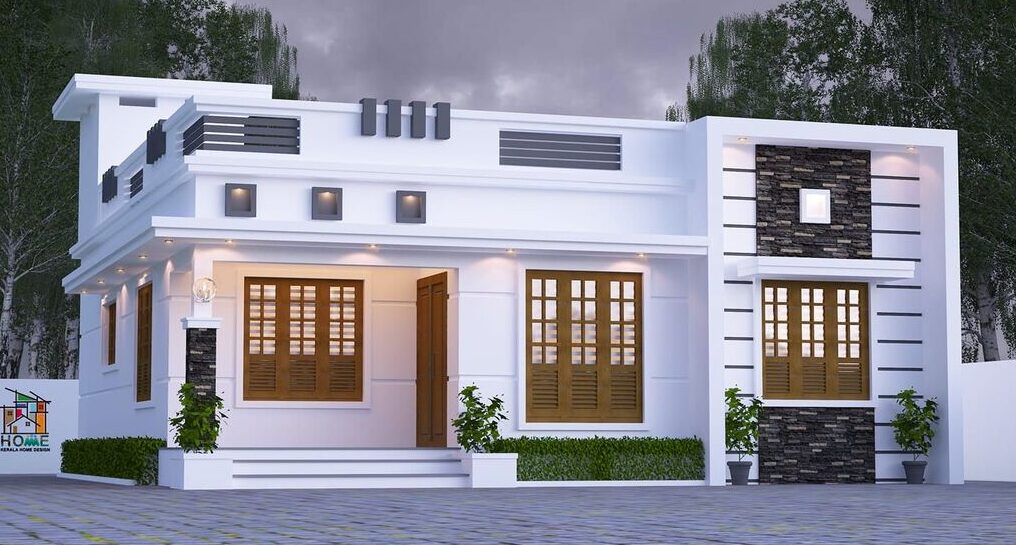 Source: pinimg.com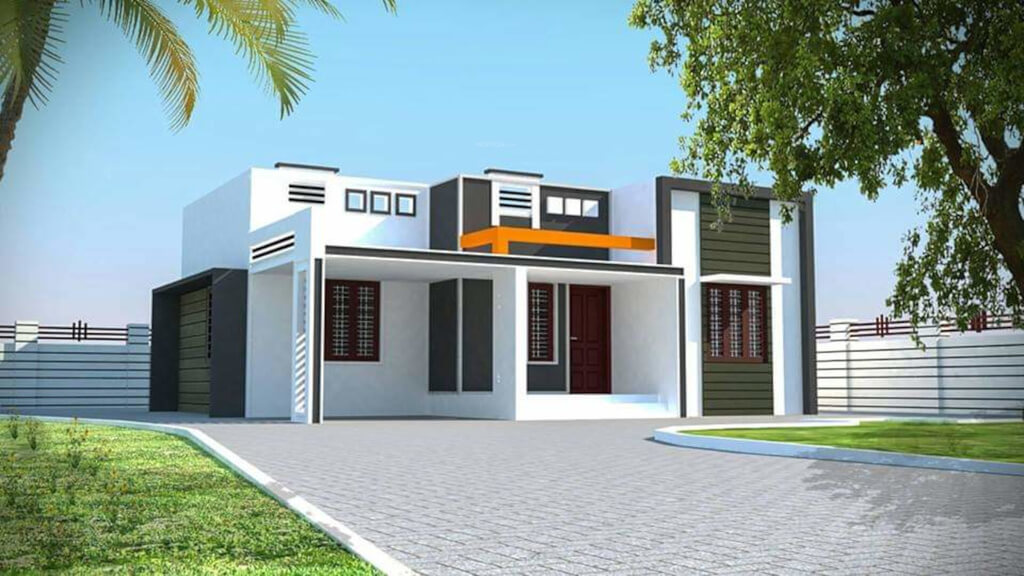 Source: proptiger.com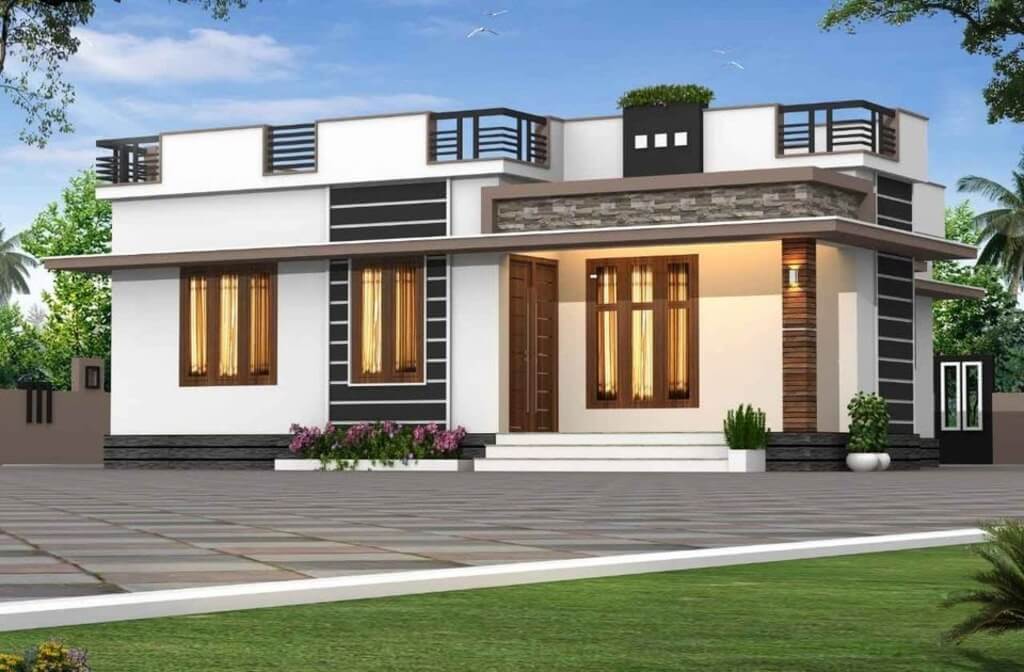 Source: blogspot.com
Do you desire a modern home with simple exteriors? This can be possible with this design idea! 
Top architects and designers also said that "modern houses don't need to be luxurious and fancy." 
You can have a simple look with a modern home. Look at the above pictures of the house design single floor plans. These homes are simple, but their design is so attractive. You can see that various elements like natural stone walls and bright colors have been used. So if your single-story house exteriors look monotonous, add a touch of striking color.  
3. Modern One Story House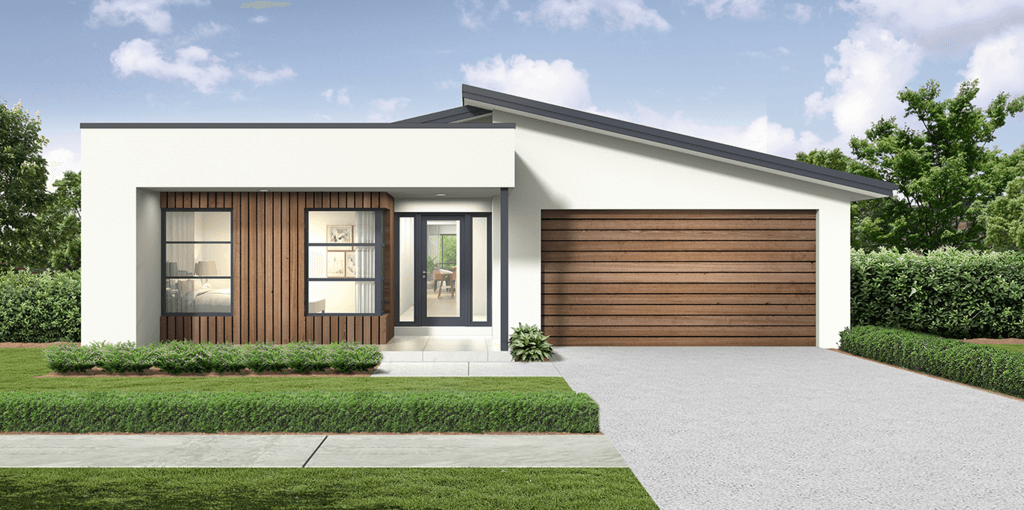 Source: realestateconnected.com
This 4 bedroom home design is great for sites with a 14.4m frontage or wider. Modern single floor house design has two living areas, a separate home theatre room, and an optional huge alfresco area. So even if you have a medium to big family, you can go with this house plan. 
However, the main highlight of this property is the functional mudroom. Yes, a mudroom is included in the main layout to keep dirt and mess at the door. Apart from this, you'll also have multiple facade options and storage, which makes your life so convenient and easy. 
4. Single Story Wood House Design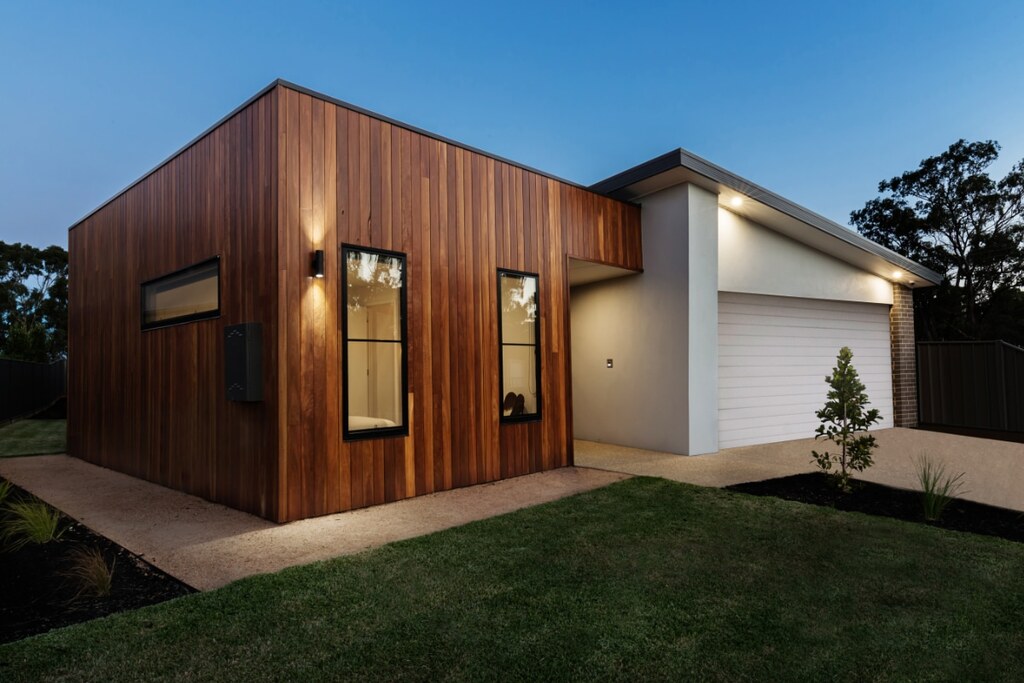 Source: gevelbekleding-info
People who love contemporary elements like wood can actually use it on a bigger level. The owners go with a half and half concept in the above house. Half the exteriors are wooden, and the other half are plastered and painted white. This adds a great contrasting effect and modern touch to the property.  
5. Luxurious Black Modern House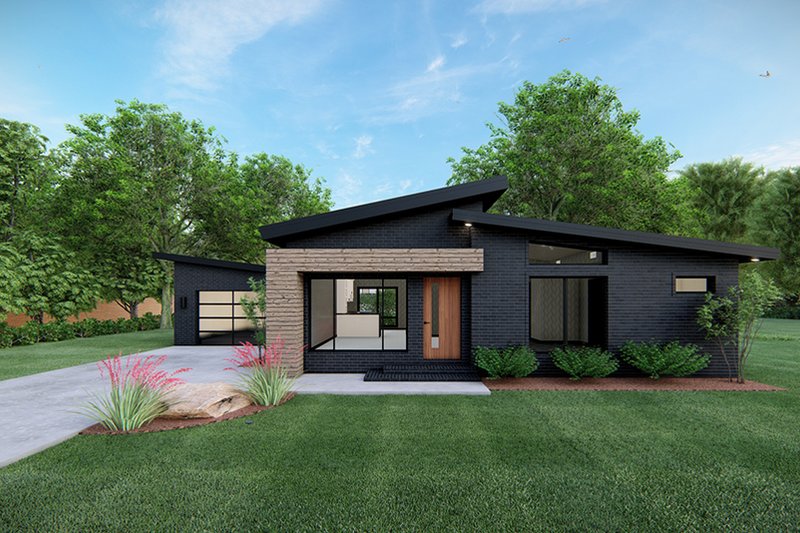 Source: houseplansservices.com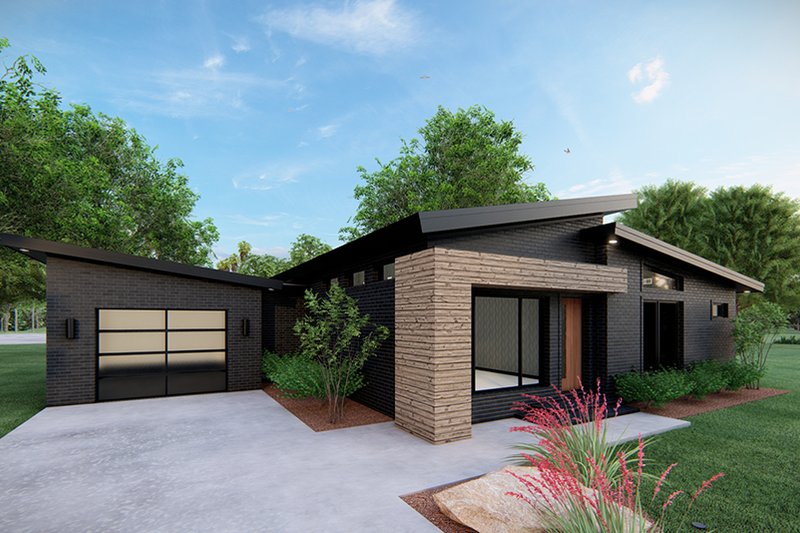 Source: houseplansservices.com
Black houses are one of the most popular house types right now! 
The above black villa is a single story that features three bedrooms, 2 baths, and 1 garage. Other than this, it also has many attractive things such as a walk-in closet, eating bar, walk-in pantry, and lots of storage. 
This house proves that you can actually live a luxurious life regardless of the space, even in a single story house like this. 
Black Villa New York in Harriman State Park
6. A Single Story HillSide Home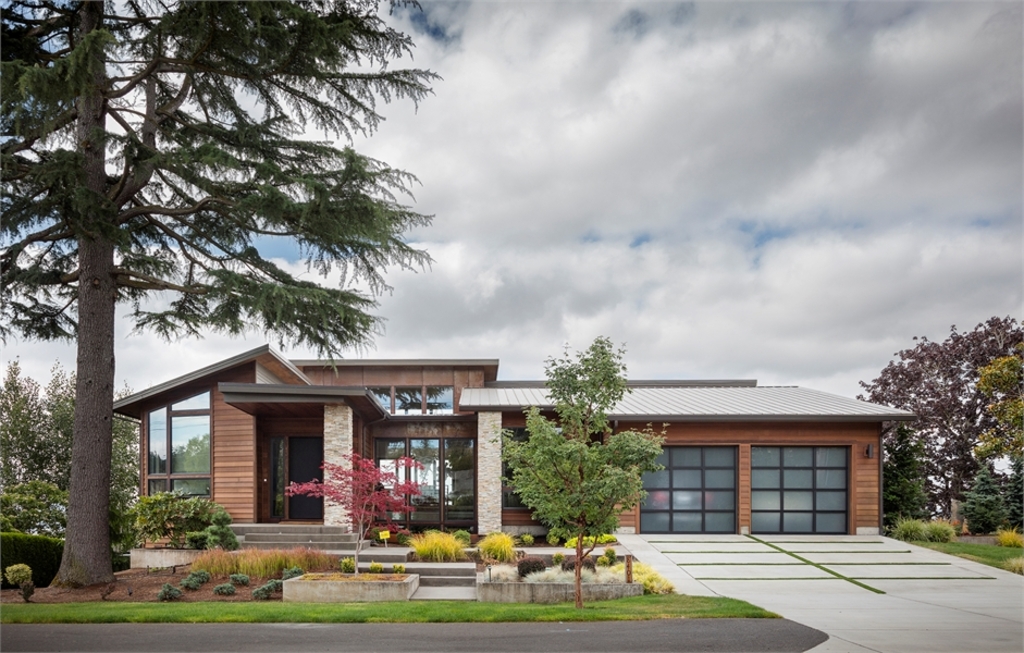 Source: thehousedesigners.com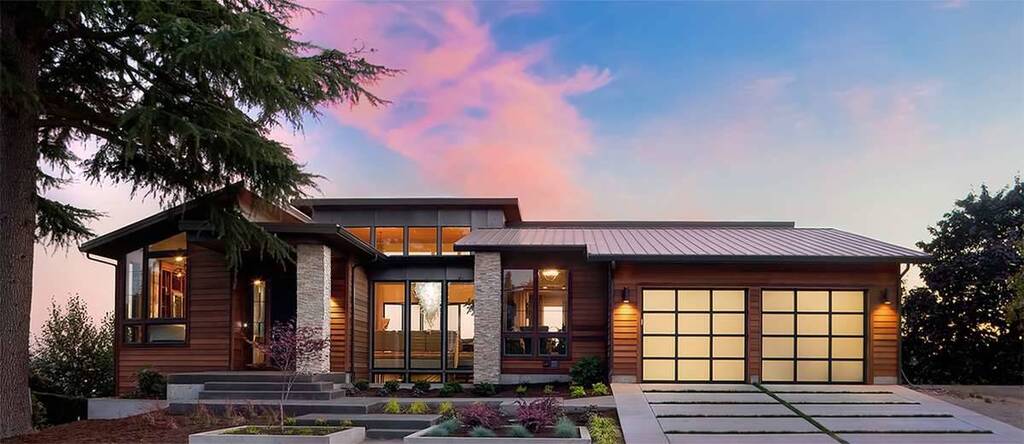 Source: thehousedesigners.com
Do you dream of living on the top of a hill in a luxurious mansion? If yes, make that dream come true with this house design. Just next to the sliding doors, there is a vaulted nook that can be used as patio seating. 
This property is located on a hillside and has amazing features like a lovely entry foyer with stone columns, a wall of windows, and so many more. With two levels, here in this home, there are three bedrooms, a laundry area, a game room with a built-in entertainment center, and a snack-bar area. This ultra-contemporary hillside house plan is planned in such a way that it looks ultra-modern with all the comfort. 
Want to read more about hillside homes? Read our previous blog on Luxurious Modern Hillside Pretty Houses Ideas. 
7. Low Cost Modern Single Floor House Design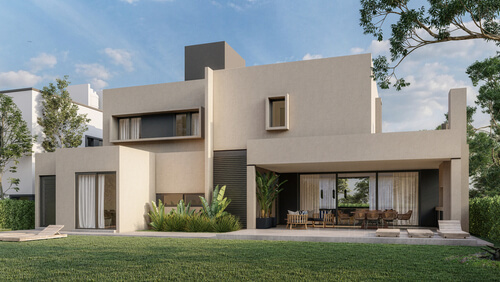 Source: housing.com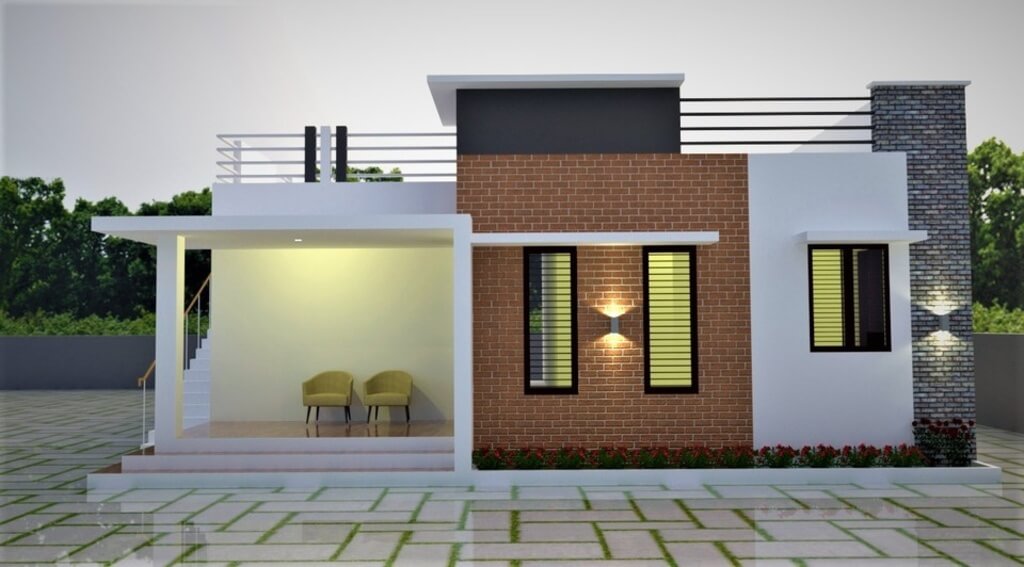 Source: tricitypropertysearches.com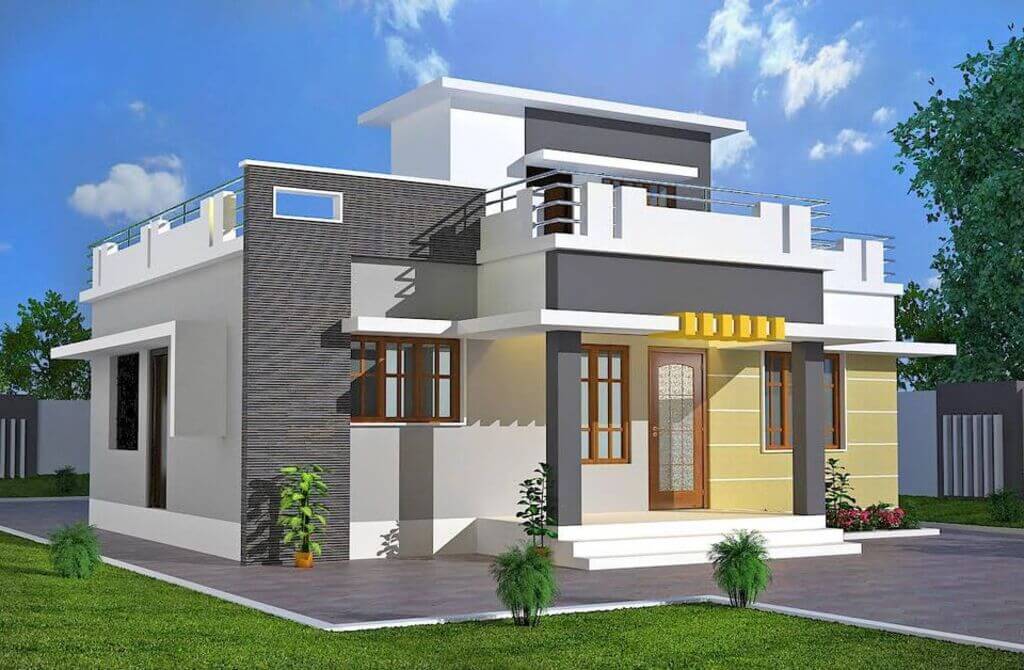 Source: homepictures.in
We all want a home that looks stylish and modern but provides a comfy lifestyle and also builds in our price range. 
Compared to duplex and multi-story homes, the house design single floor plans are a little short on space, but if the layout is designed carefully, you can have spacious space for living. And you can save a lot of money on staircase designs and that too without comprising the area. Apart from this, there are many other cost-cutting reasons because there are no upper floors.   
So if you're looking for some cost-efficient single-floor house designs, take a look at these low budget single floor house designs.
8. Single Story Mansion Floor Plans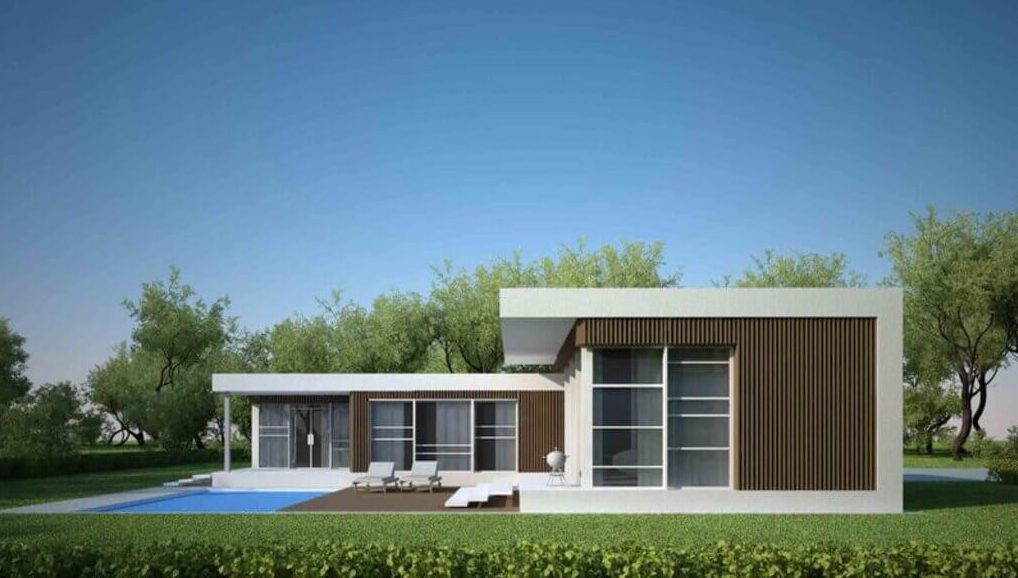 Source: houseplansservices.com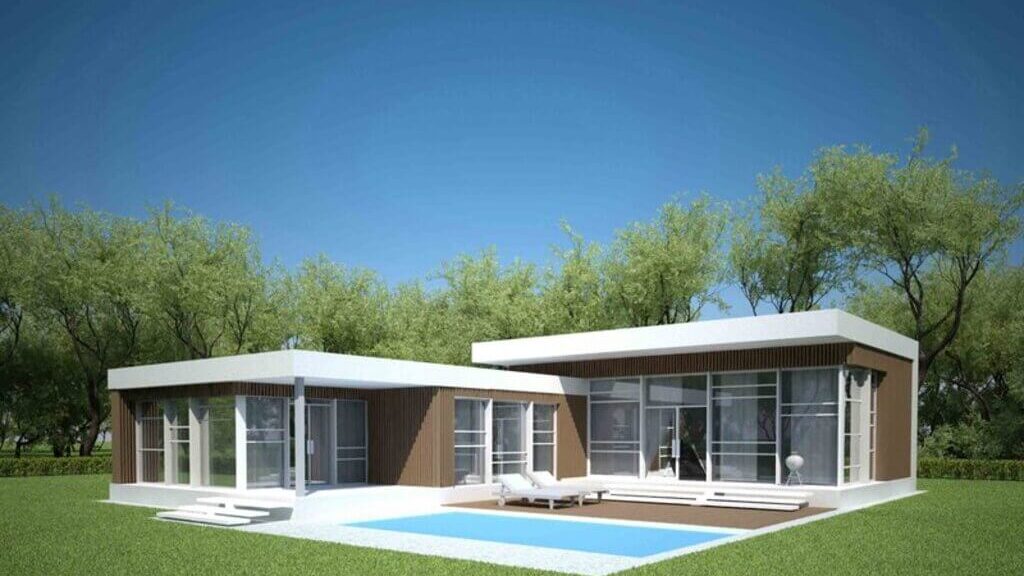 Source: houseplansservices.com
With a total of 1539 sq ft, this is a modern single story mansion. This modern bungalow design features 3 Beds and 2 Baths. Although there is no garage space, it has many other things like extra room for storage, a study area, a garden, and an outdoor space.  
With a minimalist exterior design that features a subtle and clean look, these types of single story bungalow houses usually have multiple access points to the outdoor spaces. Even though it is a single story bungalow house plan, the private and public spaces are well defined. 
So if you also want to live in a luxurious home, consider these types of single story bungalow floor plans and ideas. 
9. Single Floor House Design with Sloped Roofs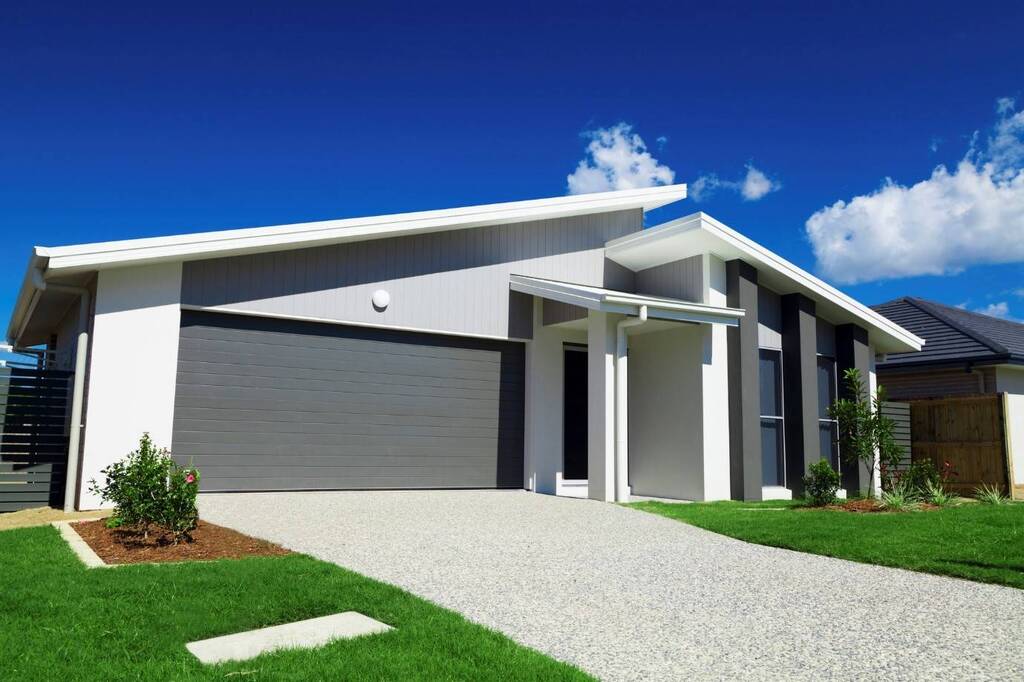 Source: cfsols.com.au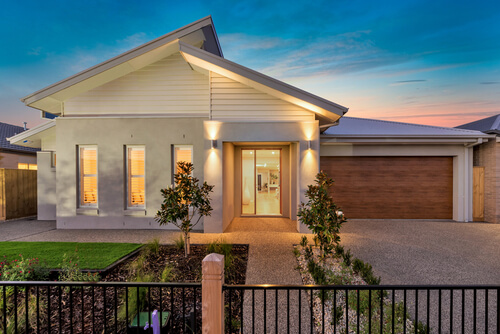 Source: housing.com
Another popular single story house design is the home with a sloped ascending roof. These house plans feature plenty of outdoor space, which can be used as patios and outdoor space. 
10. Kerala Style One-Floor House Design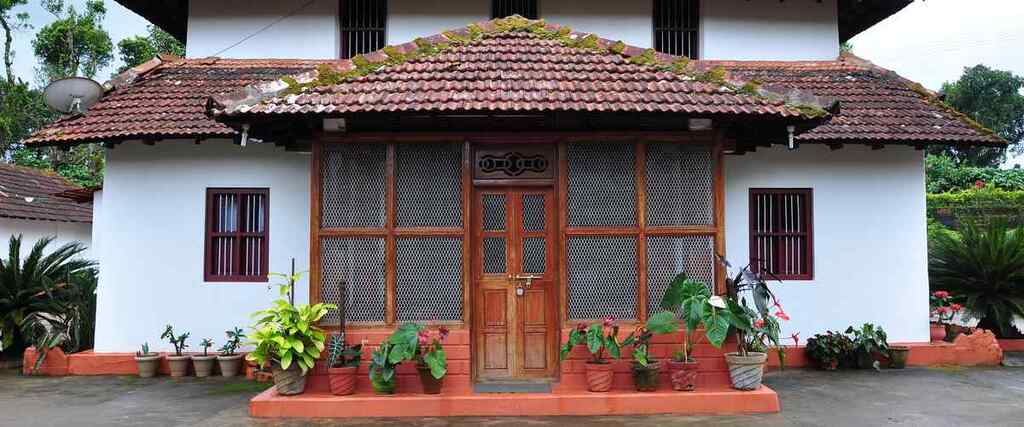 Source: nobroker.in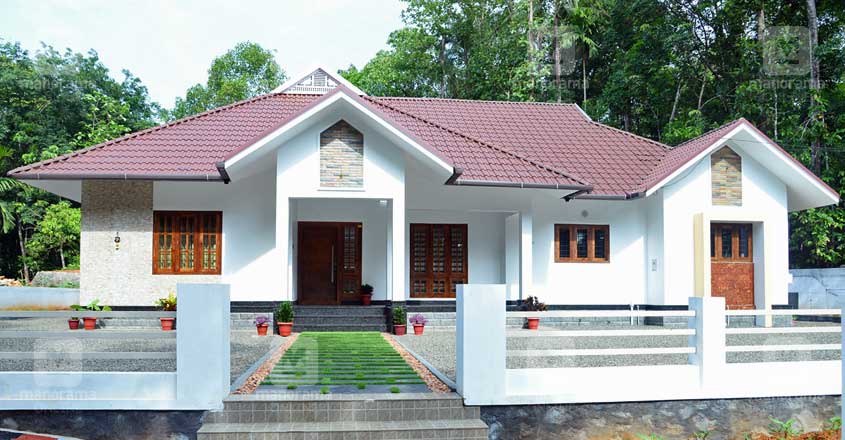 Source: onmanorama.com
This is a perfect house plan for those who are looking for a simple and elegant design. This is a classic Indian house design known as quintessential Kerala houses. These homes are famous for their roofs, as you can also see how owners have selected the floors and their roofs in contrasting colors.
There is also some outdoor space in this house design single story plan that is usually used as the sit-out area. Some Kerala houses also have pillars around the sitting room. This adds a classy and traditional touch to the house.
11. One Story Cottage House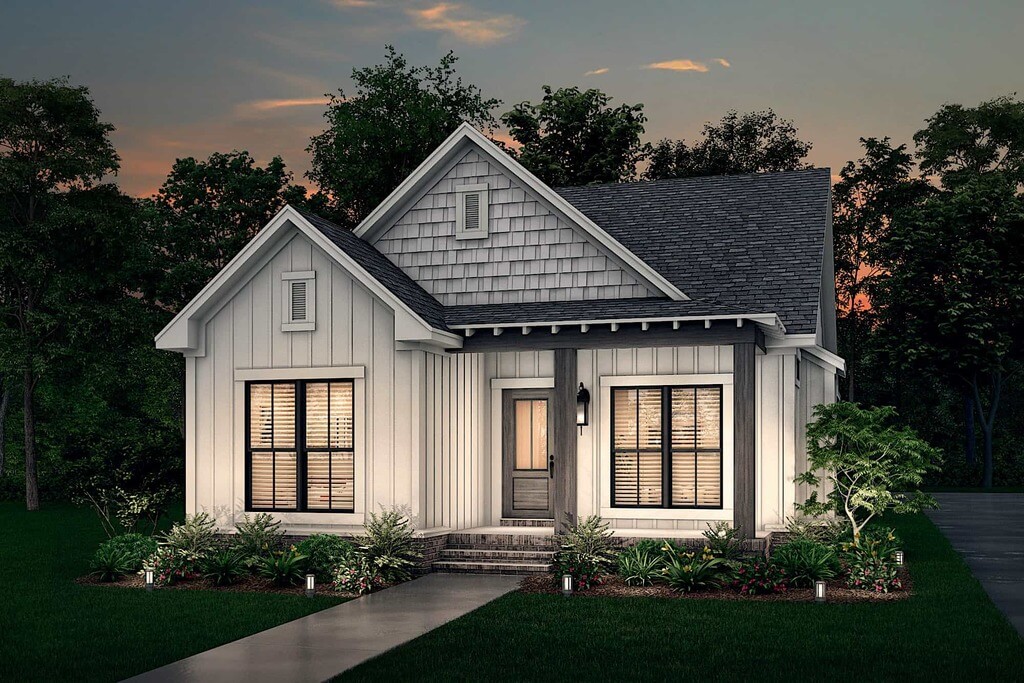 Source: theplancollection.com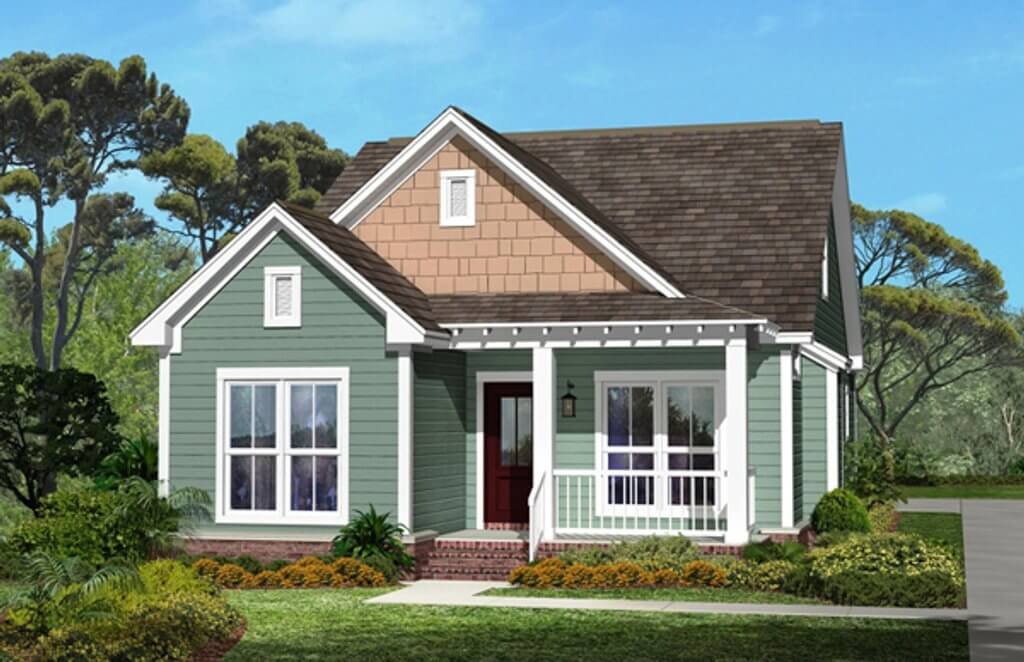 Source: houseplansservices.com
Who doesn't like to live in warm, cozy cottage-style homes? Everyone does, right? 
Take inspiration from this house design and construct your dream single-floor cottage-style house. This house plan features 1300 square feet of living space with a split plan. It has large open spaces, an oversized kitchen with a kitchen island, fireplace, huge master bath, and closet.
Apart from this, there is also a screened porch and an optional garage. These types of residences have elegant exteriors with historical details. You can add these features to get that charm and welcoming vibes and your place is ready to call your new home!  
12. One Floor Minimalist House Plans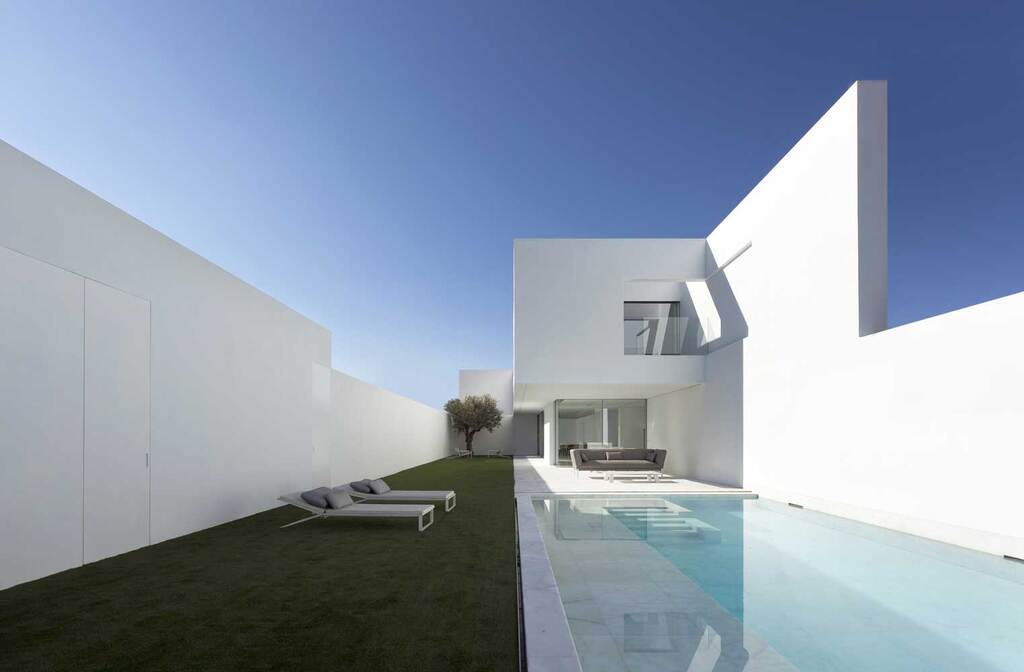 Source: artfasad.com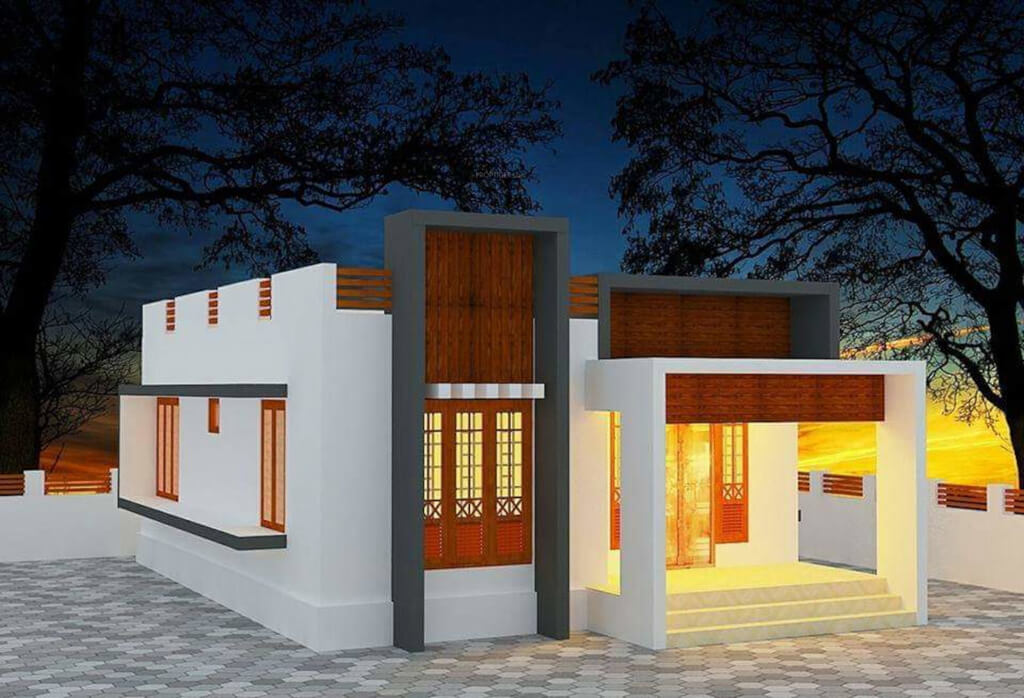 Source: proptiger.com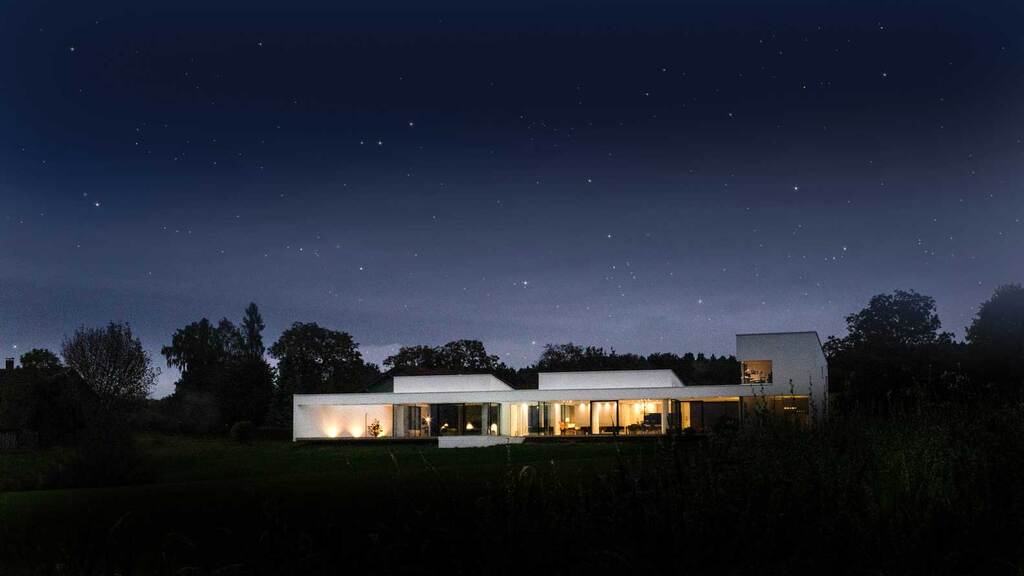 Source: artfasad.com
Luxury & Elegant: we're talking about minimalist home designs! 
One of the best examples of house design single floor style, these residences are so popular. These modern house designs feature a flat roof with a minimal architectural style. 
These modern minimalist houses have a roof with a height of more than two floors. This adds more openness and makes the space look more spacious. You can use the rooftop as a garden sitting area to hang out with your family and friends. For a contemporary touch, you can add wood accents. There is no carport or garage so that you can use that paved yard for parking. 
Also Read: 15+ Innovative Wooden House Ideas with Pros & Cons

13. One Story Farmhouse Style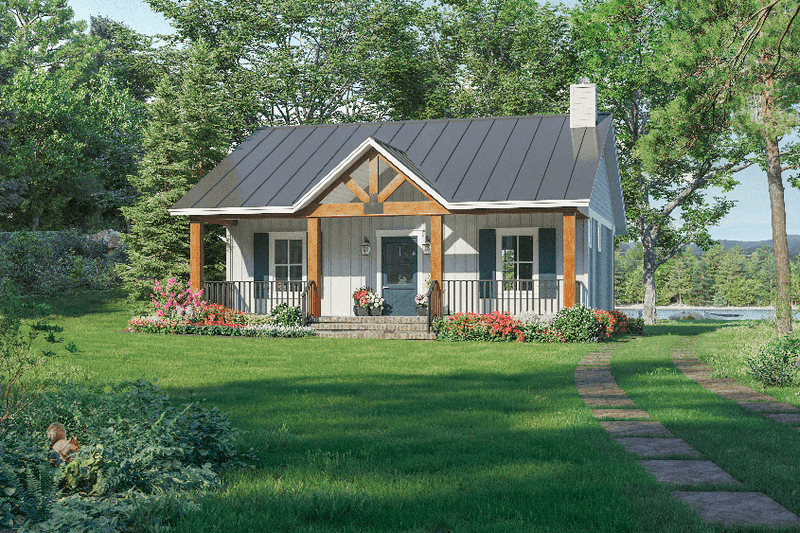 Source: houseplansservices.com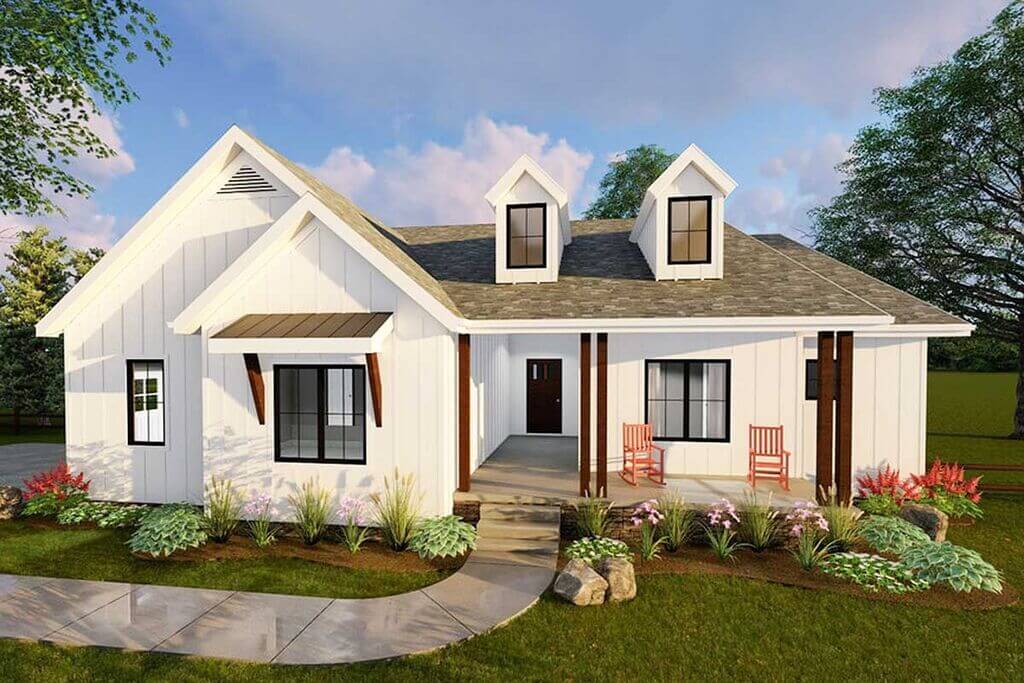 Source: pinimg.com
Source: hzcdn.com
These types of homes are an important part of countryside living. From chatting on the porch in the bright sunlight and spending quality time with your loved ones to kids playing in the courtyard, there are so many special memories connected to these farmhouse-style residences. 
So bring back those sweet memories of your childhood with these welcoming and cozy single floor house designs.  
Want to see more house design single floor ideas? Keep scrolling!
Here are some more one floor house plans and ideas for you: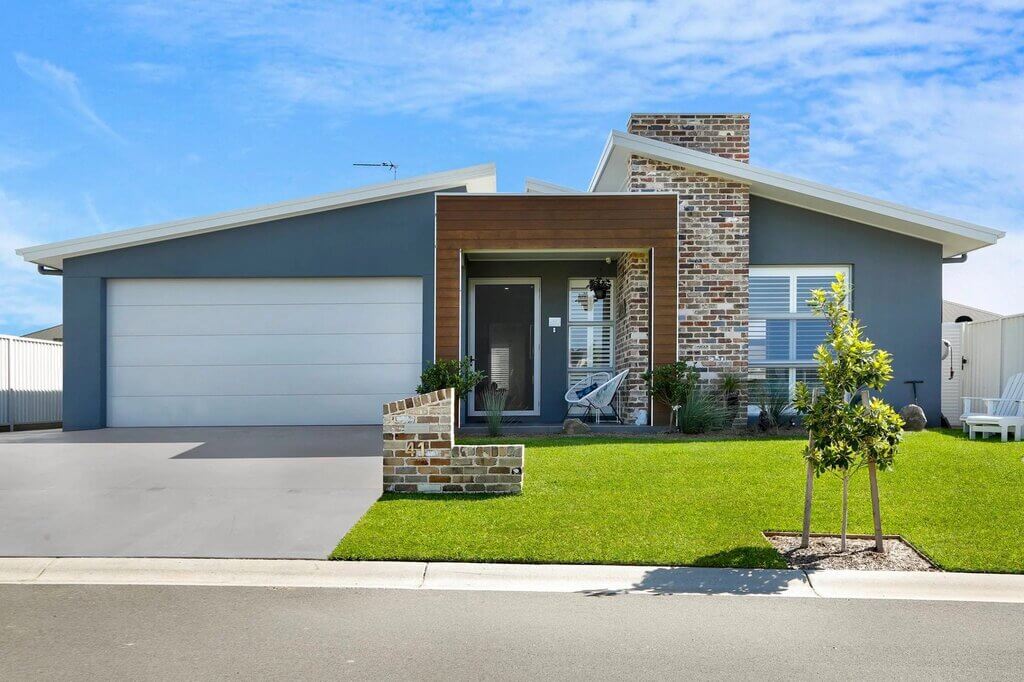 Source: mincovehomes.com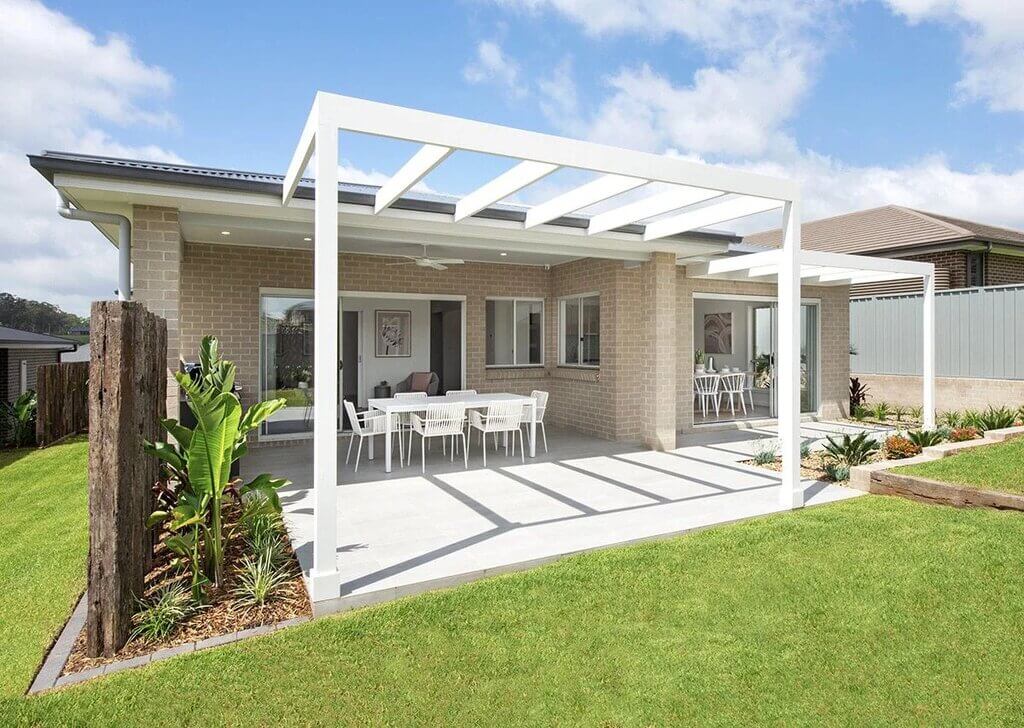 Source: mincovehomes.com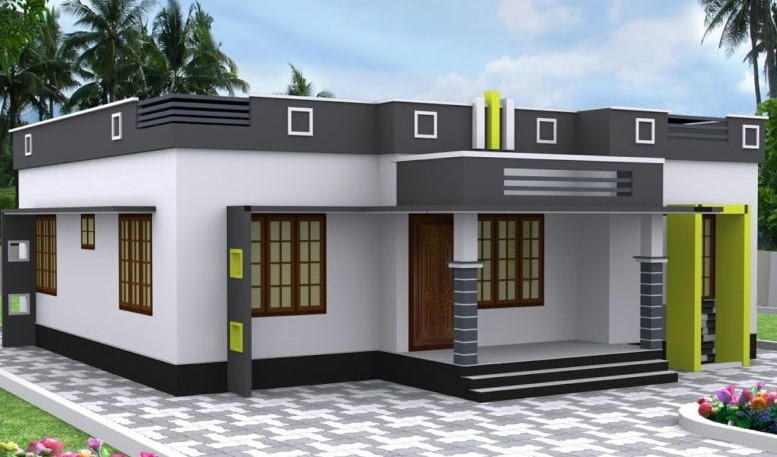 Source: googleusercontent.com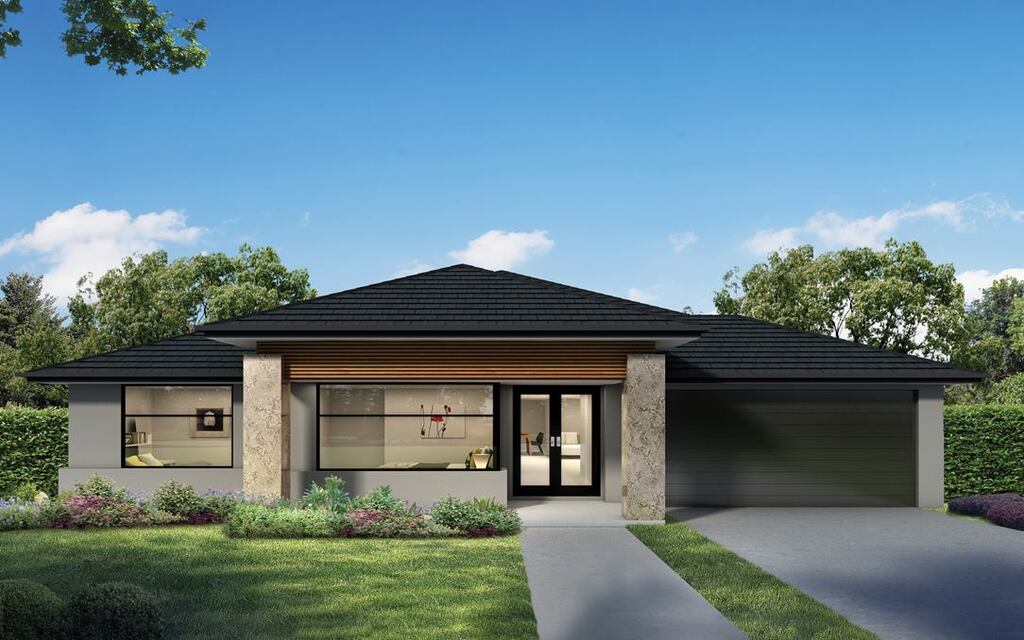 Source: rawsonhomes.com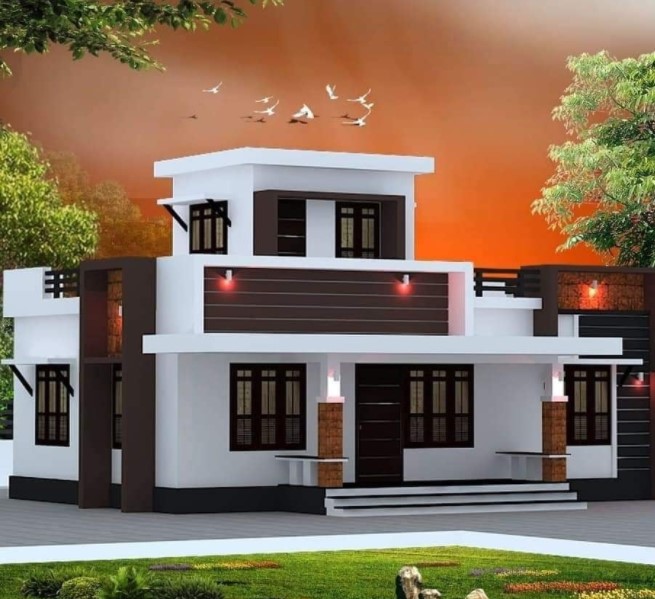 Source: googleusercontent.com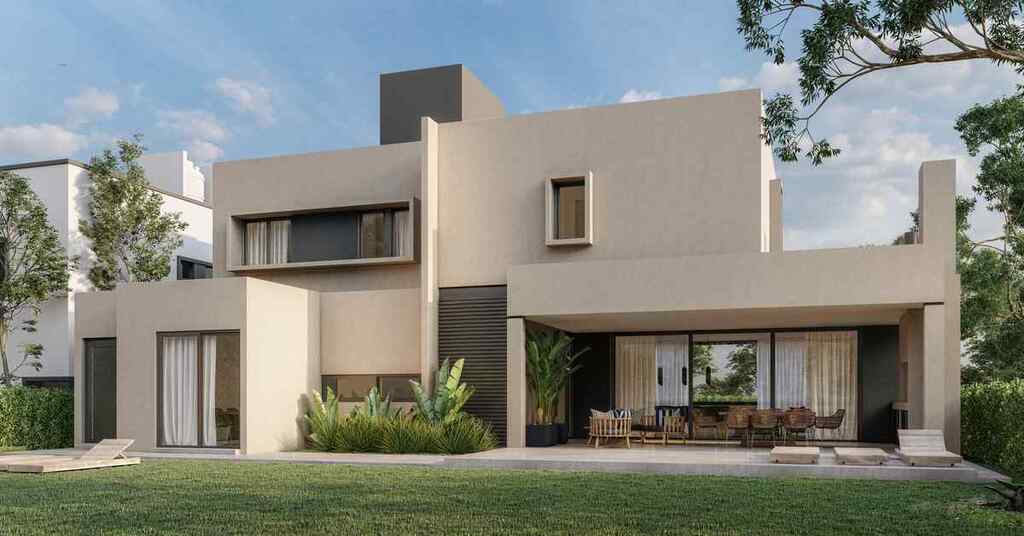 Source: nobroker.in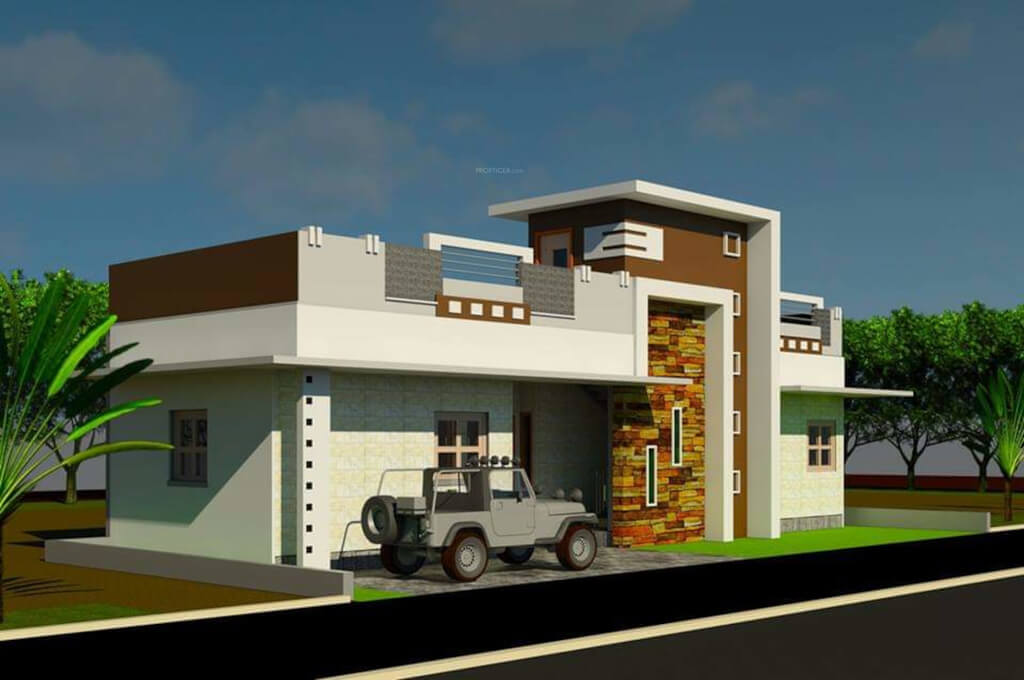 Source: proptiger.com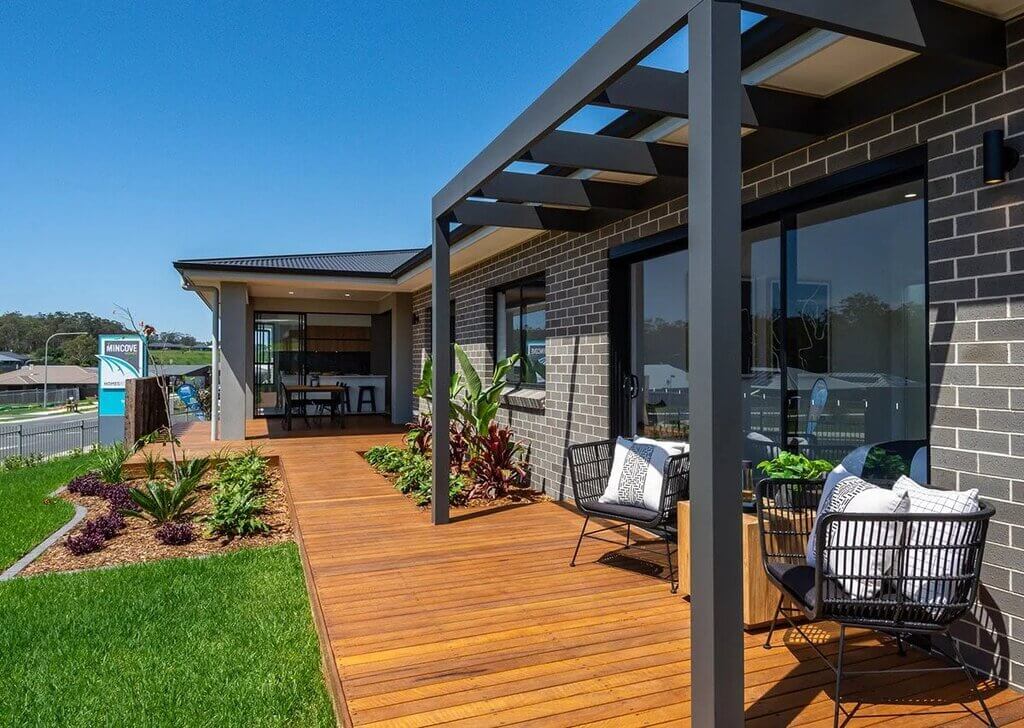 Source: mincovehomes.com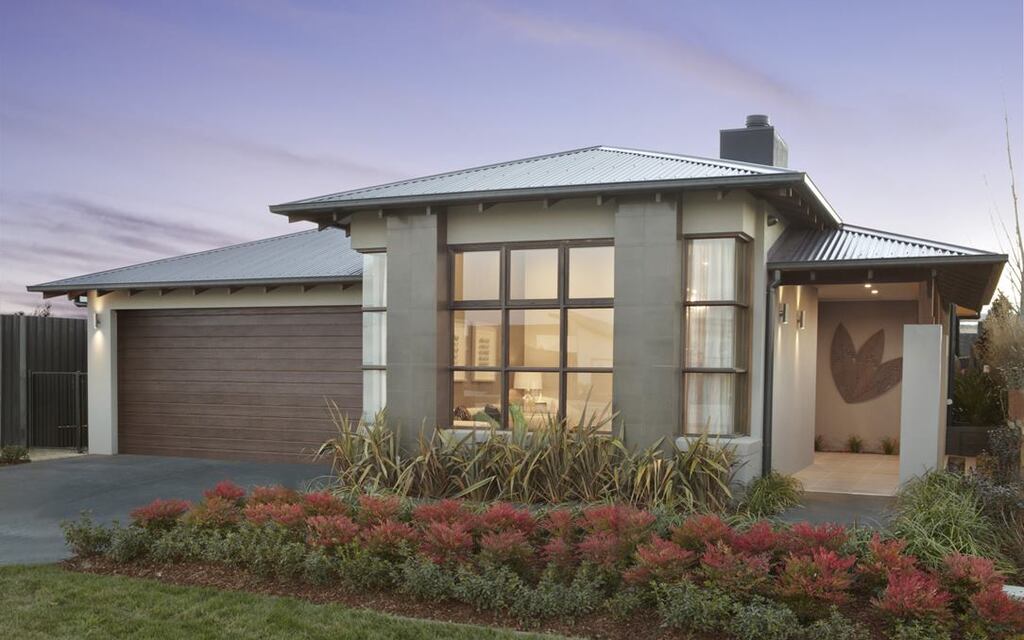 Source: rawsonhomes.com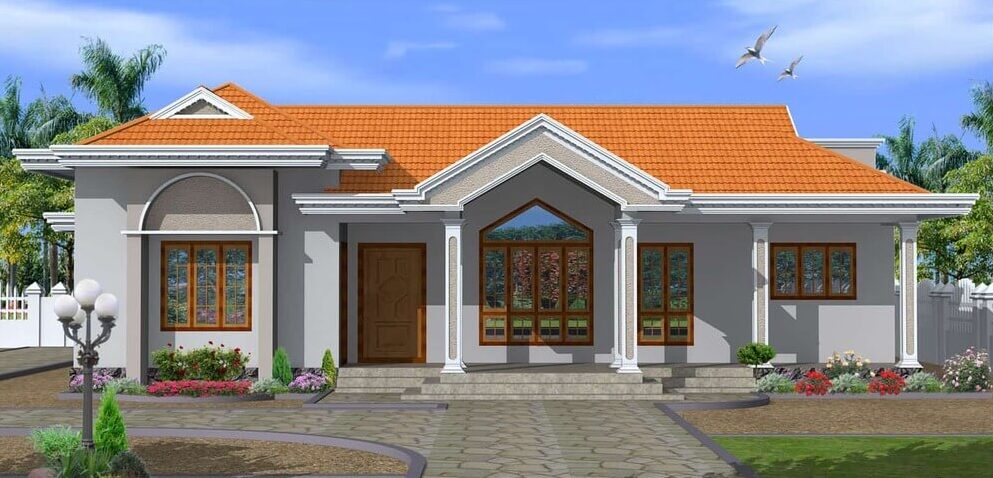 Source: keralahouseplanner.com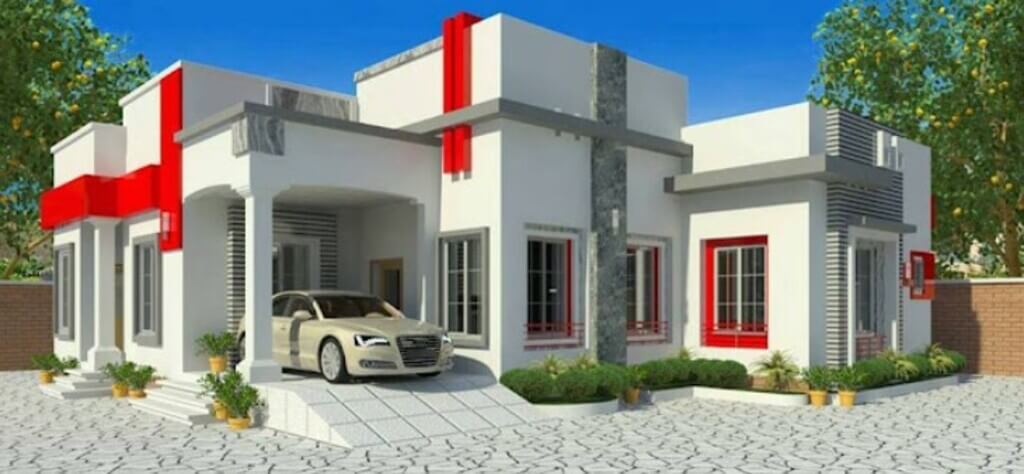 Source: googleusercontent.com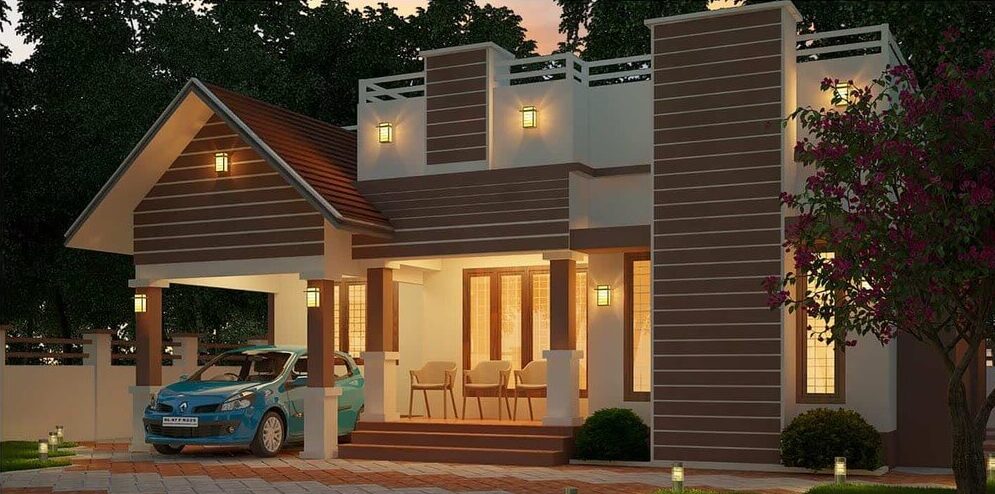 Source: keralahouseplanner.com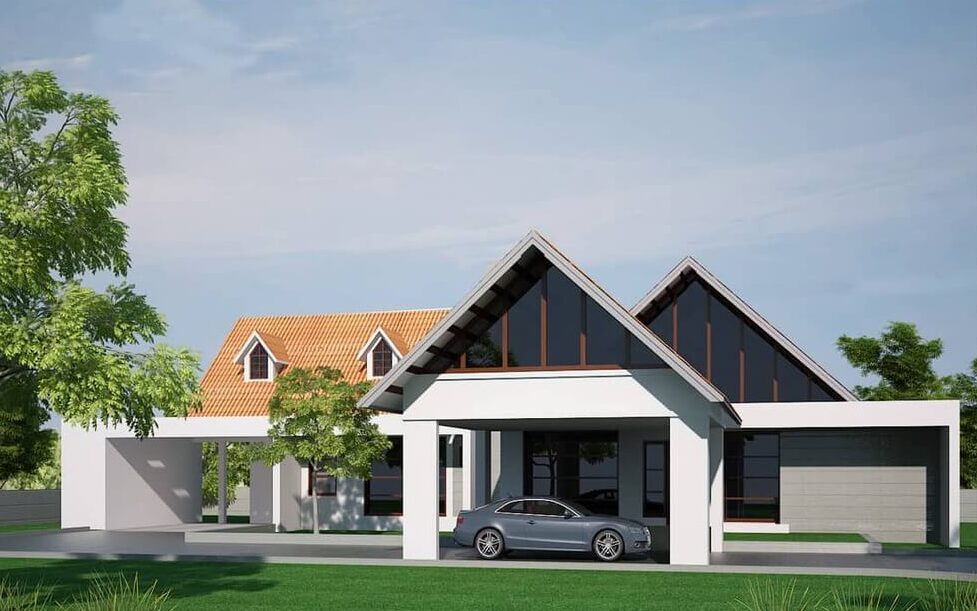 Source: keralahouseplanner.com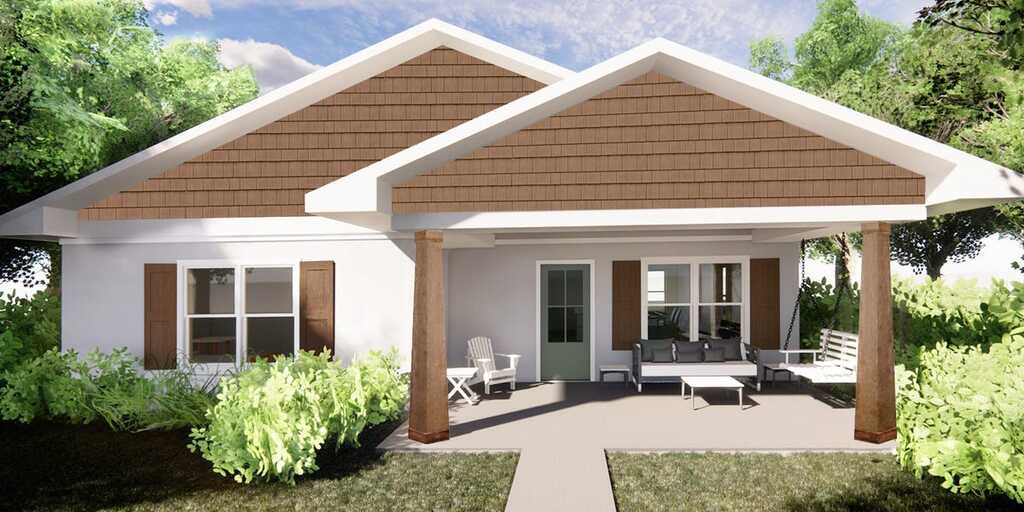 Source: tricitypropertysearches.com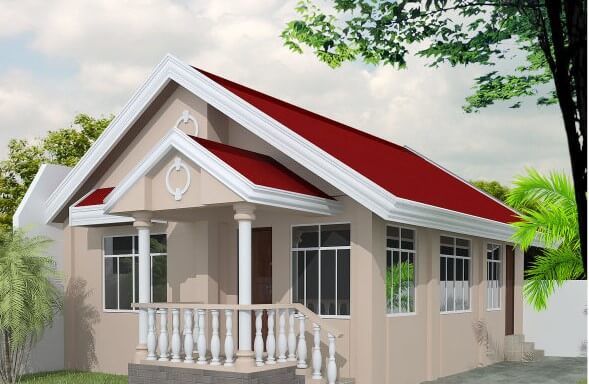 Source: tricitypropertysearches.com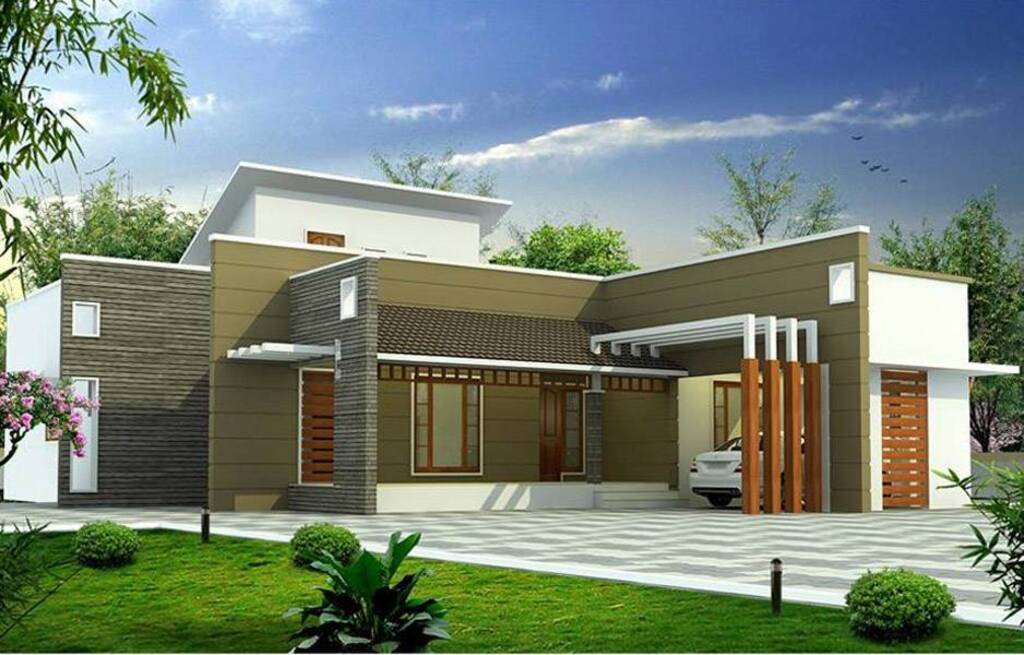 Source: blogspot.com
Build Your Dream Single Story House! 
So which single floor house plan do you find the most attractive? Houses with single floor house plans are so in trend right now. In this, you'll get a variety of options in design, type, and style. You can pick the one according to the land area and your budget.  
So if you're thinking about building a new or upgrading your current home, these one-story house designs will surely help you. Save the images that you like the most and show them to your designer and architect while explaining your requirements. 
So, this is all about house design single floor and ground floor. I hope you'll get some ideas and inspiration to build your dream one story house. If you find this blog on modern single floor house design helpful and informative, share it with your friends and family members.  
If you want to know more about these types of unique and unusual houses or places located in various parts of the world, read our previous blogs such as Odsherred Theatre, URAM Extreme Park, Sarofim Hall by Diller Scofidio + Renfro Architecture, and many more. 
For more information about the various types of architectural techniques and styles or home improvement ideas, keep visiting Architecturesstyle.
For daily updates about architectures, don't forget to follow us on our Instagram page, Architecturesstyleideas. 
Related posts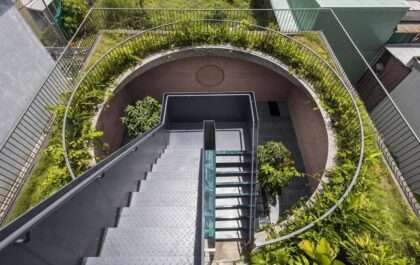 Pink House by 23o5Studio: Interaction with Nature and People 
Project Specifications Project Name: Pink House Architect: 23o5Studio Project Location: Long Xuyen, Vietnam Project Year: 2019 Project Area: 290 sq.m…