Dubai is well-known for its luxury and home interior decor. If you are living in Dubai, you might be familiar with the fact that everyone in Dubai loves to decorate their living spaces according to the trend. Speaking of home decor, window dressings hold the most important in the overall ornamentation of any area. If your windows are not well-dressed, your area furnishing might look dull and give out an uninviting appearance.
With that being said, today at Dubai Curtain, we have got some solutions for you in the form of the trendiest curtains style and designs. The window hangings that we have mentioned ahead will surely add elegance and opulence to your area with their glamorized appearances.
You can opt for any of them and see how your living place will get transformed into the most stylish and modernized area. These window treatments are popular in the market and among most homeowners as they enhance the entire ornamentation of any or every area, elevating its level. Now, let's start our discussion and see what curtain style will go perfectly with your interior design and make your place look adorable.
Curtain Design Ideas: 10 Design Tips to Enhance Your Interior
Window dressings not only provide you with privacy and offer you control over natural light but also play an important role in enhancing the aesthetics of your living space. Here, we will explore some top trending styles of window curtains that will make your window frames the perfect decorative elements while complementing your entire area decor.
1. Hang Sheer Curtains
Source: dollarcurtainsandblinds.com.au
These lightweight window coverings are a popular choice in Dubai as they create an airy atmosphere, especially in summer. They come in various styles and shades to match the interior of your living space. Sheer curtains allow filtered light to enter your space, making your area look spacious. You can combine these curtains with any other window treatments in order to create your desired appearance.
2. Install Floor-Length Drapes
Next comes these luxurious floor-length drapes, which you can install in your place and create a modernized appearance. They give out a very elegant look while providing you with complete privacy and control over sunlight. You can get your hands on them in any color, pattern, or style so that your home decor could get elevated.
3. Go for Printed Curtains
Source: thespruce.com
Another amazing option to install in your home windows is printed window coverings. These curtains are best to add a pop of color to any room as they come in unique shades to let you choose from. They come up in various patterns, i.e., from traditional Arabic motifs to abstract patterns. You can pair these printed curtains with neutral-colored walls in order to lift up the look of your living space.
4. Choose Velvet Curtains
Coming forward in this discussion, we have the alluring velvet curtains, which can create a sense of opulence in your area with their texture and beautiful appearance. They can effectively make your area comfortable while emphasizing the beauty of your home decor. Velvet curtains are available in jewel shades and neutral shades as well, so you can choose according to your choice and add a royal touch to your space.
5. Consider Embroidered Curtains
Source: walmartimages.com
Another amazing choice you can make is the embroidered curtains if you want to add something unique to your home ornamentation and want to make your window frame a focal point of attention. These window coverings are the most elegant and traditional choice for any Dubai home, creating a classy appearance. They are available in many styles, i.e., from intricate Arabic motifs to simple floral patterns
6. Look Out for Pinch-Pleat Curtains
If you want to create a classical appearance in your home space, it is recommended to go for the pinch-pleat curtains. They feature small and evenly spaced pleats at the top of the panel, which gives out a clean and very decent look. They are available in so many shades, patterns, and fabrics,i.e., from silk to cotton, thus, you can make a decision right according to your area requirements.
7. Fit Grommet Curtains
Source: thespruce.com
Grommet curtains are just another popular choice in Dubai which can create a contemporary and stylish look in any area. They have metal rings on the top of the panel, which makes their installation process a very easy task. These curtains tend to create a very sleek and sophisticated appearance and are available in a variety of fabrics, i.e., from sheer to cotton, so that you can hang them as per your area specifications.
8. Cover Windows with Silk Curtains
Silk curtains are well-known for adding elegance to any area with their sleek and glamorous appearance. They come in a range of colors and textures to create a deluxe appearance and make the place stand out. These soft-textured coverings can also be paired with heavier drapes and thus can provide you with enhanced privacy, blocking out the entire view from the outside.
9. Invest in Blackout Curtains
Source: homelava.com
Blackout curtains in Dubai are a must-have in every home as they can effectively block out the sunlight, creating a comfortable environment. From velvet blackout to lightweight cotton, they are available in a versatile variety and thus can add a royal touch to your area. These window coverings are ideal for installation in bedrooms, media rooms, kids' rooms, etc., where you want to create a peaceful atmosphere to relax.
10. Fit Tassel-Trim Curtains
Installation of tassel-trim curtains is the most stylish and modern way to add a gleaming effect to your space. The tassel at the bottom of these curtains adds a perfect decorative touch, thus enhancing the entire decor of your area. These curtains are perfect for adding a touch of glamor and come in a range of colors and fabrics to match the interior theme of your place.
Also Read : What Is the Difference Between Blinds and Curtains?
Bringing It All Together
Window Curtains are essential for completing any home decor statement, and thus, it is necessary to make the right selection for them. You can opt for any of these window coverings that we have mentioned in this article and let your area gain an attractive appearance. Consider your area requirements and then your personal preferences while making a choice and making your windows worth admiring.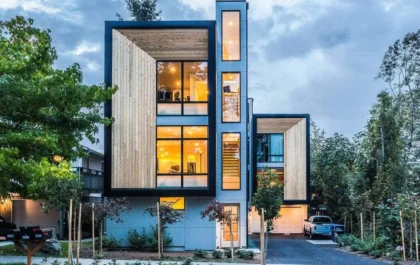 27+ Stylish & Modern Townhouse Designs for Urban Living.
The townhouse's first impression is normally too small, too compact, too narrower, and the list is endless. Well, let us…