Have you always wanted to live an exotic lifestyle by the sea? The ideal architectural design that complements this aesthetic of living is the Mediterranean-style home. This design aesthetic, which takes its name from the Mediterranean Sea, is ideal for people who value both aesthetics and functionality in their design.

Mediterranean homes are distinguished by the blending of features from several local cultures in the geographical region surrounding the Mediterranean Sea. Decorative elements like red roof tiles, stucco walls, arches, and enclosed outdoor patios are typical additions to the exquisite homes.

We have listed down a list of exotic Mediterranean-style houses that exude ageless design with international appeal.
1. Italian Mediterranean Style House
As the primary center of the Mediterranean region, Rome influenced the architectural style of the whole region. The original design of Italian-inspired Mediterranean-style houses is combined with uncomplicated elegance. The façade is characterized by clay roof tiles, magnificent arcades, and a blend of masonry and stucco.
2. Spanish Revival Mediterranean House Design
Homes in the Spanish Revival style are a little less ornate than those in other Mediterranean styles. Buildings in the Spanish Mediterranean style are typically more than two floors tall and have symmetrical proportions.
This architectural style was particularly popular in temperate, coastal places. In addition to having palladium columns, these feature lower-pitched rooflines that seem bigger and heavier, they also have crisper lines.
3. Modern Mediterranean House
The modern Mediterranean house reintroduces a focus on the luxury hotel lifestyle. With many of the conveniences of contemporary life, these homes include aesthetic elements from the classic Mediterranean home design. Open floor designs, large, renovated kitchens, and an emphasis on indoor-outdoor living are typical features of these homes.
4. Italian Renaissance Mediterranean Revival Architecture
Italian Renaissance houses are the most elaborate of the Mediterranean style homes. These houses were influenced in part by the architecture of the Italian Renaissance movement in the 1600s.
This is evident in their intimidating scale as well as architectural elements like columns and rounded arches. However, this design also borrows from its contemporary historical period, such as the end of the Victorian era.
5. Mediterranean Garden Houses
The region around the Mediterranean sea experiences a warm-coastal temperature, most suitable for outdoor living. That is why most Mediterranean-style houses are planned on large estates with elaborate gardens and exotic orchards.
Outdoor spaces, such as lawns, courtyards, cupolas, terraces, and patios, are designed to flow effortlessly into interior living areas. Large outside spaces in these Mediterranean villas are used for gardening and entertaining guests.
6. Luxurious Mediterranean Style House
As the name suggests, these residences are the epitome of luxury and resort-style lifestyles. Mediterranean-style residences are reminiscent of sunny, coastal regions and have roots in traditional European architecture.
The large, spacious rooms and combination of outdoor and internal living spaces highlight the luxury of these mansions.
7. Coastal-Themed Mediterranean Home Design
Coastal and naval elements are inevitable in Mediterranean homes. These dwellings are simple, with streamlined lines and a color palette inspired by the seaside. The exposed beams in the residences offer a southern European flair that fits in harmony with the Mediterranean design. The seaside appeal of the Mediterranean sea is elegantly infused with natural stone tiling.
8. Countryside Mediterranean-Style House
Sicily's country villas portray the essence of charming Roman fairytales. Country charm is evoked by the stucco siding's rust hue, the clay roof tiles, and the striking arched entryway. Embrace the hues and textures of Mediterranean architecture with a warm fusion of weathered patinas, lush vegetation, and open outdoor spaces.
9. Classic Mediterranean House Design
Mediterranean architecture is highly inspired by the architecture of Spain and Italy, as well as other European nations such as Greece. The aesthetic, which places a strong focus on warmth and outdoor living, is frequently linked to prosperity and a relaxed way of life.
This house is distinguished by its use of light and warm color combinations, as well as its wide use of organic materials such as ceramics, woodwork, and wrought iron.
10. Small Mediterranean Houses
After reading about all of the large and beautiful Mediterranean residences, let us take a moment to enjoy this simple small coastal house. This modest house has undeniably Mediterranean stucco walls and a more relatable tile roof.
Many arched arches across the front porch provide a breezy hallway that provides shade and allows fresh air to flow inside the house.
11. Mediterranean House Design with Outer Living area
Mediterranean folks are outdoor souls and prefer charming patios and cupolas in their houses. Expansive porches, courtyards, and patios are typically surrounded by luxuriant vegetation.
This Mediterranean-style home generously extends its usable square footage for get-togethers with family and friends through several patios and loggias. Arched doors, wrought-iron accents, and climbing plants all add to the Mediterranean aesthetic.
12. Tuscan-Inspired Mediterranean Architecture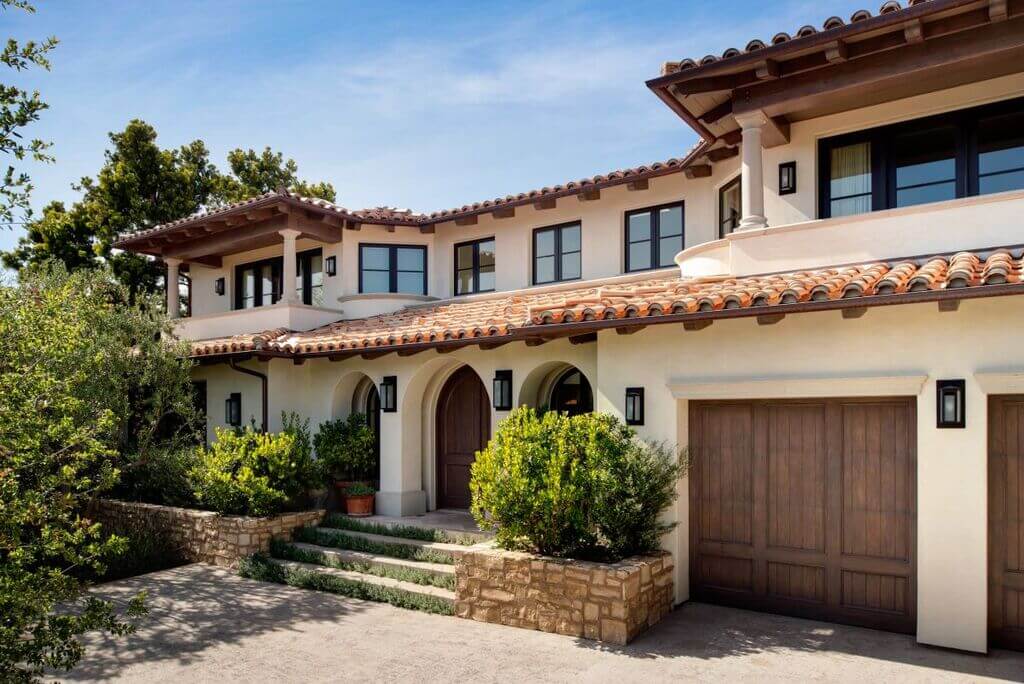 The construction materials that are accessible in a region determine many architectural styles, and the Tuscan style is no exception.
This home's façade takes design inspirations from Tuscan landscapes and combines limestone and stucco with textured terra-cotta roof tiles to give it a truly Italian character. Old-world styling gives this Tuscan-Mediterranean property a coastal-European feel.
13. Vibrant Mediterranean House design
Typically, Mediterranean homes have exteriors painted in pleasant, neutral hues, but they may also have brighter hues like sky blue, pale yellow, or even rose. There are other methods to include colour as well.
Colorful plants here connect the flamboyant Mediterranean home to the surrounding meadow and landscaping. Choose blooms and greenery to bring attention to the home, as well as the front porch and balconies.
14. Mediterranean Revival Architecture
Experimentalism is achieved in Medieval Revival Architecture by blending numerous characteristics of these styles rather than being influenced by a single one. It is a low-pitched hip roof with extensive overhangs that is characteristic of the Mediterranean style. The facade design stresses symmetry since these forms were influenced by American aesthetics in the 1920s.
15. Stucco Clad Mediterranean Style Home
Stucco is a distinctive characteristic of Mediterranean architecture. In hot climes, these layered walls help keep the sun out during the day, allowing for a pleasant interior environment. The façade of this Mediterranean villa is finished in crisp white stucco with ornamental arches and wrought-iron embellishments.
16. French-Mediterranean Style House
Coastal French villas and Mediterranean architecture are expertly blended to create homes in the French-Mediterranean style. For a more refined look, add an elegant wrought iron balcony to your French country home front porch. Both forms are distinguished by intricate stonework, stucco coating, and elaborately carved entrances.
17. Stone Clad Mediterranean Style Homes Exterior
Mediterranean architecture makes excellent use of the region's natural resources to build magnificent masterpieces. This materiality is most visible in the details of the facade. Limestones and sandstones are ideal for exterior cladding that seeks to connect the design with the environment. Rubble stone masonry lens is the perfect rustic touch to this coastal house.
18. Modern Mediterranean Style House with Deck
What's the point of living by the sea if you can't relish the balmy breeze of the sea from your private deck? Wide stone arches looking out onto the yard and a gorgeous hardwood wood ceiling are characteristics of this stunning private terrace. The Mediterranean interior design incorporates deep reds and mandarin oranges that complement the rustic wood accents.
19. Mediterranean Style Homes Exterior with Arched Windows
Mediterranean home design emphasizes integrating the outdoors into the interior spaces, therefore there are multiple big glass doors and windows. Elaborately decorated archways are usually built around Italian windows and doors, serving both functional and ornamental purposes. Sometimes colourful handmade tiles or mosaic glass may be used to adorn these arches.
20. Mediterranean Home Design with Decorative Tiling
The Mediterranean aesthetic has evolved, drawing on numerous cultures that have ruled the region. With these civilizations come various artisanal influences in the region's architecture. Handcrafted mosaic tiling is one of the prime examples of Mediterranean interior design.
Tiling techniques like Roman mosaic, Moroccan Moorish cut tiles, and terracotta hexagonal tiles are the most commonly used decorative elements.
21. Luxuriant Gardens for Mediterranean Style House
Mediterranean-style houses have a welcoming curbside charm thanks to vibrant landscaping. Soft foliage against stone walls or towering, spreading vines next to clean-trimmed hedges are common features of these gardens. Most old Italian Mediterranean houses also feature private olive orchards and Fig trees.
22. All-White Mediterranean Style House
Mediterranean houses are all about the rustic material palette and earthy tones. The façade of this Mediterranean villa is finished in pristine white stucco with ornamental arches and wrought-iron details. The white base acts as the perfect canvas for vibrant red clay tiles and warm wood tones.
23. Earthy Spanish Mediterranean House
The earthy, warm color scheme is inspired by the kind of organic hues you could see in rural Spain. The home's stucco exterior and Spanish-style low-pitched roof with red roof tiles are great examples of Riviera design. Brackets at the bottom of the windows give architectural interest as well as a rustic appearance.
24. Mediterranean Style Homes Exterior with Ornamental Decor Elements
Think extravagant when it comes to Mediterranean decor. Typical characteristics include arched pathways and large, exposed ceiling beams. Intricate embellishments fashioned from wrought iron may also be seen, complementing the overall rustic design. The entrance door of this house has elaborate tilework around it, similar to more extravagant Spanish-style mansions.
25. Mediterranean Style House with Front Yard
Even if your Mediterranean-inspired house is built on a compact plot of land, it still needs some spill out area to capture the perfect regional essence. Mediterranean-style houses and gardens are typically characterized by a welcoming front yard with stone pathways.
For instance, a twisted, brick walkway leading to the residence echoes the color and pattern of the roof tiles. You can also grow flowers along the way to enhance the overall design.
Let's Relax in the Beachy Ambiance of Your Upcoming Mediterranean-Style Home!
Mediterranean architecture encompasses a wide range of regions, drawing influence from the Greek islands, the beaches of Spain, and the undulating hills of Tuscany. Surprisingly, it blends in with the surrounding scenery, providing the ideal resort-style living experience. If you like rustic yet luxurious architecture, you should build your future home with this electric aesthetic in mind.
FAQs
1. What Are the Typical Characteristics of Mediterranean Architecture? 
Mediterranean architecture frequently includes brick or stucco that is painted white, as well as a red-tiled roof.
2. What Are the Architectural Accents Used in Mediterranean Style Houses? 
Mediterranean architecture frequently uses stone accents, engraved doors, wrought iron, and metalwork on openings, above balconies, and front doors.
3. How Do Climatic Factors Relate to Mediterranean Architecture?
Traditional Mediterranean architecture developed to create buildings that were compatible with the severe conditions of its varied locales. The primary goals of architecture are to defend against adverse, severe climatic conditions and to create a comfortable ambiance.
4. What Is the Difference Between a Spanish Style House and a Mediterranean Style House?
Spanish architecture sometimes has a simpler façade style than Mediterranean architecture, reserving decorative accents for places like windows and arches.
5. What Are the Essential Features of Mediterranean Interior Design?
Natural timbers and textural white walls create a warm, inviting ambiance. Keep it basic with rustic yet exquisite furniture, or bring in more colour with rich fabrics and patterned tilework.
Discover More