Family members and visitors often assemble in the living room to unwind and socialize, making it commonplace in the entire house. Redesigning your living space interiors can make a big difference in the overall look of the house. Modernizing your house and making it feel more elegant and useful can motivate you to renovate your living area interior.
Your living room decor has a huge impact on your lifestyle. You must implement new design advancements by the best Interior Designers in Dubai in your living area that can give a fresh change to your home. If you want to sell your house in the future, then updating your living area can increase the revalue of your house.
Interior Design Ideas for Living Room
Making your living area more comfortable for your visitors, family, and your friends is another reason for refurnishing and redecorating its interior. A small, untidy, and uninviting living space cannot give the impression of a trendy and comfortable environment. You can make your living room area more comfortable and inviting just by remodeling your furniture design and making some other minor yet influential changes.
All involved factors should be considered when renovating your areas because they can significantly affect the overall house's functionality and improve the quality of your lifestyle. There are a variety of reasons why remodeling your interior designs is worthwhile, including the wish to renovate the area, increase the value of your house, and create a more pleasant environment:
1. Incorporate Natural Elements
Source: interiorkollection.com
Natural elements like plants, wood decoration pieces, and stones can completely change the overall look of your living area. It creates a stronger sense of attraction to nature through its inviting and warm feel. Natural elements improve aesthetics and refresh the atmosphere of the space, also adding distinctive texture and visual interest to it.
Add natural and organic materials to your space that give off a well-put-together look. These elements help to counterbalance other elements in the room, such as artificial lighting and synthetic material.
2. Mix and Match Patterns
You can completely change your living area by adding mix-and-match patterns to the walls in order to add depth and visual interest. This results in more appealing and inviting living space designs. However, it is crucial to select a design that goes well when they are combined and to choose a contrasting color scheme as well.
The risk of overpowering design and disorganization is less because of this. Design a comfortable and fashionable living room that shows your personality through patterns, such as various multiple-colored cushions, area rugs, or carpets.
3. Play with Colors
Source: hearstapps.com
Playing with colors can give your living area a brilliant makeover as this brings about a pop of vibrancy. It offers a positive vibe to the place that makes the space feel more comfortable, inspiring, and inviting. You can incorporate your accent cushions, artworks, or decorative pieces by striking a bold palette color that matches your style and taste in the interior.
It is critical to use a color scheme until you find the right one that suits your taste and makes you feel at ease. You can use dull colors on your walls if your interior, curtains, or wall decoration is of bright colors, or you can combine complementary colors for a more dynamic touch.
4. Create a Gallery Wall
A gallery wall can thoroughly change the overall look of your living room, by giving it an artistic touch. You can decorate your wall by including framed pictures, pieces of art, and prints that can improve the hospitable and aesthetics of your space. Pick a unified theme color and other elements that can enhance one another by creating an attractive appearance.
5. Layering Your Lightening
Source: interiordesigncompany.ae
Layering your light can create the ambiance of a cozy and welcoming environment. Table lamps, overhead lights, and floor lights can create an aesthetic appeal in your space. It can add a touch of elegance and classiness to the living area space when combined with the rest of the decor. A more dynamic vibe can be created by adding various forms of light.
6. Use Mirrors
Mirrors can give the effect of additional space and reflect lights in the room. To give the room a more appealing and spacious effect, hang a giant mirror on the entrance wall, and also you can arrange several mirrors in the gallery to give it a trendy look. You can decorate your living room with small mirrors on different walls as well that match with interior design. Also, mirrors can give your living space a more spacious and lighter atmosphere.
Also Read: How to Select the Best Coffee Table for Your Living Room
7. Rearrange Your Furniture
Source: sailuxurylifestyle.com
A more practical and new look to your living room can be given by rearranging your furniture and working on the associated aspects to create an inviting effect. If moving your furniture can give it a totally new and attractive look, then it might be a great option. Your living room area can give an entirely different appearance after making these few mindful changes.
Conclusion
Adding natural elements, mix-and-match patterns, playing with color schemes, creating a gallery of art on the wall, layering your lighting, using mirrors on different walls, and rearranging your furniture are all simple and appealing ways to add elegance, ambiance, and comfort to your living room. Use these ways to enhance your living room and create a cozy and inviting atmosphere.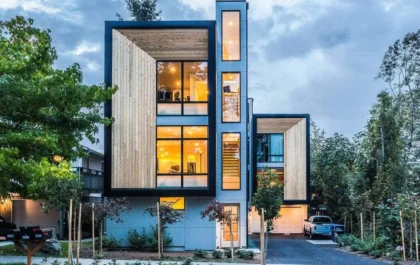 27+ Stylish & Modern Townhouse Designs for Urban Living.
The townhouse's first impression is normally too small, too compact, too narrower, and the list is endless. Well, let us…