Aren't we all fascinated by the luxury shipping container homes? Modern container homes that please your pockets, are versatile in nature, and offer unmatched peace with their decor and settings– sound like a good idea to live in, right?
Shipping container homes are steel ship structures that are transformed in a way to make them liveable. This is an innovative concept that enables the architectural community to play around with its form and scale in order to attain the ultimate luxury shipping container homes. Let's look into why these are becoming a popular choice and let us serve you with the best luxury container home ideas.
5 Pros of Picking Modern Container Homes
Source: falconstructures.com
1. Pocket-Friendly
The biggest advantage of opting for shipping container homes is that you get a great deal at a low cost. You can rest assured that these cheap shipping container homes will offer you the ultimate comfort and the pricing starts from a minimum of $10,000.
2. Durable yet Cheap Shipping Container Homes
Shipping containers are extremely sturdy as they're composed of corten steel. It has a self-healing property that offers you a durable living solution.
3. Customize it Your Way!
Luxury container homes are extremely easy to be modified. You can either customize it to be a tiny home or combine the containers and make a huge bungalow out of it, with each personalized to your liking.
4. Quicker Construction
Luxury shipping container homes can be built quickly, even within a month.
5. Take'em with You!
These homes are mobile which means you can take them along you wherever you go as these can easily be shipped.
26 Luxury Shipping Container Homes Ideas
1. Container in the City!
Source: compass.com
Doesn't the idea of bringing luxury shipping container homes to urban areas excite you? Break the concept of residing in micro-apartments and enjoy a lavish container home. The scale can vary from as small as a double container home to as large as a 21-container villa. Let the interiors be splashed with peppy shades to reflect upon the boldness of this design call.
2. Cantilevered Beauty!
Source: homedsgn.com
Take a unique path with your shipping container home and let it be cantilevered on support. Consider going for a bold design with containers that project above the land and stand out in the entire setting. Equip this modern home with a swimming pool for the ultimate retreat experience.
3. An Admirably Simple Shipping Container Home
Source: cargo.site
Keep it simple with a prefab approach that can be transformed into a minimalist luxury container house. Design it to keep the essence of the charming shipping containers and add a rooftop deck to own the ultimate chilling spot. Opt for an open layout to make the room look spacious and blend outdoor spaces with indoors for a seamless connection.
4. Luxury Shipping Container Homes in Desert
Source: attr.dev
A shipping container in the desert? Yes, that's what we're talking about! A house built with recycled shipping containers will definitely stand out in the desert setting with its enticing design and aesthetic appeal. Let the metal structure shine against the earthy setting and embellish the interiors with a simpler palette and accessories in order to maintain balance.
5. Luxury Container Homes Tower
Source: pinimg.com
Why restrict to a single floor when you can stack up the shipping containers to design a one-of-its-kind residential tower?
While these luxury shipping container homes have proved their worth for a private residence or commercial building, these also serve as one of the best apartment designs. Retain the original doors for their authentic essence and design the facade to match the urban settings. It is one of the simplest and most cost-effective living solutions to modern problems.
6. The Garden Home
Source: blogspot.com
Let your shipping container home blend within the natural setting by projecting a wooden deck that serves as your cozy coffee spot. Let the glass facade welcome an abundance of natural light inside your home and keep you connected with the exteriors. You can opt for sheer or opaque curtains for the facade in order to maintain the desired privacy levels.
7. Embrace the Massiveness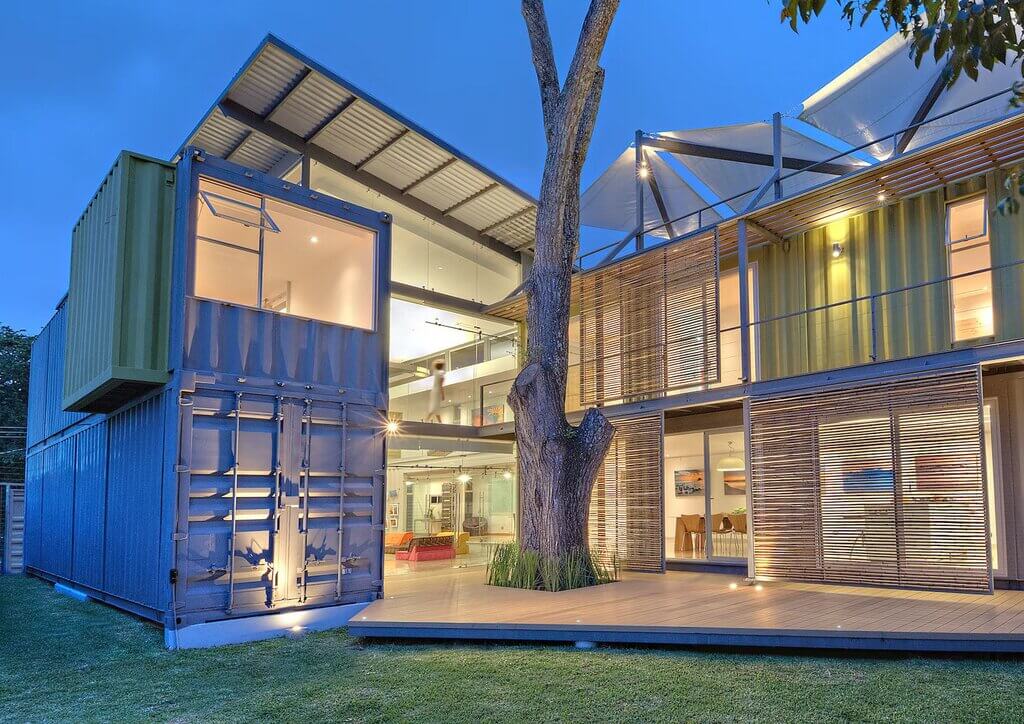 Source: imgix.net
Consider going for large-scale construction of luxury shipping container homes that let you live in its cozy cocoon and also enable you to practice working from home more comfortable. An opening here and an opening there can fill up the interiors with bright natural light and sliding doors will help you connect with the natural environment.
8. Linked Storage Container Houses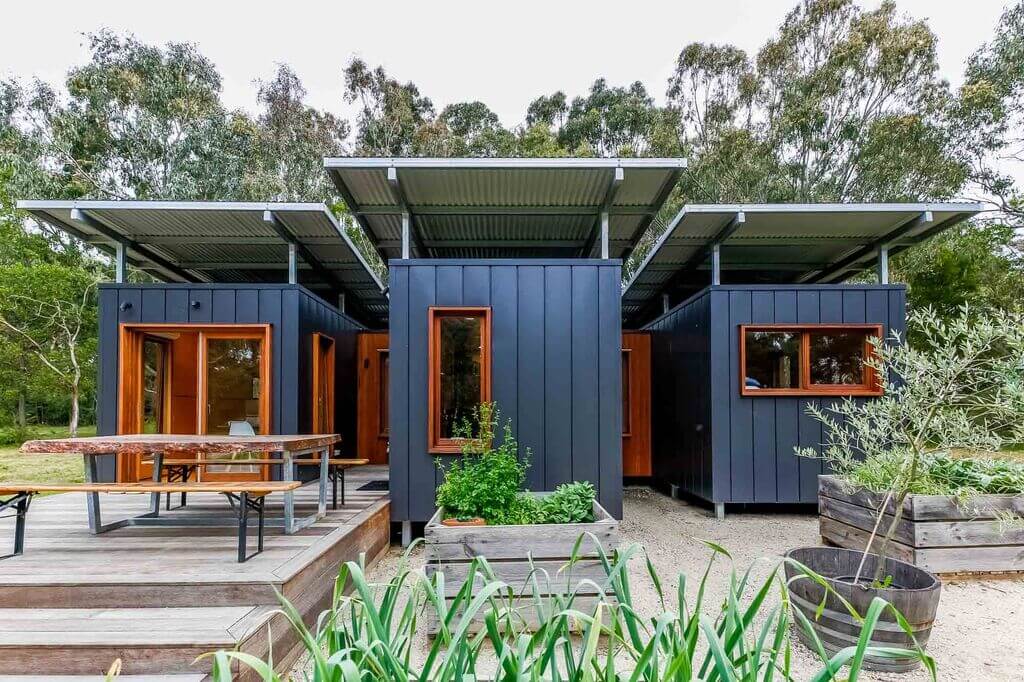 Source: pinimg.com
The idea of luxury shipping container homes is to create a built environment that's extremely comfortable to reside in and at the same time aesthetic. Utilize various storage containers and a lot of space for each of these. These zones can be linked to each other for a staggering plan and extra space.
9. A Cheaper Solution
Source: livinspaces.net
Opt for cheap shipping container homes that aren't ornamented on the exteriors yet play with the color palette to make a simple statement. You can keep everything basic and still live in luxury with these shipping container homes ideas.
10. 5-Bedroom Luxury
Source: redd.it
Combine 9 shipping containers to enjoy the posh essence of having a 5-bedroom home. Furnish this colossal house with plush items and tone up the design language as your desired choice. You can either go for contemporary interiors or make the look industrial. Keep the palette cozy in order to exude grandeur in the interiors and jazz it up further with an open plan.
11. Shipping Container Homes for a Single Family
Source: homedit.com
Whether you live in a joint family or a single family, there's a luxury shipping container home for each. You can build a lavish house with about 8 containers that are well-planned and staggered in order to compose a unique design. Consider the idea of building a pitched roof on the top to make this home shine through in the entire neighborhood.
12. Fluted Luxury Shipping Container Homes
Source: pinimg.com
Who said that your shipping container homes can only be plain? You can make them as intricately detailed as you desire. Club them up and design a facade that's not only eye-pleasing but also serves a function. Opt for a fluted pattern in front of the windows to filter the light entering the home and at the same time, maintain privacy.
13. Micro Modern Container Houses
Source: worldarchitecture.org
Keep the design for your home chic and elegant with a simple interior design approach. You can a micro home with shipping containers accommodating two bedrooms, a living area, a kitchen, and a bathroom. It's best to go with an open plan for tiny homes to make the interiors look airier and spacious. Let the design submerge in its surroundings by keeping glass openings on the facade.
14. Palette Shutter Home
Source: bonnier.cloud
Your luxury shipping container homes can be customized based on the locality you're planning it in. You can either keep it enclosed for a cozy setting or add a palette shutter system in order to minimize heating for summer places. It not only serves as a climate-responsive design but also imparts an unmatched beauty to the house.
15. Dark and Bold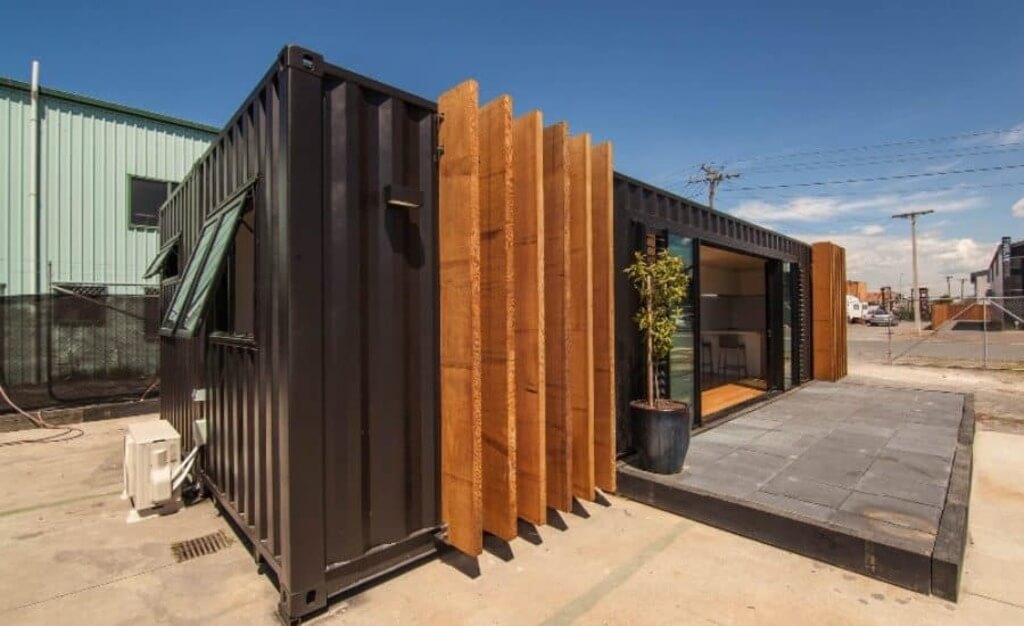 Source: trendir.com
Let your confidence speak with a bold facade for your home. Design a house with two shipping containers standing parallel to each other for a spacious home layout. Retain the original look of the container with the windows and jazz up the facade with wooden accents.
16. Multi-story Shipping Container Homes
Source: travelandleisure.com
You can enjoy the luxury of multi-level homes at a minimal price with shipping containers. Plan it such that you get a terrace and spacious interiors. Enjoy a tiny deck in the front which also serves as the formal entry area for your home.
17. The Prefab Cedar House
Source: blogspot.com
Nestle in a tiny dwelling with prefab shipping containers. Keep the interiors simple and spacious and adorn the facade with cedar for an elegant look. The best feature of this tiny home is that it can be made ready for handover within a few days.
18. Bridged Luxury Shipping Container Homes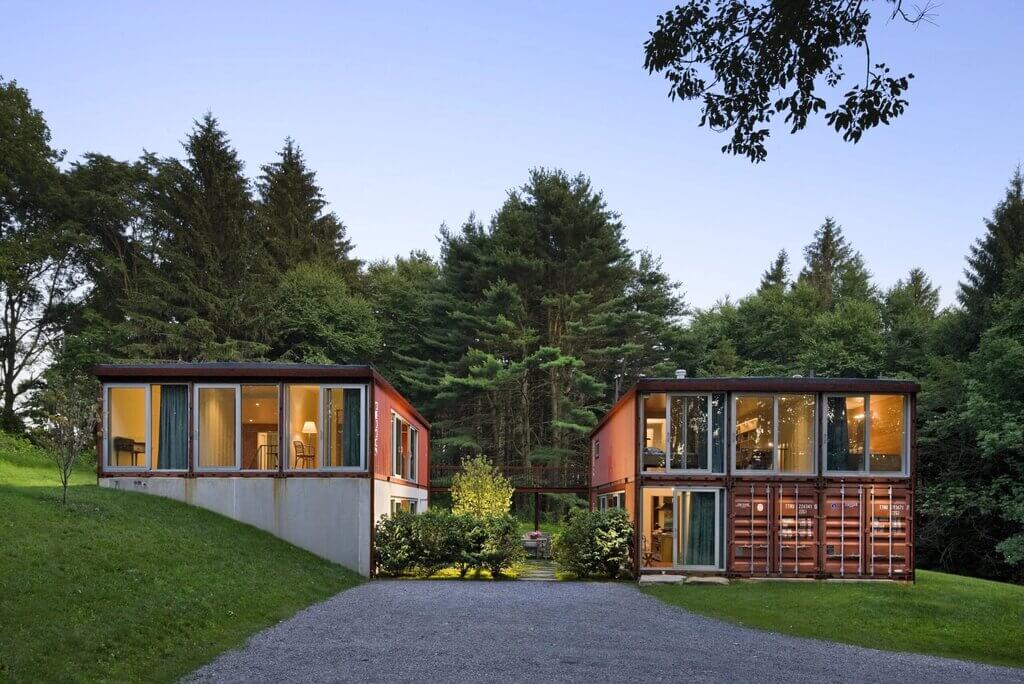 Source: o0bc.com
Explore the architectural possibilities wirth luxury shipping container homes and make a loud statement. Consider the idea of building two separate units and knitting them together with a connecting bridge. This will serve as a perfect design that will enable comfortable sharing with guests and family. The connecting bridge could also serve as your evening retreat spot to unwind.
19. Black and White
Source: attr.dev
None of the modern splashes can beat the ultimate combination of black and white. Dress your luxury shipping container homes in a black and white facade that exudes elegance inside and out. Add glazing to its facade to establish a seamless connection between the interiors and exteriors. Play around with its form and access the upper floors not only from inside but via exteriors as well with a well-planned approach.
20. Talking Shades
Source: bweb.bg
Let the design for luxury shipping container homes speak with a bold choice of colors. Splash it with red, blue, or green and combine it with an apt complementing tone that offers a pleasing look to your home. In this case, the design can be kept minimal both inside and outside while these shades speak for your design sensibilities.
21. Summer Home
Source: dobrzemieszkaj.pl
Incorporate shipping container homes as an extension to the already existing villa. This could be your summer spot or friends' booth. Let it stand in the garden and enjoy the pretty views from inside. You can add as many amenities as you desire as you keep linking or stacking these shipping containers.
22. Layer it Up!
Source: twimg.com
There's an unparalleled elegance in the color combination of black and brown. Pick this duo for your luxury shipping container homes ideas and offer a modern design language to your abode. Compose the shipping containers in a way that breaks the typical look and makes it look like a contemporary residential structure. You can opt for layers in its facade design to add depth and impart more beauty.
23. Compact House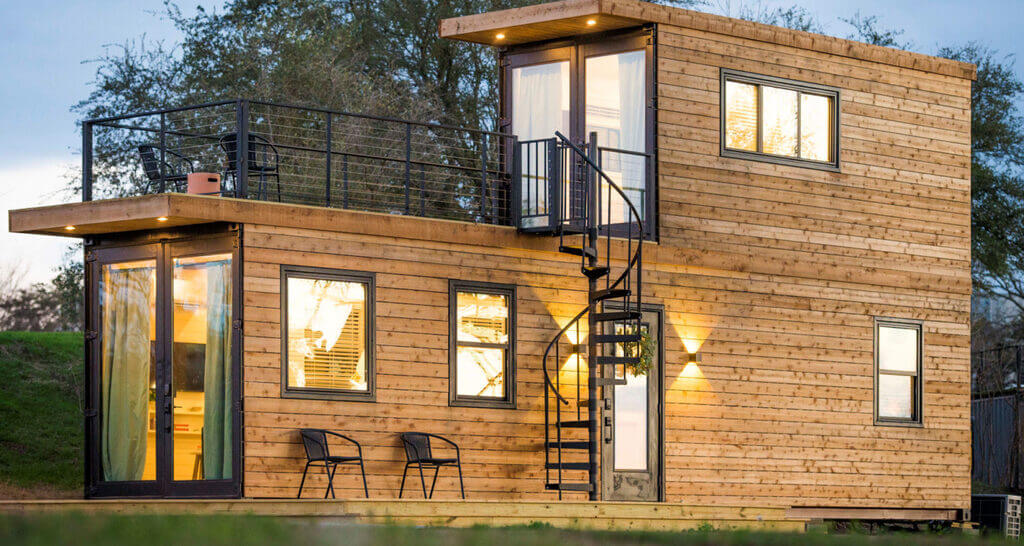 Source: cargohome.com
A tiny home must have a compact price as well, right? The best way to approach a compact design is with shipping container homes. One single container can give you the envelope and enclosure for safe living. The best part? It can be customized as per your planning and demands in order to suit your levels of comfort.
24. The Magic of Four!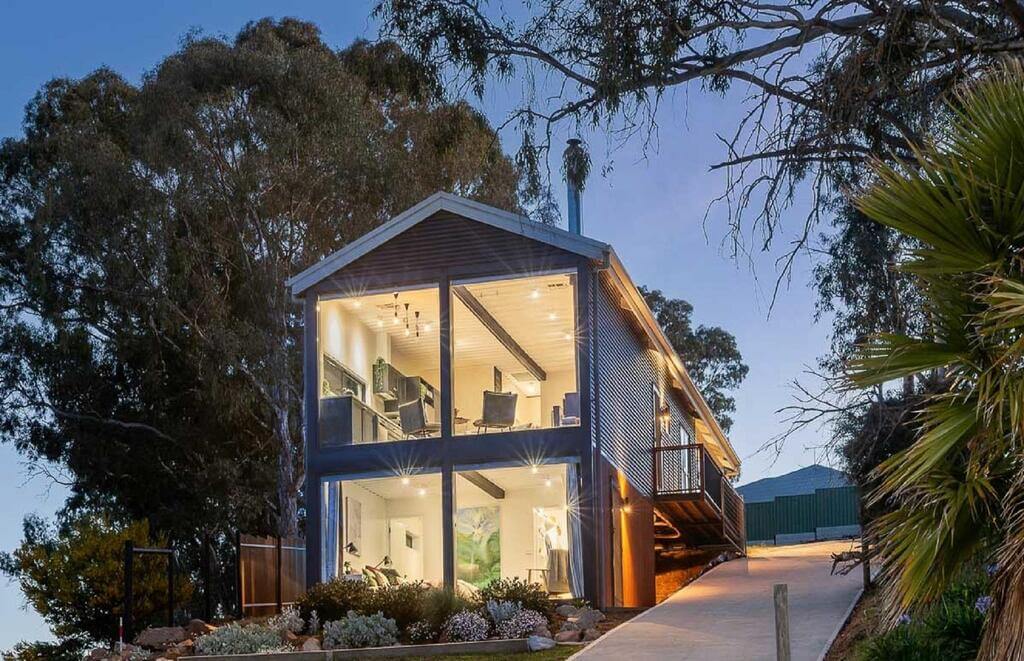 Source: windows.net
Imagine combining four shipping containers to design the ultimate functional home! Offer the interiors of your home a veritable explosion of style and customize it as per the requirements. You can keep one face of the home covered with glass in order to enjoy a picturesque experience and give it a modern language.
25. The Boxy Beachhouse
Source: zillowstatic.com
Luxury shipping container homes can have anything from a simple bedroom layout to a lavish swimming pool. Let the beach vibes sail in by composing 6 shipping containers in a way that you can enjoy a rooftop deck along with a swimming pool and enjoy the stunning views enveloping your site.
26. Raise it Up!
Source: imgix.net
Rather than sticking it to the ground, elevate your container home and impart an attractive entry with floating steps. One of the advantages of raised modern container houses is that you don't have to worry about water flooding your interiors during heavy rainfall.
Ditch the Bricks and Mortar
Source: squarespace-cdn.com
The concept of luxury shipping container homes is unique as it doesn't require conventional building materials. Instead, you can simply put up the furniture and start residing with the ultimate comfort within these homes.
The styles can vary from modern container homes to industrial or even retro looks. Various units can be combined together to form a large home or stacked upon one another for even a residential tower or mixed-use structure. These homes are the ultimate choice for homeowners who aren't afraid to explore novel concepts and are seeking cost-effective solutions.
The Popular Luxury Shipping Container Homes
From an area starting with 100 sq. ft. to a lavish scale of even 1500 sq. ft., these luxury shipping container homes are becoming a popular pick for homeowners owing to their outstanding aesthetics and the utmost convenience.
Source: apartmenttherapy.info
Source: shopify.com
Source: seattletimes.com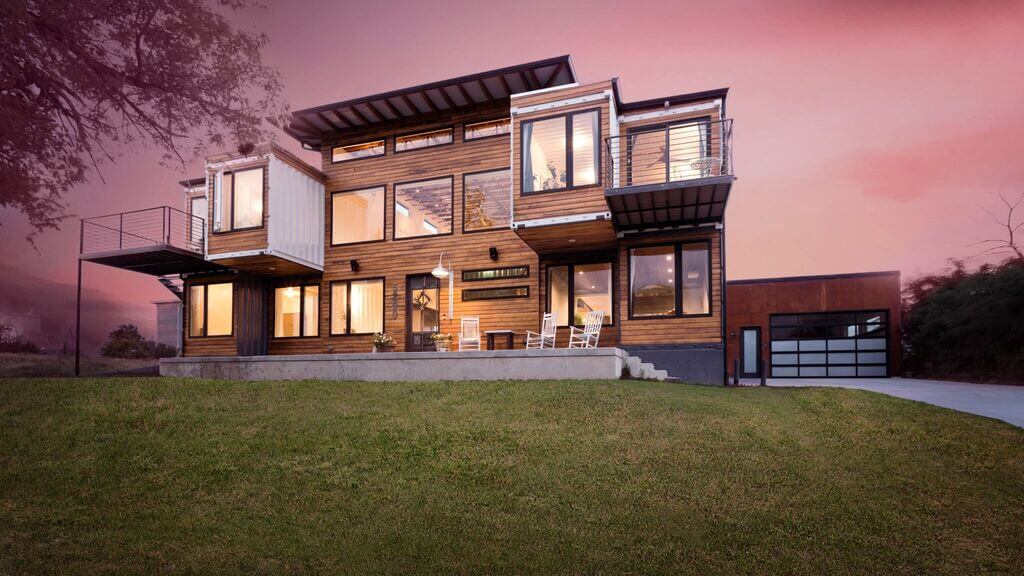 Source: hearstapps.com
Source: homestratosphere.com
Source: dwell.com
Source: dream.space
Source: apartmenttherapy.info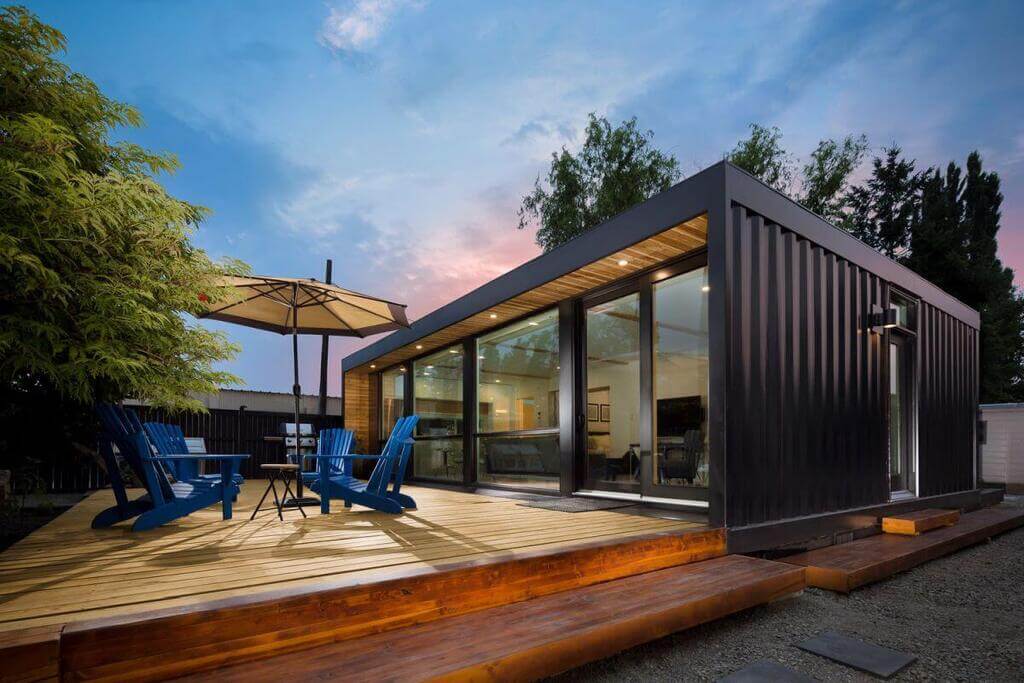 Source: thearchitecturedesigns.com
Source: blogspot.com
FAQs
1. What Is the Time Duration for the Construction of Luxury Shipping Container Homes?
These homes can be built within a minimum time period of 8-12 weeks. The timeline varies based on the scale of the project.
2. What Is the Lifespan of a Shipping Container House?
If your home is maintained well, these shipping container abodes will live for a minimum of 25 years.
3. Can Container Homes Be Added to the Ground?
Shipping container homes can be directly installed on the ground without having to provide additional support.
4. Will My Shipping Container Home Get Hot During Summer?
Your home is prone to get overheated if not facilitated with proper ventilation.
5. Are Shipping Container Homes Cheap?
Modern container houses are a cheaper living alternative than conventional residential structures.
For more information about the latest architectural development, keep coming to Architecturesstyle. Also, do follow us on our Instagram page, Architecturesstyleideas, to get daily updates.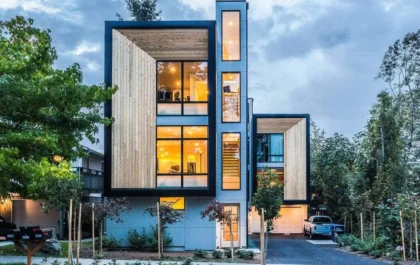 27+ Stylish & Modern Townhouse Designs for Urban Living.
The townhouse's first impression is normally too small, too compact, too narrower, and the list is endless. Well, let us…