Do you dream of having your own custom-made home? But you don't want to invest much time and money in architects, engineers, and contractors? Then modular homes are meant for you!
Modular homes can be a good choice for unconventional designs. They are affordable and time savers as well. According to the experts, they are going to be the future of the modern construction industry.
Read along to get a proper idea about modular home styles!
What are Modular Homes?
Source: muscache.com
A modular home is built on the concept of prefabrication. The modular homes are prepared off-site but assembled on-site. They are not mobile and are built in a factory setting. Structures of this type are also known as "prefab," "system-built," or "factory-built."
"Modular homes are built in sections in a climate-controlled factory and transported to your land, where a builder assembles the home like building blocks on top of a permanent foundation," said Bailey Carson, an expert of home care at Angi, a home services finder.
How are Modular Homes Made?
Source: pinimg.com
The modular homes are factory-built in a climate-controlled area. Its manufactured components are transported to the construction site. The parts are then assembled, like a Lego set, with the help of a crane and other machinery. They are fixed on a permanent foundation, hence they cannot be moved.
How Are Modular Homes Different from Other Types of Homes?
Source: pinimg.com
Modular homes are subject to more stringent regulations, standards, and building codes than conventional on-site houses. Modular homes are different from other types of homes in several ways.
1. Prefab Homes vs. Modular Homes
Source: storage.googleapis.com
Prefab homes are produced in a factory before being assembled in their final form on the construction site, whereas "modular" describes something that is created or arranged in self-contained units—like building blocks.
2. Manufactured Homes vs. Modular Homes
Source: engelvoelkers.com
Modular homes are put together on a permanent foundation, but manufactured homes are not. Manufactured homes are mostly mobile, but modular homes are not. Specific guidelines define the relocation of manufactured homes.
3. Mobile Homes vs. Modular Homes
Source: ekobyvanie.sk
A mobile home has also termed a trailer. These kinds of residences are compact, equipped with all essentials, and mounted on wheels for mobility. While modular homes are built with less time and effort but to the same standards as on-site residences.
Top 7 Advantages of Having a Modular Home
Source: cloudfront.net
Affordability – Modular homes are

generally affordable to build. The main cost goes behind the manufacturing of the modules.

Customizable – Modular homes a

re highly customizable. You can design your home as per your wish.

Less time required – Modular homes ne

ed a shorter time to build. The major time is involved in the processing of th

e modular u

nits.

Energy efficiency – Modular homes ar

e energy efficient. They require minimum energy during and post-construction.

Inspection –

Home inspections are generally not required

in modular homes.
Sustainable – Modular homes a

re environmentally friendly and sustainable as well.

Weather delays –

Weather-related delays are not there i

n modular homes.
5 Disadvantages of Having Modular Homes You Should Know About
Source: shorecontracting.ca
Land purchase –

Land must be purchased first for bui

lding modular homes. Yo

u can not make any alterations unless the land is yours.

Subdivisions – Modular homes ca

n not be built on subdivisions.

Research required –

You will need to do good research before finalizing the manufacturer. Not all manufacturers are suitable for your design.

Services –

Foundation and other building services for t

he modular homes n

eed to be laid out on site.

Loan –

A

Construction loan might be required to finance yo

ur modular home.
Top 15 Rare Facts about Modular Homes You Should Know About
Source: pinimg.com
Modular homes ne

ed to be transported on-site.

They are set on a permanent foundation, and thus cannot be moved.

They are customizable.

They can be used for commercial buildings.

They bear the same tax as site-built homes.

They can be built in basements and crawl spaces.

They can be considered green buildings.

Their value doesn't depreciate.

They are built faster than on-site buildings.

Loans are the same

for modular an

d on-site houses.

Up to 173 mph of wind speed can be withstood by them.

They are built for accessible living.

They can provide future conveniences.

Insurance is also the same for both modular and on-site homes.

Regular home inspections are not required.
Top 25 Types of Modular Homes That Will Help You Stylize Your Dream Home
1. Modular Homes by Method Homes
Source: pinimg.com
One of the most extensive collections of modular homes is offered by Method Homes, a Washington-based architecture firm. You can choose from options ranging from modern modules to traditional and craft-styled module homes. Their portfolios are impressive, with a wide variety of modular home designs.
2. Ranch Modular Homes
Source: nextmodular.com
These Ranch Style Modular Homes (also known as ramblers or ranchers) are short in stature and have a minimal exterior. These modern modular homes are either "L" shapes or asymmetrical rectangles. They are typically one story tall, with short roofs. The ranch homes are unable to deal with heavy snowfall.
3. Modular Homes by Wheelhaus
Source: pinimg.com
Wheelhaus offers a tiny variety of modular homes. They are a Salt Lake City, Utah-based architecture firm. Sustainability is the main focus of Wheelhaus. They aim to build on the philosophy of "less is more." The modular homes built by them are climate-controlled and provide good value for your money.
4. Two-Story Modular Homes
Source: licdn.com
The two-story modular homes are built two stories above ground. They are one of the best modular homes. The lower floor has a kitchen, dining room, and living room, while the top floor has bedrooms. These modular-style homes save space and can house a larger family.
5. Modular Homes by House Port
Source: anchorhomes.com.au
Sculptor Hally Thacher founded House Port, a New York-based firm, intending to create sustainable and easy-to-build modular homes. Her vision expanded from one to a collection of four homes. These homes are pre-built with a galvanized metal roof. The modular homes by House Port offer a unique look.
6. Modular Homes by Ma Modular
Source: pinimg.com
Ma Modular offers affordable and luxury modular homes. It is a Texas-based firm that built modular homes in a controlled environment. The company offers two-story models, unlike the standard bungalow-style modular homes. These modular homes are built with exquisite modern techniques.
7. Modular Homes by WeeHouse
Source: behance.net
WeeHouse is a Minnesota-based architectural firm that specializes in modular homes. They offer floorplans and a slew of configurations. The designs are sleek and modern. Studio clusters and row houses are their most popular designs. They are aiming to develop a manufactured home community.
8. Chalet Modular Homes
Source: fbcdn.net
Swiss alpine homes inspire the Chalet modular homes. They are ideal for cold climates. These chalet homes have high, pointed roofs. Their extreme tilt angles prevent snow from stacking on the roof. They also have large windows to allow maximum light for both lighting and heating purposes.
9. Cape Cod Modular Homes
Source: buildgreennh.com
Being popular in the Northeast, Cape Cod-style modular homes are an affordable option to choose from. They are built mainly in colder climates and thus have sloped roofs. The style features shingles, a dormer roof, and shutter windows. Their attic adds extra space for storage.
10. Modern Modular Homes
Source: twimg.com
Modern modular homes are highly customizable and don't have a set style. They don't look like cutting edges. Modern modular homes are often built with steel frames instead of wood. They have much larger windows and rooms. Affordability is the key feature of these modular homes.
11. Mansion Modular Homes
Source: cloudfront.net
The mansion modular homes are huge, unlike their competitors. They are advanced and intricate. Size and space are not an issue in these modular homes. They are highly affordable and offer the greatest space savings. The look is elegant, advanced, and modern.
12. Modular Homes by Blu Homes
Source: ikons.id
The California-based Blu Homes are famous among home builders for their modular homes. Premium home designs with all amenities are offered by this company. They are highly sought after by well-off people. Their price range is from Rs. 1.6 lakh to Rs. 4.5 lakh.
13. Modular Homes by LivingHomes
Source: pinimg.com
The modular homes offered by LivingHomes are stunning. This California-based firm has received LEED Home Platinum certification for approximately 24 of its designs. They focus on using natural materials and making highly customizable modular homes.
14. Modular Homes of Rocio Romero LV Series
Source: blogspot.com
The LV Series is a Missouri-based firm. Their Rocio Romero modular homes are a perfect example of minimalist architecture. They are highly popular among homebuyers. Famous for their product design, these modular homes are highly customizable as well.
15. Green Modular Homes
Source: pinimg.com
Green modular homes are not a distinct type of modular home, but rather modular homes with environmentally friendly features. They are more sustainable than their on-site building counterparts. Solar panels and energy-efficient features are what make them special. They are created with advanced technology and skills.
16. Colonial Modern Modular Homes
Source: pinimg.com
The colonial-style modern homes are famous in southern states. They are distinguishable due to their huge size and great white columns. Porches are wrapped around the entire modular home. They are at least two-story high. Spacious sites are suited for these types of modular homes.
17. Modular Homes by Irontown Homes
Source: irontownhomes.com
The Utah-based firm, Irontown Homes, offers some interesting modern-style modular homes. They try to create monumental modular homes. This firm offers some beautiful properties and designs in a wide variety of architectural styles. Contemporary modular homes are their niche.
18. Modular Homes by Ecocor
Source: ecocor.us
Ecocor is a Maine-based modular home design firm. They invest in passive construction techniques. This company refers to its modular home manufacturing process as "panelized." They are famous for their building strategies. Their modular homes are environmentally friendly and sustainable.
19. Modular Homes by FabCab
Source: pinimg.com
The Washington-based architecture and design firm FabCab has only three-in house architects. Their famous designs are ModCab and TimberCab. They prioritize sustainability, environmental consciousness, and affordability. Their focus is on building minimal modular homes with maximum facilities.
20. Modular Homes by Ideabox
Source: webflow.com
The modular homes by Ideabox, the Oregon-based architecture firm, are Energy Star certified. They offer one- to three-bedroom prefabricated homes in several styles. Their modular homes cater to the needs of the user efficiently. For insulation, they use open-web-engineered trusses. They focus on having minimized thermal bridging.
21. Modular Homes by Turkel Design
Source: gessato.com
The Massachusetts-based design firm Turkel Design has created some beautiful luxury modular homes. They have built more than 100 homes across America and Canada. Modern construction techniques like virtual walkthroughs are their specialization. Much of their work is done off-site with prefabricated modules.
22. Modular Homes by Blue Sky Building Systems
Source: adsttc.com
Blue Sky Building Systems is a California-based firm. They follow the principle of working off-site on prefabricated elements and assembling them on-site. Steel frames are featured in their projects to resist two-directional forces. They claim to reduce the requirement for load-bearing walls. This modular home offers flexibility in its layout.
23. Modular Homes by Stillwater Dwellings
Source: pinimg.com
Stillwater Dwelling is a Washington-based company that offers premium custom prefabricated modular homes. They've been working for ten years. They aim to blend natural and man-made materials for building. They openly use glass and wood for construction. These homes are available in both single- and double-story designs. They have steel canopies and butterfly rooflines.
24. Modular Homes by Sander Architects
Source: pinimg.com
Sander Architects, a California-based firm, offers large-scale residences, unlike other smaller prefabricated homes. Their approach is described as "part prefab, all custom." They offer one of the best modular homes. Customization and simplicity are their main focuses.
25. Modular Homes by Clayton
Source: cloudfront.net
The Tennessee-based architecture firm, Clayton, renders beautiful modular homes. They are one of the largest modular home builders. Their modular homes are Energy Star-certified. They have about 50 years of experience in modular residential design. Affordable and space-saving designs are their niche.
Let's Switch to Modular Homes!
Modular homes are the most favorable option if you want to customize your dream home. They are built smoothly, with ease, and offer value for money. It allows you to design your space according to your needs. They are built relatively quickly and are environmentally friendly. So, what are you waiting for? Do a quick check and select your modular home!
Also Read: 27+ Modern Concrete House Design Around the World
FAQs About Modular Homes:
1. Do Modular Homes Last Long?
Similar to traditional buildings, the maintenance, and care performed after handover determine the lifespan of modular buildings. But in many instances, modular homes might last for more than 30 years and often serve purposes other than those for which they were originally designed.
2. Which Is Better, Prefab Homes or Modular Homes?
Consider the following factors for consideration-
Budget –

Prefab homes are relatively cheaper tha

n modular homes.
Customization – Modular homes are

more customizable.

Resale Value – Modular homes hav

e a higher resale value than prefabricated homes.

Residents –

Being customizable, the

modular home se

rves a better purpose for larger families.
3. How Much Do You Have to Put Down on Modular Homes?
Financing a modular house is quite analogous to financing a normal home if you own the land.
You'll require a credit score in the mid-600s, a 10% to 20% down payment (about 3.5% with an FHA loan), and income equal to around one-third of the mortgage.
4. Should You Buy Modular Homes?
Everything has its pros and cons, and so do modular homes. Modular homes are inexpensive, customizable, simple to construct, and can be completed quickly. Its value increases with time. They even have a higher resale value. So do a quick analysis of your requirements and choose modular homes.
5. Which Are the Best Types of Modular Homes?
There are several options available out there in the market for a modular home. All you need to do is understand your requirements and then select the type of modular home that suits you. Some of the famous modular homes are –
Modular Homes by Clayton, Colonial Modern Homes, Chalet Modular Homes, etc.
For more information about the latest architectural development, keep coming to Architecturesstyle.
Also, do follow us on our Instagram page, Architecturesstyleideas, to get daily updates.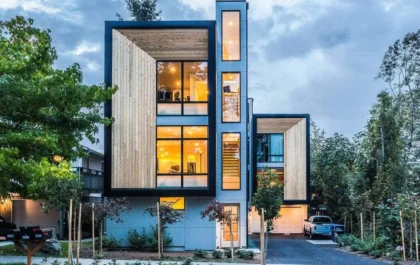 27+ Stylish & Modern Townhouse Designs for Urban Living.
The townhouse's first impression is normally too small, too compact, too narrower, and the list is endless. Well, let us…