Just as we can clearly see architectural trends and fads leaving their marks on single-family residential construction, there are unmistakable trends in multifamily housing.
Entire cities can be characterized by patterns in multifamily residential construction, usually tied to historical increases in industrial and population; in New York, brick walk-ups make up a bulk of apartment housing; in Philadelphia, cheek-to-cheek, multistory row houses are a common sight; in Floridian locales, the population of the last few decades has manifested in a sprawling, outdoor apartment, and condominium complexes.
Architectural and design trends, even those that seem overly wishful or slightly out of touch, are usually informed by consumer desire — not the other way around. Now, with a pandemic fresh in our minds and housing prices ever rising, developers seek ways to deliver tenants from isolation and maximize space.
The reimagination of common areas, floor plans, and aesthetic choices increasingly serve to bring people together. In other words, multifamily housing structures seem to now be striving for a balanced sense of community.
In addition to bolstering the communal aspects of multifamily housing, architects and designers are prioritizing efficiency and efficacy, improving the quality of onsite amenities and the performance of necessities like elevators and security systems.
1. Ground Floor Arrangement & Amenities
New multifamily construction projects are designing with a functional, usable, and diversely featured ground floor. Taking cues from hotels, which often feature various types of lobby seating available for guests, new apartment developers are looking for ways to divvy up the traditionally open, bare ground floor into mixed-use and lounge spaces.
With the past year seeing a tremendous and unprecedented rise in the number of people working remotely from home, apartment buildings with work-from-home amenities, like ground-floor guest wifi, dedicated desk spaces, printing and scanning stations, and meeting rooms are rising in popularity.
2. Outdoor Space & Amenities
The application of outdoor space in apartment buildings is experiencing a renaissance. Pools, long a fixture and status marker of premium multifamily housing structures, are starting to show their weaknesses, particularly in the context of the COVID-19 pandemic.
To many people, shared or public swimming pools were never the most appealing feature of an apartment building or complex. This could be traced to concerns about not only sanitation but privacy. Now as the pandemic draws to a manageable trickle, sanitation remains a primary concern to most.
However, it's safe to say many of us, especially those living in population-dense cities and areas with proactive public health measures, have had our fill of privacy. With physical fitness now a fixture in mainstream culture, architects are shifting away from the pool — though not entirely — and toward other outdoor activities, like barbecues, volleyball, and even communal gardens.
3. Smart Elevators
We've had smartphones, smart cars, smartwatches, and smart ovens for some time now, so elevators were due for some education. It's to be expected; just like in a crowded office building, outdated elevators in crowded apartment buildings can be a drag, taking forever to arrive with inconsistent performance.
Naturally, new high-end apartment building designs are taking a cue from modern multi-story work campuses. It is implementing smart elevators which monitor and display occupant number and other important information to potential riders.
In the next few years, smart elevators should become more common in most new apartment buildings. Pete Evering at Utopia Management has seen the trend becoming widespread in California. "We expect to see it in Washington state within the next year as it becomes the norm going forward."
4. Smart Stairs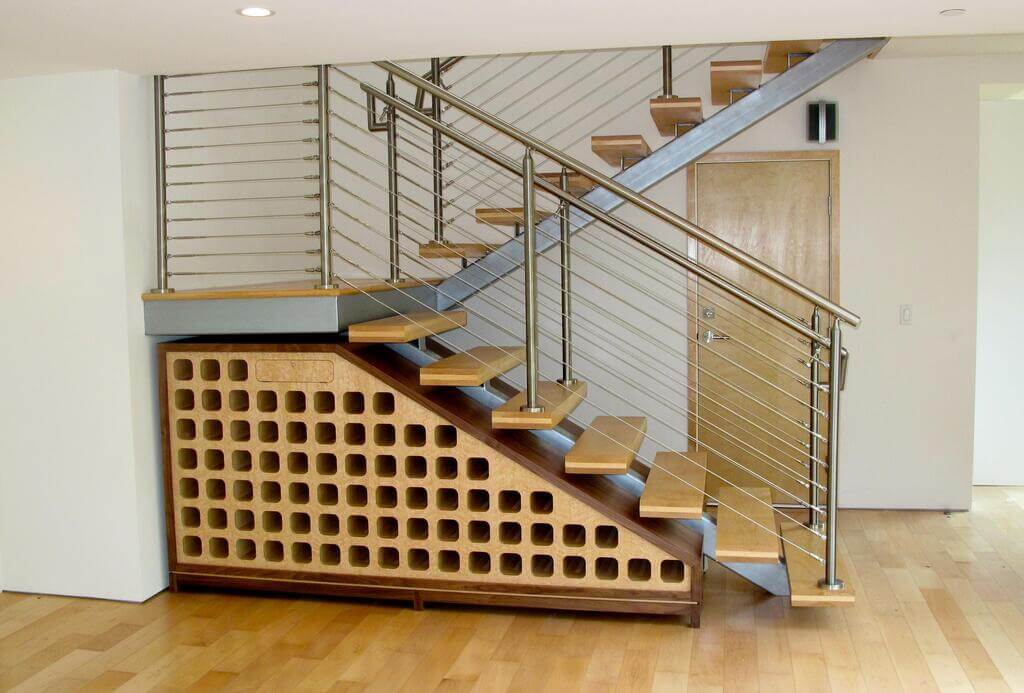 Maybe calling them smart is a stretch, but the new stairwell designs are certainly an attempt at rethinking stairs. In the average apartment building built within the last few decades, the stairwell is its least sightly element; following the philosophy that stairs are only using when the elevator is too pack or inoperable due to maintenance.
Now, the old, musty, grungy stairwell is giving way to open, breathable, centrally located stairs, often with natural light from skylights or windows.
5. Package Reception and Storage
If you live in a generations-old walkup, you might experience some frustration when having purchases deliver. One of the biggest shifts in our life since the turn of the century has been our reliance on eCommerce.
We buy more than ever online and spend less time at physical retail outlets. Older apartment buildings, sadly, are not equipping to handle this increase in parcels. Sometimes this puts our purchases at risk of being stolen.
That's why one of the biggest trends in new apartment design, as well as renovation of older structures, has been the inclusion of better package storage and the allocation of more floor real estate to package storage.
This goes beyond simple lockers, which are now a bona fide necessity; premium multifamily housing complexes are beginning to include cold storage in their package reception facilities to better accommodate grocery delivery services.
6. Actual, Accessible Balconies
In apartment housing, windows have historically been overlooked. So it's refreshing to see that many developers are prioritizing operable windows and even usable balconies.
To kill two birds with one stone, Juliet balconies accessed by glass doors are becoming the norm for many developers, allowing tenants to not only receive natural light in their closed space but to also open their space up to the outdoors.
Discover More: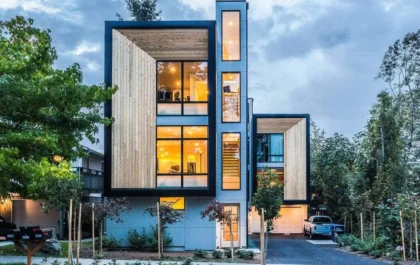 27+ Stylish & Modern Townhouse Designs for Urban Living.
The townhouse's first impression is normally too small, too compact, too narrower, and the list is endless. Well, let us…