Do you want to use the same old Halloween decorations this year? We are sure your answer is a big 'No'. Therefore, we've gathered some of the new and best outdoor Halloween decoration ideas for you!;
Halloween is one of those holidays where we decorate our spaces and spend some quality time Trick-or-Treating with our family and friends. Whether you're going for a spooky or fun vibe, there are plenty of ways to welcome the Halloween spirit in your home. These amazing outdoor halloween decorations will help you transform your boring yard, deck, or outdoor space into a ghost town or wild wild west. From large spooky spiders to hair-raising hanging monsters, there are many interesting ideas in the below list. Try these outdoor Halloween decor ideas and become the best Halloween-themed decorated house in the neighborhood.
Let's begin.
1. Purple Flickering Flame Solar Torch Lights
No decoration will be complete without having some lights on. The same goes for Halloween!
These purple flickering flame solar torchlights are a great way to add some spookiness to your yard, pathway, lawn, or garden. This set comes with 6-pack Halloween solar lights, 6-pack spikes of Halloween lights, and 6-pack poles of Halloween outdoor lights. These types of lights can really set the mood and ambiance for Halloween yard decorations.
2. Joomer Solar Halloween Lights
Upgrade your Halloween decoration with these DIY solar-powered Halloween fairy lights. This 98ft waterproof string light comes with 300 LEDs in orange and purple color. These Joomer Solar lights are automatically charged during the day to stay lit at night.
Another great thing about these lights is that they come with 8 modes and timer functions so that you can adjust them to your liking. You can also easily install these IP65 waterproof lights into the soft soil or grass, and they can withstand weather conditions like rain, snow, frost, or heat. These bright, shiny lights are perfect outdoor Halloween decorations!
3. JOYIN Halloween Tombstone Yard Decorations
Are you looking for a new outdoor decoration idea for Halloween? Here's a fun one: Haunted Cemetery!
Turn your simple yard into a spooky cemetery with JOYIN Halloween tombstone yard decorations this year. This decoration set comes with 9 scary yard signs made with lightweight PVC material. You can arrange them in whatever manner to get the best spooky-looking graveyard look. Don't forget to add cobwebs, scary lighting, and eerie sound effects to get the real cemetery effect. It is perfect for Halloween parties, haunted houses, and outdoor lawn decorations.
4. Large White Ghost Scented Candles
Look at these cute white ghost candles; they're perfect for your Halloween table decorations! These scented candles have a unique design and eye-catching appearance. It is available in a pack of 4 large white ghost-shaped candles. They're made with high-quality soy wax material, which is not easy to melt or break, making them safe around kids. These realistic-looking ghost candles are great home decor for your bedroom, table, and party decorations.
5. Sinister Skeleton Outdoor Halloween Decoration
Skulls and skeletons are one of the essential decor items for Halloween, right? So, buy these realistic-looking Halloween skeleton decorations from Aitbay for this Halloween. These full-body posable skeletons have movable joints, so you can put them in various positions, including climbing up the side of your house and emerging from the ground. There are several creative ways to decorate these spooky skeletons, from hanging them at your cool indoor party to adding them to your graveyard decoration on your outdoor lawn.
6. Giant Spider Decorations Fake Spider With Web
Scare your trick-or-treaters with this giant spider decoration!
Start your outdoor Halloween decorating ideas by dressing your trees in your yard in fake triangular cobwebs and later place this gigantic 59″ fake spider. This huge black spider has flexible 4.9ft legs and eerie glowing eyes, which will become a spooky centerpiece for your outdoor Halloween decor. This decor idea will surely give your guests and trick-or-treaters a spine-chilling experience, especially for those scared of spiders.
7. Creepy Halloween Black Cat Decorations
Imagine you are walking around your neighborhood, and suddenly, you see two glowing eyes in the dark. You may wonder what creature is hiding in the trees, only to find out later that it's just a Halloween cat decoration!
If you like this idea, buy this 6-piece black cat set for your outdoor Halloween decorations. Put them all over your yard like spooky warning signs in backyards, sideways, and behind trees. These Halloween decorations are fabulous and quick to add some creepiness to your yard without spending too much!
8. Spooky Ghost Outdoor Halloween Decor
One of the most common yet scary outdoor Halloween decoration ideas is ghost decor!
Here is an easy way to get into the Halloween spirit with these types of interesting outdoor Halloween decorations. This front door Halloween ghost decor comes with battery-operated string lights that can be illuminated at night, making them fun and frightful at the same time.
You can also easily hang them from trees, porch ceilings, or any other jump scare spots. These hanging ghosts will create a ghostly gathering in your yard and attract a lot of eyeballs.
9. Screaming Witches Sound-Activated Sensor Decoration
Create an eerie movie scene of wicked witches standing in front of a magical cauldron and chanting a spell!
Buy these spooky flowing black witch dresses and matching hats and put them in front of a cauldron bubbling with eerie green smoke. The bloodcurdling sounds from these lightened, faceless witches will make your porch or outdoor lawn area a witch's den. These life-size witch props are holding hands and come with a sound-activated sensor, so whenever someone comes near them, they scream various noises that can easily scare anyone!
10. Hanging Corpse Dead Victim Props For Halloween
At first glance, this corpse seems too real, and there are chances that people may call 911 thinking it's an actual dead body!
However, that's the actual fun of outdoor Halloween decorations, right?
Decorating this human-sized corpse is super easy; you can either put it on your porch, front door, and sidewalk of the house or hang it on trees, stairwells, and rooms. This dead victim prop will create a dark Halloween horror effect! Try this out and start your Halloween night with the screams of your visitors!
11. JOYIN 8 Pcs Scary Halloween Window Boards
Don't forget about the windows while decorating your porch, living room, and yard! Yes, you can decorate them in the most creative ways to create an eerie and spooky atmosphere. Take a look at these Halloween window decorations, which exudes the scary Halloween haunted house vibes.
12. HOPOCO Halloween Plush Spiders Pack of 6 Pack
Cover your entire home exterior with these crawling creatures! Get these HOPOCO Halloween plush spiders in different sizes so you can put them in each corner of your house, including stairs, roof, garden, and yard.
These spiders look incredibly realistic, with glowy red eyes and hairy legs. You can also add spider webs, skulls, and skeletons to create a spooky ambiance. Use these types of affordable and creative outdoor decorations to play Halloween pranks on your friends, family, and trick-or-treaters.
13. Trick or Treat Wooden Halloween Hanging Door Sign
Welcome your guests with these two amazing Halloween hanging signs. These trick-or-treat Halloween Hanging door signs have cute Halloween quotes written in beautiful fonts. They have beautiful Halloween patterns and designs like pumpkins, witches, and spiders. From fun Halloween indoor parties to frightful big outdoor celebrations, these signs will fit in just right!.
14. JOYIN Groundbreaker Skeleton Stakes Halloween Decorations
This is a perfect prop to get your heart pumping like wild horses! Scary, isn't it?
These are the life-size groundbreaker skeletons for outdoor Halloween decorations. The realistic skeleton props have been used to decorate porches, yards, and outdoor spaces for time immemorial. These bone-chilling crawling skeletons will be a great way to greet trick-or-treaters and get them in the Halloween spirit.
15. Crashing Witch Outdoor Decor For Halloween
Show off your festive spirit with creative and scary outdoor Halloween decoration ideas like this one!
Add a touch of enchantment and magic to this year's outdoor Halloween decorations with these funny crashing witch decorations. These life-sized witch figures with broomsticks and hats will surely help you to create a spellbinding and hilarious atmosphere. Attach them to any tree and decorate it with a cauldron and green fog.
16. Large Halloween Decorations Outdoor Yard Signs
If you're looking for party decoration ideas that can be used every year without repetition, get these cute ghost pumpkin yard signs! These outdoor Halloween decorations can be used in many ways. You can either put them in your yard all in one place and create a pumpkin-themed decoration or put these props in the pathway along with other warning signs to create a scary environment.
These simple and budget-friendly Halloween decorations and outdoor ideas are a great way to add an eerie touch to your outdoor space. These are made from weather-resistant corrugated plastic; hence, they're non-fading and waterproof. These signs can be used for many years as they're pretty durable and work with many party-theme decoration ideas.
17. Bloody Fingerprint Halloween Window Decorations
Turn your home into a scary haunted house with the help of these wall stickers! These bloody fingerprints and handprints can be easily put on your walls, windows, and shower glass. These horror stickers will help you to achieve the perfectly scary atmosphere.
Add props like a fake corpse wrapped in black plastic, a skeleton, and some scary music. You'll be happy to know that these bloody stickers are reusable so that you can use them in your next year's outdoor Halloween decorations.
18. 10ft Large Halloween Inflatable Skeleton Tombstone Banner Decoration
Wish happy Halloween to your visitors and neighbors in a creative way! Look, here is a massive 10ft banner decoration for Halloween! This inflatable skeleton tombstone banner has built-in LED lights, which makes it even more special. If you want to make your outdoor Halloween decorations stand out in the neighborhood, just put this large banner in your yard, porch, or outdoor space.
Bright lights, spooky props, and large banners – these fun and entertaining things excite kids for the holiday season, which not only them but everyone is waiting for the whole year! Try these large outdoor Halloween decorations.
19. Outdoor Yard Metal Lawn Stake Signs
This decoration idea goes perfectly below the Halloween banner decor. These are 2 sets of metal lawn stake signs in the attractive pumpkin design. These metal lawn stake signs are durable, waterproof, and easy to assemble.
Whether you're hosting a Halloween party or want to decorate your lawn in a unique way, these trick-or-treat props, and outdoor Halloween decorations will help you add fun and flavor to your event.
20. Glowing Ghost Witch Hat Hanging Halloween Decorations
Dress your home in the spirit of Halloween with the help of these 3 hanging ghost decor. These aren't ordinary decor; they are made of polyester and come with a glowing hat. You can hang them anywhere, from indoors to outdoors.
They also have three different light flash modes: slow glow, fast glow, and steady on & off. When these three ghosts hang on a tree and float in the air, it will look mysteriously scary.
FAQs
Happy Halloween!
So, these are some of the best outdoor Halloween decorations; however, these are only a few ideas to get you started. With your imagination and creativity, you can create a fantastic outdoor Halloween display that catches everyone's attention. From spine-chilling groundbreaking skeleton props to bloodcurdling graveyards and cemeteries, several easy outdoor Halloween decorations can make your Halloween fun and entertaining. Experiment with various ideas with the help of decor ideas mentioned in this blog and transform your outdoor space into a spooky and enchanting place.
Keep reading:
Himadri Shakya
Himadri Shakya is an enthusiastic Content Writer and Editor. She loves to create creative, engaging, and SEO-friendly content. Through her extensive research skills and practice, she has been generating high-quality and informative articles, and blog posts for over 4 years.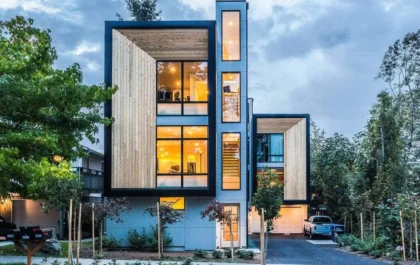 27+ Stylish & Modern Townhouse Designs for Urban Living.
The townhouse's first impression is normally too small, too compact, too narrower, and the list is endless. Well, let us…