If you don't have a garage, outdoor sheds are a terrific option to get some garage-style square footage. Many appealing alternatives for outdoor storage sheds are available online, ranging from rustic-chic to contemporary design.
Outdoor storage sheds provide additional space for storing various goods, such as garden tools, lawn care equipment, off-season patio furniture, rubbish bins, firewood, and pool toys. If you believe an outside shed is beyond your price range, reconsider. We discovered several fantastic shelters, most of which were around $500. Read on to learn and get the best outdoor storage sheds available online.
1. KINYING Larger Outdoor Storage Shed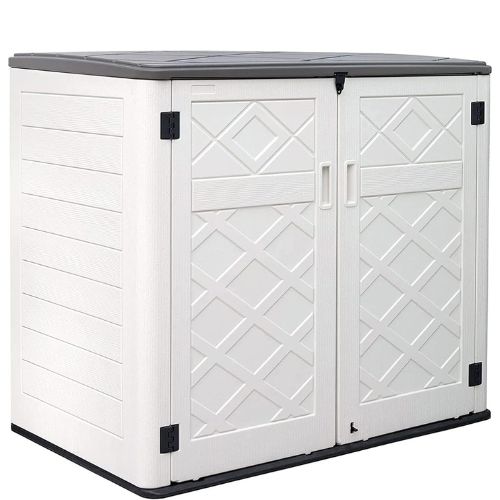 Brand– KINYING
Color– Larger off-white shed-03D
Material– Plastic, Thicker HDPE, Waterproof, Colorfast, Weather resistance, Moisture resistance
Item Dimensions LxWxH– 53.2 x 34.3 x 47.1 inches
Item Weight– 40 Pounds
Kinying storage sheds have high-quality, high-Density, Polyethylene Resin, which ensures weather resistance, colorfastness, and UV protection, as well as resistance to peeling, rot, and rust. Its double-wall panel design increases strength and provides improved wind and impact protection compared to single-wall panel cabinets. These buildings provide plenty of room for outside objects like garbage cans, gardening equipment, firewood, and bikes.
Assembly is simple with the accompanying tools, and supplementary black metal laminate shelves may be bought separately for increased convenience. You can use these adaptable shelters in various contexts, including indoor, outdoor, balcony, yard, garden, and street usage.
2. Classic Steel Garden Storage Shed
Brand- Arrow Shed
Color- Sage Green
Material- Alloy Steel
Item Dimensions LxWxH- 162.25 x 123.25 x 75.9 inches
Item Weight- 264 Pounds
With their durable galvanized steel structure, heavy-duty outdoor storage sheds can safeguard landscaping equipment, tools, and gardening supplies. It is made of durable galvanized steel and is resistant to corrosion, rust, and weather conditions.
The polyester paint finish protects against the weather and seals the steel against rust and corrosion. A low gable roof pitch prevents water from gathering, and sliding doors have the support of broad glides that prevent sticking and derailing.
Padlockable sliding doors enable easy retrieval and storage of objects, while long vertical wall panels allow tall item storage.
3. Outdoor Vertical Wooden Storage Shed for Tools
Brand- Hanover
Color- Yellow
Material- Wood
Item Dimensions LxWxH- 30.3 x 21.3 x 70.4 inches
Item Weight- 50.6 Pounds
Such garden storage sheds have plenty of space to store your tools, garden supplies, grill equipment, and accessories with substantial entrance doors and short storage shelves. The shed has a lockable door to keep all of your belongings safe and secure. This little shed lets you easily organize and store your outdoor equipment.
This storage cabinet can survive the weather, with natural, robust fir wood and a waterproof roof. These storage buildings are ergonomically built for long-term usage and enjoyment.
4. Outdoor Small Vertical Resin Storage Shed
Brand- Rubbermaid
Color- Brown
Material- Resin
Item Dimensions LxWxH- 31 x 52 x 81 inches
Item Weight- 120 Pounds
Outdoor vertical resin garden storage sheds have a vast storage capacity. The design can resist leaks, dents, and harsh weather conditions. Assembly is a breeze, accommodating large and hard-to-store items with its extra-deep design. The heavy-duty, impact-resistant floor is available, and you can secure your belongings with a lock. Additionally, you can easily customize the interior with pegboards, shelves, and other organizational accessories using Rubbermaid wall anchors. It is a versatile and reliable storage solution.
5. Outdoor Shed with Pent Roof
Brand- Rubbermaid
Color- Brown
Material- Resin
Item Dimensions LxWxH- 31 x 52 x 81 inches
Item Weight- 120 Pounds
Yardsaver metal outdoor storage shed offers convenience right from the start with its easy assembly, thanks to pre-cut and pre-drilled parts. Built to withstand the test of time, such sturdy sheds comprise of electro-galvanized steel treated with zinc, effectively resisting corrosion and rust.
Some outdoor sheds with pent roofs have a standout feature, boasting double swing doors that facilitate effortless entry and removal of items. This makes it an excellent choice for housing lawn equipment, pool accessories, trash containers, firewood, and more. The intelligent sloped steel roof design of these sheds ensures that water doesn't pool, and for added security, the shed features a pad-lockable door.
6. Natural Wood-Like Outdoor Storage Shed for Trash Cans and Yard Tools
Brand- Suncast
Color- Stoney Grey
Material- Resin
Item Dimensions LxWxH- 32.25 x 53 x 45.5 inches
Item Weight- 1244.8 Ounces
With this weather-resistant resin storage shed, you can keep your rubbish and recycling containers out of sight until trash collection day. The adaptable unit has an easy-open top and two swing-open doors for convenient access inside, and its double-wall structure makes it a sturdy solution.
7. Metal Outdoor Patio Storage Shed
Brand- SNIFIT
Material- Aluminum, Plastic, Metal
Style- Garden, Patio
Top Material Type- Aluminum
Water Resistance Level- Waterproof
With this stylish utility shed, you can say goodbye to outside clutter and keep everything organized in one place. Such outdoor storage sheds are ideal for storing tools, gardening equipment, and other outdoor items. Front double doors open entirely for convenient access, and the accompanying locking latch can fit most combinations or keyed locks to keep your belongings secure. The wooden hut has natural fir wood and has a weatherproof asphalt roof that will endure many seasons.
8. Nordic Cottage Storage Shed
Brand- Gotland
Color- 6 x 4′
Material- Alloy Steel, Plastic, Metal
Style- Garden, Outdoor, Patio
Top Material Type- Alloy Steel
The external storage of such shelters is built entirely of galvanized steel, and the unique painting method makes the shed UV-proof, ensuring that the scontents remain intact. Sheds outdoor storage clearance also features a robust base foundation support, which increases the product's stability. The hinged door is made with permanent tubes, which increases the door's stability.
The roof of the outdoor storage shed is sloped to minimize rainwater gathering and improve the product's service life, with the vent intended to safeguard the dry condition of your things. At the same time, the lockable door secures your stored belongings, preventing loss.
You can use outdoor sheds as a pet house to give your pets a secure and comfortable place for your pets to live, as well as a waste collecting area to keep your garden neat.
9. Metal Storage Shed for Outdoor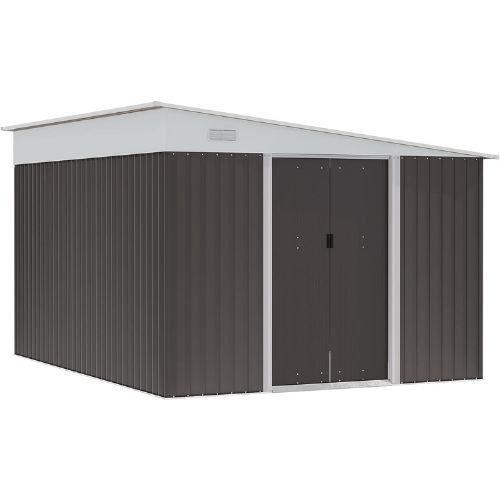 Brand- Outsunny
Color- Gray
Material- Alloy Steel, Metal
Item Dimensions LxWxH- 135.75 x 110.5 x 79.25 inches
Item Weight- 213 Pounds
You can use metal outdoor storage sheds with vents in your backyard to store long-handle tools, lawn equipment, and bicycles. With sliding doors, you can easily access the contents of the shed.
For the double door with a lock hole, you may also choose from several adaptable locks. This provides safety and prevents tiny animals from mistakenly accessing the premises.
Vents allow light and air to enter the structure, reducing odor and moisture buildup as well as precipitation and rust accumulation on the roof.
10. Outdoor Metal Lean-to Storage Shed
Brand- Evedy
Color- White Metal Garden Shed
Material- Metal
Item Dimensions LxWxH- 65 x 33.8 x 69.5 inches
Item Weight- 10 Pounds
When you need longevity, fire resistance, rot, or termites, metal shelters are an excellent alternative. A metal outdoor garden storage shed is often a modest, single-story roofed building that is great for storing various tools and accessories such as watering cans, spades, pots, and other outdoor equipment.
Apex roof sheds feature apex gable ends and are the most common and cost-effective style of metal shed design. Pent-roof sheds have a roof with a small inclination and are practically flat in form; this design prevents water from sitting on top of the shed.
FAQs
What is the best material for an outdoor storage shed?
Low-maintenance, weather-resistant materials like resin, vinyl, or stainless steel are ideal. You can use weatherproof wood, such as pressure-treated wood if wood is used.
How big should your outdoor storage shed be?
A shed should be large enough to hold whatever you want to keep within, with sufficient wiggle area for future purchases.
How do you level the base of an outdoor storage shed?
You save time and work by using a pre-level foundation. You will require a construction level. Depending on the material, you may also need to know how to mix and pour concrete.
What function does ventilation serve in an outdoor storage shed?
Heat and moisture may accumulate in a large walk-in shed, producing corrosion or volatility in gasoline-powered lawn and garden equipment and chemicals. If you wish to use your shed for this purpose, look for buildings with windows or vents that enable air to circulate. Windows in sheds make it simpler to locate your stored stuff.
How can you store tools in a cold climate in an outdoor shed?
You can store most outdoor equipment and tools in an outdoor storage shed. If you live in a cold climate, you need to take extra care with gasoline-powered tools, such as emptying the gas tank at the end of the season or adding a fuel stabilizer.
Conclusion
Outdoor storage sheds offer a harmonious blend of functionality and style. From sturdy steel to weather-resistant resin, there's a shed for every need. Consider size, material, and ventilation, ensuring your shed suits your space and climate. Explore options from our top 10 list and find the best outdoor storage shed that best fits your needs.
Discover more: