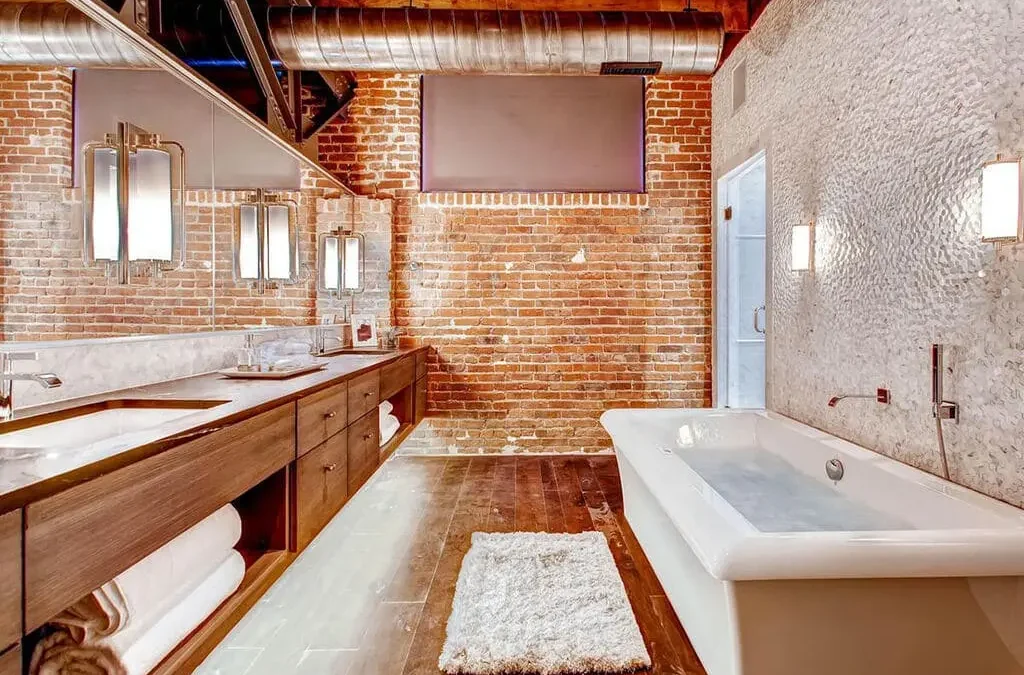 Bathrooms hold a significant importance in our homes! 

Whether it's about providing comfort or enhancing the interiors, bathrooms are always a valuable addition. After all, it's a place where we can finally relax our bodies and minds after a long day. This is why it's vital to have a powder room that reflects your personality and lifestyle. From luxurious interiors to all the fancy amenities, you can have anything in this space. If you're searching for some of the best master bathroom ideas, you've landed on the right page.

Today in this blog, I've made a list of amazing large and small master bathroom ideas that are budget-friendly, too! So, keep reading till the end and select your favorite theme to implement in your master room.

Let's get started. 
1. Modern Minimalist Master Bathroom Design
There is something so magical and mesmerizing about the minimalist interiors. The clean lines, simple color palette, and clutter-free space are aesthetics that everybody wants.
Add a minimal vanity with a mirror that hides all your bathroom stuff without looking messy. Also, you can buy sleek fixtures and frameless glass shower enclosures as they will help to create an openness and elegant ambiance.
2. Mid-Century Inspired Powder Room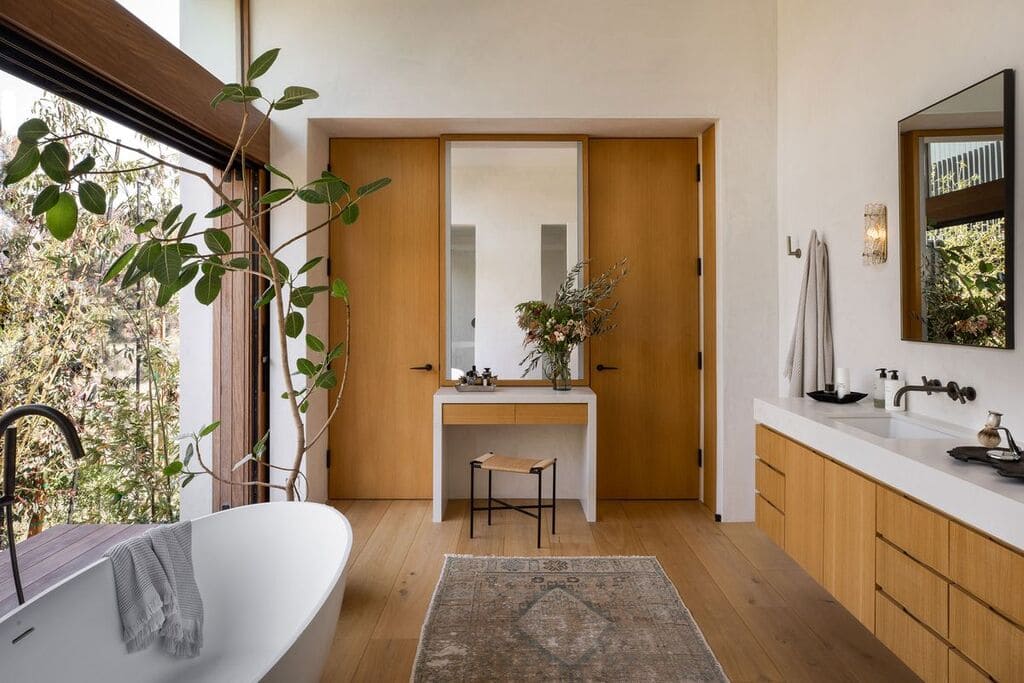 Mid-century style has bright accent colors, which are usually paired with white, black, and wood tones. You can also use earthy and warm colors such as fall oranges, yellows, greens, and browns. Select furniture with sleek lines that offer high functionality and extra storage space. You can also use synthetic materials like fiberglass, plastic, and Lucite.
3. Simple Master Bathroom Ideas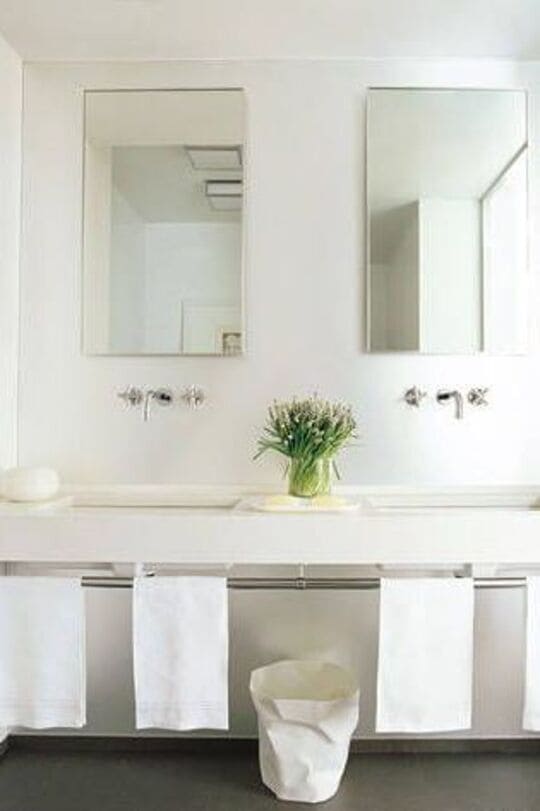 Another popular master bathroom idea is creating a simple yet elegant space. Look at the powder room depicted above in Monica Mandelli and Marco Valla's Manhattan apartment. Here, everything from decor to furnishings is kept in a modern style.
4. Classy Marble Master Bathroom
Here are other elegant master bathroom ideas for you! Marble is one of the materials that can elevate any space regardless of its shape and size. If you love a marble look, you should definitely try Italian marble in your bathing area. Use either black or white marble along with gold veins and accents to create the perfect modern marble bath vibe.
5. Bohemian Bath Space
Do you love the Bohemian vibe but don't know how to create one?
To achieve this look, add modern elements like vessel sinks, a freestanding tub, and a walk-in shower. Lastly, decorate your master bath with patterned concrete tiles and traditional rugs to get a complete eclectic and Boujee touch.
6. Black and White Master Bathroom Ideas
Look how cool this bathroom space outshines even after using only two colors: matte black and crisp white! This bath features a semicircular brick arch painted in white color, a veined orb pendant, and a gorgeous black tub. The black doors open onto the wall of white subway tiles, creating a magical atmosphere.
7. Retro-Themed Bathroom
While creating your dream bathroom, check various themes and finalize the one that you like the most. For example, the above picture features a bathroom with a retro theme. It looks both elegant and stylish. To recreate this, you can add a bathtub and structure lighting. To take your large master bathroom ideas on another level, add bold patterned tiles on the floor.
8. Country Bathroom Style With a Twist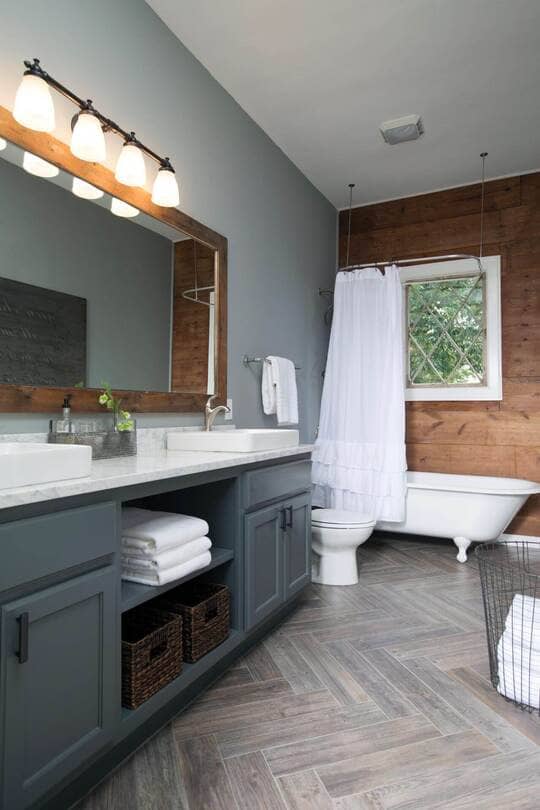 Combine the traditional country and contemporary styles together to create something unique. Here, the owners have added a dark wooden paneling to create an accent wall. The wall perfectly matches the frame of the mirror. The dark gray cabinets with white countertops are perfectly blending with wooden floors.
9. Bold and Romantic Master Bath Ideas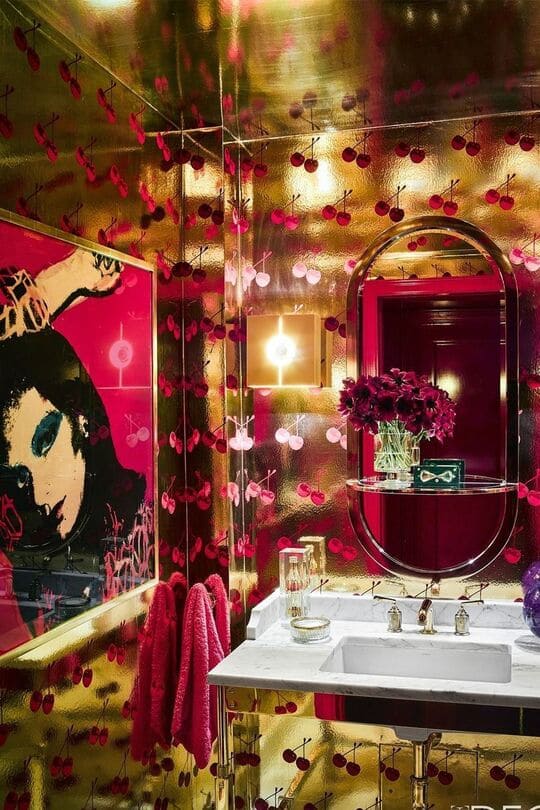 This next master bathroom idea isn't for everybody! This glamorous bathroom is a part of Andy Cohen's Greenwich Village apartment. Decorated with gold and red interiors, this space is ethereal. Cherry wallpaper with vibrant pink accents gives it a romantic and feminine feel.
10. Walk-In Shower Bathroom
If you want to achieve a modern and contemporary bathroom, adding a walk-in shower is a must. Not only will they make your space more aesthetically pleasing, but they also make it more usable and functional. These showers are easy to clean and maintain. There are various types of walk-in showers with various kinds of doors for easy access. You can select the one according to your style and budget.
11. Traditional Country Bathroom
There is something so relaxing and soothing about traditional spaces, especially bathrooms! This is why it falls under one of the most popular rustic master bathroom ideas. These types of farmhouse or country baths have a bucolic decor with modern lines. Simple decor and natural elements like live plants are essential parts of this theme. Try and experiment with various cottage colors, vanity styles, and embellishments to get that homely feeling.
12. Antique Vintage Floral Wallpapers
Revamp your space with these types of pretty vintage floral wallpapers here, as you can see how this antique blue wallpaper is creating a perfect ambiance in this powder room. To finish off the look, add a marble sink with golden faucets and furnishings.
13. Add a Bidet
Bidets have been in bathrooms for centuries, and even in some regions like Europe, bidets are still one of the must-haves in a bathroom. Many people prefer a bidet over a modern toilet because they feel cleaner and fresher after using one. Bathrooms are a place where comfort is vital, so you can add a bidet to your bath design.
14. A Luxurious Rug
If you're looking for pocket-friendly decoration ideas for your bathroom, here's a great tip: include luxurious decors! For example, in the above image, a chocolate brown fur rug is placed right next to the black claw-foot tub. This single upgrade is adding so much drama and uplifting the whole bathroom look without spending a fortune. Try these ultimate luxury modern luxury master bathroom ideas!
15. Chic Industrial Master Bathroom
If your home has an industrial theme, your bathroom should also follow the same. To get the perfect modern-industrial vibe, create a brick accent wall. After this, add a white tub and a wooden cabinet or vanity. These things will elevate the overall bathroom style while offering a modern-rustic touch.
16. Farmhouse Master Bathroom Ideas
One of the popular master bathroom ideas is farmhouse style, which consists of designs and decor that generate a relaxed and cozy environment. Many people have a perception that a farmhouse has only shiplap and weathered pieces, but that's not true!
From modern and industrial to rustic and polished twists, a farmhouse-inspired design can have many elements. You can add shiplap walls, a vintage Murano glass chandelier, and herringbone floor tiles to achieve this amazing bathroom design.
17. Serene Zen Vibes in Bath
Just look at the picture above and tell us what you feel.
You'll surely feel tranquility and peace, right? Sara Oswalt designed this powder room. It features the remarkable use of timber and concrete in several ways, including vanity, countertop, and mirror. These kinds of spa master bathroom ideas are in trend right now!
18. Modern Japanese Bath Designs
Japanese bathrooms are always ahead of their time. From its modern design to futuristic amenities, everything here is an aesthetic in itself. You can add a Japanese toilet seat that comes with advanced features or an in-built sink that saves water.
You can also consult an interior designer and ask for these types of sustainable Japanese bath designs. When paired with the right decor elements, these types of master bathroom ideas are the best luxurious and relaxing space.
19. Glam Master Bathroom Idea
Glam yet chic – this bathroom design is for people who want a bathroom with a bit of drama and glam!
One way to achieve this look is to use the gold details. As we've already mentioned earlier, there are many ways to use this metal, from small decor to large furniture. You can buy large mirrors with gold trims, vanity with gold hardware, and faucets with gold finishes.
20. Fancy Getaway Inspired Bathroom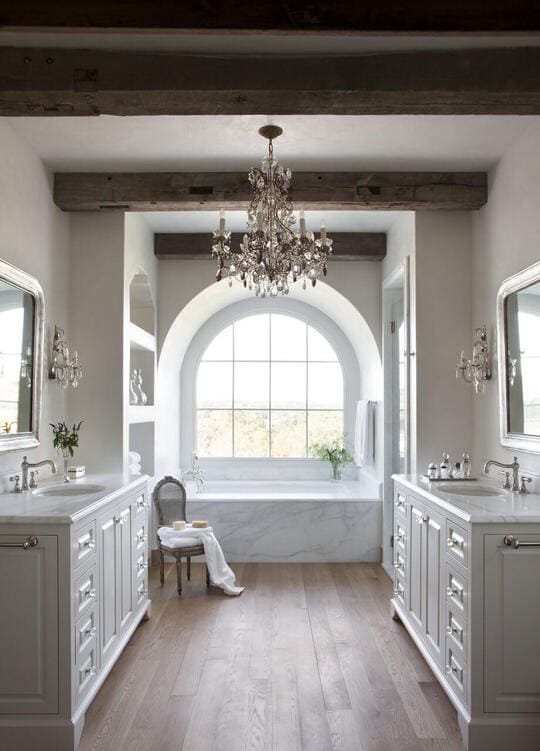 Look at that huge chandelier, which is probably the most expensive piece in this room. And because of this, it is the focus or centerpiece of the space! The best thing is that it not only looks great but is also extremely functional.
Every aspect of the bathroom is designed to utilize the space without compromising on anything. This bathroom features a classic white bathtub placed right in front of the window, two matching vanities with marble countertops, silver sink fixtures, and silver-trimmed mirrors. These accents transform this powder room to nothing short of a romantic getaway!
21. Old-Fashioned Relaxation Space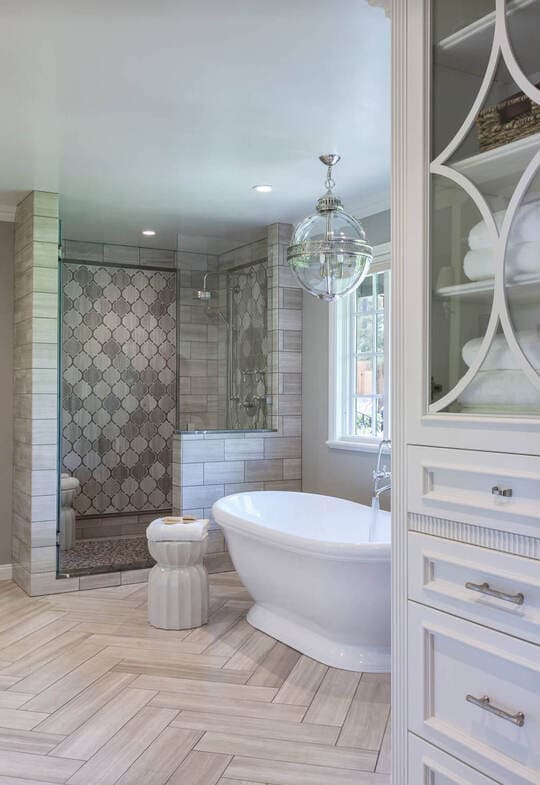 Some people do like bold, dramatic bathrooms; however, some people don't like this concept! They just want to have a simple bath in their home for relaxation after a long day at work. If you're also one of these people, this bathroom design will be perfect for you!
To recreate this bath look, use a large storage unit with glass doors, a freestanding tub, and add big windows. Keep the overall color theme of the bath neutral to create a peaceful environment.
22. Modern Artist-Inspired Bathroom
Show your creative side by building a bathroom space like this! This artistic bathroom is a great inspiration for people who want something unique and personalized. The sinks and countertops are marble with timber cabinets. The wood tone and gray tones create a balanced and minimalist look. To add some pop of color, owners have added colorful paintings. If you like to do your makeup in your bathroom, add a comfy stool.
23. Contrasting Master Bath
Searching for simple yet attractive master bathroom ideas? If yes, here is a wonderful one! What I like the most about this powder room is the clean lines and contrasting color combinations that are quite practically designed.
Here, the wall-mount toilet, a recessed wall, and a small built-in vanity are used to create a modern and sleek appearance. Materials like glass and metal have been used to add some texture to the space.
24. Add a Fireplace
Some people might be wondering why there is a fireplace in a bathroom. If you want your bathing area to remain warm and cozy, you can add a small fireplace. There are several best electric fireplace options available at Amazon. This simple addition facilitates deeper relaxation and enhances your overall experience.
25. Bathroom with a Steam Shower
Steam showers are great for people who are suffering from joint pain or body stiffness. Add a separate hot shower with an electric heating system in your existing bathroom. These types of master bathroom ideas not only look luxurious but also are quite helpful in open pores and clear sinuses.
FAQs
What are some tips for creating a spa-like master bathroom?
To create a spa-like powder room:
1. Use natural materials and decor such as marble and wood.
2. Add a freestanding bathtub, soft lighting, and a large mirror.
3. Don't forget to include amenities like a heated towel rack, a rain shower head, or a soaking tub to complete your spa-inspired master bath.
What are some ways to save money on my master bathroom remodel?
For a budget-friendly bathroom renovation, try to do some work by yourself, such as installing tiles and painting walls. Also, check the local stores and online shops to get the best deals on materials and fixtures.
How can I make my master bathroom more luxurious?
There are several ways to make your powder room look luxurious, such as by adding a walk-in shower and faucet or fireplace. From a fancy chandelier to high-end amenities, you can easily make your master bath glamorous and lavish.
Final Thoughts
So, these are top master bedroom ideas. The master bath should always be designed in a way that reflects your personal style while offering a relaxing environment. From vivid paint colors and wallpapers to modern furniture, experiment to see which looks best in your space. Use the above ideas as inspiration to either completely build a new bathroom of your dreams or revamp your existing one into the ultimate sanctuary.
Discover more: