Project Name: Steinway Tower
Architect: SHoP Architects
Status: Completed
Type: Residential
Completion Year: 2022
Cost: $2 billion
The WAIT is Over!
Finally, the construction of the supertall skyscraper at the Newyork is completed, and
developers have announced that the building is ready for residents to move in. Designed by the SHoP Architects and built by JDS Development, Property Markets Group, and Spruce Capital Partners, this building holds a different power.
So, what's so special about this structure?
Located at 111 West 57th Street in New York City, this skyscraper isn't the usual building that you find on every other street. The Steinway Tower is the World's Skinniest Skyscraper!
Are you excited to read more about this structure? If yes, keep reading on!
Today in this blog, we're going to tell you everything about this remarkable architecture that SHoP Architects completes in Manhattan. We've covered everything from its design and concept to architecture and interiors. So get your favorite drink and keep scrolling down!
Source: dezeen.com
Steinway Tower is also known as 111 West 57th Street. It is actually a supertall residential skyscraper situated in the Midtown Manhattan neighborhood of New York City.
So, basically, the Steinway Tower has two components:
Original Steinway Hall of Warren and Wetmore (Located at the base of the development)

New high-rise Tower
Source: architecturaldigest.com
The old hall is topped by this new construction which is about a 1,428 ft (435 m) tower designed by SHoP Architects.
Completed in 2021, the main building has 84 stories, while the base is the 16-story Steinway Building. The old structure consists of the Steinway & Sons store designed by Warren and Wetmore in 1925. Actually, the old base actually carries the address 111 West 57th Street.
Source: dezeen.com
Gregg Pasquarelli, principal at SHoP Architects, said, "Any preconceived notions that our team had about skyscrapers of New York City developments were replaced with an opportunity to do something that had never been done before."
He called the building "a project of extraordinary proportions and epic grandeur."
Steinway Tower: Facilities & Amenities
Source: bosshunting.com.au
This pencil tower has 84 floors with 60 available apartments, of which 14 are landmarked, and the rest 46 full-floor and duplex residences within the new tower.
The skinniest tower in the world has some of the most luxurious and lavish amenities like:
82 foot (25-metre) lap pool

Private outdoor terrace

Panoramic apartments

24-hour doormen

A "great room" with double-height 26′ vaulted ceilings
Source: robbreport.com
Apart from these things, there are also other facilities like private cabanas, sauna, steam room, fitness center, private dining room, dedicated concierge service, and many more.
In an interview with Dezeen, Gregg Pasquarelli said, "As New Yorkers, we are incredibly proud to add a new icon to our skyline."
Construction Details of 111 West 57th Street
Source: architizer.com
Source: architizer.com
Previously this was a historic building and the home of the piano maker Steinway and Sons. Last year this erstwhile cultural hub was converted into luxury residential units.
Here is the picture of the Steinway Hall (old structure) in 1925:
Source: re-thinkingthefuture.com
And here is the 111 West 57th Street after renovation (2021):
Source: re-thinkingthefuture.com
Fact:
In the remembrance of the Steinway Hall and the collection of decades-old skyscrapers, architects have placed the Steinway piano in the central lobby that looks absolutely mesmerizing with glamourous and glossy tall doors.
Source: architecturaldigest.com
As we've already mentioned in the blog, this skyscraper is 435 m high with 82 floors and has a slenderness ratio of 1:24.
Most tall skyscrapers have a stepped-back look, but this structure has a feathered look.
The architecture firm said it drew inspiration from "the golden age of the Manhattan skyscraper" and New York's Art Deco history.
Source: googleusercontent.com
Here are some more architectural details about the building:
The top of the buildings consists of a 300-foot decorative steel crown.

The tower has small steps, and each one is marked by a solid terracotta pilaster.

Steps are also covered with a curving bronze filigree that helps people to climb the building.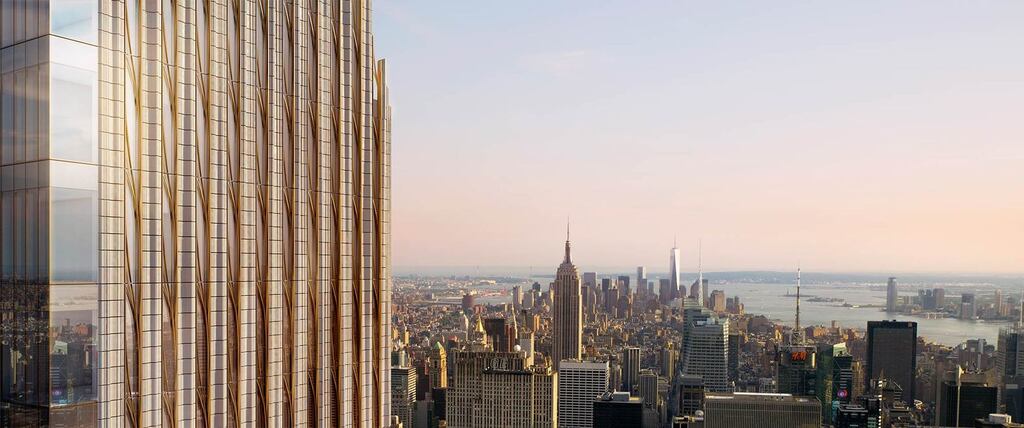 Source: adsttc.com
The blocks of terracotta are used on the facade, and it continuously changes the look of the building. This happens because terracotta appears to change color and texture in different lights and from different angles.

The tower is about 1,428-foot-tall (435-meter); it requires protection and strength to endure wind and seismic forces. That's why WSP is provided with two shear walls. These walls are situated at the height of the east and the west elevations of the building.
Source: adsttc.com
A tuned mass damper has been placed at the top of the structure to facilitate movements.
Source: dezeen.com
JDS Development's Michael Stern and Property Markets Group's Kevin Maloney told YIMBY. "We are so proud of the design and construction of this building and are thrilled to share it with New Yorkers as it begins to fully come to fruition, including the imminent installation of the decorative crown, marking the official top off. This building was made by New Yorkers through and through, and that's very exciting to us."
Comparison: Steinway Tower Vs. Top 5 Tallest Buildings
Source: tutshost.com
If you are dazzled by the tower's height, which is, of course, a magnificent factor, still the most amazing thing about this building is its thinness.
This supertall skyscraper is both the world's skinniest and the second tallest in the Western Hemisphere!
This building has a height-to-width ratio of 24:1!
Source: adsttc.com
Let's compare it with the other tall skyscrapers around the globe. Here is the list of the top 5 tallest buildings in the world:
Burj Khalifa

(Dubai) – 828m

Merdeka 118 (Kuala Lumpur) – 678.9m

Shanghai Tower (Shanghai) – 632m

Abraj Al-Bait Clock Tower (Mecca) – 601m

Ping An International Finance Centre (Shenzhen) – 599.1m
You can clearly see the difference in both height and weight in these pictures:
Source: themindcircle.com
Do you want to live in this spectacular building? Let's see how much money you have to spend to get an apartment.
Also Read: 11 Magnificent Tallest Buildings Under Construction In The World
Apartment Cost in World's Skinniest Skyscraper
Yes, it's true that finally, architects and designers give permission to the public to buy the residential units in this pencil tower.
So how much do you need to pay?
Honestly, only the building is skinny, not the prices!
You can get a studio apartment at a minimum cost of $7.75 million and a penthouse at $66 million.
Here's what the apartment looks like from the inside:
Source: exactdn.com
Source: exactdn.com
Source: d39-a.sdn.cz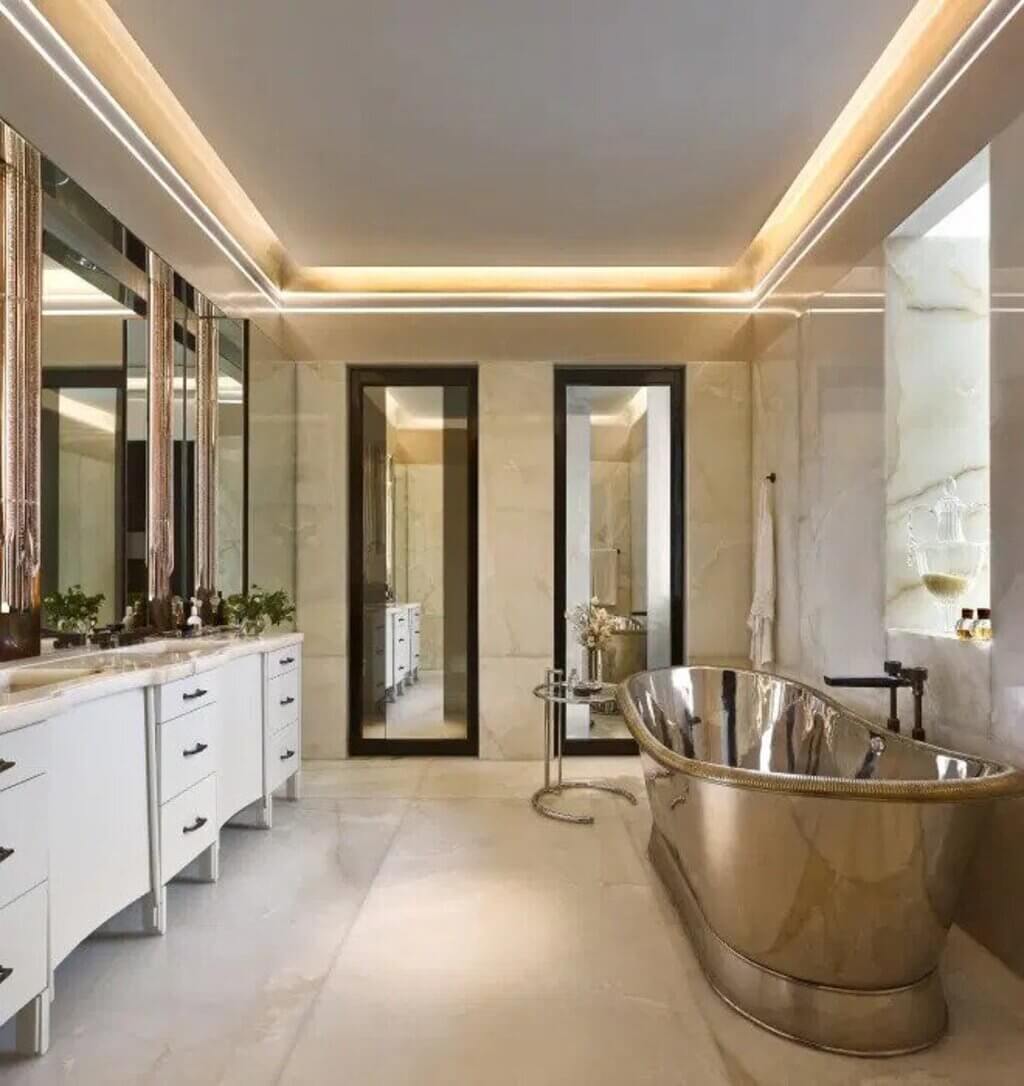 Source: exactdn.com
Source: exactdn.com
Source: boardpackager.com
Source: robbreport.com
Source: dezeen.com
Live in the World's Thinnest Skyscraper!
So this is all about the World's skinniest skyscraper by SHoP Architects.
I hope you liked this blog about the Steinway Tower that SHoP Architects completes in Manhattan. Don't forget to share this blog with your family and friends or anyone curious to know about the latest architecture pieces around the globe.
If you want to know more about the other tallest and biggest architecture located in various parts of the world, read our previous blogs such as Republic's Tallest Skyscraper: Ostrava Tower, Top 10 Most Iconic Tallest Statues in The World, Tallest Bridges In The World and Magnificent Tallest Buildings Under Construction.
For more information about the various types of architectural techniques and styles or home improvement ideas, keep visiting Architecturesstyle.
For daily updates about architecture, don't forget to follow us on our Instagram page, Architecturesstyleideas.
Himadri Shakya
Himadri Shakya is an enthusiastic Content Writer and Editor. She loves to create creative, engaging, and SEO-friendly content. Through her extensive research skills and practice, she has been generating high-quality and informative articles, and blog posts for over 4 years.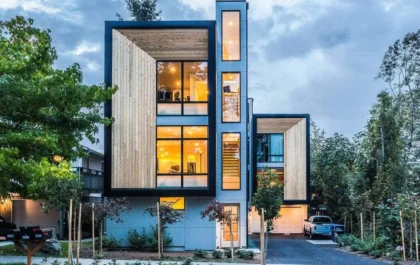 27+ Stylish & Modern Townhouse Designs for Urban Living.
The townhouse's first impression is normally too small, too compact, too narrower, and the list is endless. Well, let us…