Have you ever see a statue 182 m (597 ft) tall? Yes, from The Great Buddha of Thailand to India's Statue of Unity, there are many astonishing statues in the world that you probably never heard of. Get amazing tallest statues in the world.
Honestly, there is nothing new about the construction of the tallest or largest buildings because whether it be the tallest statues in the world or tallest buildings, every other day, architects from all around the globe are coming with new designs that break the previous record. This is going for from the ancient times, for an instant take an example of pyramids of Giza. It is still one of the most talkative topics among researchers and builders.
Today in this blog, we're going to tell you the ten tallest statues in the world. These types of structures are always related to some important events of history and make a significant impact in the tourism industry of their respective countries. For example, One of the most famous statues in the world is the Statue of Liberty in New York. With a height of 151-feet tall, you probably are thinking that this is the tallest statue, but in reality, it is even not on the list of the top ten. Shocking fact, right?
You'll get more surprised when you get to know about the real top ten tallest statues on the globe as of today. Below is the table of all the sculptures, but if you want to know more curious and fascinating facts about them, keep on reading. So, let's start with the list.
Top 10 Tallest Statues In The World!
Below is the list of all the statues but in descending order, so make sure to keep reading at the end to know the tallest statue.
10. Grand Buddha at Ling Shan
Height:

79 m (259 ft)

Location:

Mashan Subdistrict, Binhu District, Wuxi, Jiangsu

Dedicated to:

Gautama Buddha

Completed:

1996
So on the tenth number is the global-famous Lingshan Grand Buddha. Located on the north shore of Lake Tai, near Wuxi, Jiangsu, this statue of Buddha is one of the world's most gigantic Buddha statues. It is a 260-foot tall bronze Amitabha standing Buddha statue (plus the 29-foot lotus pedestal) that weighs around 700 metric tons (690 long tons; 770 short tons). 
The whole construction was completed in 1996. Not only the giant statue, but there are also many amazing things to see in this wondrous city. Recently in 2008, a Five-signets Palace and a Hindu-inspired Brahma Palace near the statue is also constructed. Other than this, this place also offers a view of the 100 Children Playing with Maitreya Buddha, the Nine Dragons Bathing Shakyamuni, and the self-proclaimed Largest Hand in the World.
9. Awaji Kannon
Height:

80 meters (260 ft)

Location:

Awaji Island, Hyogo Prefecture, Japan

Dedicated to:

Kannon (Guanyin)

Completed:

15 October 1967
Awaji Kannon, also known as World Peace Giant Kannon, is an 80 meters (260 ft) statue located in an abandoned building in Awaji Island, Hyogo Prefecture, Japan. The building's construction was started in 1977 by Toyokichi Okunai, a realtor from the Okuchi group, and it also consists of a museum and a temple.
The statue is placed on a 66 feet tall, five-story pedestal building. The statue portrays Kannon – the popular Buddhist goddess also known as Guanyin or Goddess of Mercy in Chinese. It is made in such a way that its glowy white outline is visible from every part of the island.
Do you know that it was the largest statue in 1982, but now it is the largest statue on Awaji island?
8. Rodina-Mat' Zovyot! (The Motherland Calls)
Height:

85 meters (279 ft)

Location:

Mamayev Kurgan; Volgograd

Dedicated to:

Woman representing the Motherland

Completed:

15 October 1967
The next tallest statue on our list is none other than The Motherland Calls (Rodina-mat' zovyot! or 'Homeland-Mother Is Calling!'). Designed by sculptor Yevgeny Vuchetich and structural engineer Nikolai Nikitin, this structure is the compositional center of the monument-ensemble "Heroes of the Battle of Stalingrad" on Mamayev Kurgan in Volgograd, Russia.
This structure depicts an 85-meter (279 ft) figure of a woman stepping forward with a raised sword.
This is the tallest statue in Europe and probably the tallest statue of a woman in the world!
7. Dai Kannon of Kita no Miyako park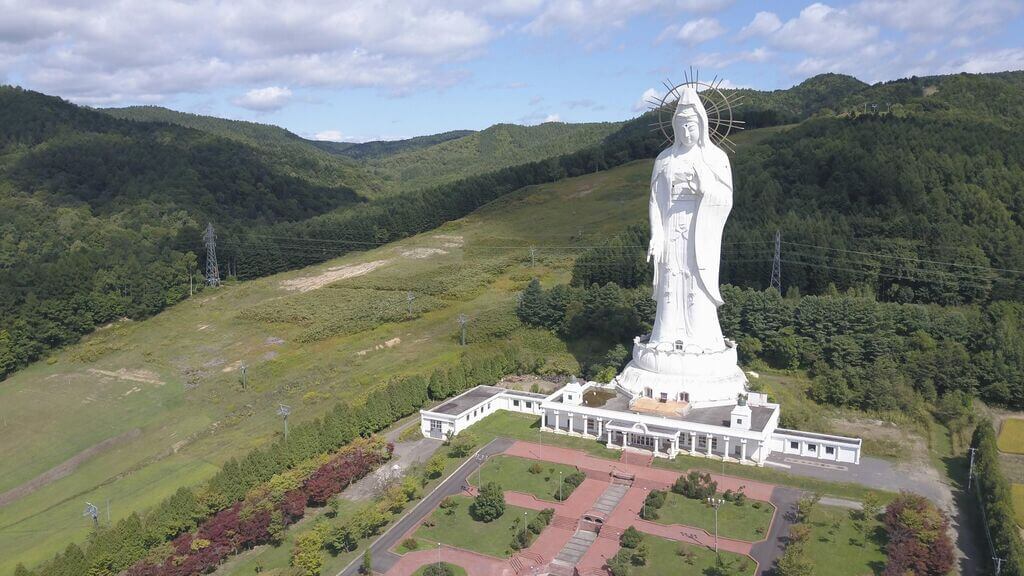 Height:

88 meters (289 ft)

Location:

Ang Thong/ Ashibetsu, Hokkaido, Japan

Dedicated to:

Ashibetsu, Hokkaido

Completed:

1989
The Dai Kannon of Kita no Miyako park or Hokkaido Kannon or Byakue Kannon is not only one of the tallest statues globally, but it is the third-tallest statue in Japan. The structure depicts Guanyin (Avalokiteśvara) and is situated on the Kita no Miyako park on the island of Hokkaido.
The construction of this giant figure was started in 1975 and completed by 1989. Do you know that it has more than 20 floors with an elevator? All the floors contain shrines and places of worship, all eight in total, and there is also a platform providing a panoramic view of the area to visitors. Isn't this fascinating?
6. Great Buddha of Thailand
Height:

92 meters (302 ft)

Location:

Wat Muang, Wiset Chai Chan, Ang Thong, Thailand

Dedicated to:

Buddha (Gautama)

Completed:

2008
Imagine looking at the gargantuan golden statue in the middle of a greenfield; wouldn't that be a spectacular view? Yes, we're talking about The Big Buddha. It is also known by many names such as Great Buddha of Thailand, Phra Buddha Maha Nawamin, and Mahaminh Sakayamunee Visejchaicharn.
Located at the Wat Muang, Ang Thong, Thailand, this statue is currently the tallest statue in Thailand, the second-tallest statue in Southeast Asia! The construction was started in 1990 on the order of Phra Kru Vibul Arjarakhun, the first monk head of Wat Muang Temple. Completed in 2008, this figure is completely made from concrete and painted in gold. The sitting posture of Buddha is called Maravijaya Attitude.
The most surprising thing is that this statue can be seen from a far distance, marking the fame of both Ang Thong province and Thailand!
5. Guishan Guanyin
Height:

99 meters (325 ft)

Location:

Weishan, Changsha, Hunan

Dedicated to:

Guanyin (Guan Yin)

Completed:

2009
The statue that scores Number five on our list is Qianshou Qianyan Guanyin of Weishan. It is also known as the Guishan Guanyin of the Thousand Hands and Eyes, and it is the fourth-tallest statue in China. The statue is not like any other statue made from brick or concrete; it is a gilded bronze monument that depicts Avalokitesvara, also known as Guanyin, the Buddhist bodhisattva associated with compassion.
Standing 99 m (325 ft) tall, it is located in Weishan, Changsha, Hunan, People's Republic of China.
A fascinating fact about its construction is that The Ningshan County Government and many local businesses and religious organizations had invested 260 million yuan!
4. Ushiku Daibutsu & Sendai Daikannon
On number four, there is a tie between two statues as both are 100 m (330 ft) tall, so we have included both in the list.
Ushiku Daibutsu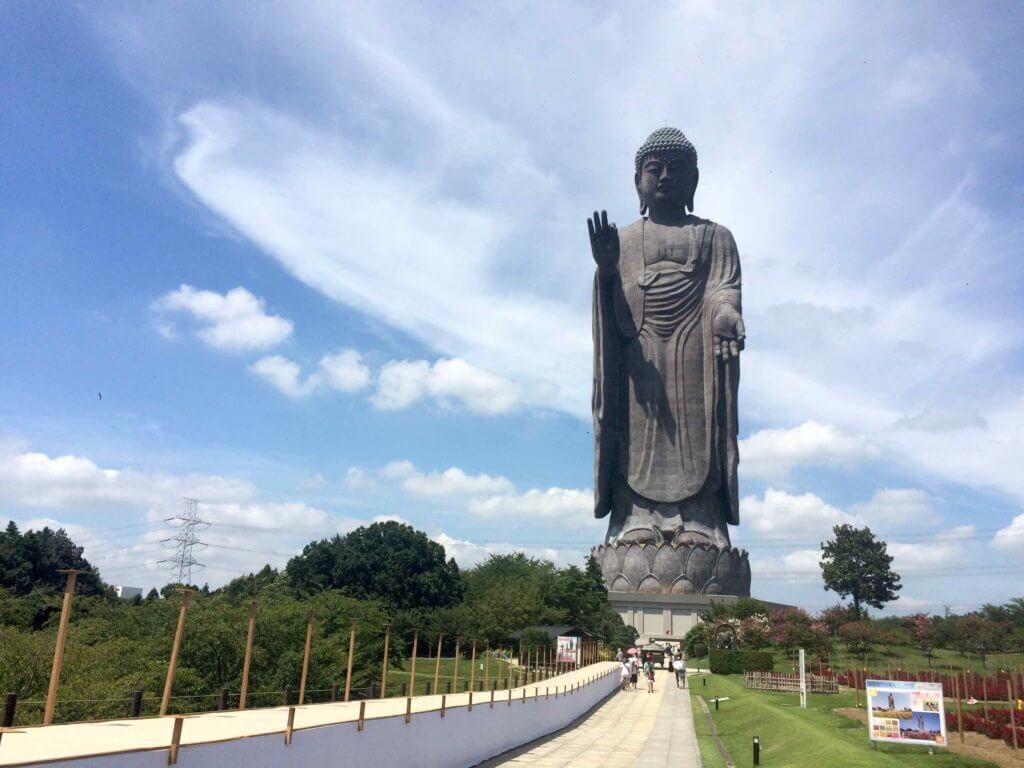 Height:

100 m (330 ft)

Location:

Ushiku, Ibaraki, Japan

Dedicated to:

Buddha (Amitābha)

Completed:

1993
Situated in Ushiku, Ibaraki Prefecture, Japan, Ushiku Daibutsu is another Buddhist statue. The statue is measured at 328 feet, and it was erected in honor of Shinran's birth, who was the founder of the "True Pure Land School" of Buddhism. The Lord Buddha is positioned on a lotus platform of 10 m (33 ft).
Sendai Daikannon
Height:

100 m (330 ft)

Location:

Sendai, Miyagi Prefecture, Japan

Dedicated to:

Kannon (Guanyin)

Completed:

September 1, 1991
This Daikannon structure is about 100 meters (330 feet tall) that represents the Japanese Buddhist Bodhisattva. Apart from being the world's tallest statue, it is also the tallest statue of a goddess in Japan.
It is a large figure of the gem-bearing Nyoirin Kannon) form of Kannon. Different floors of the building have various things, such as on the first floor, there are many large statues of Buddha and mythical kings.
3. Laykyun Sekkya
Height:

115.8 m (380 ft)

Location:

Khatakan Taung, near Monywa, Myanmar

Dedicated to:

Buddha (Gautama)

Completed:

21 February 2008
So finally, the top 3 list of tallest statues in the world is here. On third, there is another statue of Gautama Buddha know as Laykyun Sekkya. It is a 115.8 m (380 ft) tall figure located in the village of Khatakan Taung, near Monywa, Myanmar.
The most surprising thing about this structure is that it takes 12 whole years to complete this giant figure. Yes, its construction began in 1996, and it was completed on 21 February 2008, and it was commissioned by Chief Abbot Ven. Narada.
Additionally, 9000 plants are plant in the garden of Bodhi trees. Believe me, every element of this entire monument is adequately detailing, and you'll surely get thrill to visit this mesmerizing place.
2. Spring Temple Buddha

Height:

128 m (420 ft)

Location:

Lushan County, Henan, China

Dedicated to:

Gautama Buddha (Vairocana)

Completed:

1 September 2008
The second tallest statue in the world is Spring Temple Buddha, and it is representing Vairocana Buddha, which dwelled in the Zhaocun township of Lushan County, Henan, China. Its name is derive from the nearby Tianrui hot spring, whose water, at 60 °C (140 °F), is renown in the area for its curative properties.
The structure's total height is 128 meters (420 ft), including a 25 meters (82 ft) lotus throne. Its construction was start in the year 1997 and continue till 2008. The total estimate cost of the entire project was $55 million, and only around $18 million was solely spend on the statue. Made of steel, copper, and more than 100 kilos of gold, the figure is a true example of brilliant design, architecture, and belief in god.
1. Statue of Unity
Height:

182 m (597 ft)

Location:

Sardar Sarovar Dam, Narmada District, Gujarat, India

Dedicated to:

Sardar Vallabhbhai Patel

Completed:

31 October 2018
So, the tallest statue in the world is THE STATUE OF UNITY! It is a colossal statue of Indian statesman and freedom fighter Sardar Vallabhbhai Patel (1875–1950). He was also the First Deputy Prime Minister and Home Minister of independent India. Indian sculptor Ram V. Sutar design it, and on October 31, 2018 (the 143rd anniversary of Patel's birth), it was inaugurate by Indian Prime Minister Narendra Modi.
Located near a river island opposite the Sardar Sarovar Dam in Kevadiya colony, Gujarat, India, this gigantic statue stands on a 58 m (190 ft) base with 240 m (787 ft) total monument height.
India not only has the tallest statue in the world but also has the largest Cricket Ground in the World: Sardar Patel Stadium. Click on the link and read in detail about this remarkable stadium.
The Bottom Line
So how do you feel after reading about the tallest statues in the world? From grand buddha Lingshan to the great statue of Unity., there are many wonders in the world that make you rethink concepts of modern architecture.
Nowadays, architecture isn't only about constructing a building; now, architects are beautifully incorporating religious beliefs, people's needs, and architecture altogether. From design to material selection, everything is a matter of amazement. We just can't describe the beauty of structures and the hard work of architects in simple words.
If you're more curious about these types of remarkable constructions, do read our blog on Insanely Tallest Bridges In The World.
I hope you love this blog on the tallest statues in the world and if you do, please share it with as many as people so that they'll also know the wonderful and incredible architectures around the globe. If anyone statue is situate in your city or a nearby location, visit them with your family and friends.
Find Out More: