The project SP Residence is located in the town of Valle de Bravo, Mexico. It is constructed by Weber Arquitectos, the famous architect of Mexico who has developed several big projects from residential houses, apartments, offices and commercial complexes.
This project was completed in the year 2016 and it is a brilliant home having an area of 3433 square feet. Surrounding of the home is beautiful and the natural landscape that is there around it is mesmerizing. It is surrounded by trees so the atmosphere around it will be cool for sure.
The interior of the house is great and you will fall in love with it when you take a visit inside. The architecture of this house is of L-shape. It is constructed on a concrete skeleton and the walls of the house are made of wood. The modern touch is given to the house but the architect has also tried to keep it simple and minimalistic.
There are two parts of the house, daytime wing, and night-time wing. The daytime wing consists of the living room, kitchen, laundry room, and a terrace. The night time wing consists of four bedrooms. The unique or notable part of the house is the roof above the living-dining area. It comes out of the house and looks great.
One can witness a natural touch in the house as well, there are some plants both inside and outside of the house. The living room has a transparent glass panel that looks nice, it is easy to take a beautiful outside view while seating and relaxing inside. There is a library too in the living room with a couple of books seen in the image.
The owner of the house will be having superb time spending his time over here. In short, we can say that it is a combination of modern architecture combined with the advantage of nature's lap.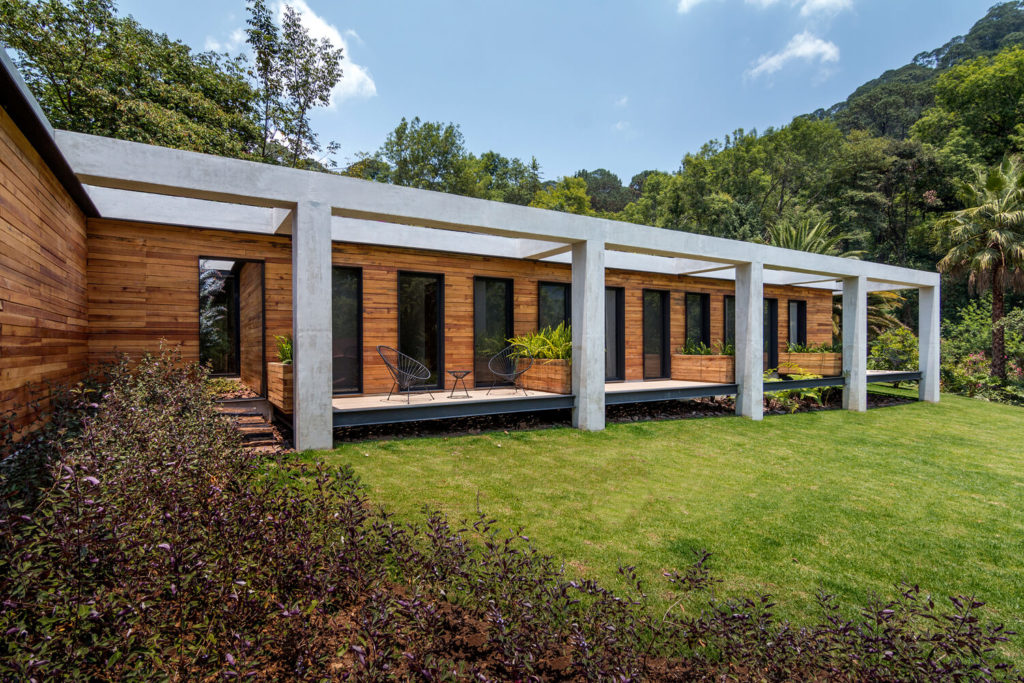 Read Furthur: