Have you decided to relocate to a new house? If yes, then embark on the mission by hiring the best cross country movers at Moving Apt. They will handle the entire tiring moving process by themselves so you don't have to worry about anything. You can focus on transforming your new home into your dream one. Yes, buying a home is a mix of emotions both stress and excitement. The stress is of finding a suitable home with lots of available options and you know the excitement very well. Now, this is the time to style the house in a more personalized way to have a feeling of a home. If you don't know where to start and looking for some inspiring ideas to style your home before a cross-country move.
Measure and Map Out the House
Before you start with styling your property you should have a clear idea about the measurements of the entire house. In case you get a chance to visit your new place before the relocation then you should note down the measurements of all rooms, doors, and windows of the house.
Once you have measured the house create the floor plan of all available rooms. This particular step will guide you to plan how furniture and other possessions will be organized in the house.
Make a Checklist and Prepare a Budget
Source: nerdwallet.com
Yes, you might have a long list of décor items to buy to transform your new home but remember that before you start shopping, you should first prepare your budget well. You should have a proper plan to go ahead. Without planning you will fail to buy things that are more important to you.
Also, when making a checklist, you should decide how much you can afford to spend. Styling is something on which you can spend any amount of money so decide which is more important to you considering the function of your home.
Deep Clean the House
Source: mopandclean.com
No matter how clean your new space is, it is always better to clean it once before you start unpacking and organizing your stuff. You never know there could be dust, dirt, or animal hair hiding in the corners of the house which further can cause allergies. Deep clean the entire house and pay more attention to these spots:
Flooring

:
Use shampoo or another cleaning agent to clean the floor of the house. Scrub the tiles and mop them to remove dust or dirt.
Walls

:
Dust the walls of the house. You can also use a mild cleaner to remove the dust.
Apart from floors and walls, don't forget to clean the kitchen appliances, light fixtures, bathroom accessories, and other equipment.
Update the Flooring
Source: squarespace-cdn.com
If you are not satisfied with the flooring of your new house then you can get it changed before moving. It is much easier to change the flooring of an empty house. Also, some companies provide discounts if there are no belongings and furniture to shift when working.
There are various types of flooring options that are available in the market. Choose the one matching the interiors of your new space and the environment where your new house is located. Always go with durable, sturdy, water-proof, and heat-resistant flooring.
Get the Walls and Ceilings of the Rooms Painted
Source: selectpainting.biz
Save your time and money by getting the walls and ceilings painted before moving into the new house located across the country. You probably find it challenging to select the colors before living in the house but it will be beneficial in the long run. You will have a wide range of colors to choose from so take your time and choose a palette of shades of love that seems evergreen.
Painting an empty house is much easier because there is no requirement of shifting heavy furniture. Painting the walls and ceilings will give your house a fresh and refined look. You can also go with attractive wallpapers to provide a lively feel to the home. Just make sure it makes your home cozier and comfortable.
Accessorize the Space
Source: hopscotchdetroit.com
One of the easiest ways to add style to your new space before shifting is to add personality by using different home accessories. Shop around and build a collection of aesthetic pieces including vases and trinkets.
The most attractive feature about these accessories is that you can have them at affordable prices and change them with change in the seasons. You might not be aware but lighting is a vital ingredient when styling your new home. Therefore, take some time out and choose the light fixtures matching the interiors of the house.
Wrapping It All Up!!!
These simple home styling ideas will help you a lot to give a new look to your home. Yes, it is quite easy to go overboard and overspend especially when it is your first home. So, plan everything wisely and use all the above-written ideas to style your home before a cross-country move and make your home stylish yet functional.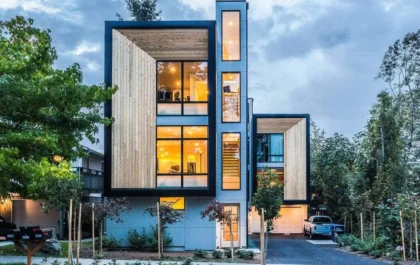 27+ Stylish & Modern Townhouse Designs for Urban Living.
The townhouse's first impression is normally too small, too compact, too narrower, and the list is endless. Well, let us…