The time has come to invest in a new sofa that will stand the test of time, keep you comfortable, and turn the heads of family and guests alike. But where do you start? With so many sofa brands out there and countless sofas for sale from an abundance of furniture retailers – how will you ever choose one for you?
You aren't alone in this feeling, and today we are more than happy to give you some suggestions for high-quality sofa brands to get you started.
Let's explore some of the sofa brands out there that deal in nothing but high-end, top-quality sofas!
Parker Knoll Sofas
Source: paradiseandgell.com
Parker Knoll (sometimes known as Parker & Knoll) is a furniture manufacturer based in the UK. Having been building exceptional pieces of furniture since 1931, when Frederick Parker and Willi Knoll founded the company.
Parker, a British furniture manufacturer, and Knoll, a German inventor, pioneered the quality and craftsmanship of Parker Knoll furniture that the brand is world-renowned today
However, the company that formed Parker and Knoll finds its pedigree in furniture making stretching back over 150 years to its founding in 1869.
Parker Knoll has been around for over a century due to their brilliant attention to detail and expert crafting expertise. All of this finds its way into their sofa collections, such as:
The Etienne Collection

Hudson Collection

Penhurst Collection

Evolution Collection

Canterbury Collection

Froxfield Collection
To name a few of the sofa ranges, they have to offer.
Collins & Hayes Sofas
Source: choicefurnituredirect.co
Collins & Hayes (otherwise known as Collin and Hayes Ltd.) is a luxury furniture manufacturer based out of Nottinghamshire in England. They have been creating wonderful pieces of furniture since 1870 and have been making high-quality pieces for over 150 years.
Boasting a skilled team of expert craftsmen that finish every sofa or piece of furniture by hand, Collins & Hayes can provide great value for money and create all their furniture from premium quality materials. Their personal touch is evident in every piece and has been a huge part of their success since their inception.
Every single sofa they make is made to order, giving you a truly personalized sofa. Select from their impressive selection, such as:
Their Maple Collection features Small, Medium, and Grand sofas (as well as a Maple snuggler to complete a furniture set).

Their Bailey Collection

Their Miller Collection (including corner sofa variants)

Their Radley Collection (with fixed and slipcover options)
Their style often takes a more modern approach, making it ideal for more contemporary houses.
Duresta Sofas
Source: trhayes.co
Duresta (also known as Duresta Upholstery) is a British company specializing in upholstery, such as sofas and chairs. They have been creating gorgeous furniture pieces since 1938 and describe themselves as having a luxury heritage; the sofa ranges they currently have available are a testament to this statement.
With consistently evolving designs encapsulating the best of classic English embroidery, every piece of furniture they craft is bestowed with a unique and personal touch that makes it a joy to own.
For over 80 years, they've championed artisan furniture making with elegant furniture for all kinds of homes.
Consider their:
Waldorf Collection (a sophisticated choice featuring design elements such as sweeping scroll arms)

Trafalgar Collection (a style heavily reminiscent and inspiring by an English country house aesthetic)

Coco Collection (a range with various fabric, color, and leather options to give you plenty of choice for your theme design)

Connaught Collection (a design heavily inspired by the Chesterfield look, with deep buttoning)

Haywood Collection (a modern range with a sleek feel and corner sofas available)
Most of their collections have matching chair pieces. They are available for purchase to complete a full living room set.
Sherborne Sofas
Source: vrflowersandson.co
Sherborne sofas are the product of Sherborne Upholstery, a company founded in Bradford, England. With its humble origins in a small lock-up garage on Sherborne Road in Bradford, the company has been creating furniture with a passion for over 90 years.
In 1953 the company became a limited company and expanded its manufacturing capabilities, always staying true to its Bradford roots, with its main factory in Clayton.
Sherborne is known for its distinctive traditional style and exemplary build quality for all its furniture.
Take a look at some of their most popular sofas from:
Keswick Collection (with both fixed and reclining models available, in Small and Standard)

Lynton Collection (with a spectacular Fireside variant, High variant, as well as Petite and Standard sizes. Lynton also has reclining models available)

Malvern Collection (with Small, Standard fixed, and reclining options available)
If you love traditional styles, they'll have something for you.
Also Read: How to Decorate Your Living Room with Stylish Wallpaper
Conclusion
We hope our rundown of some quality sofa manufacturers will give you all you need to start your journey to picking the ideal sofa for you!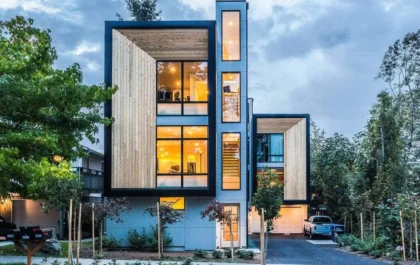 27+ Stylish & Modern Townhouse Designs for Urban Living.
The townhouse's first impression is normally too small, too compact, too narrower, and the list is endless. Well, let us…