According to statistics, an average individual will spend around 1/3 of their life in their bedroom. This fact really shows how important our bedrooms are in our daily lives. Now, if you are going to spend so much time in this single room, it is important to make it pleasing and comfortable. One common way to do this is by adding a fresh coat of paint. However, make sure you choose the right colour combination.
Colours affect our psychology and have the ability to evoke different emotions. For instance, the colour red represents passion, love and anger while blue represents peace, calmness, and tranquillity. This is the main reason why people spend so much time selecting the right colour for their room. If you want to give a unique look to your bedroom, it is best to experiment with two colour combinations. 
Here are the 15+ best two colour combination for bedroom walls.
1. Navy Blue and White
When it comes to bedroom colours, you can choose white and pair it up with any other colour. Navy blue is one of the most trending colours and can give your bedroom a cool and royal look. Both colours will create a striking contrast and make your bedroom look really appealing. 
White helps in making the room more spacious, and navy blue brings purity, freshness and elegance. You can use earthy tones for the floor to match the two colour combination for bedroom walls. It is best to choose wooden flooring or carpet in the same colour.
2. Peach and White
If you want to create a calming and comfortable atmosphere in your bedroom, go with peach and white. This two colour combination for bedroom walls is all about adding pastel elements. As both the colours are lighter in shade, the combination will add brightness to the room and help you save power.
Also, it will make the room appear bigger with an illusion of more space. You can further enhance the look of your bedroom by adding white curtains and carpet to cover the floor. The best thing about this colour combination is that it can suit everyone, from children and elders to individuals and couples. 
3. Yellow and Cream
Another great two colour combination for bedroom walls is yellow and cream. These colours represent hope, positivity and brightness and will make your bedroom more vibrant. Both colours are neutral and can perfectly match different elements and furniture in your bedroom.
You can choose yellow for a single wall and white for the remaining space. Moreover, you can add picture frames on the yellow wall to further improve the look. This minimalist idea can easily transform your dull and boring bedroom into a happy place. This colour combination is great for small to medium-sized bedrooms.
4. Black and Brown
Black and brown are one of the bold two colour combination for bedroom walls. It is really peculiar, and not many people want to try it. However, as you can see in the picture above, the colour really makes your bedroom aesthetic. While both the colours are dark, you can choose the right shades to create a great combination. You can choose a charcoal black shade with light brown.
It can be overwhelming to cover too much space in black, so be careful. Alternatively, you might apply it to one wall and then paint light brown on the remaining walls. You can use gentle lighting to bring out the colours. It will improve the quality of your sleep by soothing the environment in the room.
5. Red and Grey
This is another two colour combination for darker bedroom walls. However, from a functional standpoint, it looks great, especially in huge bedrooms. Try this combo if the corners of your bedroom contain pillars. Red looks fantastic together and can provide a distinctive touch to your bedroom.
For larger areas on the wall, you can use red; for the pillars, consider using grey. Verify that the hues are not very dark. Combining these elements will highlight your bedroom's best qualities and symbolize strength and power. Setting a grey rug on the floor can enhance it even further.
6. Mint Green and White
In a minimalist bedroom, mint green and white is a good colour combination to use. With their associations with peace and harmony, these two hues can help you fall asleep comfortably after a long day at work. Green is a soothing colour that can help you unwind and find peace.
In combination with white, it will give off a feeling of renewal. This colour combination looks good with the least number of accessories. It will facilitate your ability to sleep at night. If you pair this colour scheme with dark furnishings, your bedroom will appear much nicer.
7. Black and White
When you choose the right décor with black and white two colour combination for bedroom walls, it will give you a stylish and unique look. Despite the fact that both colours seem plain, you can add some accents to produce a stylish look. The image above demonstrates how well the opposing colours work together.
On one wall, you may go with ivory black; on the other, you could use off-white paint. On the white walls, you can offer a variation by putting some design elements. To improve the wall's appearance, you may, for example, paint stars or geometric shapes on it.
8. Mustard and Green
Mustard and green two colour combination for bedroom walls will give you a vintage look. If you love the 90s vibes, this is the perfect colour for your bedroom. Mustard colour represents diversity and warmth, while green stands for nature and growth. Both shades will result in a creative colour combination that you can enhance with the right lighting.
Here, instead of the ordinary green, you can use a pastel and lighter shade to complement the richness of the mustard colour. You can add a rug with intricate designs on the floor and use soft lights to create a peaceful atmosphere.
9. Orange and White
Nowadays, you will spot this colour combination in many homes. While it is pretty common, it looks really good on bedroom walls. The colour orange is bright and represents joy, freedom and happiness. You can make the colour stand out by pairing it with white to create a balance.
It is a really good two colour combination for bedroom walls if there is less space. As the majority of the space will be in white, it will make the room appear big. You can decorate the orange wall with paintings and other accessories.
10. Grey and Black
Seldom does someone decide to paint their bedroom walls black. Still, you can experiment with different shades of black to create a really chic bedroom. Black is sophisticated and mysterious, while grey offers a sense of balance.
You can design a chic yet ultra-modern bedroom by using these colours. Using the right furnishings can further enhance the look of the space. A simple bed, black leather chair, and wooden side table will improve the appearance of the space.
11. Cream and Turquoise
The colour combination of cream and turquoise is a wonderful choice if you want your bedroom to be minimalist and tidy. Cream is steady and serene, whereas turquoise is a cool colour. It will assist you in setting up a calm bedroom where you can unwind for hours on end.
The colour scheme is ideal for those who value softness and minimalism. With these hues, you can establish an emotional balance. You can then furnish it with sparse furniture and a large window to let in plenty of natural light.
12. Yellow and Grey
This two colour combination for walls is perfect for people who prefer a modern look. Bright yellow represents joy and happiness, while grey adds a balance with its dark tone. This colour combination is great for babies and children.
If you are decorating your child's room, it is best to choose yellow and grey. You can make the room even more attractive by adding white furniture and elements. You can use a white rug or carpet and even go for a few drawings on the wall.
13. Pink and Teal
It is one of the best two colour combination for bedroom walls ideas if you want a luxurious look. While the teal hue gives the space a striking effect, the soft pink tone gives it a traditional air. The two colours together will produce a sophisticated and opulent ambience.
You can use matching pillowcases and bedsheets to give the space a more personalized touch. In this manner, your bedroom will resemble something out of a Disney movie. To make the space even more gorgeous, consider furnishing it with golden pieces.
14. White and Purple
Purple and white is another fantastic colour combination for bedroom walls. White lends a hint of serenity and optimism, whereas purple, being sombre, is associated with wealth, grace, and flair.
You can create a gorgeous bedroom with an enchanted touch by blending these hues. On the walls that face each other, use a light or dark purple tone; the remaining space should be white. For an even better effect, match it with white furnishings.
15. Charcoal Grey and Dusty Rose
Choose dusty rose and charcoal grey if you want your bedroom to look sleek and contemporary. The charcoal grey tint effectively contrasts with the dusty rose, adding a romantic vibe to the space. You may create a chic and fashionable bedroom with this colour scheme that's ideal for women or couples.
16. Beige and Yellow
Yellow has become one of the most common bedroom colours after white. This shade represents cheerfulness and brings positivity to your room. However, you can pair it with beige to create a relaxing atmosphere. You can use this soothing colour combination with soft lights to add a warm touch to the room. It will help you sleep better and relax after a tiring day at work.
17. Sky Blue and White
You can create a peaceful ambience in your bedroom with sky blue and white colour combinations. The shades are soft, cool and bright and will make the room appear bigger. Instead of painting it normally, you can blend the blue with white to create a cloud-like appearance on the centre walls. It will make the room appear even better.
18. Red and Gold
Red and gold colour combinations for bedroom walls may seem overpowering, but you can use some clever ideas to turn it into a masterpiece. You can create vertical zebra-like patterns and use red and gold to create a beautiful-looking wall. Next, you can use a light shade of gold or red to cover the other walls. It will give you an elegant bedroom that you can improve even further with the right furniture.
FAQs
Which colour is most attractive for the bedroom?
Neutral is the most attractive colour for a bedroom. 
What colours make a room feel happy?
Warm, bright colours like orange and yellow may make a space feel cheerful.
What is the most relaxing colour for a bedroom?
Recent research indicates that the most calming shade is navy blue.
Conclusion
These are the top two colour combination for bedroom walls. Try any of these colour combinations to give your bedroom a modern makeover. We've covered some of the most original and imaginative ways to improve and transform your bedroom into a work of art. There are ideas for every taste, from old and opulent to peaceful and soothing.
In Case You Missed It!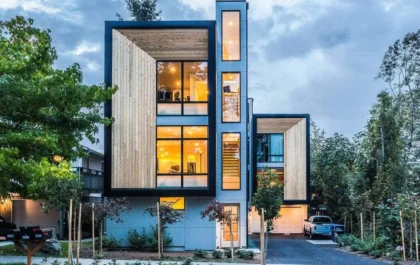 27+ Stylish & Modern Townhouse Designs for Urban Living.
The townhouse's first impression is normally too small, too compact, too narrower, and the list is endless. Well, let us…