Before deciding to buy villas in Emaar South, we offer you an understanding of what types of real estate in Dubai are presented on the market, their features, and what niche they occupy.
Let's divide all types into two large groups: residential and commercial real estate.
Residential Properties
This property group includes the following types of housing:
1. Villas and Townhouses
Source: huaxia.ae
Small-family villas and townhouses are characterized by relatively small living spaces and lower prices. Amenities and amenities are abundantly designed for family vacations and proximity to public facilities such as schools and clinics.
Large and luxury villas for sale in Dubai belong to the high-price category. They are built from the highest quality materials and are designed for wealthy buyers who want to experience the most elite lifestyle within the Emirates. The villa is a personal home. In townhouses, residents have neighbors in the building.
2. Apartments
Source: novalifespace.in
Apartments are the most popular and numerous types of real estate in the UAE. They are well suited for living and commercial activities: renting out or reselling.
Among the apartments, one can single out studios and small-sized real estate (by small-sized real estate, one should understand small apartments in the area, with a maximum of two rooms) and apartments (represent housing from three or more rooms, this is a medium and large segment of real estate).
3. Penthouses
Source: amazonaws.com
Penthouses differ from ordinary apartments in many rooms, a significantly larger living space, and access to various amenities on the roof—for example, mini golf, jacuzzi, or outdoor swimming pool.
4. Work Housing
Source: wodagroup.com
Relatively small residential real estate sector. It consists of dormitories, facilities with many studio apartments, and other types of communal housing. Legal entities acquired it to accommodate their working staff.
Commercial Real Estate
Source: cbre.com
This group includes all real estate, one way or another, intended for business, production, and other commercial activities.
The main types of such properties:
Office spaces;

Trade areas;

Warehouse and sorting rooms;

Exhibition halls;

Industrial premises.
Part of the property in this group has been particularly affected by the effects of the pandemic.
Many workers have been made redundant or moved to work from home, so office space is currently unprofitable for real estate. Some demand for commercial real estate still exists, but it is insignificant.
Trading areas have been preserved only in large malls and shopping centers. Demand from this sector has shifted to the warehouse and sorting sector due to the large-scale retail transition to e-commerce.
The last type of real estate has grown in price over the past year and a half, that is, in 2020 – the first half of 2021. This type of property is bought in bulk, in large quantities, and in area. The Emirates' largest retail companies and the international market create demand.
Also Read: Top Differences Between Residential and Commercial Buildings
High Yield Properties
Source: jadelandglobal.hk
These include:
warehouses and sorting spaces;

trade area;

exhibition halls;

small and family villas;

apartments.
For warehouses and sorting spaces, developers and investors report high investment returns. Annual yield – 8-10%. The rise in prices amounted to 60%.
Commercial real estate for retail and showrooms grew by 45% in the first quarter of 2021 and consolidated the trend in the second quarter.
Prices for purchasing villas and townhouses in 2021 increased by 22% since the beginning of 2022 – by 14.27%. The monthly price increase was about 2.5–3.5%. Therefore, the growth trend is quite smooth. The assessment was also made at prices per square meter.
In 2022, the prices for the purchase of apartments increased by only 4.86%; since the beginning of 2021, the growth was already 12.22%. The monthly price increase over the past few months is 2.5%. In general, the growth trend is quite smooth. The prices were estimated per square meter.
According to the ValuStrat price index, by May 2023, the average rental rates for both types of residential real estate (villas and apartments) decreased by 2.8% per annum.
Conclusion
In general, the real estate market began to recover gradually after the impact of the pandemic. However, this process needs to be more balanced and faster.
Small-sized luxury real estate apartments show good results in terms of profitability and a fairly pronounced but smooth price growth trend.
The same results were for real estate used in retail and online commerce.
At the same time, the high-end sector, offices, manufacturing facilities, and worker housing, have either declined heavily or are showing poor returns due to low demand. As a result, price growth is also quite calm.
Investors should focus on the e-commerce sector and monitor mortgage policy and the number of loans issued by banks. In addition to the growth in sales in the apartments and small villas sector, the current trend will gradually move to larger luxury real estate.
In general, real estate rentals can shrink, giving way to outright purchase of property or lease-buy, where the tenant's contract implies the transfer of ownership to him at the end.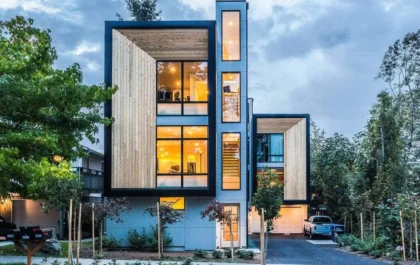 27+ Stylish & Modern Townhouse Designs for Urban Living.
The townhouse's first impression is normally too small, too compact, too narrower, and the list is endless. Well, let us…