Windows are an integral part of any home. Any type of interior decoration is incomplete without decorating windows properly. And for the perfect look of your house windows, you have plenty of choices in selecting the best-suited window treatment.
There are huge varieties of curtains and blinds in the market that are designed to fit different home decorations. If you want to upgrade your interior and don't have any idea about the different types of curtains and blinds that can enhance your interior decoration, then this article is for you. I'll list down the trendiest curtains & blinds, Let's Have a look.
Different Types Of Blinds To Upgrade Your Interior
Blinds are versatile & Compact window treatments. These are hard window covers, manufactured with a combination of vertical or horizontal slats. These slats are joined together to complete the look of the blind.
You can open and close these slats with the help of a cord. And recently with new technology, you can control the movement by motor or remote control. Let's check out the different types of blinds that can upgrade the look of your home interior!
1. Venetian Blinds
Venetian blinds are a true window covering, made up of horizontal slats of aluminum, wood, or plastic. These slats are arranged one on the other, tied with a cord. They can be rotated or adjusted for the intensity of the light to enter the room. Different varieties of blinds are available in the market.
Venetian Blinds are easy to install according to the size of your window. Different varieties and sizes are available for these blinds. You can choose Venetian blinds for any size, color, or style. Venetian blinds are a cost-effective solution for your windows to look graceful. These blinds are adjustable; they only require the amount of light to pass through.
2. Roller Blinds
Roller blinds are also known as shades. These blinds or shades are made up of a plain piece of fabric that is rolled up or down. These blinds are available with the perfect light-filtering abilities. If you are considering adding these blinds to your decor then your kitchen or bathroom is the best place to install these blinds. These are easy to maintain and keep clean blinds.
Whether you need a light filtering roller shade with room darkening features or want to have maximum natural light inside, these shades are a perfect choice for you. Roller blinds are available in a variety of colors, fabrics, and textures to match your home decor style and preferences.
Despite being designed with a simple outlook, these roller blinds make a bold statement in your home. With a modern look and multiple design options, You are sure to find the best blending window shades for you.
3. Wooden Blinds
Wooden blinds are an excellent option for home decoration. These blinds are perfect for insulating the room from light and sound. These blinds are also very inexpensive. You can add a natural touch to your home decor. These blinds need a bit of extra care to maintain their fresh look.
Wooden shutters not only give the shutters a wooden appearance but also give a very traditional and relaxed appearance throughout the decoration. Wooden shutters can instantly transform the dull appearance of your home into a modern style. The wooden shutters have a natural charm and make the whole room look natural. Wooden blinds have the ability to be more dazzling than curtains and offer a natural appeal to your windows.
4. Blackout Blinds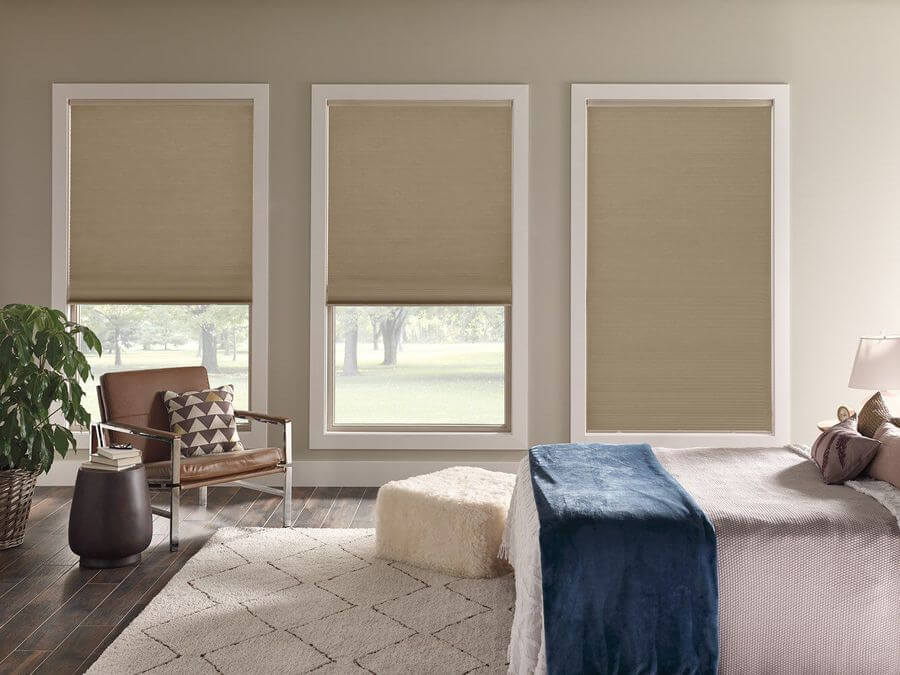 If you are looking for blinds that can block light and provide you with maximum privacy. Then there is nothing more to ask because Blackout Blinds is the only option with these two features and other additional advantages like such as noise insulation and less fading issues). This is the key reason why these blinds are so popular.
Everyone needs a restful sleep after a tiring daily life. With other curtains, you will try to block external light, but you will always be bothered by a beam of light from the window. Therefore, if all the above features are on your priority list, then Blackout Blinds will perfectly meet your needs.
5. Roman Blinds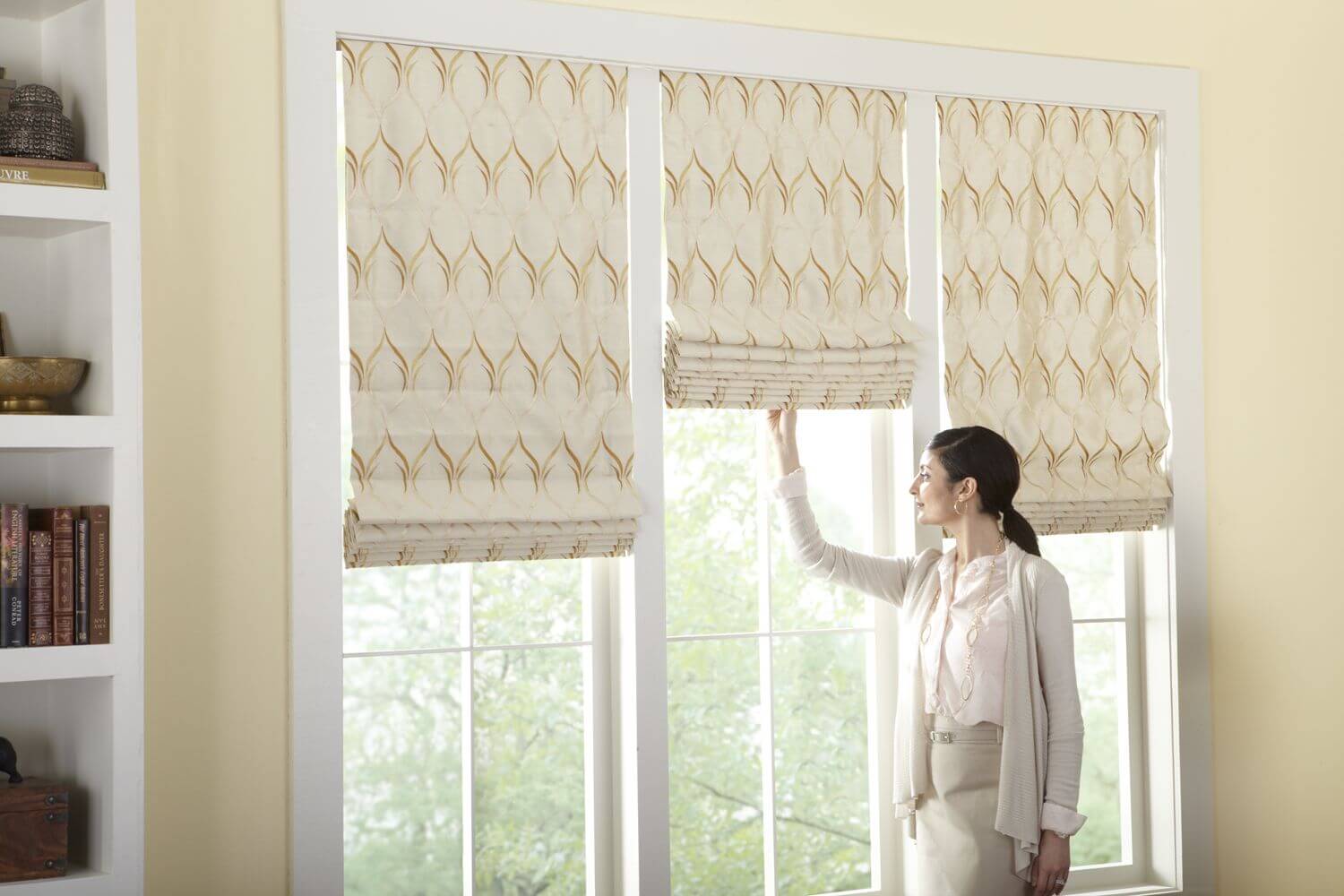 If you are looking for elegant window treatment then Roman blinds are popular and preferred because of their unique designs. Roman Blinds are available in different fabrics and colors. roman blinds would be best for providing an inviting look to your living room as well as suitable for your bedroom.
When deciding on blinds, the most important thing is to check the materials and their durability. In addition, when it comes to the style of blinds, you will have to choose how to place them on your windows. These are simple and effective blinds that make them the perfect window in every room. These shutters are becoming the best choice for many homeowners and commercial spaces because they are functional, practical, elegant, and flexible.
Different Types Of Curtains To Upgrade Your Interior
Curtains Online Dubai is a traditional window treatment. These curtains are designed to provide you all required benefits that include privacy, sound & thermal insulation, and keep the dust off your home. But nowadays, curtains are known as essentials for any home decoration. With the varieties in design, colors, and fabrics, now you have plenty of choices to choose from. Let's have a look at the types of curtains!
1. Eyelet Curtains
These curtains are the most used curtains in the world. Because of the multifunctional function of sliding over the bar and the fusion of practical but decorative atmosphere, more and more people try to use these curtains.
These curtains are easy to operate and comfortable to use. Made of circular grommets, allowing curtain rods to pass through and hang these curtains correctly. These curtains appear wavy when hung on the pole. These easy-to-use curtains can give you an elegant and elegant appearance.
2. Pinch Pleated Curtains
Pleated Pinch is a luxurious-looking fabric that is better than yours. These curtains are designed to add much-needed sophistication and elegance to your home decoration.
These curtains keep the light outside and provide you with a completely calm environment. These pleated curtains create a romantic and fresh atmosphere and are more attractive in your home decoration.
3. Blackout Curtains
Blackout curtains are the most attractive and enlightening advancement in window treatment. In addition to adding a perfect decorative statement, these blackout curtains are also perfect for providing many other beneficial functions. Well, before I start to introduce you to these features, let me clarify that the return does not actually mean only black fabric curtains.
These shades are available in many colors, but they can block every inch of light. These curtains are very popular with many homeowners because they are great for providing much-needed privacy while enhancing the overall appearance of your home.
4. Sheer Curtains
If you want to set up a lighter and softer window decoration, transparent curtains are your best choice. These curtains have a filter function.
The outstanding quality of these curtains is that they can be combined with different types of curtains to make the interior decoration more luxurious and exquisite. If you just install these scissors on your windows, they will pollute the least amount of light to shine into your home.
5. Motorized Curtains
With technological progress and innovation trends in all fields, a window treatment technology called electric curtains is emerging. These curtains are designed with high-tech technology.
They can work smoothly and efficiently with the help of motors. You can only use the remote control, mobile apps or voice commands to control the movement of these curtains. The motor is connected to these curtains and can move up and down. You can use these curtains to effectively enhance the appearance of your home.
Expert's Tip
These window treatments are perfect for upgrading the look of your interior individually, but if you want more transitional home decor you can use these two window dressings in combination. This would entirely transform your home and make it look appealing. These two window dressings when used in combination leave a lasting impression.
To Sum Up!
We have discussed the various types of modern window curtains and blinds to help you make an informed decision. Considering your home decoration needs you can choose the most suitable window dressing and make your home look elegant and appealing.
Discover More: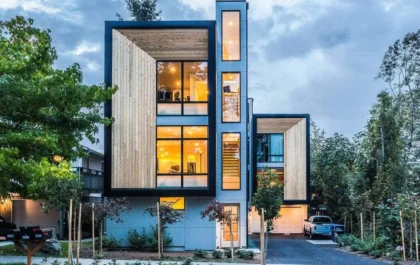 27+ Stylish & Modern Townhouse Designs for Urban Living.
The townhouse's first impression is normally too small, too compact, too narrower, and the list is endless. Well, let us…