Vacation rental investment is one of the fastest-growing areas in real estate. With more people traveling more often, there's been a considerable increase in demand for vacation rentals—which means excellent opportunities for investors.
With the right property, you can make a steady income from your investment. But looking for vacation rental investment can be intimidating, especially if you're new to the industry. This quick guide will walk you through some of the most important things you need to know about purchasing and managing a vacation home rental property.
Tips for Buying a Vacation Home to Rent
Source: grandwelcomefranchise.com
Vacation home rentals are a great investment. But you should know what to look for before buying it. Here are some tips to help you make a smart investment:
Do Your Research
As you begin looking for vacation rental investment, it is important to make sure that you do your research. This way, you will be able to find the best possible property for your needs and budget. You may have heard of some of these tips before, but they are worth repeating.
Look at what's available and what the competition is like. Determine whether it's a good location, and find out how much it would cost to maintain your rental property annually.
Figure Out Your Budget
It's easy to get caught up in the excitement of buying a vacation home. Still, it's also important to be realistic about your budget. Before looking for a property, figure out how much you can afford.
Not only do you need to know how much money you need to spend on the house, but also how much of a down payment you're able to make. It will help you narrow your search for properties that fit your price range.
If you plan on taking out a loan, many different lenders offer loans for vacation real estate investment. Lenders will typically require a 20% down payment along with good credit. You will also want to ensure that the lender has experience working with vacation home purchases so that they can advise you on how to finance your purchase.
Thoroughly Inspect the Property
Source: optimole.com
When looking for vacation rental investment to rent, it's important to inspect the property thoroughly. Not every inspection will be free, but it's worth the cost to ensure you're going into a deal that will work for you and your renter. You can find some inspectors online or ask local real estate agents for recommendations.
When inspecting a property, look at all the rooms and make sure that they are clean and in good shape. Make sure there is no damage to the walls or floors, and check bathrooms for mold or mildew. Also, check around windows and doors for any signs of water damage.
If possible, bring along someone who knows about plumbing systems or electrical systems so that they can help with any issues like leaks or faulty wiring. Check cabinets and closets for pests such as mice or insects before signing a lease agreement!
Be Selective About the Location
Location is always a factor when deciding to buy an investment vacation home. But when you're looking to rent it out, it's even more important. If you're renting out your property, you need to ensure that there will be enough interest in the area where you choose to invest.
A good way to figure out whether or not an area is popular is by looking at the number of homes available for rent in that area. Suppose there are several options available and lots of people are searching. In that case, it's probably a good location for renting out a vacation home.
Consider a Fixer-Upper
Fixer-uppers can be a great way to get into the game of vacation rentals, but it's not for everyone. You'll have to be patient and willing to do some work on the home before renting it out. But if you're up for it, there are some great benefits.
First of all, buying an older home that needs updating can help you save money. It means that you'll have less of an investment than if you were buying one that was already updated and ready for guests.
Secondly, when buying a fixer-upper, the seller may be willing to negotiate the price down. It is because they may be eager to sell the home and move on. Thus, giving you a good deal on your purchase price.
Finally, you'll have the opportunity to personalize the home and make it into something that fits your style. It is a great opportunity for people who love decorating.
How to Make the Most in Owning Vacation Rental Property
Source: itc.cn
Owning a vacation rental property can be a great way to earn extra income. However, it's important not just to buy the property but to make sure that you'll make the most out of it. Here are some tips for doing just that:
Research Your Market
Look at the market in terms of supply and demand, and see what other properties are offering. See if there are any trends or patterns that you can capitalize on, like a new type of vacation experience that's becoming popular.
Also, look at the demographics of the location. This will help you understand what kind of renters to target and how much to charge for your property. For example, if you're in a spring-break area, your rental should probably be priced higher than if you're in a family-friendly area.
Learn Your Community's Regulations
Every community is different, so you need to learn the rules and regulations for renting your property. It will help you find out if it needs to be licensed as a business and how much money you'll have to pay in taxes.
It will also help you determine if there are any special requirements for businesses operating in the area. You should also find out any signage requirements, cleaning standards, and noise levels your local government sets.
Set a Competitive Price
You may be tempted to set the price for your vacation rental as high as possible to maximize your profit. However, this can backfire on you if your property is not competitively priced with similar properties in the area.
Instead, it would be best if you researched the average cost of rentals in your area and set your price accordingly. If you can get a higher rental price than the average, that would be great. But if not, setting your price too high could lead people to choose another property over yours.
You'll also need to think about promotions. Offer deals such as discounts for booking multiple nights or packages that include activities, meals, and other amenities. These can help you get more bookings and bring in more money.
Market Your Vacation Rental
Source: grandwelcomefranchise.com
Start by creating a website for your property. It will help people find your listing online and learn more about what they can expect from staying at your place. A site showcasing everything about your property—from its amenities to its location—will help them see why it's special.
Next, take some professional-quality photos of your property and include them on your website. These will make it easier for people browsing the site to see what they can expect from staying at your place.
Finally, showcase the property on listings sites like Airbnb, VRBO, or any other similar site. Consider adding pictures of previous guests having fun at the house as well. It will help attract guests who are looking for a place to stay.
Provide an Amazing Customer Experience
Providing an amazing customer experience is the most important thing you can do when it comes to managing your vacation home investment. It's also the easiest way to ensure that your guests will want to come back again and again.
Here are some tips for providing a great experience:
Be sure to provide all of the desirable features that you've promised in your listing, from high-quality linens to high-speed WiFi.

Be responsive when guests contact you about their stay. Respond, even if it's just to say "thank you" or give some feedback about your property.

Make sure that your property is clean and ready for guests when they arrive.

Ask your guests what they liked about their stay, as well as any suggestions they may have for improving things in future visits.
Maintain Your Vacation Rental Property
You have probably heard that one of the most important things to do when running a successful vacation rental business is to keep your property in good condition. You need to make sure that your house is clean and well-maintained at all times to look attractive and inviting.
In order to maintain your property, several things need to be done. One of the most important parts of maintenance is cleaning. Guests expect the house they rent out to be clean and well-kept, so this is something that needs to be done regularly.
Another part of maintenance is landscaping. Suppose your yard is overgrown or filled with weeds. In that case, it could turn off potential renters looking for something more aesthetically pleasing. You may also want to consider adding some lighting around your home, so it looks more inviting at night.
Wrap Up
Discipline and dedication are the keys to a profitable vacation rental business. As long as you're willing to work at it and adapt as needed, you should be able to succeed with this type of investment. And once you do, you can take pride in the fact that you've helped others create some amazing vacation memories of their own.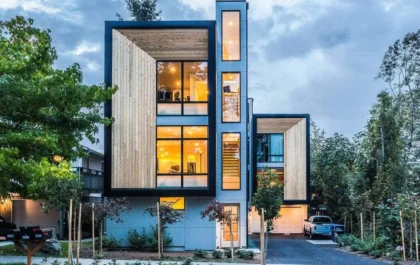 27+ Stylish & Modern Townhouse Designs for Urban Living.
The townhouse's first impression is normally too small, too compact, too narrower, and the list is endless. Well, let us…