A bathroom remodel is a commitment that requires a lot of money and time. It's a decision that most homeowners make only a few times in their lives. So, when planning your upcoming renovation, it makes sense to pick a design and colour palette that will look stylish not only today but for years to come.
Creating a timeless result involves taking into account several factors. When selecting tiles and other prime cost items, such as vanities and tubs, the colour scheme and material choice are key elements to consider. To ensure that the bathroom remains stylish in the years to come, opting for timeless colour palettes and materials is essential.
One timeless material for making spaces feel cosier and more inviting is wood. This natural element has the effect of bringing the outdoors inside, creating a spa-like atmosphere for relaxation and retreat. The majority of bathrooms are tiled, so adding touches of wood or timber-look materials can instantly add warmth and character to the area.
Wood comes in a variety of types and colours to complement any bathroom aesthetic. From light to dark, rustic to modern, a touch of wood can add an elegant touch to any bathroom.
Wooden Vanity
Source: nar.realtor
The vanity is the foundation of any great design and is the ideal spot to incorporate wood. Installing a timber vanity against a light-coloured wall creates a stunning contrast and invokes a warm and inviting atmosphere.
Whether wall-mounted or free-standing, manufacturers now offer a wider range of timber bathroom vanity styles, grain directions and stains than ever before, allowing you to find the perfect option for your desired aesthetic. If you can't find anything that perfectly matches your vision, consider customizing it to ensure it fits in perfectly with your overall layout.
If solid wood is not within your budget, lamination is an alternative that will still give you the same beautiful and cozy effect. Laminate timber bathroom vanity designs have come a long way in terms of both design and quality, often being nearly indistinguishable from solid wood.
Timber-look laminate is a material crafted to appear like natural wood. This effect is achieved through the lamination process, which involves combining multiple layers of material to form a single composite. These laminates are highly durable, making great bathroom vanities with a stunning aesthetic.
Solid wood is renowned for its strength, but as a natural material, there is less control over how it reacts when exposed to moisture. This can cause expansion and contraction that can warp and crack the paint, as well as form mould and mildew.
It needs to be well-sealed and kept dry to protect the timber and reduce the risk of these issues. On the other hand, timber laminate is specially designed to stand up to moisture, so it is less likely to be affected by steam and splashes, and it also has an anti-mould surface.
Timber laminate, being a synthetic material, is more tolerant to wear and tear than natural materials, making it a great long-term option for areas that may experience a lot of use. It is highly durable and can withstand daily use without needing to be repaired or replaced for a long time.
Wooden Bathtub
Source: cloudinary.com
While it may sound unconventional and rustic, a wooden bathtub is a luxurious way to add a modern, unique element. These bathtubs are made from beautiful, natural wood, which can be sealed to preserve its colour or stained for a darker look.
Because wood is easy to shape, these bathtubs can be made in any size or shape to provide an optimal soaking experience. Although these tubs may be expensive, they offer a one-of-a-kind, luxurious element to a bathroom
If you're not sure you want to go all the way with a wooden bathtub, you could try a timber enclosure instead. It's a great way to bring a unique and stylish feel to your bathroom design. If you want to take it further and add a cabinet, use the same type of wood for both pieces to maintain a cohesive look.
Wooden Feature Wall
Source: thespruce.com
Making a statement in the bathroom is easy with porcelain tiles that have a design inspired by wood. These imitation wood tiles give the impression of genuine wood without the maintenance requirements or risk of water damage. They come in a variety of "stain" hues to match any interior design.
The feature wall should be tiled with wood-style tiles, while the surrounding walls should be covered with regular white wall tiles. This produces a striking focal point in the shower recess, behind a white bathtub, or on a vanity.
Wooden Feature Flooring
Source: trendir.com
If your bathroom area is limited in size, an entire wooden feature wall could be too overwhelming and make the room appear even smaller. Instead, consider introducing a feature floor with wood-inspired tiles. This can give the bathroom a unique character, and when combined with natural wood and floating timber flooring in other areas of the home, it creates a continuous flow throughout the living space.
Wooden Beams
Source: squarespace-cdn.com
When it comes to decor, the ceiling is often an overlooked area. Consider incorporating wooden beams into the ceiling to give your bathroom a homey and rustic feel. If your bathroom has a tall or irregularly shaped ceiling, you can make it a standout feature by adding some decorative beams. You can then pair this with wooden flooring to create a complete, put-together look in your bathroom.
Also Read: How Often Should I Deep Clean My Bathroom?
Wooden Ledges
Source: badeloftusa.com
Adding floating shelves or ledges is an alternative approach to incorporating wood into a bathroom. A shelf above the sink or a narrow strip on the wall can create a visually appealing space while also providing storage for toiletries or decorative pieces. Timber shelves are particularly effective in achieving a natural and inviting atmosphere.
Wooden Accent Pieces
Source: vailbutler.com
Instead of using wood as the main material, you can add smaller accents like a plant pot, a frame or a soap dispenser to add some contrast. This is a cost-effective and straightforward way to take advantage of the current trend.
These are some of the ways to integrate timber in your bathroom.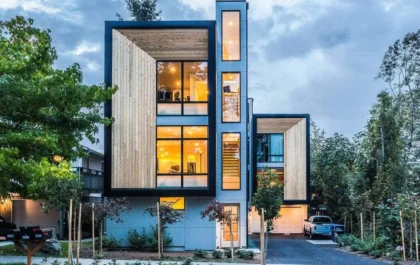 27+ Stylish & Modern Townhouse Designs for Urban Living.
The townhouse's first impression is normally too small, too compact, too narrower, and the list is endless. Well, let us…