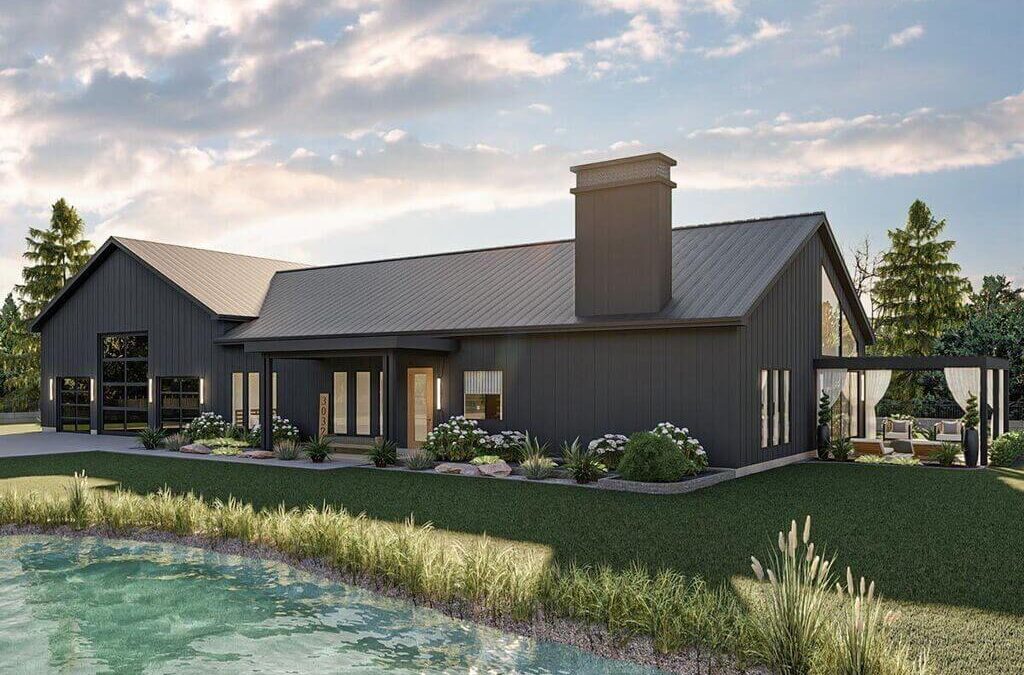 Are you fascinated by the idea of moving to a country home? But at the same time, don't want to lose out on modern aesthetics? Well, Barndominium plans are the perfect choice for your homes.
While the actual meaning of a Barndominium is a metal building, the term in architecture refers to a collection of wood-frame homes with a rustic look. These country homes take inspiration from the barn style and stand out with their planning concepts and modern flair. Let's explore the top 12 barndominium house plans collection to understand better.
Unfolding the Concept of Barndominium Plan
The concept of a barndominium began as metal buildings accommodating living quarters in their planning. With an increase in the popularity of these unique barn house plans, the design language evolved as well. The new-age barndominium plans incorporate open planning along with modern amenities.
Overall, the design borrows charm from the rustic look of barn houses while enhancing comfort by integrating modern elements. It is a blend of two terms– Barn and Condominium which results in homes with exteriors resembling the traditional farm and interiors offering flexibility for enhanced functionality.
The key characteristics of Bardomiminium plan homes are:
Gambrel style roof
Bays mimicking the visual appeal of a silo
Cupolas on the roof
Vertical or batt and board siding
Open planning
Rustic aesthetics
What Makes Barndominium Plans a Popular Pick?
Steel structures make it more sound and timeless. The sturdy material easily withstands the termite damage and rotting of materials and is fire-resistant.
These homes are constructed faster than traditional homes and demand minimal maintenance.
Barndominiums are the ultimate pocket-friendly choice with lesser construction and labor costs. Minimal maintenance further offers advantages in the long run.
Top 12 Barndominium Floor Plans with Pictures
1. 5-Bedroom Barndominium Plan with Expansion
Area: 3779 sq. ft
Amenities
Five bedrooms
5.5 bathrooms
Four-car parking space
Double-storey
A craftsman-style porch welcomes you to this luxurious home while hinting at the modern flair. Interiors follow an open-plan layout; ample windows dress these spaces in natural light.
The main floor accommodates a master suite exuding luxury with a walk-in closet, freestanding tub, guest office/bedroom, and ensuite bathroom. At the same time, the upper floor has three bedrooms and bathrooms in the plan. It also nestles convenience spaces like a store, laundry, and a bonus room flexible to fit the purpose.
2. Home with a Drive-through Shop
Area: 1460 sq. ft
Amenities
Two bedrooms
One bathroom
Two-car parking space
Single-storey
How exciting is the idea of having a home with a drive-through shop? Sprawling across an area of about 1400 square feet, this barndominium house plan maximizes practicality. 
It follows a simple layout with great room, dining, and kitchen knitted together in an open plan. On the right side, two bedrooms are planned, along with a master suite. The space for the drive-through shop features a high ceiling, making it perfect for any activity.
3. Barndo Home with Double-height Living Room
Area: 2765 sq. ft
Amenities
Three-bedroom
2.5 bathrooms
Four-car parking space
Double-storey
Barndominium plans are taking over country homes with their unique style. While the porch enables a seamless indoor-outdoor connection, the open-layout plan enhances the efficiency of each space.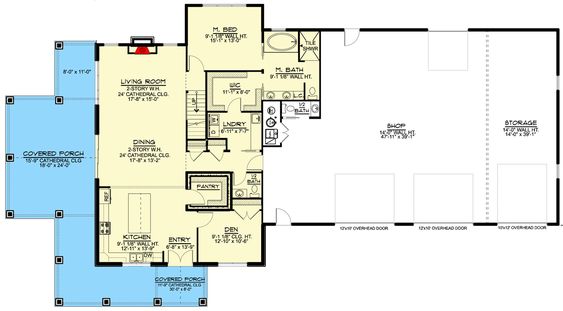 Double-height living and dining spaces add to the home's grandeur in this design. While the main floor features common areas along with a master bedroom and bathroom, the other two bedrooms are located on the upper floor along with a loft. The loft space adds another room for kids to enjoy.
4. Modern Farmhouse with 3 Bedrooms
Area: 3779 sq. ft
Amenities
Three bedrooms
2.5 bathrooms
Two-car parking space
Single-storey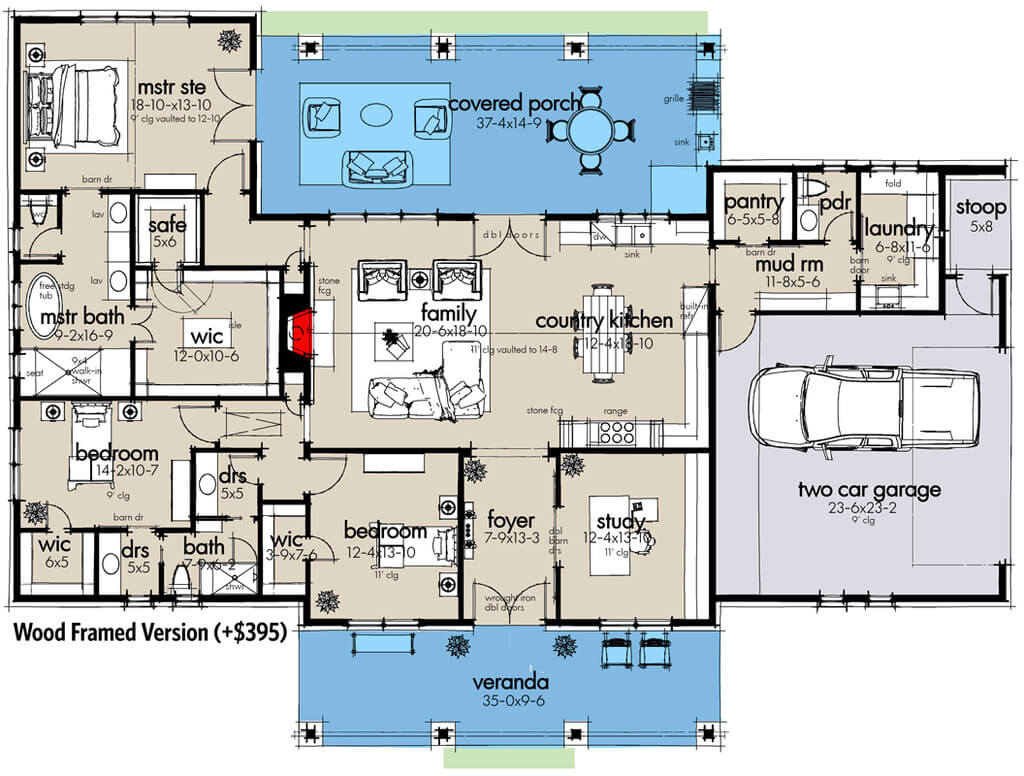 This barndominium home is all about blending modern with a conventional structure. It adopts bolt-up technology rather than the conventional welding design of metal structures. The design is simple to construct and is one of the best choices for a budget-friendly home.
Overall, the design exudes a modern flair and unconventional approach. The windows and doors conjure up coziness and style in the design.
5. Living by the Bay
Area: 2731 sq. ft
Amenities
Three-bedrooms
2.5 bathrooms
3-car parking space
Single-storey
This luxury home with three bedrooms following the principles of the barndominium plan seamlessly blends rustic charm with modern aesthetics. A spacious garage is thoughtfully added to the layout to accommodate an RV or boat.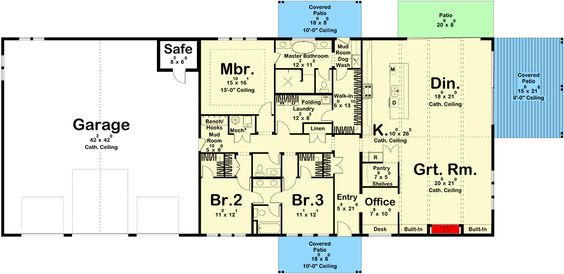 While the master suite sits at the rear of this house, the other two bedrooms are planned in the front. Large doors welcome not only guests but natural light to the interiors as well. Keeping up with the modern demands, the house also nestles a home office near the foyer.
6. 3-Bed Barndominium Farmhouse
Area: 2000 sq. ft
Amenities
Three bedrooms
Two bathrooms
Two-car parking space
Single-storey 
This barndominium floor plan sits amidst a broad porch wrapping it from two sides. The house's interiors comprise an open concept plan, including dining, a kitchen, and a great room with a fireplace. Kitchen– being the cuisine corner houses a 9-foot by 4-foot island and walk-in pantry.
This home boasts grandeur with a 16'-high ceiling. The strategic placement of large windows welcomes natural light and makes the spaces even more comfortable. All three bedrooms are at the heart of the home, and easy access to the laundry enhances the functionality.
7. Small Barndominium Floor Plans
Area: 767 sq. ft
Amenities
One-bedroom
One bathroom
Three-car parking space
Double-storey
This barndominium plan takes a unique approach to the design. The double-story carriage house features wooden accents on the facade.
With functional planning, this home features a living room and kitchen in an open layout, along with a kitchen island. The main floor accommodates a car park area for three cars, whereas the rest of the active apartment spaces cover the upper floor layout.
8. 4-Bedroom Modern Home
Area: 3767 sq. ft
Amenities
Four-bedrooms
4.5 bathrooms
two-car parking space
Double-storey
In this modern living, one can't undermine the importance of a common family room. This barndominium plan features a two-story great room and a family room hosting a cozy fireplace. A fine combination of stone, wooden siding, and metal roof imparts unparalleled aesthetics to this rustic home.
The house revolves around the concept of visual connection, where a straight view from the double sink in the kitchen extends up to the covered porch. On the ground floor nestles a master suite, whereas the other bedrooms are planned on the second floor.
9. Lift-friendly Barndominium Home
Area: 613 sq. ft
Amenities
1.5 bathrooms
Three-car parking space
Double-storey 
Barn house plans have a flexible function. One such example is this 613-square-foot apartment. While the ground floor barn turns into a parking space, the upper floor accommodates apartments.
The side staircase connects both floors and leads you to the apartment with open space in its front and a kitchen at the back.
10. Mountain Home with an Outdoor Living
Area: 1565 sq. ft
Amenities
One-bedroom
1.5 bathrooms
3-4 car parking space
Double-storey
Don't we all love the rustic look of mountain homes? This barndominium house adds board and batten siding to the mood board to mimic the look. While three garage doors are in the front, an overhead door amps up the rear elevation.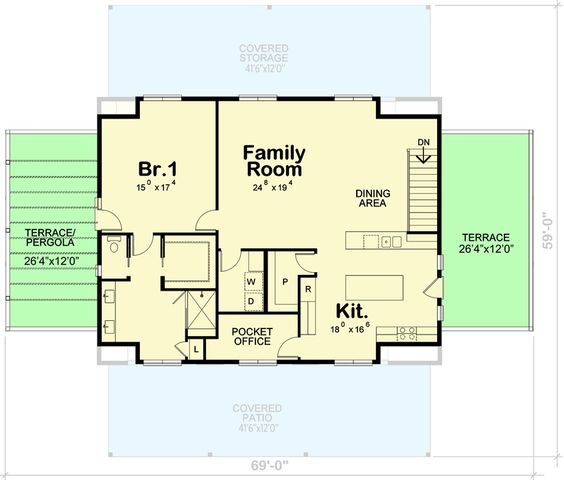 The lower floor accommodates a covered patio, lounging, and storage spaces in its exteriors. As you proceed to the upper floor layout, you're welcomed into an open-layout space, enabling conversations with family and friends. The living room extends outside, with terraces present on either side.
11. A Contemporary Country House
Area: 2312 sq. ft
Amenities
Three bedrooms
2.5 bathrooms
Two-car parking space
Double-storey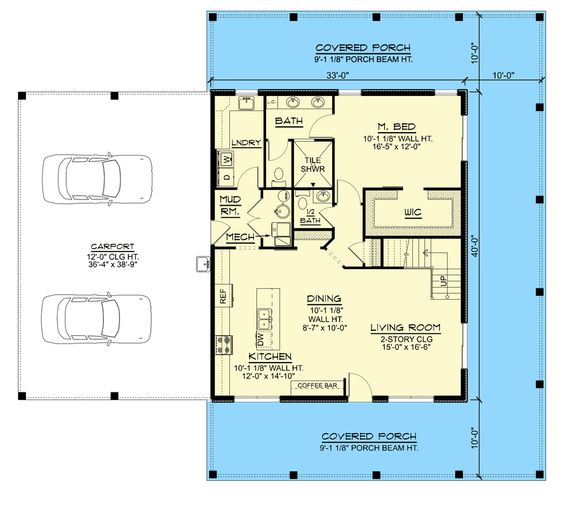 This barndominium plan designed around contemporary lines sprawls across 2312 square feet, further offering a bonus space of about 994 square feet for a carport. The open layout planning is attained effortlessly through minimal walls incorporated into the living space.
The kitchen design offers a unique touch with a coffee bar and island, along with a connection to the front porch. The bedroom extends to the porch with seamless access by a sliding door. On the upper floor nestles two bedrooms along with a home office.
12. Porch Wrapping Around 1-Story Barndominium Home
Area: 2113 sq. ft
Amenities
Three bedrooms
Two bathrooms
1-3 car parking space
Single-storey
This Barndominium floor plan embraces simplicity and efficiency. While the exteriors adopt a simple shape, the barn house plan is all about functionality. Wrapping up the entire home is a 9-foot-deep porch offering ample space for relaxation.
As you step into the house, you're welcomed into an open layout with 14-foot-high walls and a cathedral ceiling on the top. Keeping up with the rustic charm is an elegant fireplace in a great room. The functional planning for a kitchen incorporates a walk-in pantry and island accommodating a snack bar.
A luxurious master bedroom nestles on the right side of the barndominium plan, while the other two bedrooms are near the living space. These bedrooms have a shared bathroom, whereas the master bathroom includes a closet, toilet area, and vanities. The luxury extends to the garage, offering a parking space for 3. 
Making the Right Choice for Barndominium Plans
Are you planning to opt for barndominium plans but don't know where to start? Don't worry! We have a list of questions you must ask yourself before delving deep into the options.
What is the area of barndominium plans my requirements demand?
Does this layout align with my lifestyle, or must I customize the plan?
What is my personalized list of requirements in terms of spaces and amenities?
What is the range for my budget?
As you start, here are the top 5 expert tips for building your dream homes.
Consider looking for good references if you're designing the barndominium plans from scratch. Do you want to proceed with a building kit or construct it from a plan? This clarity will help in deciding the size and layout of your homes.
Don't neglect the local laws. Consider the permissible size and style for your barndos before finalizing the design.
Remember the considerations for electrical and plumbing services while planning the layouts to avoid clashes in the construction stages.
Plan an optimal size of openings to welcome natural light to the interiors. Ensure to place them strategically to minimize glare and keep the spaces comfortable.
Don't miss out on the rustic appeal while designing spaces. Consider adding wooden herringbone flooring, wall tiles, soothing tones, and textures to interiors for warmth and amped-up aesthetics.
Modern yet Timeless Homes
Barndominium plans are all about keeping spaces flexible and airy. While using wood, metal, and stone helps impart a timeless look from the exteriors, a thoughtful interior styling with a fireplace, soothing tones, textures, and rugs helps the interiors synchronize with the theme.
These homes keep it modern and functional while fitting well within the budget. Consider your requirements, style, and desired features, and explore the best barndominiums.
FAQs
What are barndominium house plans?
Barndominium plans offer a unique architectural style for residential designs, taking inspiration from rustic barns. The open floor layouts are practical and add a modern touch to the homes. 
Who builds the best barndominiums?
The choice of the best builder depends on your building requirements, goals, and budget.
What are the primary features of barndominium Homes?
Barndominium plans stand out from the rest with their large, open spaces that hint at the visuals of a barn. These buildings are tall with vaulted ceilings. 
Which is the best structure for a barndominium?
Steel barndominium homes are more energy efficient and demand less maintenance than wooden frame structures. 
What is the most expensive part of a barndominium?
The most costly part of developing barndominium house plans is the metal shell forming the roof, doors, and windows.
Explore Further:-