It is no secret that the most popular vacation house rental for travelers of all kinds resides by the beach. From clear sunny skies to ocean blue waters and beautiful beaches, who wouldn't want to spend their summer vacation on the coast?
With sun tanning, swimming, fishing, surfing, and more, family trips to the beach are some of the most memorable vacations out there. However, as more and more people flock to the coast, vacation rental owners have to come up with creative ways to attract renters and stand out among the competition.
The Beach House Rental Industry Is Competitive
Source: vacationrentalpismobeach.com
As a beach vacation rental owner, it is essential to provide guests with certain amenities to stand out from the competition. At the same time, the harsh reality is that if you do not have certain features on your rental property, potential guests may look elsewhere for their lodging needs. However, if you can anticipate what is likely to draw travelers to your listing, you can stay one step ahead of the game.
So if you just invested in a vacation rental on the beach or are looking for new ways to improve bookings, here are the top amenities travelers look for in a beach house rental.
Outdoor Cooking Area
Source: muscache.com
Whether it's just a grill or a full-blown outdoor kitchen, nothing attracts guests more than having the ability to cook and dine outside. While most vacation rentals have an up-to-date kitchen, having a place outside where guests can grill burgers, fish, and other home-cooked meals can be the reason renters chose your vacation home over another.
The Outdoor Dining Experience
Remember, you are not just providing guests with a place to stay. You are providing memorable experiences families will look back on for a lifetime. According to an article on Yahoo, eating together, whether at home or on vacation, is a great way for families to bond. At the same time, grilling is not only a fantastic way to spend time with the family, but it can save your guests a ton of money from pricey restaurant dinners.
Beach Access
Of course, the best thing about beach vacations is going to the beach. However, on top of paying to stay at a beach house, guests have to pay a daily fee in order to get on to the beach. If your guests come with a large family, it could become very expensive.
Nonetheless, in order to stay ahead of the competition, consider including free beach access along with your rental. All you have to do is pay for a few season badges to wow your guests. While it may be a little expensive upfront, you could use those badges for each guest every all year. In addition, this extra amenity can attract more guests allowing you to make your money back in no time.
Beach Supplies
Source: muscache.com
What is a beach day without beach supplies? While some families may have their own beach accessories, it is essential to always be prepared. You never know if your guests are flying from other states and traveling light or simply forgot some key vacation items back home.
Whatever the case may be, supplying beach supplies like boogie boards, beach chairs, toys, towels, coolers, and umbrellas can go a long way in the eyes of your guests.
Outdoor Shower
A great way to wow guests and keep the inside of your vacation rental clear of sand is to add an outdoor shower to the backyard. Contrary to belief adding an outdoor shower is not as hard as it seems. As long as you have a source of water, you should be good to go. Your guests will be thankful for the convenience of cleaning up after a long day of beach activities.
Firepit
Source: findrentals.com
Nothing hits better than roasting marshmallows around a fire after a long day at the beach. While it is essential to have the inside of your home up to par, guests are looking for fun amenities that allow them to enjoy the outdoors as much as possible.
One of the best ways to remodel the backyard of your vacation rental is to add a firepit. Not only is a firepit a major attraction for potential renters, but it is a simple renovation that is easy to build.
Blender
When it comes to vacation kitchen essentials, few are more important than the blender. From making smoothies for the kids to frozen margaritas for the adults, whether guests have a blender at hand can make or break their trip.
Read here to get information about nova city peshawar.
Don't Overlook the Small Things
Source: lanikaibeachrentals.com
While these amenities are small in the grand scheme of things adding them to your property can have a profound effect on not only your guests' experience in your home but your vacation rental business as a whole.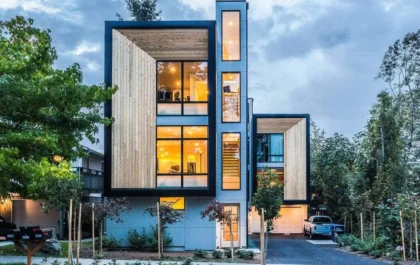 27+ Stylish & Modern Townhouse Designs for Urban Living.
The townhouse's first impression is normally too small, too compact, too narrower, and the list is endless. Well, let us…